Many people associate a brick house with a reliable, durable building that can hold out in any bad weather. Facing the facade with bricks in recent years has consistently ranked first among property owners.
It is practical, economical and, most importantly, original. Today there are a large number of types of bricks available, and their colors can be custom-made. Below on the page you can see several beautiful facades of the house from a facing brick with decorative finishing by a front stucco molding.
White Brick Cladding Tiles
You should pay attention to the following tips when facing the facade of a building with bricks. Several ventilation gaps are left above and below the brickwork, through which moisture can be released.
Outdoor Brick Cladding
The brick does not allow moisture to leak out, and the formation of steam, condensate between the wall and the brickwork can destroy the walls themselves. Some craftsmen leave every fifth seam on several horizontal rows that are not completely filled with mortar. It also allows air to circulate and eliminate moisture.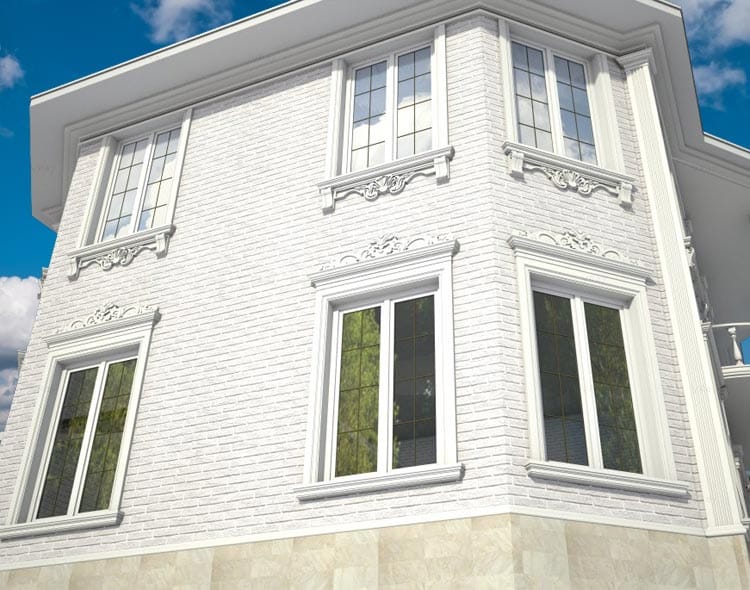 If the facade is covered with several types of bricks, then for the test, each of them is mounted without fasteners.
Brick Cladding Panels
Facing the facades of private houses with brick is never carried out at a negative temperature. Despite the thoroughness of the work, the result may be spoiled due to subzero temperature.
Before you attach the brick to the solution, it is immersed in water. So, it will not absorb moisture from the solution, which will not harden earlier than it should be.
Exterior Brick Cladding Panels
You can alternate between spoon and butched rows. The last one will appear at intervals of 6 rows. You can use one type of laying or alternate with another. Multi row masonry is very popular today. By this method, the brick is installed in any position.
To create shaped masonry, you should use bricks with beveled, rounded sides, special chips. The exterior of the building with embossed brick will look stylish. With the help of it are usually made openings, cornices, columns on the background of standard smooth bricks.
Facing the house with a brick is a rational solution that will allow for a long time to forget about thermal insulation, wall restoration, facade decoration. Creating a "brick residence" will also allow you to save a significant amount of funds for the purchase of additional facing materials.