Decoration of the building with a facade decoration is a great way to visually transform it, highlighting all the successful elements of architecture and disguising the nuances that negatively affect the overall impression of the building.
Decorative exterior house trim
Thanks to the use of certain types of decor, you can turn a building of any type, including a dwelling house, into an original structure, just adding its facade with several unusual elements. One of the main details of the finish are the crown molding.

They are widely used for finishing the joints, spoiling the appearance of the building, dividing the wall into zones, focusing on certain areas of the structure. Since the cornice is a ledge on the wall, it can also serve as additional protection of the building against atmospheric precipitation.

Exterior trim molding ideas
As for its varieties, it can be of several types, differing in the sphere of application:
upper;
intermediate;
separating;
socle.
The material for its production is different raw materials: gypsum, polymer concrete or foam. The latter has a number of advantages, therefore decorative elements from it favorably differ from those in which other materials are used.

Advantages of facade crown moldings from foam plastic

Crown moldings – a detail of the facade decoration, which is usually very large (due to the length) and is located around the perimeter of the building, so its production of foam has its advantages.


Lightness of the material, which allows securely fixing all the details, which prevents separation from the wall or collapse of the structure. No load on the building, even if the building is many years old, such a decor can not hurt it, unlike products made of heavy materials, it will not contribute to the appearance of cracks in the walls. The possibility of creating ornaments with complex elements. Easy installation, which allows to ensure the accuracy of work in the shortest possible time. Durability of the structure and its resistance to various impacts (when applying additional coating)

Exterior crown molding styles
Exterior house trim ideas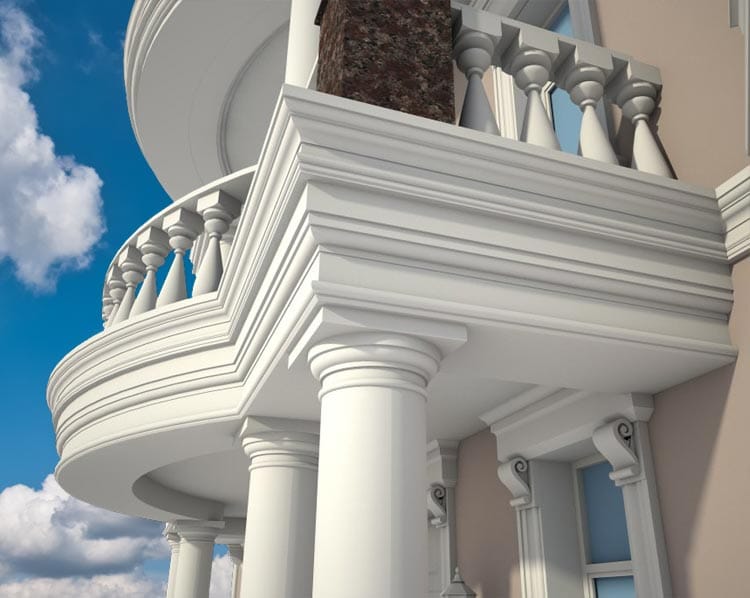 The price for such a cornice is lower than the cost of a similar element of gypsum or polymer concrete.