Mostly chalet-style housing is built on two or three floors. They construct a massive sloping roof with large cornices to protect not only the building, but also the area around it.
The presented version from the architectural bureau Birdseye is a one-story chalet house. It was built not in the mountains, but on a flat area in the forest, and the decision to make one floor instead of two or three helped to adapt it to the environment.
Reasonable layout of a one-story chalet-style house
In a two-story house, it is quite simple to divide the private and the social – to place it on different levels. Here, the spaces should be located at the same level.
And the task of the architects was to achieve a high level of privacy in the bedrooms and openness, interaction with the surroundings of the living room and kitchen-dining area.
The symmetrical T-shaped house is built with bedrooms facing the edge of the forest. Due to this, a cozy, secluded atmosphere is created there, and the rooms are secluded from the outside. The living room with panoramic glazing overlooks the meadow, and offers panoramic views of the surrounding landscapes.
Integration of a one-story chalet house with nature
The advantage of using one floor is that each space with panoramic glazing allows direct access to the natural environment.
This is not just an exit to the terrace or balcony, but barrier-free contact with the area in front of the house. The courtyard can be accessed directly from the bedroom or living room.
The house has an expensive interior, stylized as the Middle Ages, but simple in the context of the decor. It is dominated by natural, natural materials.
This setting is combined with the forest behind the panoramic windows. Harmony with nature is kept in the best traditions of the chalet style.
Secrecy and protection of a one-story chalet house
Due to the one-storey design, the eaves are located just 3 meters above the ground. Thanks to this design, the roof reliably shelters the terrace from precipitation, the scorching sun and helps maintain a pleasant microclimate in the premises, shading the panoramic windows.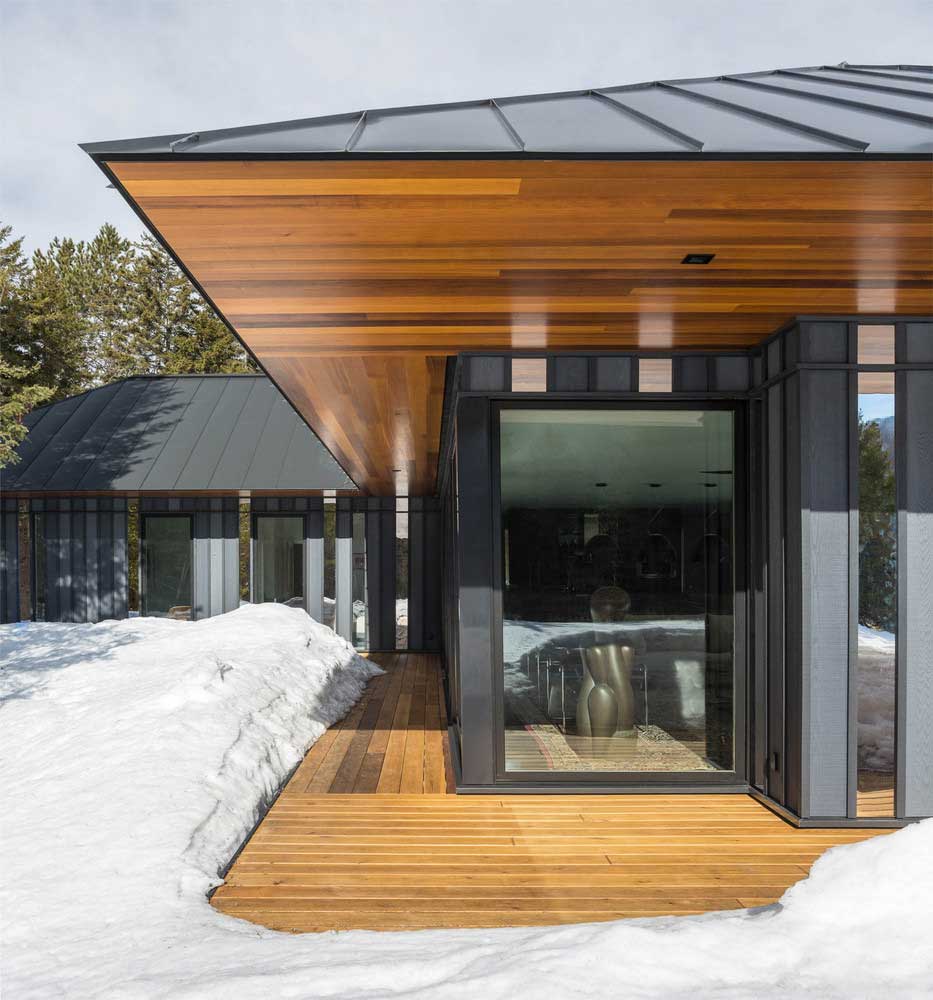 The finishing of the cornices and the terrace with cedar wood complements each other, emphasizing the unity of the style of the different elements of the cottage.
The sloping black roof of a one-storey chalet house matches the design and color of the structures and facades, thereby emphasizing the comfort and self-sufficiency of the object.