You will not surprise anyone with external walls without finishing, but internal surfaces without finishing materials left "in draft" have been used by interior designers not very long ago.
unfinished concrete walls – creative ideas for an interior designer
Unprocessed brick or concrete walls can be used in many architectural areas: loft, gothic, Mediterranean, peasant, country. The most natural unfinished masonry looks when equipping a house with a predominance of loft-style.
The geometric shapes of the construction ensemble among the greenery of fields and forests look natural and relaxed thanks to the use of brickwork of a noble gray shade. The exterior walls of the house and utility rooms, supporting elements and the fence of the courtyard are made in a single style. These unfinished surfaces give the impression of restrained nobility even with a fleeting glance at the cottage.
Grassy roofing looks like a continuation of the green lawn in the courtyard of the house and will become a favorite vacation spot for residents of the house, from which the surrounding surroundings of the nature reserve are perfectly visible.
The multi-level premises of the architectural complex are achieved by the successful use of concrete structures in combination with brickwork and panoramic glazing. This technique allows you to profitably use the inclined topography of the site and creates a comfortable and unconventional interior space.
interior without wall decoration – a shocking decorative element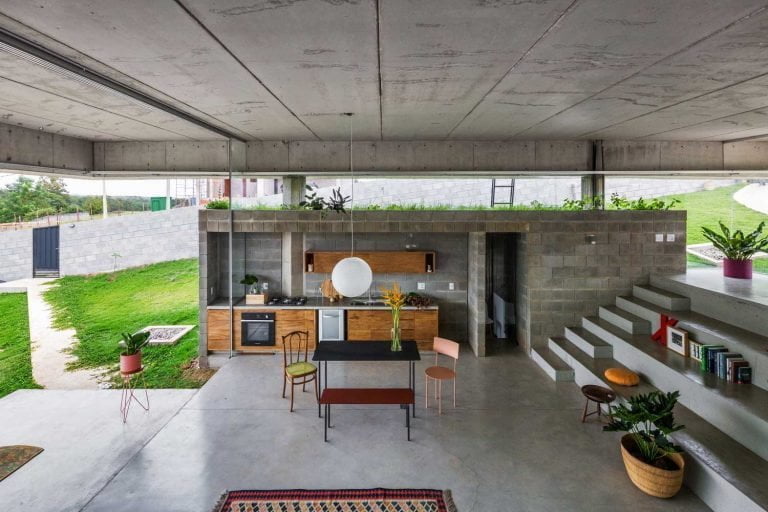 The structural solutions of the designers provide a smooth flow of external space into the interior rooms. This feeling is enhanced by the unity of materials and colors.
Panoramic glazing from floor to ceiling also contributes to blurring the edges between the exterior and the arrangement of living space. Unfinished internal walls, which exactly repeat the facade surfaces, give the atmosphere of the house solidity and respectability.
Zoning of the living space is achieved by the difference in levels and partitions from unfinished brick masonry. This provides unlimited opportunities for the implementation of design ideas. Against the background of the noble gray colors of the ceiling, walls and floor, wooden details, green indoor plants and original furniture look bright and unforgettable.
Despite the external openness and insecurity of the rooms, the untreated walls of various heights create an intimate and secluded atmosphere in the bedrooms. An additional bonus is access to the fenced turf roof, providing plenty of light, fresh air and unlimited space.
Durability, environmental friendliness, strength and creativity of unfinished surfaces have earned them well-deserved popularity in the arrangement of interior spaces. So that walls without decoration in the interior do not become a cold and untidy element, use the advice of professional designers.