Both the exterior facade of the house and its inside view largely depends on how the windows are decorated. The function of these glass constructions is not only to transmit light into the room. Well-designed and truly beautiful windows can even turn the most inconspicuous building into a cozy cottage that looks really fabulous.
Today there are many options for creative and just attractive design of such structures. Below are the best photos of beautiful windows.
Exterior window design ideas
Transparent windows instead of walls always look fantastic. Suppose there is no decoration around them from decorative plaster or bas-relief decorations, but the format of this design itself already looks amazing. The only caveat is that there should be a beautiful view from the outside.
This option of windows is perfect for cottages outside the city, which are surrounded by greenery or endless horizons of flower fields. Inside this room you will feel comfortable, because you can order the glass, darkened outside.
Outdoor window ideas
Looking for options on how to make a beautiful window? For example, if the building is two-story, glass structures from the ceiling to the floor can be installed on both levels of the cottage. In this case, they look atypically also due to the fact that the window frames protrude from the walls.
Large transparent windows are perfect for decorating the living room. This is a real pleasure, to drink tea with friends and enjoy the beautiful view. If it is a snowy winter outside, then such gatherings always take place in a very cozy atmosphere.
Decorative exterior windows
It is not necessary to install glass on the whole wall, small inserts will also be appropriate. Creative option: part of the window is embedded in the wall, part – in the ceiling. On rainy days, it will be fun to watch as drops of water fall on the glass surface and flow down beautifully.
Incredibly original such house looks outside. In the evening, the light from the room breaks out through such transparent structures, turning the structure with a monotonous facade into a very nice and atypical building.
Window outer design
Beautiful round wooden windows are an idea, creative in itself. Even if you install such glasses instead of standard rectangular structures in an ordinary house, it will look exciting. Symmetry, underlined by smooth partitions that divide the circle, attracts attention.
And when all this geometrical harmony is violated by the irregular and incredibly creative form of the wall that surrounds the window, the building becomes extraordinary and unique from the inside. This design option can be modified by adding your own ideas.
Custom window designs
Who needs walls if the house is located right by the sea. It is for such cases that beautiful windows of houses are invented, which become almost the main part of the structure. The room overlooks the raging waves and the sunrises above the water to anything unnecessary decoration or interior details.
Beautiful windows, which photos you see now, do not require a long design work, they just have to be strong enough. The appeal of this building is simplicity. Being in the house, the walls of which were replaced by giant windows, you feel as natural and natural as possible.
House front window design
Beautiful houses with large windows are, as a rule, buildings whose construction even at the construction stage contained a large number of creative design ideas. For example, here we see that the roof is made under a one-sided slope.
The asymmetry of the walls and non-standard inserted glass designs look great. In the daytime, sunlight also becomes a decoration of the house, which cuts the space with its rays, becoming part of a stylish interior.
Modern exterior windows
For those who are accustomed to the usual rectangular windows, this design will seem absolute exclusive. Although today, triangular and other non-standard in geometrical terms, designs are becoming more common.
Beautiful plastic windows are different. To make the house fascinating both from the inside and the outside, it is enough to supplement its facade with glass of atypical shape. A monochromatic black frame will look delightful around it.
Window seat designs
Despite all the previous examples, it is not at all necessary to give up the classic rectangular shape of beautiful windows for a private house; you can make them beautiful and extraordinary in another way.
For example, adding to the building glass products of different sizes and with a different design. One design can be framed with a wood shade frame, and let thin plastic lines be the border for another window. In the photo, the elegance of the glass perfectly combines with the design of the walls in a loft style.
Contemporary window design
A window to the floor is not always a solid construction. If several glasses are divided between each other by dark frames, we end up with a building with an irresistible facade. Its walls do not require additional decor, the interior and exterior here seamlessly merge together.
In the design of the cottage will look great materials with the most naturalistic monochromatic colors. Light coffee, granite, perfectly black – all this will be the perfect color scheme for the design of such a structure.
Outdoor window decor
A truly luxurious facade of a house can be made using only two colors in its design – gray and brown. Applying different shades of these colors, you get a building that looks majestic and gorgeous.
To successfully complement the cottage, whose walls are decorated with decorative plaster, it is necessary to install windows with a natural wooden frame. This option will look appropriate and harmonious. This exterior design as a whole is classic, it has the spirit of romanticism.
Exterior window decoration ideas
Any house can look dazzling, if you make a beautiful design of windows. They can have a non-standard shape or be decorated with an attractive frame with a fabulous design.
Exterior Window Accents
It is impossible to determine the most beautiful windows, because for each building glass structures should be selected separately, taking into account all the features of the building. Beautiful windows, the design of which has been considered, can make your home irresistible even without a major overhaul of the building.
House exterior windows
Exterior house windows design
Outside window dressing ideas
Exterior window dressing ideas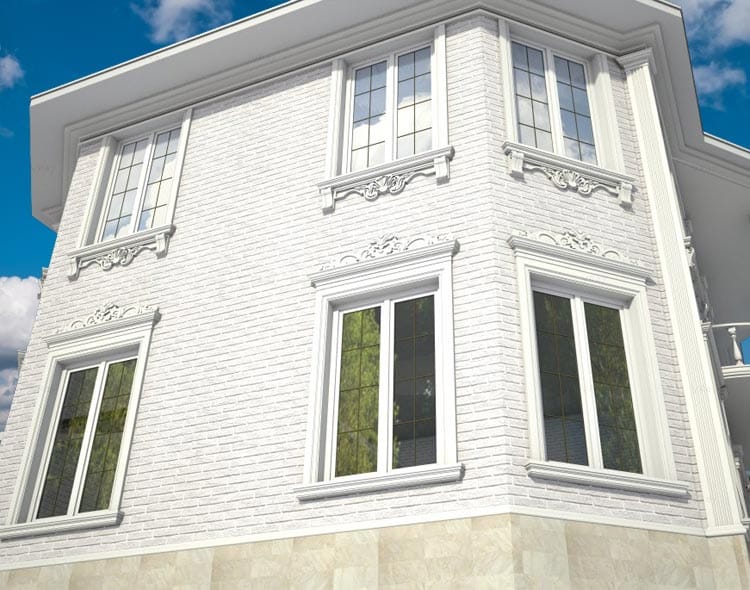 Outside window decoration ideas
3D Exterior House Design. Production and installation of facade decoration. Practice since 2004.