Crafting a perfect modern Victorian bathroom is an elegant blend of old-world charm and contemporary comforts. Victorian style is renowned for its intricate designs, luxurious details, and plush fabrics, while modern aesthetics are all about minimalism and clean lines. Merging these two designs can create a truly unique space that breathes an air of opulence and sophistication, imbued with modern functionality. This article will guide you through the process of designing your very own modern Victorian bathroom, providing invaluable insights, and inspiring ideas.
Vintage Elegance Meets Modern Comfort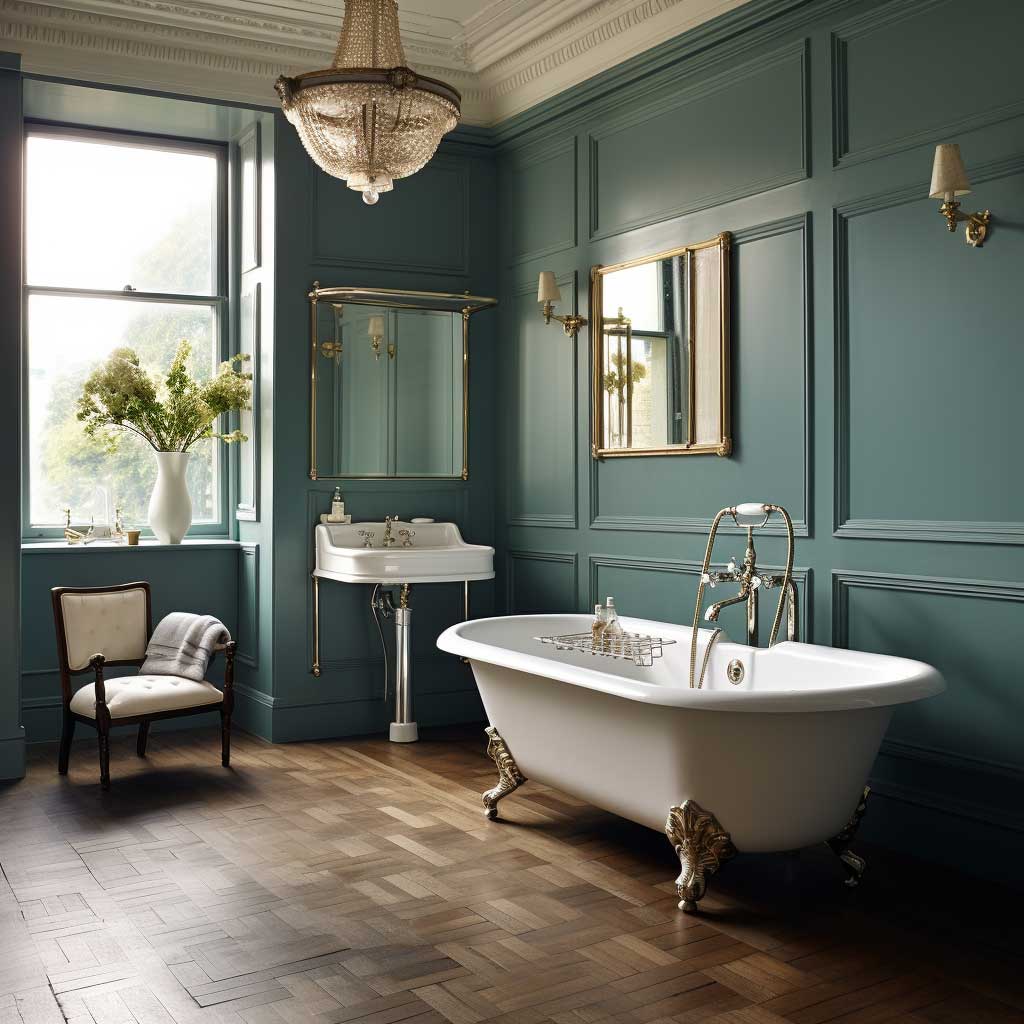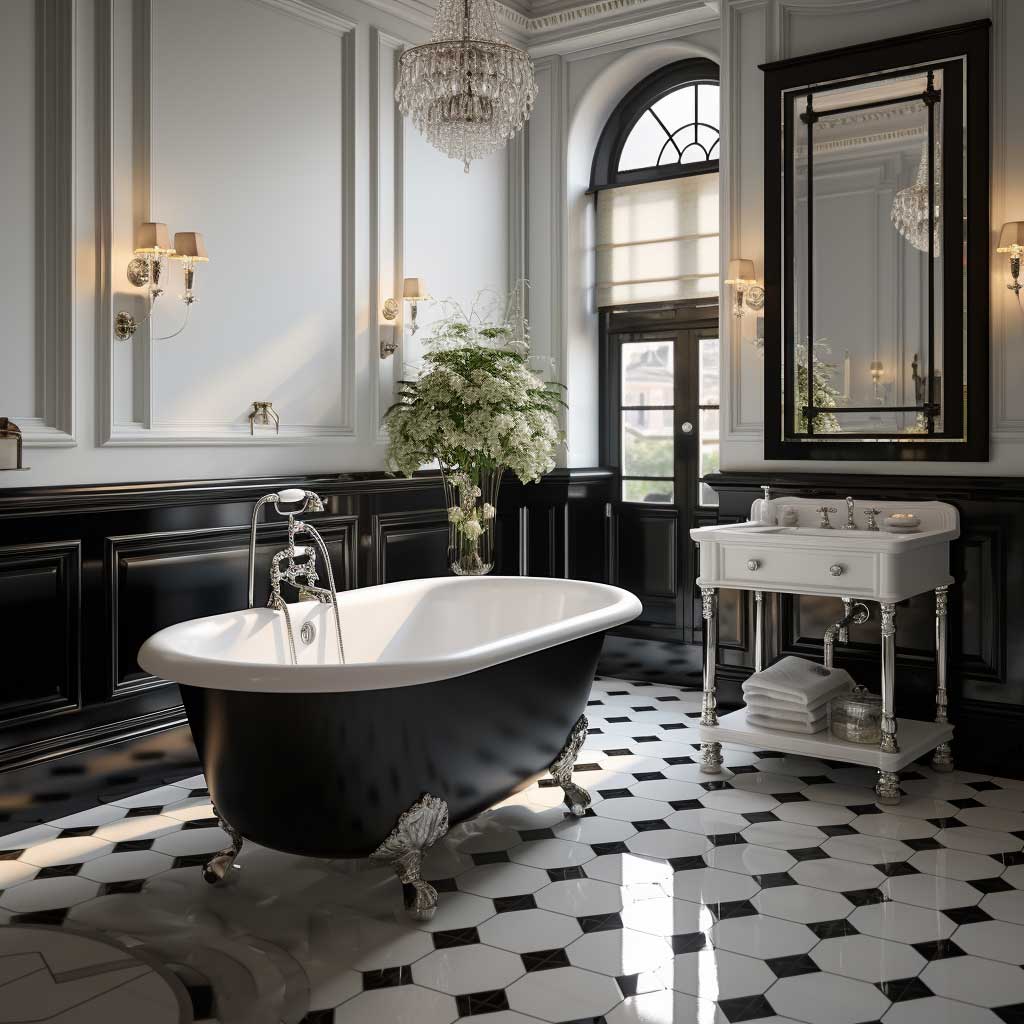 This photograph perfectly encapsulates the concept of a modern Victorian bathroom. It is an artistic display of how a fusion of old-world charm and modern functionality can create an inviting space that is both elegant and comfortable.
The room's primary focal point is a freestanding claw-foot tub. A quintessential Victorian element, the tub adds a touch of nostalgia to the room, with its curvaceous design lines and polished finish. It's nestled against a backdrop of soft, pastel-colored wall panels, reminiscent of the Victorian era's penchant for light, airy interiors.
Adjacent to the tub, a white porcelain pedestal sink complements it in both color and style. Its pedestal design is evocative of traditional Victorian bathrooms, while its clean lines and smooth surfaces give it a modern edge. Above the sink, a beautifully carved wooden mirror steals the show, embodying the era's attention to detail and love for intricate, handcrafted pieces.
The floor beneath these Victorian features is a striking modern element. It's a pristine, white, heated marble floor, known for its minimalistic appeal in contemporary interior design. It not only provides a chic contrast to the vintage elements but also brings a sense of comfort and luxury to the bathroom.
Adding a further modern touch, sleek chrome fixtures are installed throughout the bathroom. They serve as the perfect counterpoint to the classic Victorian furniture, with their shiny, reflective surfaces and simple, streamlined designs. In particular, the faucet and showerhead, with their innovative designs and advanced functionalities, add a touch of 21st-century luxury.
The bathroom also features a walk-in glass shower, another symbol of modern opulence. Its design, with a frameless glass enclosure and a high-tech rain shower head, is a nod to the modern preference for clean lines and minimalist aesthetics. Yet, it also provides a functional advantage, creating a spacious and open feel in the bathroom.
Finally, the lighting in the room is a harmonious blend of old and new. Recessed ceiling lights, a common feature in modern homes, cast a warm, inviting glow across the room, highlighting its details. Meanwhile, a vintage-style chandelier hangs from the ceiling, its ornate design and soft light adding a romantic, Victorian touch to the space.
In essence, this photograph shows how a modern Victorian bathroom can be a timeless and elegant space, blending the detailed craftsmanship of the Victorian era with the sleek, functional design of the modern age.
Luxurious Details in Modern Victorian Style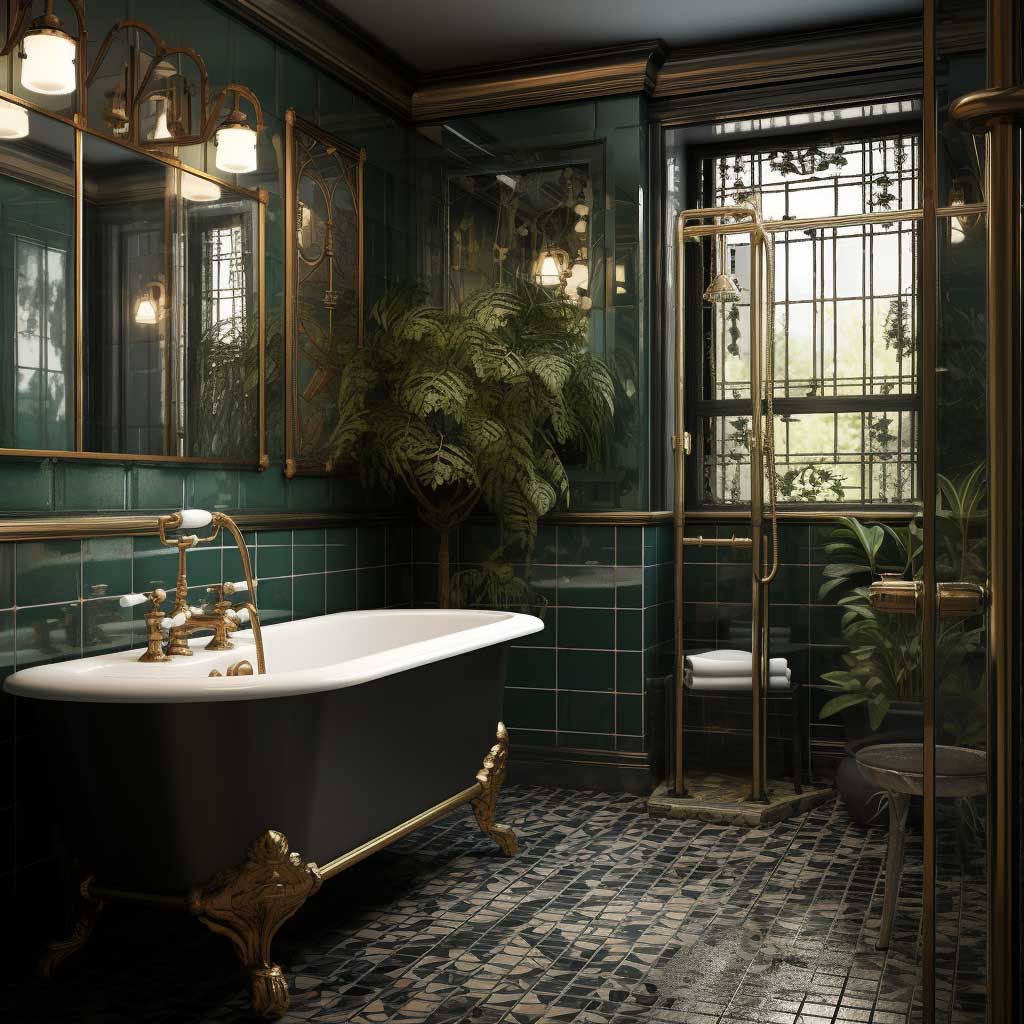 This image is a testament to the beauty that lies in the details, especially when designing a modern Victorian bathroom. It offers a close-up view of some of the bathroom's standout features, capturing their intricate designs and fine craftsmanship.
The photo first draws your attention to a majestic Victorian-style vanity unit. Crafted from richly stained wood, it exudes an air of sophistication and luxury. The vanity boasts a Carrara marble countertop, a timeless and elegant choice that blends well with both traditional and modern elements. Adding to its Victorian appeal, the vanity features ornate wood carvings and bronze hardware, which shimmer against the dark wood.
Contrasting this elaborate vanity is a sleek, frameless mirror hanging above it. Its clean, straight lines bring a dash of modern simplicity to the otherwise ornate setup. It also serves a practical purpose, reflecting light throughout the room and creating an illusion of more space.
The image also focuses on the bathroom's tiling – a thoughtful blend of Victorian and modern styles. The wall features ceramic subway tiles in a soft grey shade, their glossy finish reflecting the room's light and adding depth to the space. On the floor, hexagonal tiles create a visually intriguing pattern, their distinct shape a nod to Victorian design.
An artful display of Victorian opulence and modern minimalism is also evident in the room's lighting. An ornate crystal chandelier dangles above, its intricate design casting mesmerizing shadows on the ceiling, while modern wall sconces flank the mirror, emitting a soft, diffused light that enhances the room's serene atmosphere.
Also featured in this image is a freestanding tub, the epitome of Victorian elegance. Its clawfoot design and glossy finish transport you back to a time of indulgent baths and lavish pampering. In stark contrast, a modern rain showerhead adorns the space, its chrome finish and sleek design embodying the minimalist aesthetic.
In summary, this image showcases the balance between detail-oriented Victorian design and streamlined modern aesthetics. It tells a story of meticulous design decisions, each element chosen to contribute to a luxurious and comfortable modern Victorian bathroom.
Balancing Tradition and Innovation in Bathroom Design
This image captures the heart of a modern Victorian bathroom design, demonstrating a delicate balance between time-honored tradition and contemporary innovation. The photo is a study of contrasts, showcasing the thoughtful selection and strategic placement of each component, all contributing to a harmonious whole.
On one side of the photo is a traditional Victorian-style vanity. Made of dark, polished wood, its intricate carvings and ornate handles reflect the Victorian love for craftsmanship and detail. The marble countertop, cool and glossy, provides a surface that's not just functional but also aesthetically pleasing. It complements the ornate mirror above, a testament to Victorian tastes.
However, the vanity isn't the only highlight of the image. One's attention is equally captured by the ultra-modern fixtures installed around it. A sleek, brushed steel faucet rises from the marble countertop, its minimalist design providing a striking contrast to the elaborate vanity. The faucet's advanced touchless technology underscores the seamless integration of modern amenities into this Victorian-inspired space.
The contrast between old and new continues in the shower space. Encased in clear, frameless glass, it is a distinctly modern feature. But within, one can spot a vintage-inspired rain shower head, taking a cue from the Victorian affinity for brass and copper fixtures. The combination of these elements creates an appealing fusion, where one can enjoy the conveniences of modern design while basking in the vintage charm of Victorian décor.
The photograph also gives us a glimpse of the bathroom's floor and wall design. The porcelain hexagonal tiles on the floor give a nod to the Victorian era, while their monochrome palette aligns with a more modern aesthetic. On the walls, ceramic subway tiles in a soft grey shade provide a neutral backdrop that allows the room's features to stand out.
Lastly, the image highlights the lighting elements in the room. A vintage chandelier with crystal embellishments hangs majestically from the ceiling, illuminating the space with a warm, ambient glow. On the other hand, modern wall sconces contribute focused lighting, practical for daily tasks.
Overall, this photo is a masterful representation of a modern Victorian bathroom. It accentuates how traditional elements like ornate wooden vanities and intricate tiling can beautifully coexist with modern fixtures and amenities. Each piece, carefully chosen and strategically placed, creates a space that is as functional as it is visually appealing. It's a reminder that with the right design choices, you can indeed craft the perfect modern Victorian bathroom.
Conclusion
Designing a modern Victorian bathroom is akin to an artful dance, a delicate balancing act between the old and the new. Each element, from the intricate vanity to the modern fixtures, plays its part in creating an elegant and comfortable space. With careful planning and thoughtful design choices, you can transform your bathroom into a perfect blend of Victorian charm and modern comfort.