Navy, a color often associated with depth, sophistication, and elegance, has become a popular choice for homeowners looking to infuse their living spaces with a touch of luxury. When incorporated thoughtfully, navy can transform a room into a serene oasis or a vibrant hub of style. Dive into these four navy living room ideas that promise to elevate your home's aesthetic.
1. Navy Elegance with Modern Accents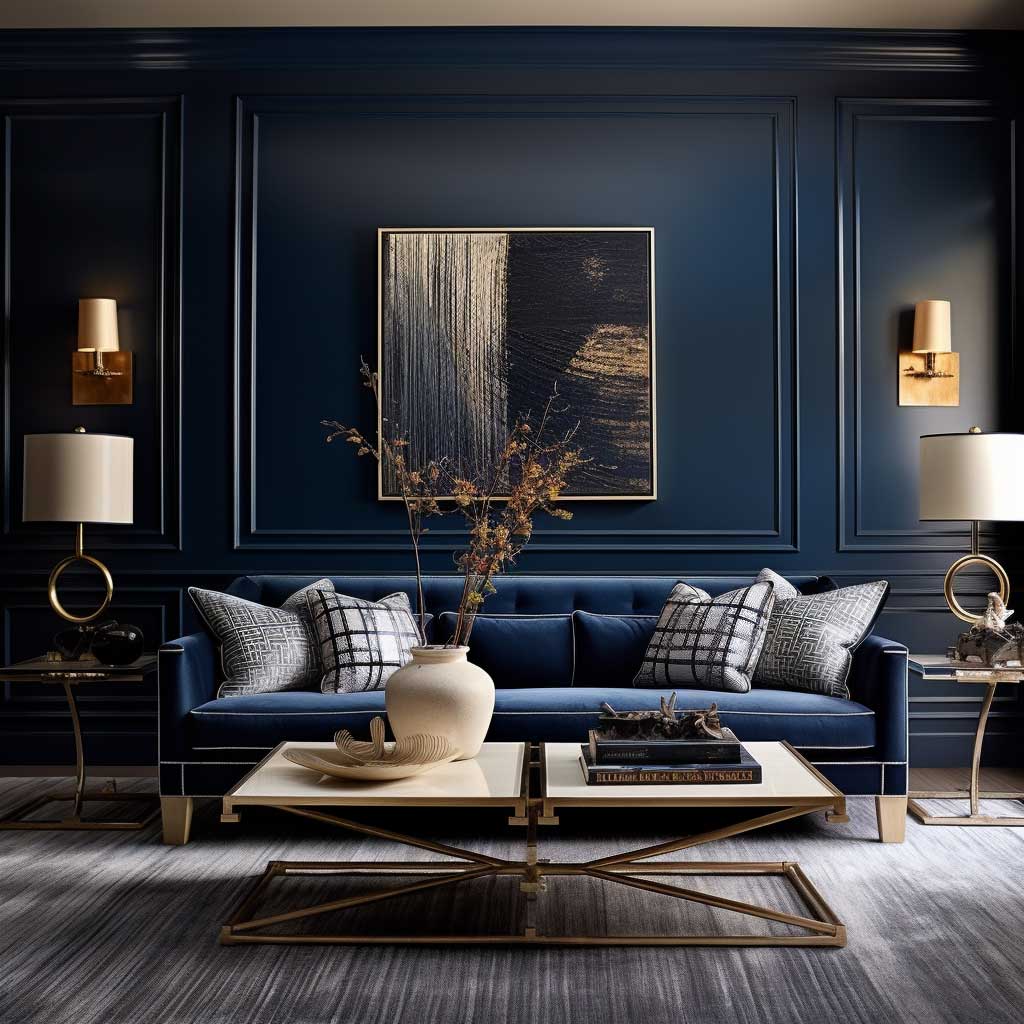 The world of interior design is ever-evolving, with colors playing a pivotal role in setting the mood and tone of a space. Among the myriad of shades available, navy has emerged as a favorite for many homeowners and designers alike. When we delve into navy living room ideas, a realm of sophistication and modernity unfolds before us.
Navy, often associated with the deep, mysterious expanse of the ocean, brings a depth and richness to living spaces. When paired with modern accents, it creates a harmonious blend of the old-world charm of navy with the sleekness of contemporary design. The result? A living room that exudes elegance and modernity in equal measure.
Imagine a spacious living room where the primary wall is painted in a deep navy shade. This wall serves as a canvas for modern art pieces, perhaps abstract in nature, with splashes of gold or silver. The furniture, in contrast, is minimalist. Sleek leather sofas in lighter shades, maybe a soft gray or pristine white, are adorned with navy cushions, tying back to the primary color theme.
Glass tables with chrome legs, a staple in modern design, dot the space. They reflect the navy hues and the ambient lighting, making the room appear larger and more luminous. Modern accents like geometric patterned rugs in navy and white, or metallic pendant lights hanging from the ceiling, add layers of sophistication.
However, the real beauty of this theme lies in the details. Think of navy-colored vases holding fresh white blooms, or modern sculptures that play with navy shades, placed strategically around the room. The blend of navy with these modern accents creates a dynamic space that is both inviting and intriguing.
2. Coastal Vibes in Navy Living Room Setting
Navy living room ideas often draw inspiration from various elements, and what better muse than the vast, serene expanse of the sea? The coastal vibe, with its relaxed and breezy charm, has been a beloved theme in interior design. When combined with the depth of navy, it results in a setting that is both calming and chic.
The coastal theme is all about bringing the outdoors in. Start with a navy accent wall, reminiscent of the deep blue sea. Against this backdrop, place a soft beige or sand-colored sofa, echoing the sandy shores. Throw in cushions in navy and white stripes, reminiscent of beach umbrellas or deck chairs.
Wooden elements play a crucial role in this theme. A driftwood coffee table or reclaimed wooden shelves can add an authentic coastal touch. On the shelves, place seashells, starfish, and other beach finds, perhaps inside clear glass jars or bowls, to create mini beachscapes.
The choice of fabrics in this setting should be light and airy. Think sheer white curtains billowing in the breeze, or a soft navy throw casually draped over a chair. Rugs in jute or sisal, with their natural, rugged texture, can ground the space and enhance the coastal feel.
Lighting plays a pivotal role in setting the mood. Opt for lantern-style lights or those made from sea glass or shells. They not only illuminate the space but also add to the coastal charm.
3. Navy and Gold – A Match Made in Heaven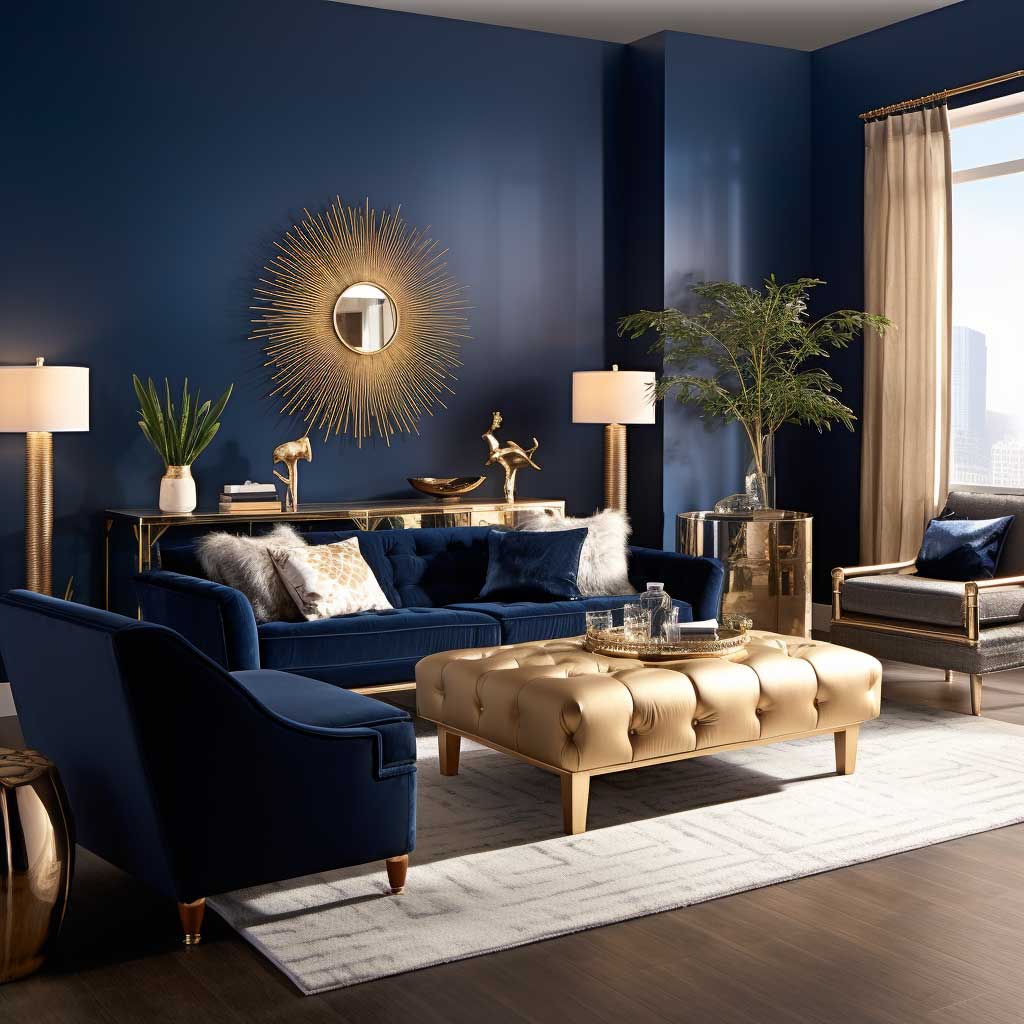 When exploring navy living room ideas, one combination stands out time and again – navy and gold. This duo, with its rich and opulent vibe, can transform any living space into a luxurious haven.
Navy, with its deep and moody undertones, sets the stage for a room that's both cozy and sophisticated. Now, introduce gold accents, and the room instantly elevates to a whole new level of luxury. The shimmering gold against the deep navy creates a contrast that's both striking and harmonious.
Imagine a navy velvet sofa, plush and inviting, sitting against a wall adorned with gold-patterned wallpaper. The play of patterns and colors creates a visual treat. Add to this a gold-framed mirror hanging above the sofa, reflecting the room's elegance.
Furniture with gold legs or trim, like a navy ottoman with gold studs, can further enhance this theme. Even small accents, like gold-rimmed coasters, navy cushions with gold embroidery, or a gold tray holding navy candles, can tie the room together.
However, the key to mastering this theme is balance. Too much gold can overpower the navy and make the room feel gaudy. The idea is to use gold as an accent, to highlight and complement the navy, not compete with it.
4. Contemporary Navy Living Room with Vintage Flair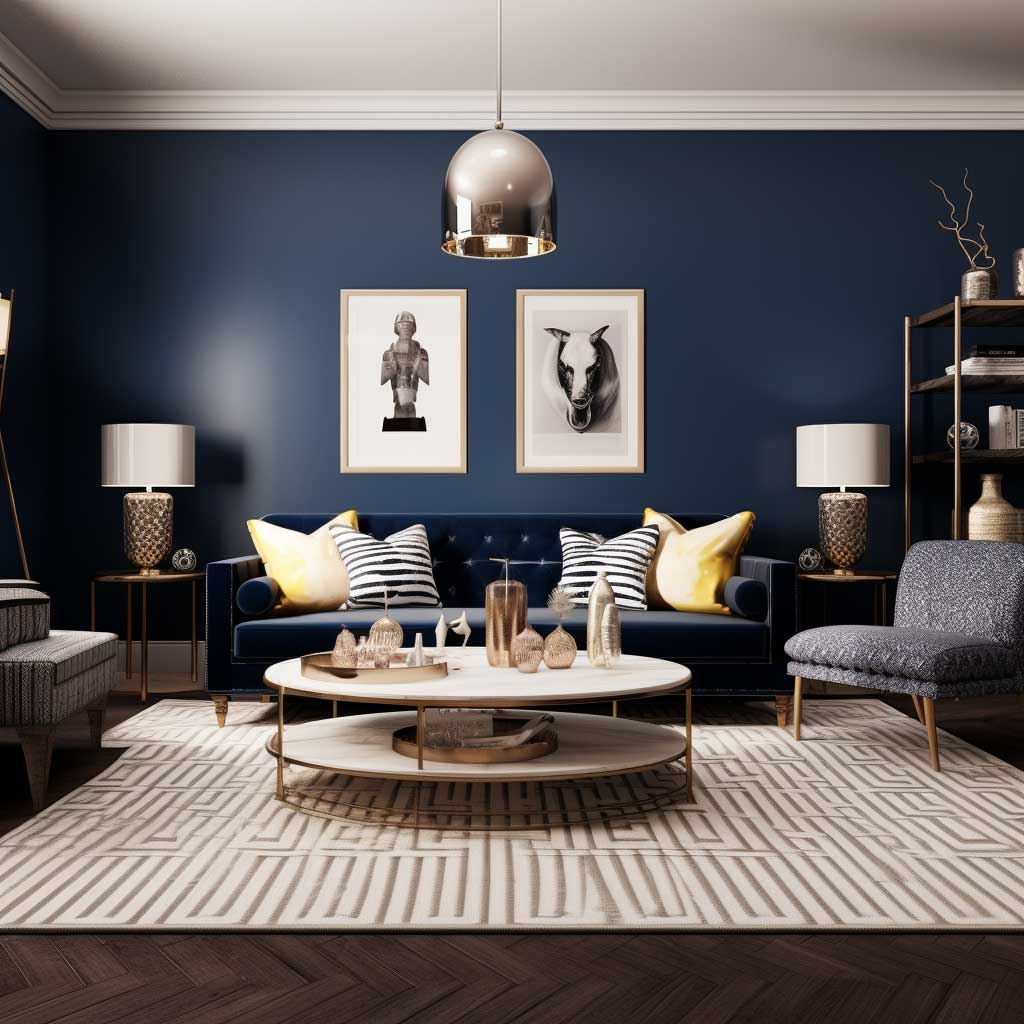 Marrying the old with the new can result in design magic. Among the plethora of navy living room ideas, the blend of contemporary design with vintage elements offers a unique and timeless appeal.
Start with a base of navy. This could be a navy-painted wall, a large navy rug, or even a navy sofa set. This sets a contemporary tone for the room. Now, to this modern setup, introduce vintage elements. This could be in the form of an antique wooden coffee table, vintage wall art, or even old-world lamps with intricate designs.
The beauty of this theme lies in the juxtaposition of the sleek, modern lines of contemporary design with the ornate, detailed charm of vintage pieces. A modern navy sofa paired with a vintage wooden side table, or a contemporary navy wall adorned with vintage paintings or mirrors, creates a visual contrast that's both striking and harmonious.
Accessories play a crucial role in tying this theme together. A vintage vase holding fresh, modern blooms, or a contemporary tray displaying vintage curios, can bridge the gap between the old and the new.
In essence, this theme is all about balance. It's about respecting the charm and beauty of vintage pieces while celebrating the simplicity and functionality of contemporary design.
Conclusion
Navy, with its rich and versatile nature, offers endless possibilities when it comes to interior design. Whether you're aiming for a calm and collected ambiance or a lively and luxurious feel, these navy living room ideas are sure to inspire and impress. Remember, it's all about finding the right balance and making the color work in harmony with your personal style and existing decor.