Choosing the right flooring options for a house is a crucial decision that can significantly impact the aesthetics and functionality of your home. These choices can set the tone for your home's design, making it all the more necessary to pick the perfect flooring option. We've gathered five unique flooring options for your house that will not only meet your aesthetic expectations but also stand up to the demands of your lifestyle.
Elegant Hardwood – A Timeless Flooring Option for Your House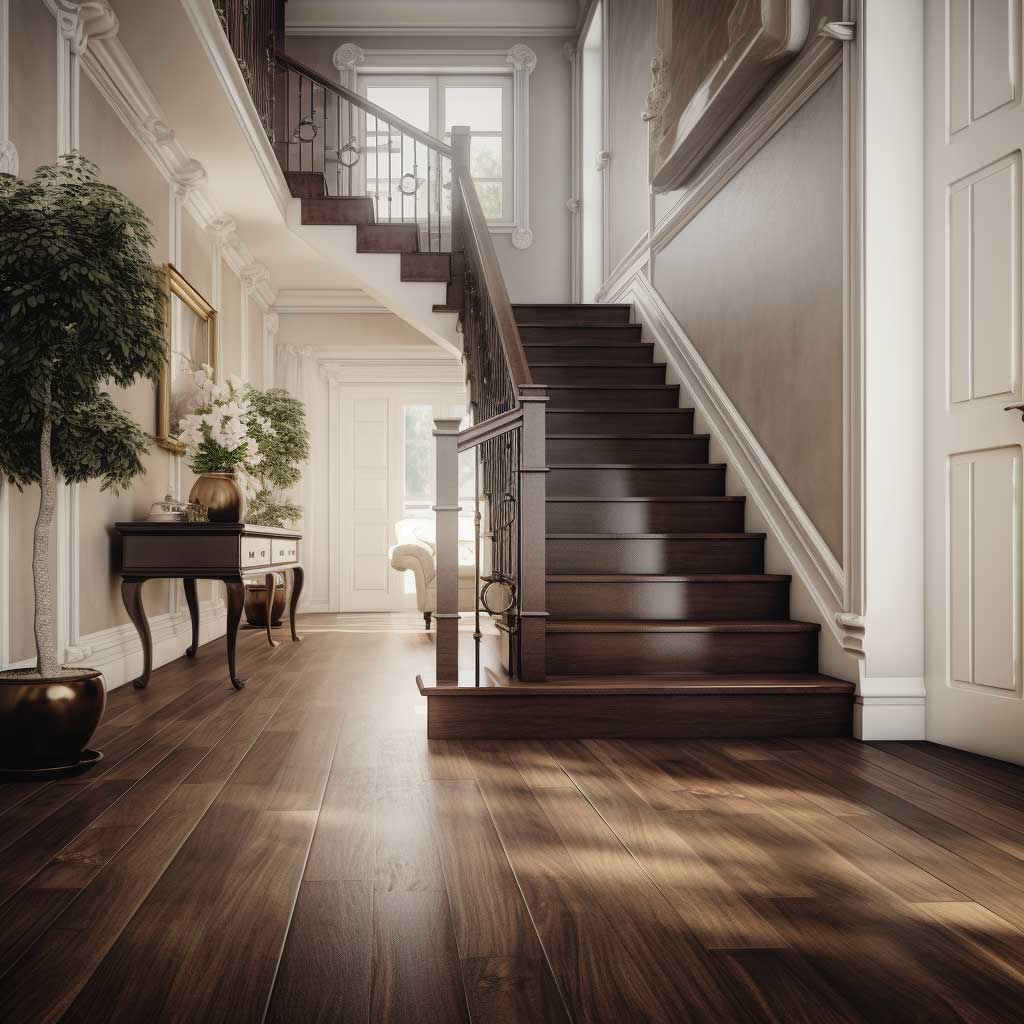 The allure of hardwood is undeniable. When one thinks of elegant flooring options for a house, the richness and depth of hardwood often come to mind. Each plank, with its unique grain patterns, reflects nature's artistry, bringing an organic touch to interiors.
Over time, hardwood can develop a patina, a naturally aged appearance, which adds character to the floors. This natural aging process makes hardwood floors even more distinctive, ensuring that no two homes will have the exact same flooring appearance.
Another enchanting aspect of hardwood is its acoustic properties. Unlike other flooring options, it doesn't echo sound. This makes living spaces feel cozier, with conversations feeling more intimate, creating a comfortable ambiance in the house.
There's also a vast array of hardwood types available, from oak to walnut and beyond. This diversity allows homeowners to select a wood type that perfectly matches their home's aesthetic and their personal taste.
The versatility of hardwood is another factor in its favor. Whether one is looking for a dark, moody ambiance or a light, airy feel, hardwood flooring offers a range of shades and finishes to match the desired look.
Furthermore, hardwood is surprisingly adaptive to various design trends. Whether paired with modern minimalist furnishings or traditional ornate decors, hardwood seamlessly integrates, elevating the house's overall aesthetic.
Maintenance and longevity are other key factors. With the right care, hardwood floors can last a lifetime, ensuring that the house always has a foundation of elegance.
Sleek Porcelain Tiles – The Durable Flooring Option for Your House
Porcelain tiles aren't just durable; they are a canvas for artistic expression. Their surfaces can be crafted to mimic a myriad of materials, making them one of the most versatile flooring options for a house.
Modern manufacturing techniques have allowed for the creation of porcelain tiles that look indistinguishable from marble, slate, or even wood. This means that homeowners can achieve a specific look without the associated maintenance challenges of the natural material.
Another advantage of porcelain tiles is their water-resistance. This makes them ideal for areas like kitchens and bathrooms, where spills and splashes are common, ensuring longevity and ease of cleaning.
The texture options with porcelain tiles are vast. From high gloss finishes that reflect light beautifully to matte finishes that provide a more subdued look, the choices ensure a fit for every house style and preference.
Unlike many other flooring options, porcelain tiles are inherently resistant to allergens. This makes them an excellent choice for those who are allergy-prone, ensuring a cleaner, healthier living environment in the house.
For those concerned about sustainability, many porcelain tiles are manufactured using eco-friendly processes, ensuring that your house flooring is not only durable but also kind to the planet.
In terms of installation versatility, porcelain tiles can be laid in numerous patterns, from the classic straight lay to herringbone or chevron designs, allowing homeowners to customize their house flooring to their exact vision.
Innovative Cork Flooring – A Sustainable Flooring Option for Your House
When it comes to merging comfort with sustainability, cork flooring is a front-runner. Its soft, cushioned surface makes it a joy to walk on, offering a gentle underfoot experience that's unparalleled.
Beyond comfort, cork has incredible insulating properties. This means houses with cork flooring benefit from natural temperature regulation, keeping interiors cool in summer and warm in winter.
For those who are environmentally conscious, cork is one of the best flooring options for a house. The process of harvesting cork doesn't harm the tree, and the bark regrows, making it a renewable resource.
Cork flooring also boasts acoustic benefits. The natural cellular structure of cork dampens sound, making it an excellent option for rooms where noise reduction is a priority, such as home theaters or music rooms.
From a design perspective, cork flooring has evolved tremendously. Today's cork floors come in a variety of shades and patterns, ensuring a fit for various house aesthetics, from rustic to contemporary.
Durability is another strong suit of cork. With the right finish and maintenance, cork floors can withstand daily wear and tear, ensuring they remain a mainstay in the house for years to come.
Finally, cork flooring is naturally hypoallergenic, repelling dust, hair, and other particles. This makes it a great choice for those with allergies, providing a cleaner, healthier flooring option for the house.
Conclusion
When it comes to selecting flooring options for your house, you're not just choosing a surface to walk on. You're deciding on a style statement, a lifestyle fit, and a long-term investment. From the timeless elegance of hardwood and the unrivaled durability of porcelain tiles, to the comfort and sustainability of cork flooring, each option carries its unique set of advantages. While the final choice will depend on your personal preferences, lifestyle, and budget, each of these flooring options guarantees to enhance your house's value and aesthetic appeal for years to come.