Turning your loft into a playroom can be a brilliant solution for families needing to maximize their living spaces. Not only can a loft playroom provide a special area for children to play, learn and grow, but it can also help in keeping the rest of the home clutter-free. Here are 7 innovative loft playroom ideas that will inspire you to create a fun-filled haven for your little ones.
The Enchanted Forest: A Nature-Inspired Loft Playroom
The main feature of this loft playroom is the stunning mural of an enchanted forest. The mural sets the stage for imaginative play, with children being able to create their own adventures against the magical backdrop.
The reading nook, nestled under the sloped ceiling, offers a cozy retreat for children to indulge in their favorite stories. It's a quiet corner away from the more active zones, making it a perfect spot for introverted children or those who simply want a break from the hustle and bustle.
A few steps away, the craft table stands ready for an array of creative activities. Whether it's painting, drawing, or crafting, this space encourages children to express their creativity, developing their artistic skills and cognitive abilities.
The mini climbing wall is an unexpected and exciting feature. It introduces a physical challenge that not only contributes to a child's motor skills and coordination but also teaches them about perseverance and overcoming obstacles.
In this loft playroom, every piece of furniture and decor serves a purpose, contributing to a child's development in some way. It's a space that recognizes the value of play in learning and growing.
The variety of activities available in this playroom also ensures that children with different interests and abilities can find something they enjoy. It's an inclusive environment that caters to different learning styles and preferences.
Overall, this loft playroom idea stands as a testament to the limitless possibilities of a well-designed playroom. With thoughtfulness and creativity, a simple loft space can be transformed into an enchanted forest that nurtures a child's curiosity and growth.
The Playhouse Loft: Home within a Home
This loft playroom takes the concept of imaginative play to a whole new level by creating a mini house within the room. This design choice instantly makes the space feel welcoming and special, setting the stage for endless pretend-play scenarios.
The playhouse, complete with windows and a tiny door, adds an element of realism to children's games. It's like having a personal, child-sized home where they can explore everyday roles and situations in a safe environment.
Inside the playhouse, the play kitchen allows children to mimic adult tasks. It's an engaging way for them to develop life skills and understanding of the world around them, all while having fun.
The room's flooring is thoughtfully covered with colorful play mats and a plush rug, providing a safe, soft surface for children to play on. This element of the room shows that safety and comfort were high priorities in the design process.
The space is filled with an array of toys that cater to different aspects of a child's development. From educational toys that sharpen cognitive skills to larger interactive toys that improve motor skills, each item has been carefully selected to enhance the child's learning through play.
The toy storage solution in this room helps keep everything organized, teaching children about the importance of tidying up and taking care of their belongings. It's a functional feature that also contributes to the room's neat and pleasant atmosphere.
In summary, this loft playroom idea highlights the power of a well-considered design in creating a fun, educational, and safe environment for children. It's a space that seamlessly blends play and learning, offering endless hours of fun and discovery.
A loft playroom with a built-in slide and climbing wall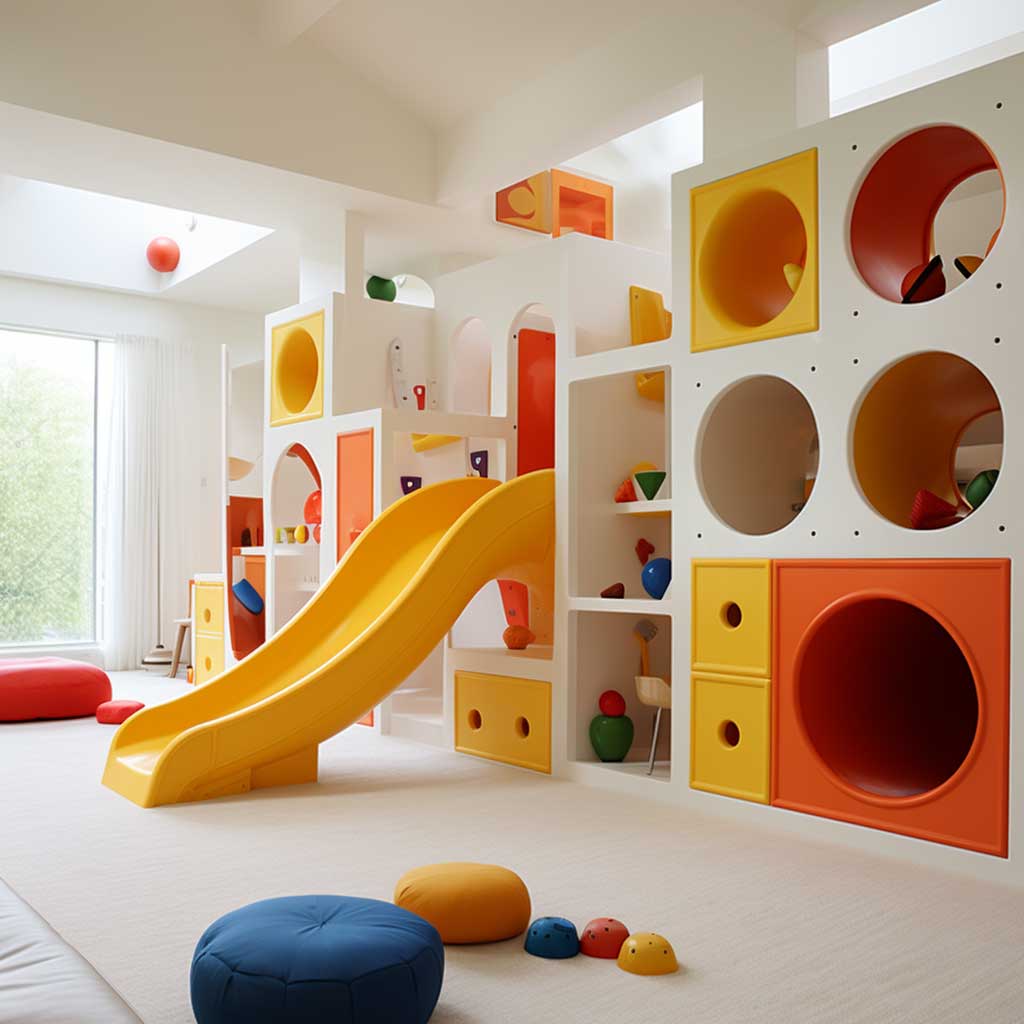 An exhilarating feature of this loft playroom is the built-in slide and climbing wall. This addition brings the thrill of a playground into the comfort of the home, promising countless hours of active fun.
The climbing wall leading up to a platform challenges children physically, encouraging them to test their strength and agility. It's an effective way to engage their bodies and minds simultaneously, fostering overall development.
The slide is a delightful reward for children who make it to the top of the climbing wall. It provides a fun way to descend from the loft, promoting physical play and giving children a sense of achievement.
The choice of vibrant colors in this playroom adds to the energetic and stimulating atmosphere. The bright hues make the space more appealing to children, enhancing their interest and engagement in play.
The various play stations in this room cater to different activities, ensuring that children have a diverse range of options to choose from. This flexibility supports children's changing interests and moods, accommodating a wide variety of play scenarios.
In this loft playroom, children are encouraged to take risks and challenge themselves in a safe environment. The active elements of the room, like the climbing wall and slide, contribute to building resilience and self-confidence in children.
This loft playroom idea effectively uses the vertical space available, creating an exciting multi-level play area within the room. It's an excellent example of how smart design can maximize a room's potential, turning it into an engaging and dynamic play space.
Conclusion
Creating a playroom in a loft space can be a rewarding project, providing a dedicated area for children to play, explore, and learn. These loft playroom ideas show that with a bit of creativity and thoughtful planning, you can design a space that is not only fun but also aids in your child's development. From climbing walls and slides for physical play to mini houses for imaginative scenarios, each feature can offer unique benefits. Always remember to design with safety in mind and consider your child's interests to create a space they'll truly love.