Welcome to the world of Kelly Hoppen, a place where bedroom designs are a timeless combination of elegance, comfort, and sophisticated simplicity. Famed for blending Eastern and Western design elements, Hoppen's bedrooms radiate with a unique global charm. In this journey, we will explore three different bedrooms that showcase the diversity and versatility of Kelly Hoppen's design approach.
Modern Glamour in Kelly Hoppen Bedrooms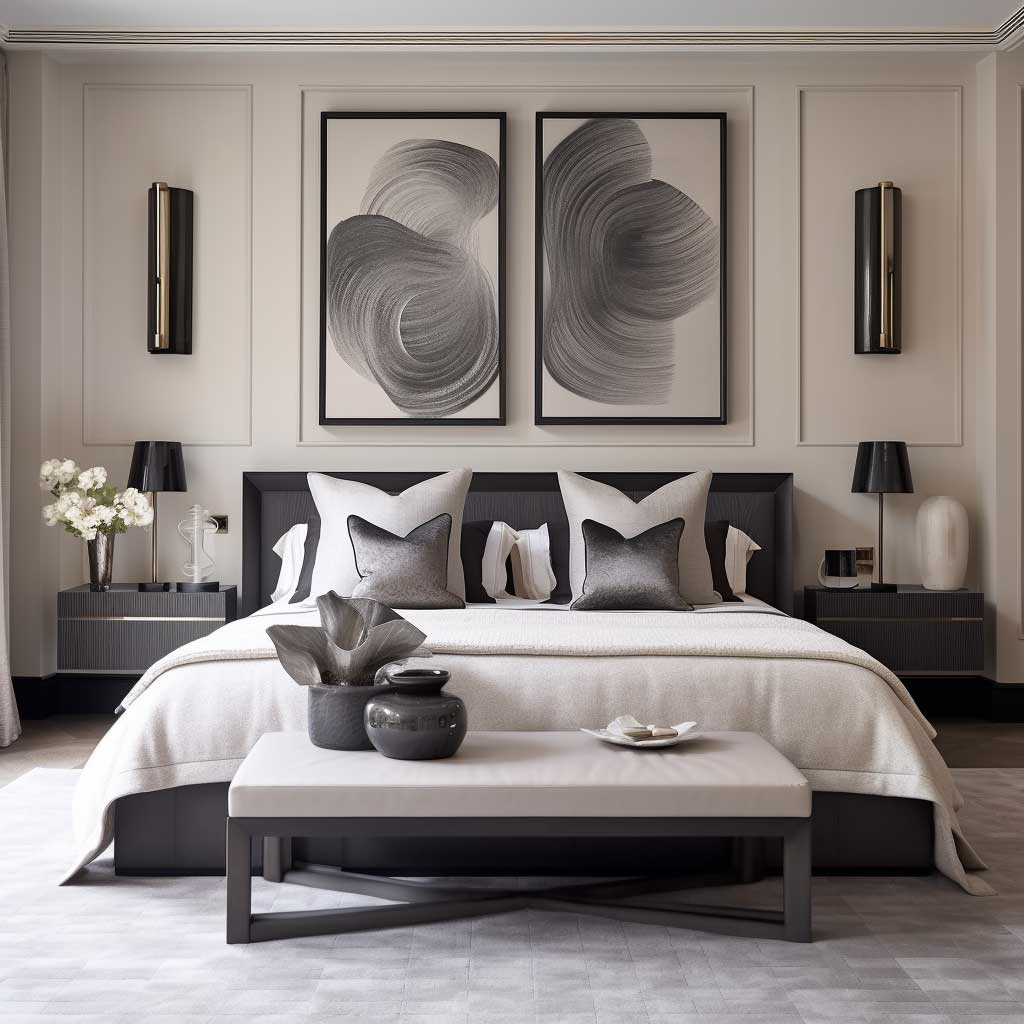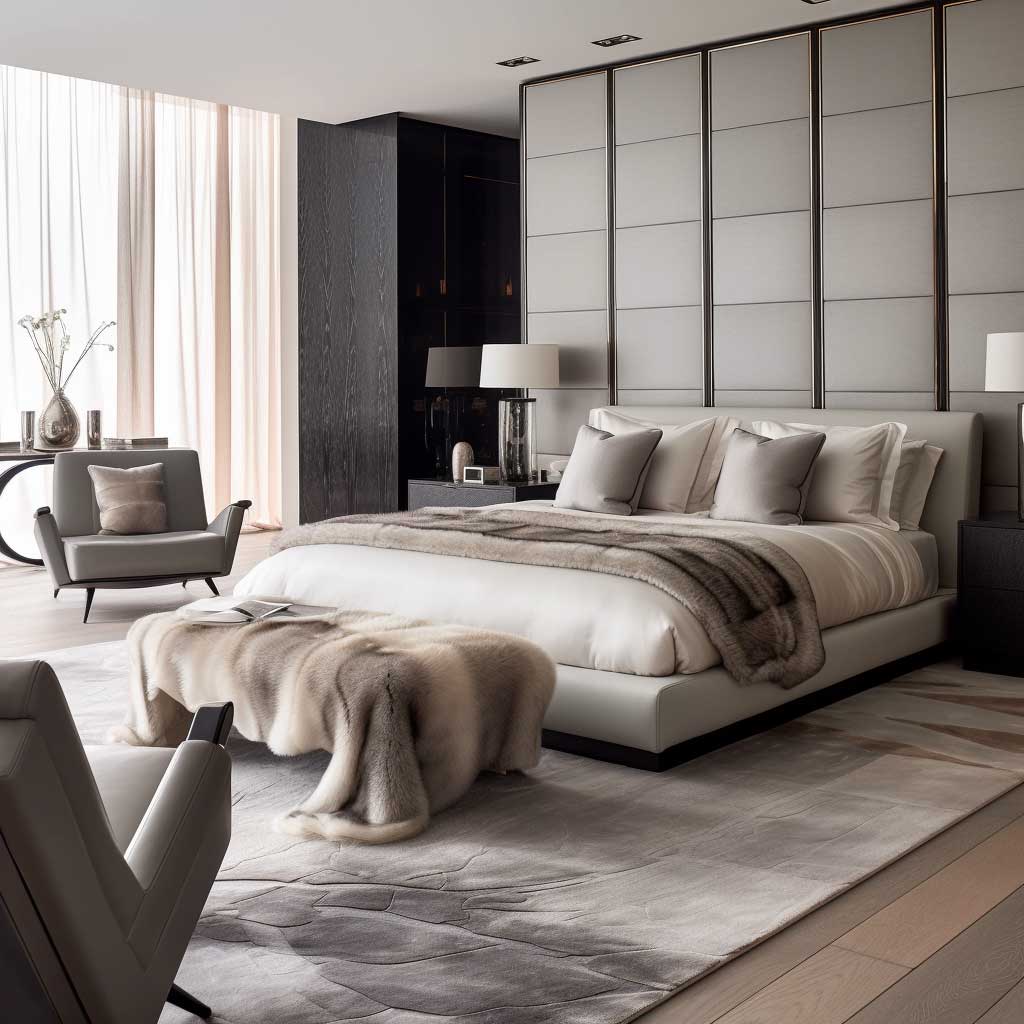 Our first photo presents a striking showcase of modern glamour in one of Kelly Hoppen's meticulously designed bedrooms. Renowned for her use of a restrained color palette, clean lines, and rich textures, Kelly's designs embody a sense of timeless elegance that is clearly visible in this bedroom.
At first glance, the monochromatic color scheme immediately catches the eye. A careful interplay of grays and whites infuses the room with a sense of calm and tranquility, and highlights Kelly's knack for creating balanced, harmonious spaces. This muted color palette also allows for the room's different textures and finishes to take center stage.
The bed, the focal point of the room, epitomizes Kelly's ability to balance comfort with sophistication. Dressed in sumptuous linens in varying shades of gray, the bed exudes an irresistible allure, inviting one to sink into its luxurious depths. The tall, padded headboard, also in a matching gray hue, adds a dash of drama to the overall design.
On either side of the bed, sleek side tables complement the room's contemporary aesthetic. Featuring metallic accents and topped with modern table lamps, these furnishings contribute to the overall sense of elegance. They not only serve as functional elements but also add a layer of visual interest to the room.
Textures play a significant role in this Kelly Hoppen bedroom. From the plush rug underfoot to the soft linens and the smooth finishes of the furniture, each surface invites touch and exploration. These varied textures, while creating a rich tactile experience, also add depth and dimension to the space.
In conclusion, this photograph perfectly encapsulates the modern glamour inherent in Kelly Hoppen bedrooms. The monochromatic color scheme, clean lines, and rich textures all blend seamlessly to create a space that is as visually stunning as it is inviting and comfortable.
East Meets West in Kelly Hoppen Bedrooms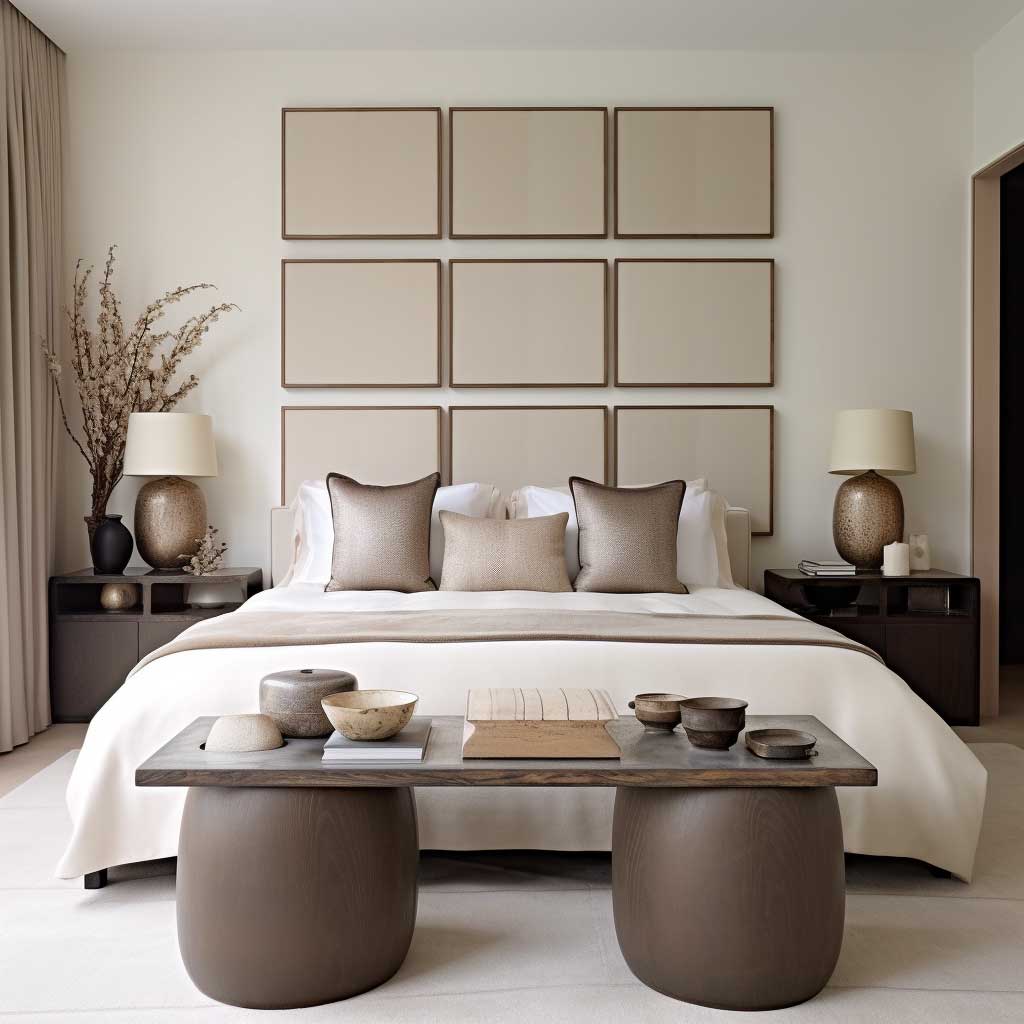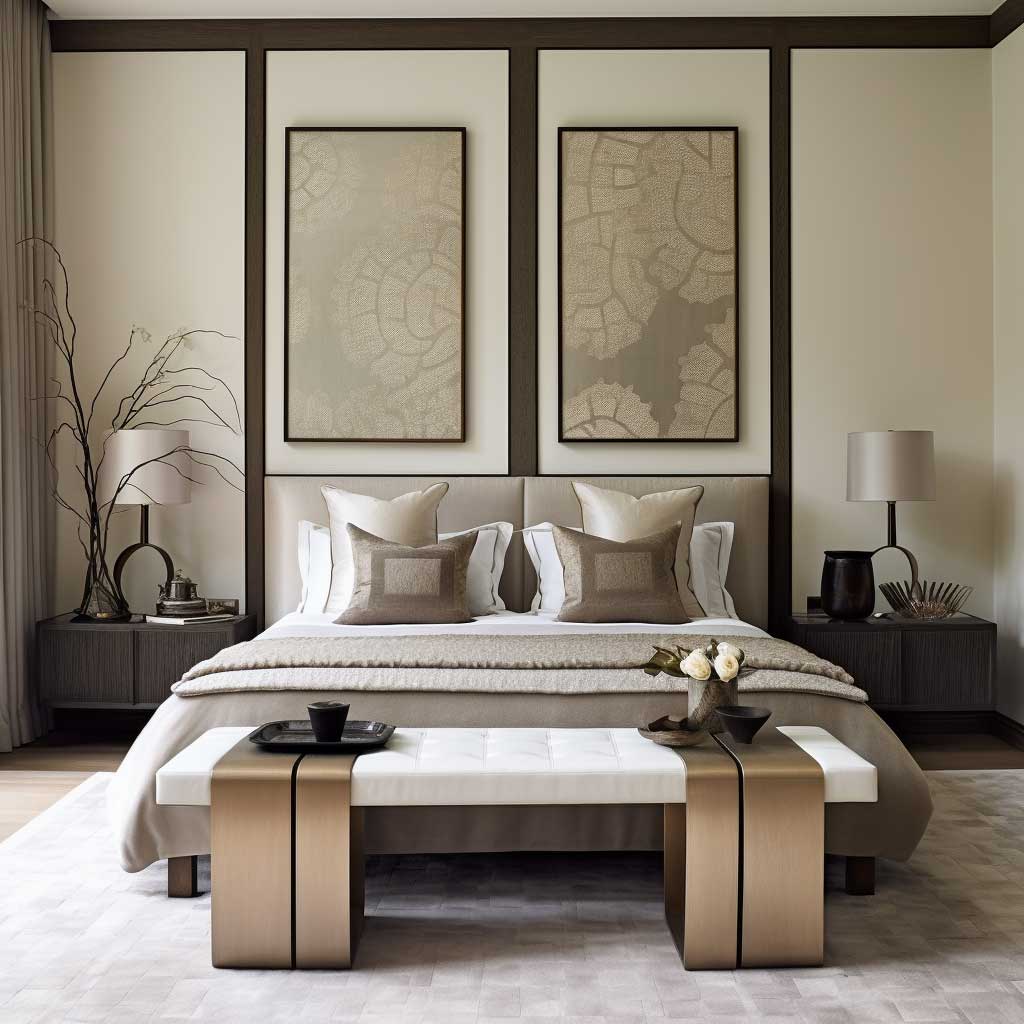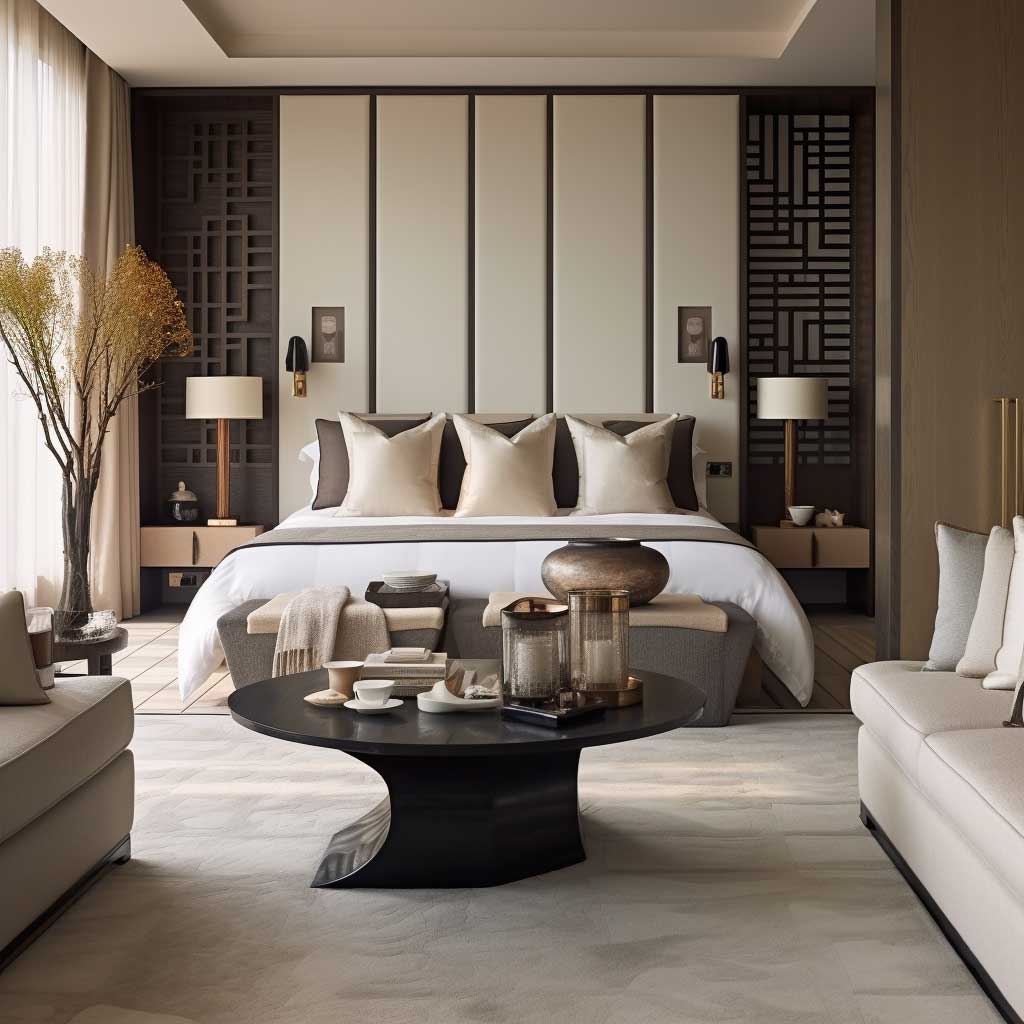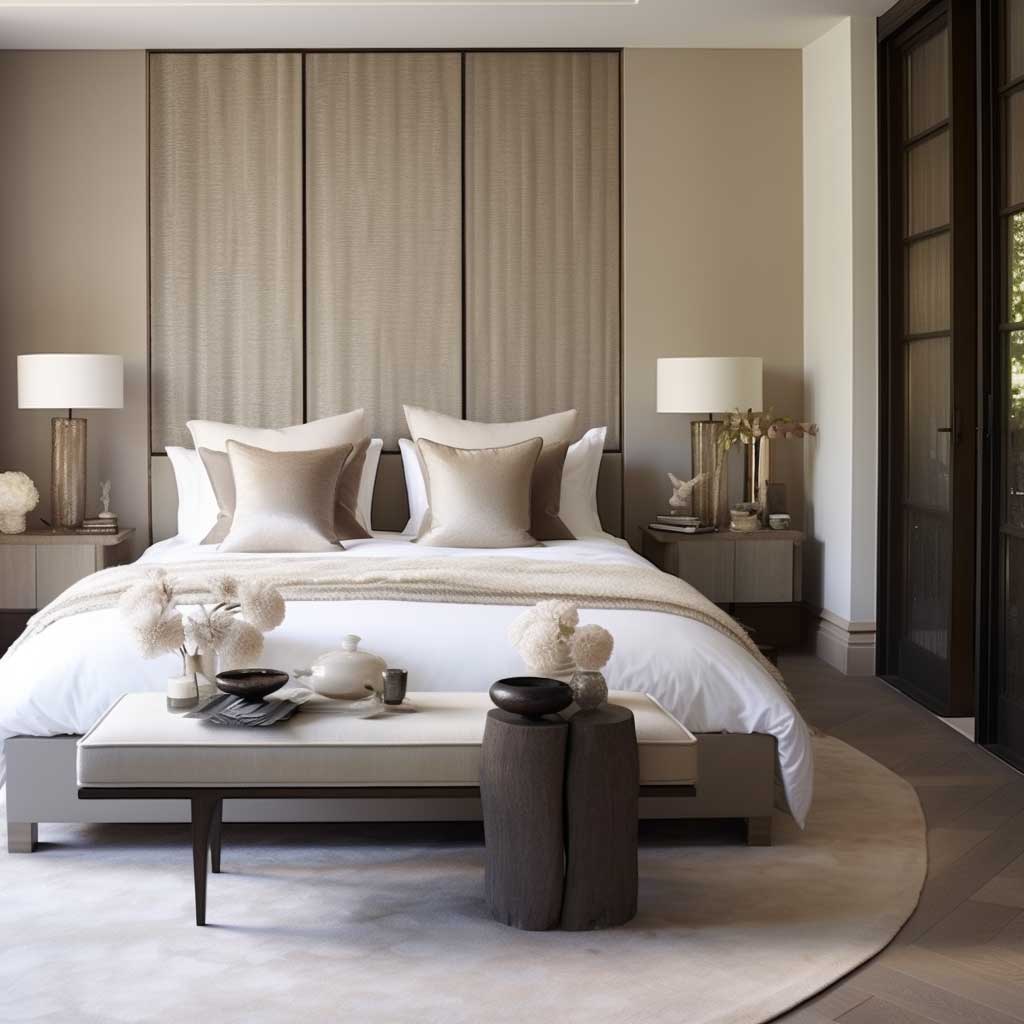 The second photograph provides a glimpse into a unique Kelly Hoppen bedroom that beautifully blends Eastern and Western design influences. This bedroom, with its warm neutrals and subtle textures, represents Kelly's talent for fusing diverse cultural inspirations into a cohesive and appealing design.
The color scheme in this bedroom is reminiscent of natural materials, with shades of beige, cream, and brown forming a warm and inviting canvas. This palette imbues the space with a sense of calm and comfort, demonstrating Kelly's preference for neutral hues in her designs.
The bed, comfortably nested in an alcove, exudes an intimate and cozy feel. Its design, characterized by clean lines and a low profile, exhibits influences of Eastern aesthetics. This, coupled with the selection of soft, inviting linens, creates a tranquil retreat within the room.
The use of natural materials and textures, such as the woven rug and wooden accents, contribute to the room's harmonious blend of East and West. These elements, while enhancing the room's tactile appeal, also add to its overall aesthetic charm.
Subtle decorative elements, like the minimalist artwork and carefully selected accessories, demonstrate Kelly's eye for detail and her ability to create visually engaging spaces without resorting to clutter. Each piece serves a purpose, either functional or aesthetic, contributing to the overall coherence of the room's design.
In conclusion, this photograph perfectly illustrates the unique appeal of Kelly Hoppen bedrooms. The fusion of Eastern and Western design elements, the warm neutral color palette, and the careful use of textures and decor all come together to create a space that exudes calm, comfort, and an undeniable sense of global chic.
Elegance in Simplicity with Kelly Hoppen Bedrooms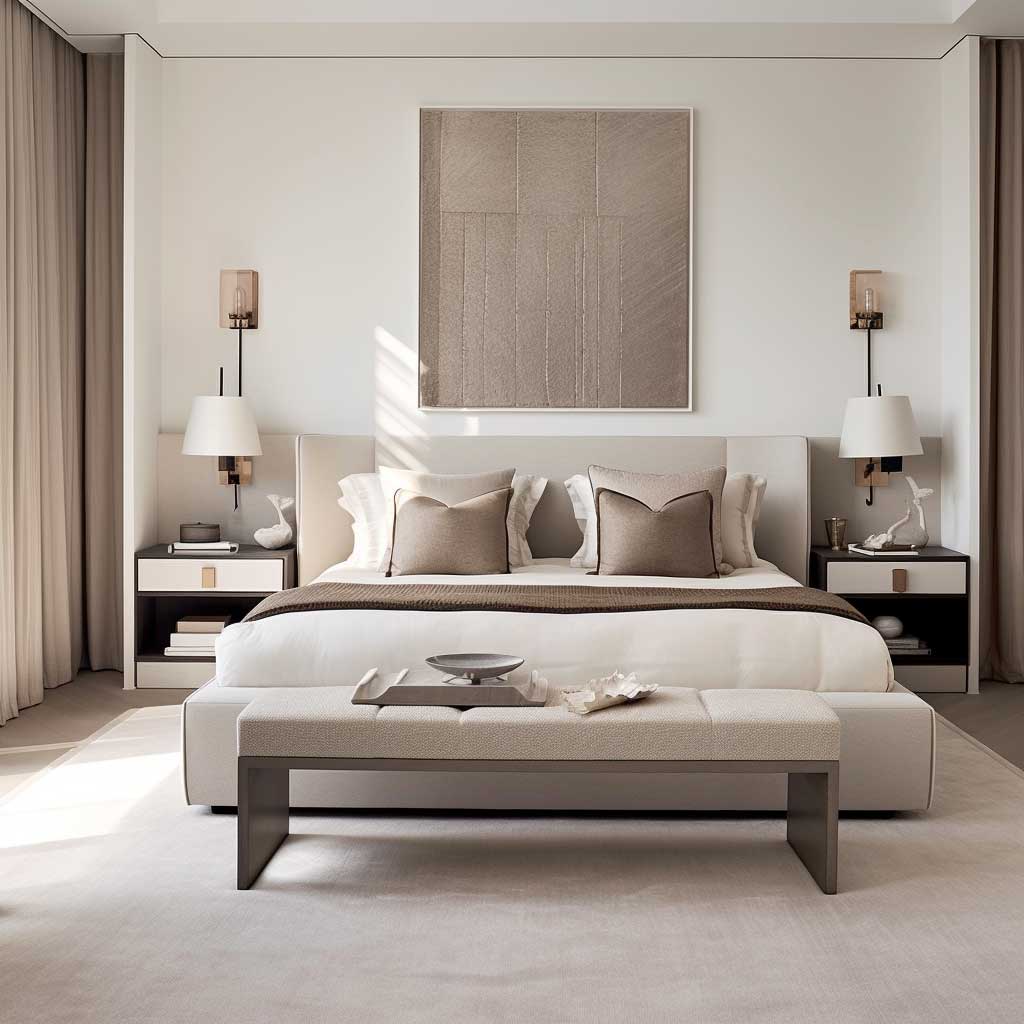 The third photo invites us into a Kelly Hoppen-designed bedroom that underscores the elegance of simplicity. With its muted color scheme, clean lines, and focus on functionality, this bedroom captures Kelly's knack for creating minimalist spaces that do not sacrifice comfort or elegance.
The color palette in this bedroom relies on muted hues of white, cream, and taupe. This restraint in color lends the space an air of sophistication and serenity, and serves as a perfect canvas for the room's minimalist aesthetic. This understated color scheme is a hallmark of Kelly Hoppen's designs, emphasizing her mastery of creating visually pleasing and tranquil spaces using a restrained palette.
The bed, central to the room, embodies a streamlined design aesthetic. Its low profile and clean lines are complemented by luxurious, simple linens that add a touch of softness to the otherwise sleek design. This blend of minimalism and comfort is characteristic of Kelly's approach to bedroom design.
The room's furnishings, including a sleek side table and a modern chair, reflect a focus on functionality and form. Each piece, while serving a practical purpose, also contributes to the room's minimalist aesthetic. Their clean lines and uncluttered design further underscore the room's sense of tranquility and order.
Even in its simplicity, this bedroom does not lack in texture. From the smooth surfaces of the furniture to the plush linens on the bed and the soft rug underfoot, these subtle tactile elements add depth and interest to the room.
Conclusion: Kelly Hoppen's bedrooms are not just spaces for rest; they are personal retreats that exude elegance, sophistication, and tranquility. Through the exploration of these three bedrooms, we get a glimpse of Hoppen's distinctive design approach—be it the modern glamour of monochromatic hues and rich textures, the fusion of Eastern and Western influences, or the elegance achieved through simplicity. Her adept use of color, texture, and functional design truly transform these spaces into stylish, serene havens.