In a world often characterized by excess and overstimulation, many of us crave simplicity in our private spaces. That's where minimalist interior design comes in, particularly in the context of bedroom design. By emphasizing simplicity, functionality, and a reduction of unnecessary elements, minimalist design can help create tranquil, clutter-free spaces conducive to rest and relaxation. This article will explore three variations of minimalist design – sleek and stylish, Scandi simplicity, and urban chic – providing inspiration for your next bedroom makeover.
Sleek and Stylish Minimalist Interior Design Bedroom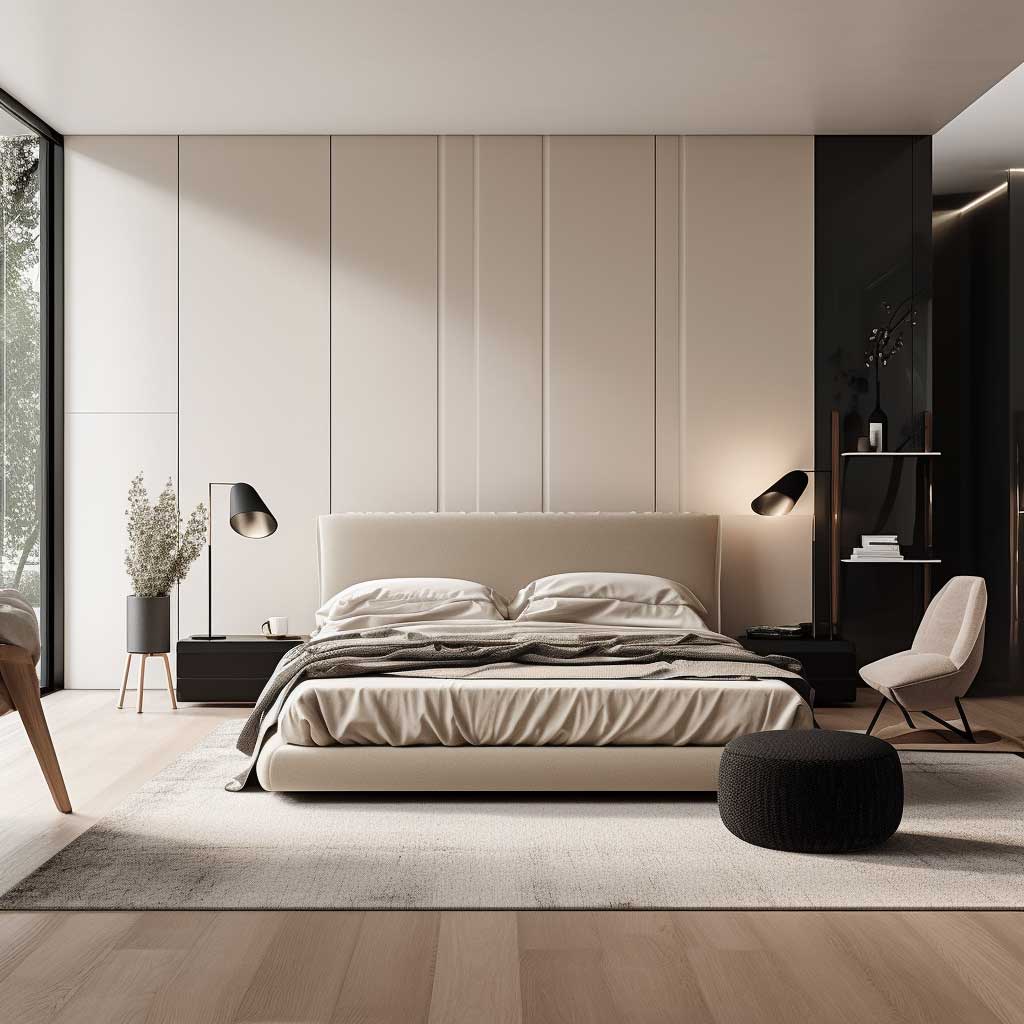 The first image unveils a bedroom designed with a minimalist aesthetic at its heart. The room is defined by a monochromatic colour scheme and sleek, streamlined furniture, elements that convey a sense of tranquility, simplicity, and sophistication.
The room is dominated by varying shades of white — from the pristine walls and ceiling to the plush, cloud-like bedding. This choice of colour creates a peaceful and relaxing atmosphere that's ideal for rest and rejuvenation. It also allows the room's architectural features and furniture to take center stage.
The minimalist furniture in the room is characterized by its simple lines and lack of unnecessary detail. The platform bed, the modern side tables, and the standalone full-length mirror all embody a 'less is more' design philosophy. Their streamlined forms help reduce visual clutter and foster a sense of calm.
In contrast to the room's dominant white, a black accent wall behind the bed adds depth and a contemporary edge. This element creates a striking visual contrast that prevents the room from feeling too sterile or bland, injecting a dose of drama into the otherwise serene space.
Despite the minimal decor, the room doesn't lack warmth. A plush rug underfoot, a couple of well-placed indoor plants, and warm lighting contribute to a cozy and inviting ambiance. These additions provide softness and warmth to the minimalist aesthetic, creating a balance between functionality and comfort.
To conclude, this minimalist interior design bedroom exemplifies how less can indeed be more. With its clean lines, muted colour scheme, and carefully curated furnishings, the room creates a tranquil environment that encourages relaxation and rest, all while making a bold statement about modern, sophisticated living.
Scandi Simplicity in a Minimalist Interior Design Bedroom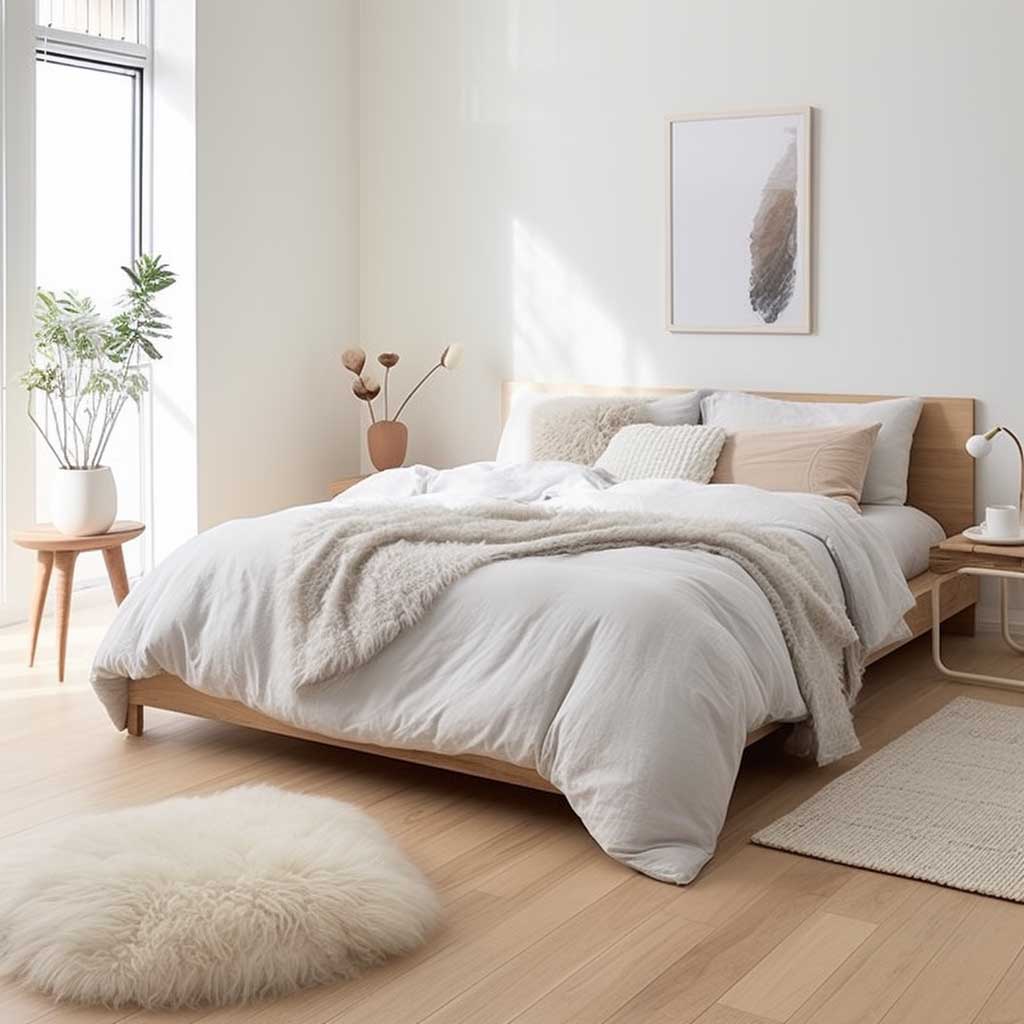 The second image invites us into a bedroom that blends minimalist design principles with a distinctive Scandinavian influence. The room features a soothing colour palette, clean lines, and an emphasis on natural materials, resulting in a space that's both stylish and comfortable.
The colour palette in this bedroom leans towards cool neutrals. Shades of grey, white, and beige come together to create a calm and soothing environment. These colours also lend themselves well to the minimalist aesthetic, promoting a sense of simplicity and serenity.
The furniture in this room exhibits the sleek, clean lines that are synonymous with minimalist design. The wooden platform bed, the understated bedside tables, and the practical yet stylish storage solutions all embody a design approach that values functionality and simplicity.
What sets this minimalist bedroom apart is its use of natural materials. The use of wood in the bed frame and flooring, along with a woven jute rug and linen bedding, introduces texture and warmth into the room. These elements add a touch of organic beauty that softens the minimalist aesthetic.
Another noteworthy aspect of this room is its focus on natural light. A large window floods the room with sunlight, enhancing the soft colours and natural materials, while also creating a sense of openness and airiness.
In summary, this Scandi-inspired minimalist interior design bedroom proves that a minimalist approach doesn't have to feel cold or impersonal. By incorporating natural materials and allowing for plenty of natural light, the room achieves a harmonious balance between minimalist simplicity and comfortable living.
Urban Chic Minimalist Interior Design Bedroom
The third image showcases an urban, loft-style bedroom that embraces a minimalist aesthetic. The room combines industrial design elements with a monochrome colour scheme, creating a space that feels modern, spacious, and decidedly chic.
The colour scheme of the room is a classic black and white, lending a crisp, clean aesthetic that's in line with the minimalist design philosophy. The white walls and ceiling provide a light, airy backdrop, while the black accents, in the form of window frames and lighting fixtures, offer a graphic contrast that adds visual interest to the space.
The minimalist furniture in the room, such as the simple metal bed frame and sleek, wall-mounted bedside tables, embody the urban, industrial vibe of the space. Their bare-bones design reduces visual clutter, enhancing the room's sense of space and openness.
A standout feature of the room is its high ceilings and large, industrial-style windows, which are characteristic of loft spaces. These elements not only add to the room's minimalist appeal by creating a sense of openness and space but also bring an abundance of natural light into the room, illuminating the clean lines and simple forms of the furniture.
The room also demonstrates a careful curation of accessories. A handful of monochrome prints adorn the walls, while a cluster of pendant lights hanging at different heights adds an artistic touch. Despite the minimal number of accessories, each piece seems thoughtfully selected and contributes to the room's overall design narrative.
To conclude, this urban chic minimalist interior design bedroom blends minimalist principles with industrial elements to create a space that feels contemporary and spacious. It's a clear testament to the fact that a minimalist approach can result in a bedroom that is not only visually impressive but also a tranquil retreat from the urban hustle and bustle.
Conclusion: Minimalist interior design offers an appealing path to serene, clutter-free living. As we've explored in the examples above, minimalist bedrooms can take on a variety of aesthetics, from sleek and modern to Scandi-inspired or urban chic. Each approach, however, shares common principles: a focus on functionality, a reduction of unnecessary elements, and a calming, cohesive colour palette. By embracing these principles, you can create a bedroom that is not only visually stunning but also a true sanctuary from the outside world.