In the world of interior design, the loft style is celebrated for its spaciousness, architectural charm, and versatile potential. With the right approach, a loft can be transformed into a luxurious haven that combines comfort, style, and functionality. This guide will walk you through the process of achieving a luxurious loft type bedroom design, drawing on expert insights and tried-and-true design principles.
Harmonious Blend in Loft Type Bedroom Design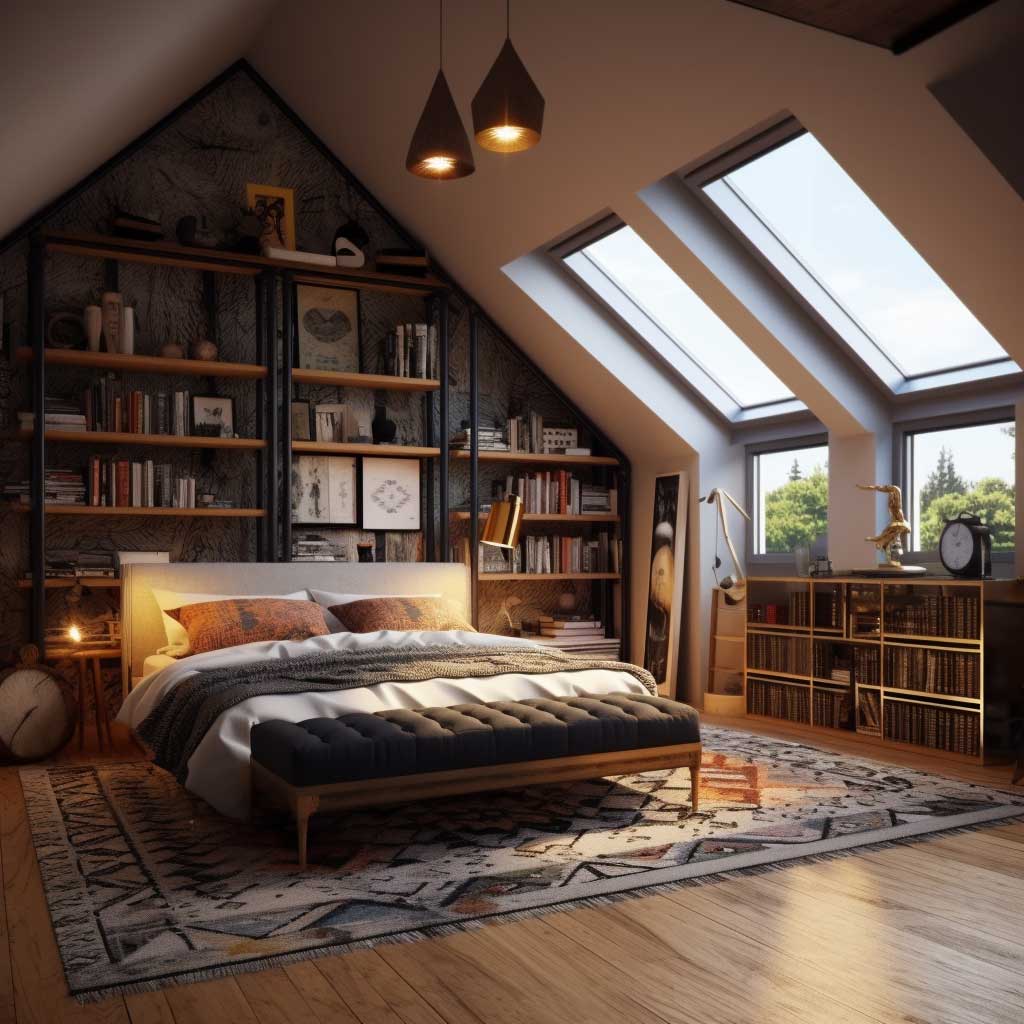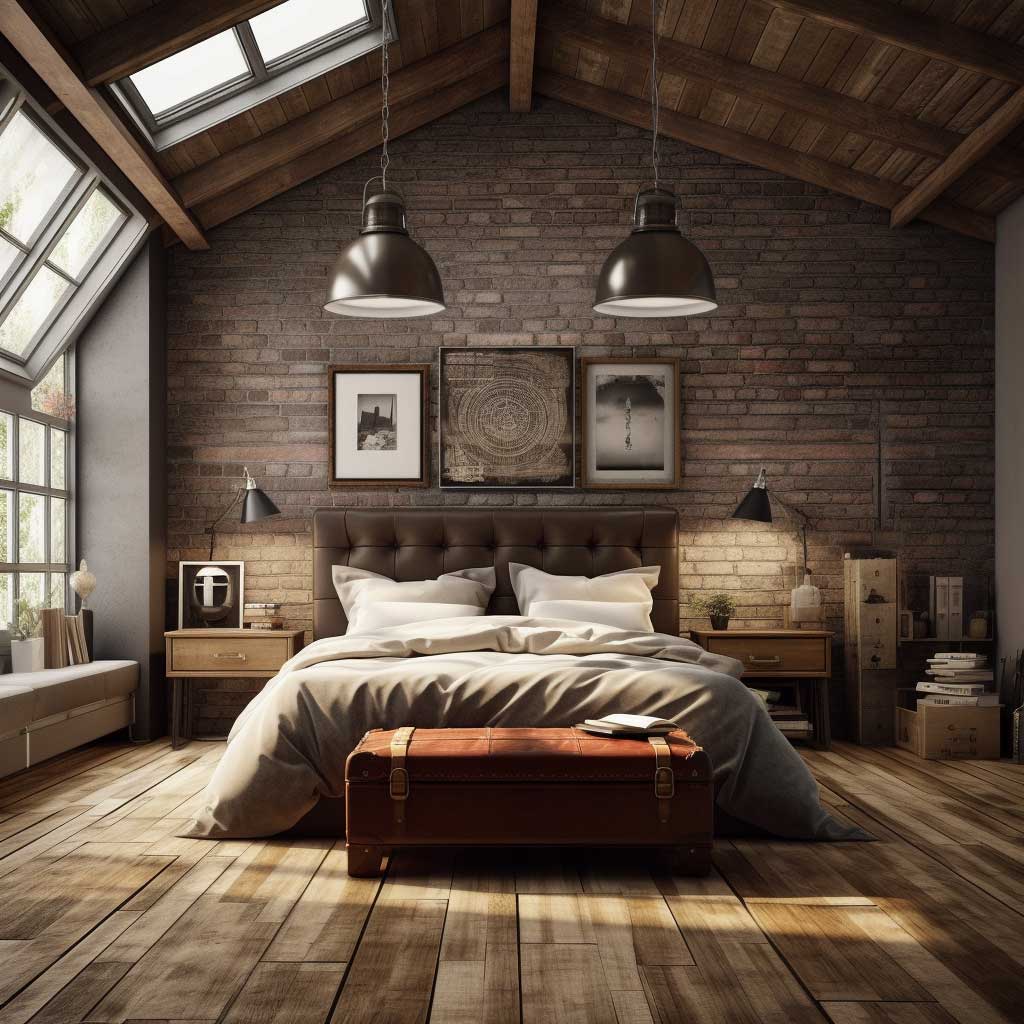 This loft type bedroom design illustrates the perfect harmony between contemporary and vintage styles. The room combines sleek, modern furniture pieces with rustic elements like exposed brick walls and wooden beams, creating a chic juxtaposition that's visually striking.
Natural light pours in through the large windows, highlighting the crisp white bedding and light-colored walls. This light, airy feel gives the room an expansive quality, making it seem larger and more open than it actually is.
On the floor, a plush rug adds a touch of softness, creating a cozy space for relaxation. It's a perfect example of how textiles can influence the feel of a room, bringing in warmth and comfort to balance the harder, colder surfaces of the loft design.
The warm-toned lighting complements the overall design, casting a gentle, inviting glow throughout the space. It serves as a testament to the importance of lighting in creating the right mood for a room.
Overall, this loft type bedroom design offers a balance of old-world charm and modern minimalism, showing how disparate elements can come together to create a unique, stylish, and comfortable living space.
It serves as an inspiration for those seeking to create a loft type bedroom that feels modern and fresh, yet carries a sense of history and character.
Space-Saving Elegance in Loft Type Bedroom Design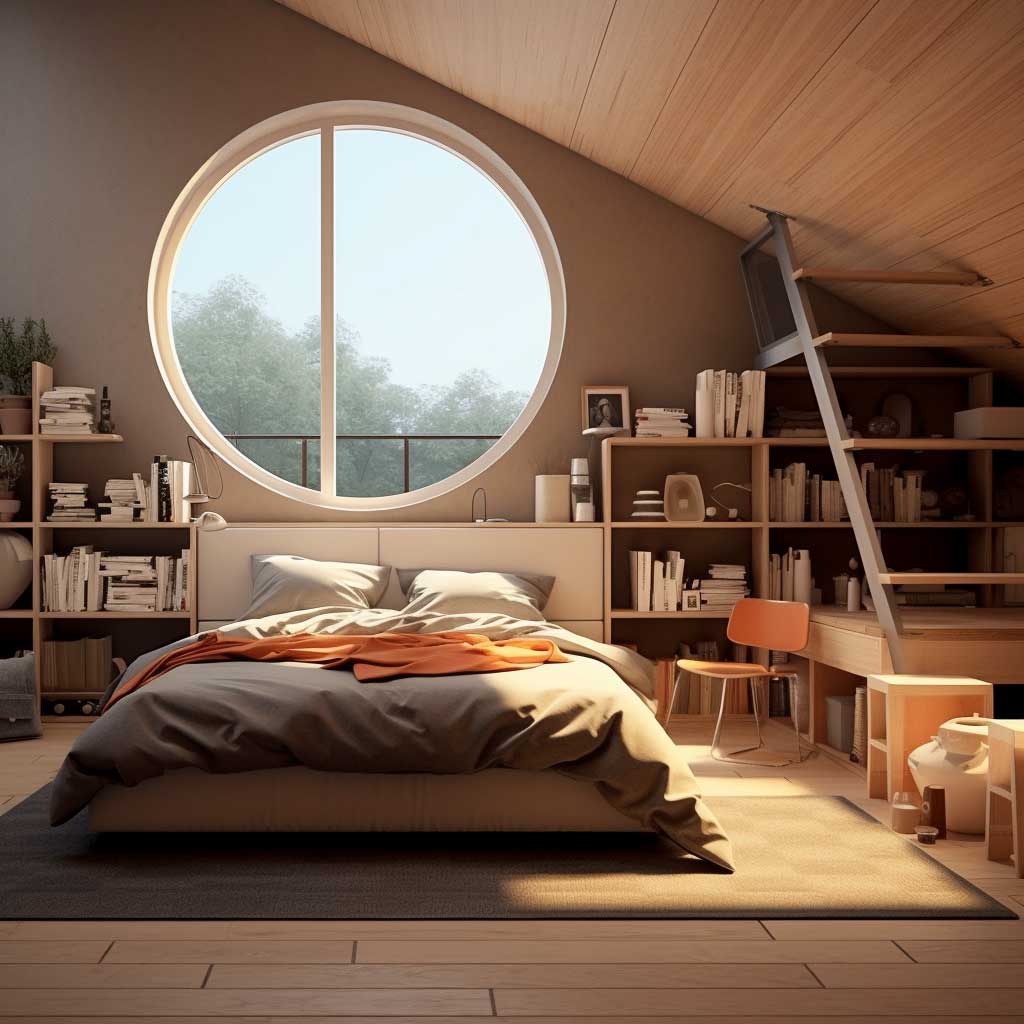 This photo captures the essence of space-saving elegance in loft type bedroom design. The bedroom features a multitude of ingenious storage solutions, demonstrating that functionality and style can go hand in hand in interior design.
Built-in shelves climb up the wall, providing ample storage space without consuming precious floor area. These vertical storage solutions are a smart way to make the most out of the limited space in a loft type bedroom.
The elevated bed platform is another excellent example of space optimization. By raising the bed, additional room is created underneath, which can be used for storage or other purposes.
Despite its compact layout, the room exudes a sense of spaciousness. This is largely thanks to the minimalist furniture and the abundant natural light flooding in from the large windows.
The monochrome color palette adds a touch of sophistication to the room, enhancing its elegance. It's a brilliant example of how color can be used to influence the overall aesthetic and mood of a room.
Plants provide a touch of refreshing greenery, breathing life into the space and balancing the starkness of the minimalist design. This photo serves as an inspiration for those looking to create a beautiful and functional loft type bedroom, regardless of its size.
Industrial Chic in Loft Type Bedroom Design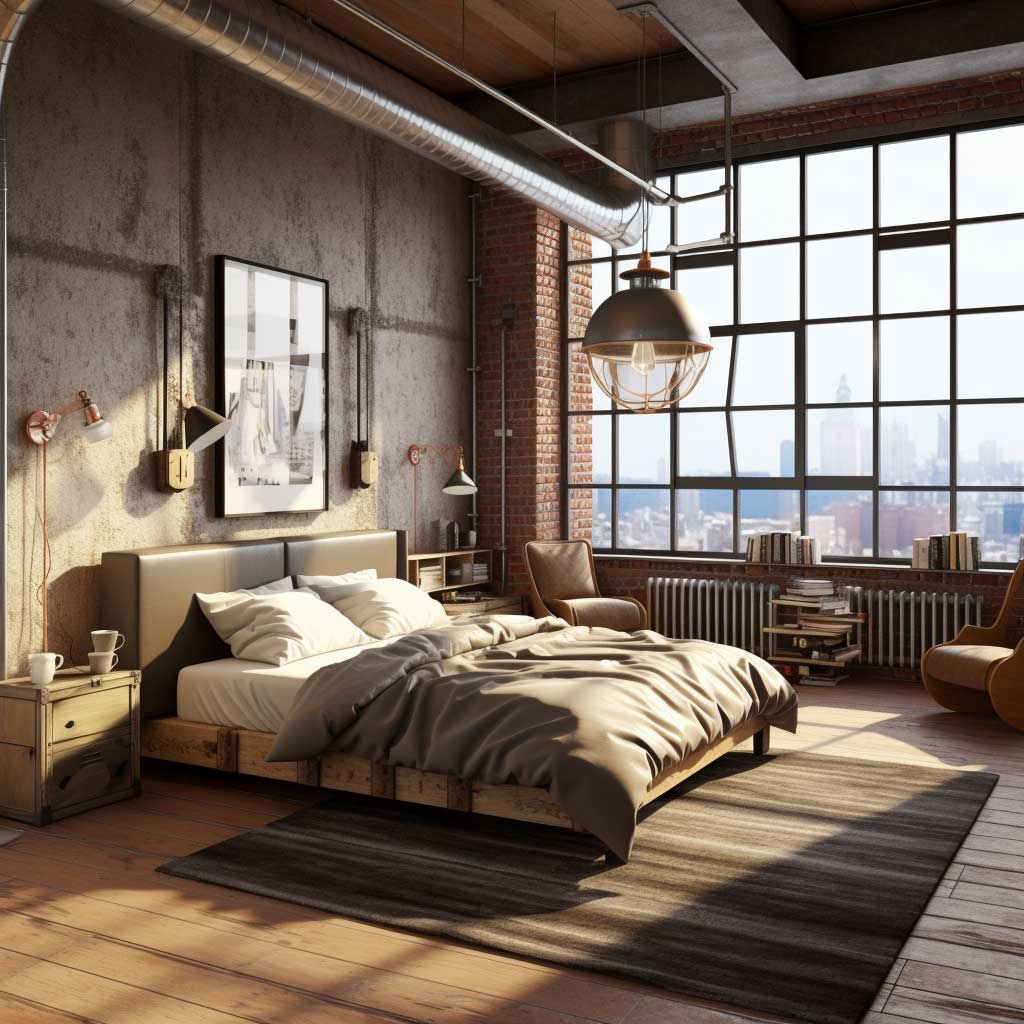 This photo embodies the essence of industrial chic in loft type bedroom design. The combination of raw, unrefined elements with sleek, modern touches results in a unique aesthetic that's both edgy and inviting.
Exposed concrete walls and metal piping, characteristic of the industrial style, set the tone for the design. They create a raw, rugged backdrop that adds character and authenticity to the room.
At the heart of the room is a large metal-frame bed, a piece that perfectly exemplifies the industrial chic aesthetic. The stark, metallic bed frame contrasts beautifully with the plush bedding and cushions, creating an intriguing interplay of textures.
A statement pendant light serves as a focal point in the room, drawing the eye upwards and highlighting the high ceilings typical of a loft type bedroom. This feature not only adds visual interest but also contributes to the overall lighting scheme, casting a warm, ambient glow throughout the space.
Oversized windows are another key element of the design. They let in plenty of natural light, illuminating the room's raw features and enhancing the sense of spaciousness. The windows also provide a visual connection to the outdoors, adding a refreshing touch to the industrial setting.
Overall, this design is a brilliant example of how the industrial aesthetic can be harnessed to create a stylish and comfortable loft type bedroom. It shows that with careful planning and a keen eye for design, raw, industrial elements can be turned into chic, homely features.
Bohemian Comfort in Loft Type Bedroom Design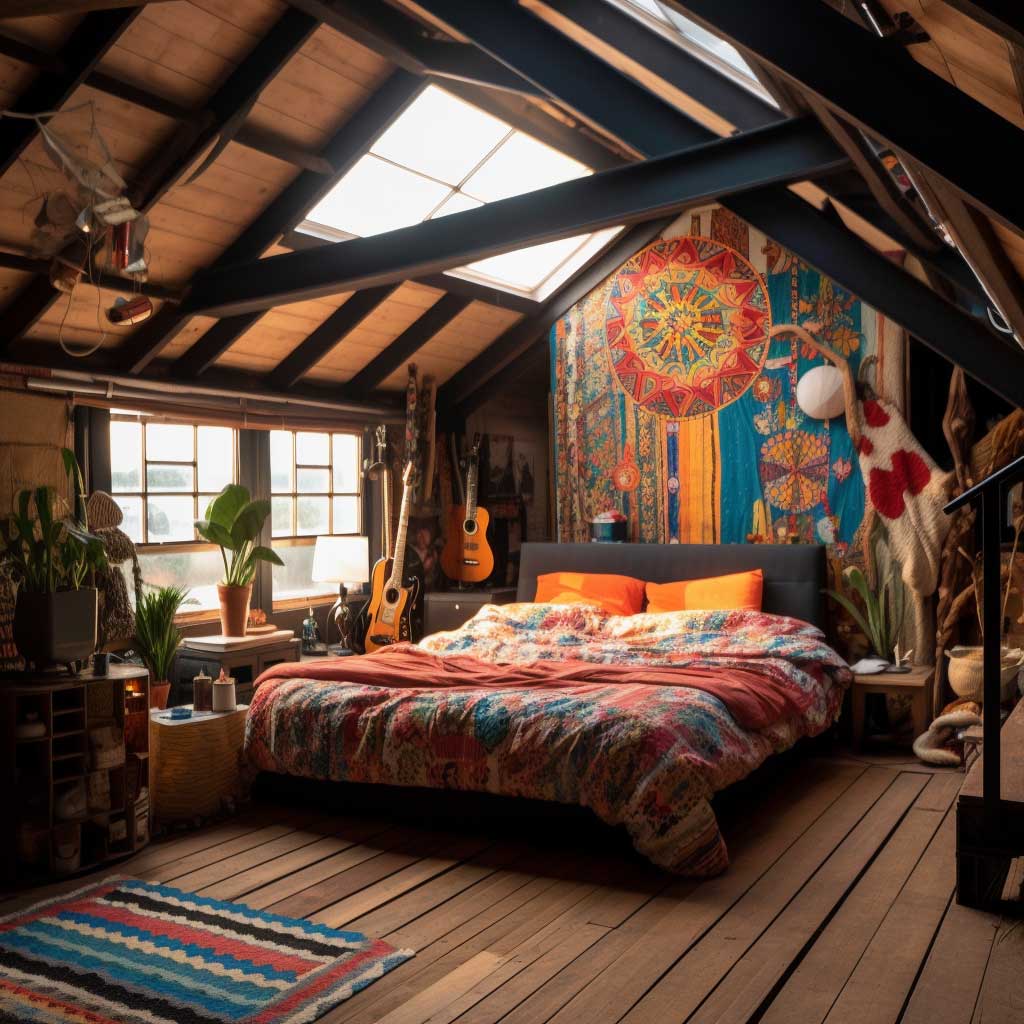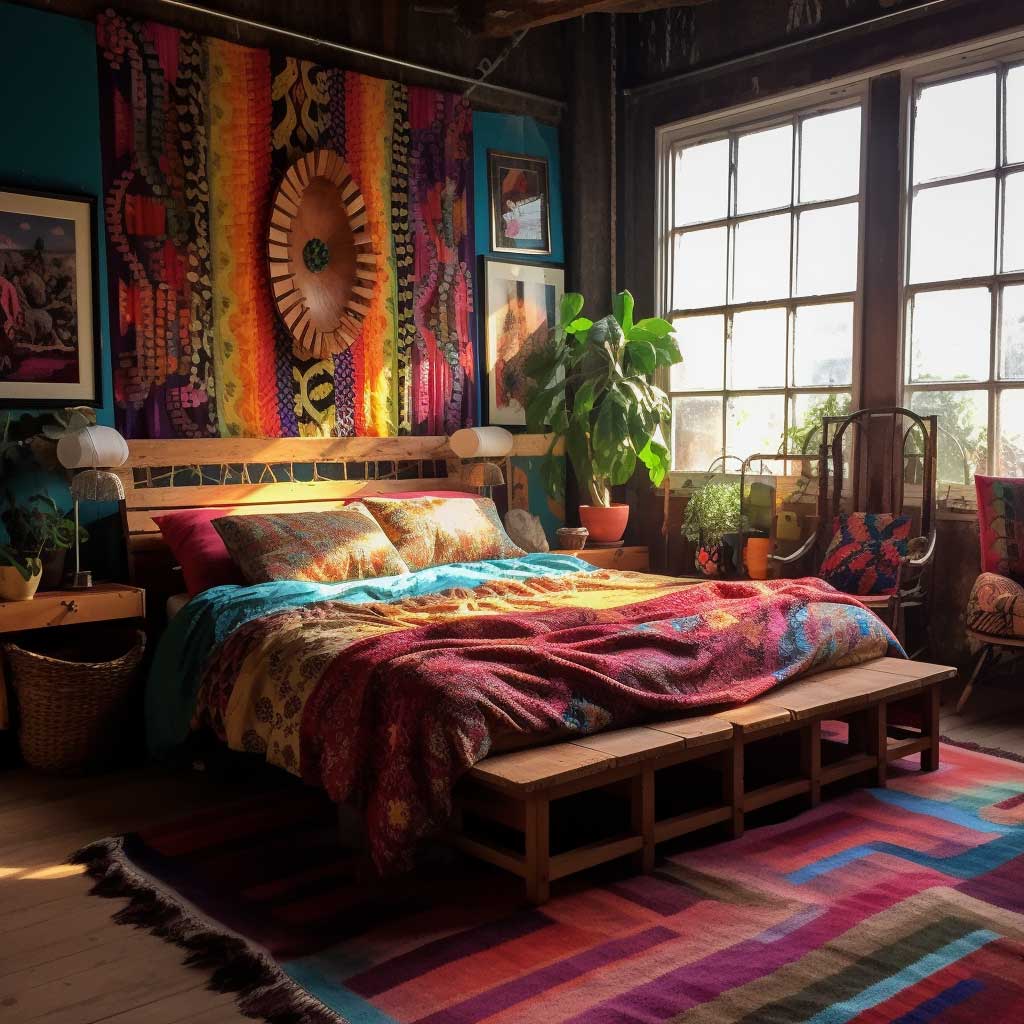 This photo of "Bohemian Comfort in Loft Type Bedroom Design" offers a glimpse into a vibrant, eclectic world. The room is a testament to the bohemian style, characterized by its use of color, pattern, texture, and diverse array of furnishings and decor.
The room is bursting with color, with rich, saturated hues adding warmth and energy to the space. A mix of patterns and textures further enhances the bohemian aesthetic, creating a visually dynamic environment.
One of the highlights of the room is the layering of textiles, from rugs to throw pillows and blankets. These elements add comfort and coziness, turning the loft type bedroom into a perfect retreat for relaxation.
Vintage furniture pieces and decorative items infuse the room with character and charm, reflecting the bohemian ethos of celebrating individuality and personal expression. Each piece tells a story, adding depth and personality to the room.
Despite the abundance of elements, the room doesn't feel cluttered. This is due to the thoughtful arrangement of items and the strategic use of color, which creates a sense of balance and harmony in the space.
Overall, this loft type bedroom design exudes bohemian comfort, providing a sanctuary that's full of life, character, and soul. It shows how the loft space can be transformed into a warm, inviting, and truly personal haven, demonstrating the versatility of the loft type bedroom design.
Minimalist Serenity in Loft Type Bedroom Design
This photo showcases a "Minimalist Serenity in Loft Type Bedroom Design," offering a tranquil retreat from the hustle and bustle of everyday life. The minimalist design emphasizes simplicity, functionality, and tranquility, providing a sense of calm and orderliness in the room.
The room's design is characterized by clean lines and uncluttered spaces, which are hallmarks of the minimalist style. The use of simple, streamlined furniture contributes to this aesthetic, ensuring that every item has a purpose and place.
The color scheme of the room adds to its serene vibe. The use of neutral tones, such as white, gray, and beige, creates a soothing ambiance that promotes relaxation. These colors also help to make the room appear more spacious and open.
Natural elements, such as a wooden bed frame and potted plants, bring a touch of nature into the space. These elements add warmth to the minimalist design and connect the indoor space with the outdoor world, enhancing the room's overall sense of serenity.
Despite its simplicity, the room doesn't feel cold or impersonal. Carefully chosen decor, such as artwork and lighting, add character and depth, proving that minimalist design doesn't have to be stark or boring.
Overall, this loft type bedroom design exemplifies minimalist serenity, providing a peaceful sanctuary for rest and relaxation. It's a perfect example of how less can indeed be more when it comes to creating a comfortable and calming living space.
Conclusion: Creating a luxurious loft type bedroom is an exciting journey of discovery and creativity. It involves marrying form and function, making smart use of space, and curating design elements that reflect your personal style and aspirations. With the insights and tips shared in this guide, you can embark on this transformative journey with confidence and enthusiasm. Turn your loft into a luxurious retreat that not only looks spectacular but also provides the comfort and functionality you need in your everyday life.