Farmhouse fireplace ideas offer a perfect blend of warmth, character, and rustic charm, turning your living room into a cozy haven where friends and family can gather and relax. In this article, we'll explore 9 unique farmhouse fireplace ideas to help you bring that captivating charm to your living space. From reclaimed wood mantels to vintage-inspired hearths, let these ideas spark your creativity and inspire you to create the perfect farmhouse-style fireplace in your home.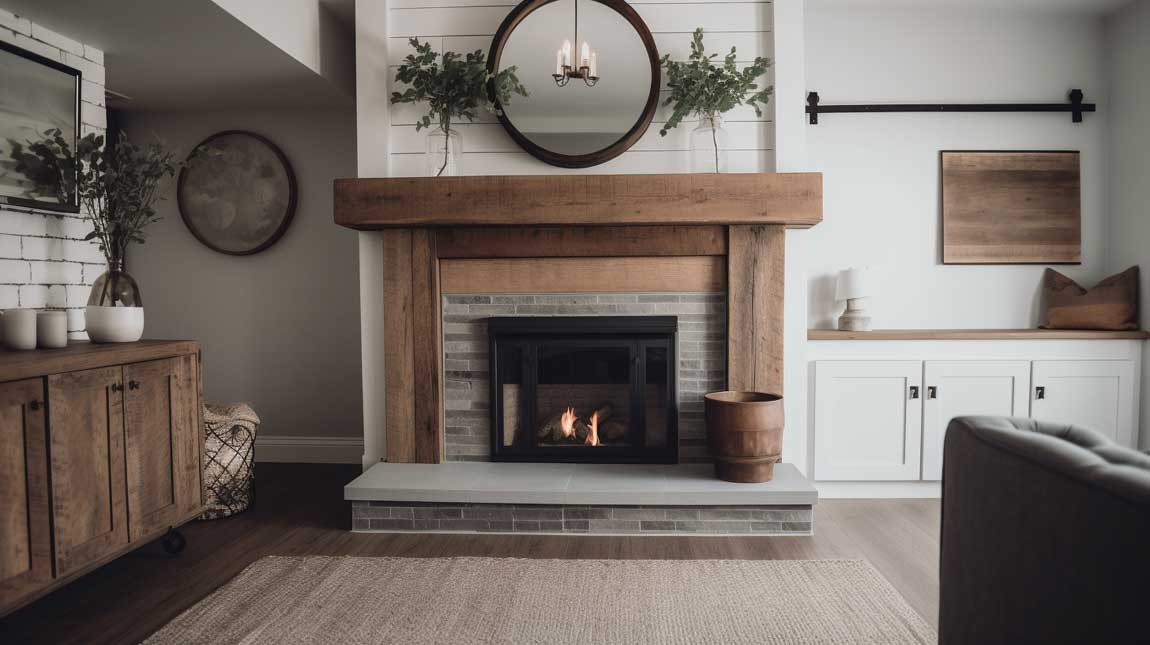 Reclaimed Wood Mantels for a Rustic Touch
A reclaimed wood mantel can instantly transform your fireplace, infusing it with a rustic charm that is both timeless and inviting. Seek out aged wood from old barns or local salvage yards, and choose a piece with a beautiful grain and weathered patina.
Consider adding corbels or brackets to support the mantel and enhance its visual appeal. These elements can be made from matching reclaimed wood or wrought iron for an extra touch of farmhouse character.
Finally, accessorize your mantel with antique mirrors, vintage signs, or distressed lanterns to complete the look and create a stunning focal point in your living room.
Vintage-Inspired Hearth Design
A vintage-inspired hearth can add a sense of history and charm to your farmhouse fireplace. Look for antique fireplace surrounds or inserts, featuring ornate cast iron or carved wood details, to give your fireplace a sense of age and authenticity.
Consider installing an antique fireback, a decorative metal plate that reflects heat and protects the back of the fireplace, to add both functionality and visual interest to your hearth.
Complete the vintage look with period-appropriate fireplace tools and accessories, such as brass and irons or a wrought iron fireplace screen, to further enhance the farmhouse aesthetic.
Shiplap Fireplace Surround for a Farmhouse Feel
Shiplap, a type of wooden board used for siding in traditional farmhouse architecture, has become a popular design element in modern farmhouse interiors. Use shiplap to create a fireplace surround that exudes warmth and character.
Choose a paint color that complements your living room's palette, opting for a matte finish that adds to the rustic feel. White or light gray shades work particularly well, creating a cozy and inviting atmosphere.
To further enhance the farmhouse charm, consider adding a reclaimed wood beam or mantel above the shiplap surround, accessorized with vintage-inspired accents.
Exposed Brick Fireplaces for an Industrial Farmhouse Look
An exposed brick fireplace can provide the perfect fusion of rustic farmhouse charm and industrial chic. Strip back any plaster or paint to reveal the raw, natural beauty of the brick, allowing it to become a striking feature in your living room.
Consider using a lime wash or mortar wash to lighten the brick's appearance, creating a softer, more weathered look that evokes the essence of a traditional farmhouse.
Pair your exposed brick fireplace with metal accents, such as a wrought iron fireplace screen or andirons, to further emphasize the industrial farmhouse aesthetic.
Modern Farmhouse Fireplace with a Touch of Elegance
A modern farmhouse fireplace can incorporate elements of traditional design with a touch of contemporary elegance. Opt for a sleek, minimalist fireplace surround, crafted from materials such as concrete or smooth plaster, to create a clean and sophisticated look.
Accessorize your modern farmhouse fireplace with simple, yet impactful accents, such as a large, statement mirror or an oversized piece of abstract art.
Incorporate natural elements, such as a reclaimed wood mantel or a woven basket filled with firewood, to maintain the rustic charm that is synonymous with farmhouse design.
Cozy Corner Fireplaces for Smaller Spaces
A corner fireplace is an excellent solution for smaller living spaces or rooms with an unconventional layout. These farmhouse fireplace ideas can create a warm and inviting atmosphere while maximizing your available space.
Choose a compact wood-burning stove or a gas fireplace insert designed for corner installation. Look for models with a rustic finish or vintage-inspired detailing to maintain the farmhouse charm.
Surround your corner fireplace with reclaimed wood or shiplap to further enhance the cozy, farmhouse feel. Complete the look with a comfortable armchair or a small seating area, creating the perfect spot to curl up with a good book on a chilly evening.
Outdoor-Inspired Farmhouse Fireplace Ideas
Bring the charm of the great outdoors into your living room with an outdoor-inspired farmhouse fireplace. Incorporate natural stone, such as fieldstone or stacked stone, to create a rustic and earthy fireplace surround.
Choose a chunky wooden mantel, ideally crafted from reclaimed or aged wood, to complement the natural stone and add warmth to the design.
Accessorize your outdoor-inspired fireplace with elements that evoke a sense of nature, such as antler accents, botanical prints, or a collection of vintage lanterns.
Incorporating Textiles for a Cozy Farmhouse Fireplace
Textiles play a significant role in creating a cozy and inviting farmhouse atmosphere around your fireplace. Opt for soft, plush materials in neutral or earthy tones, adding warmth and comfort to your living space.
Layer an area rug in front of your fireplace, choosing a design that complements your overall farmhouse décor. Consider a vintage-style rug or a natural jute or sisal option for an authentic farmhouse feel.
Drape throw blankets and cushions on nearby seating, creating a welcoming environment that invites you and your guests to curl up and relax by the fire.
Customizing Your Farmhouse Fireplace with Personal Touches
Personal touches can make your farmhouse fireplace truly unique, reflecting your individual style and taste. Consider customizing your fireplace with one-of-a-kind details, such as hand-painted tiles, bespoke ironwork, or a hand-carved mantel.
Display cherished family heirlooms, treasured antiques, or meaningful artwork on your mantel, infusing your living space with a sense of history and personal connection.
Incorporate seasonal decorations, such as garlands or wreaths, to celebrate special occasions and create a festive atmosphere around your farmhouse fireplace.
By integrating these personal touches, your farmhouse fireplace will become an enchanting reflection of your personal style and history, creating a warm and inviting living space that you and your loved ones can truly call home.
In summary, these unique farmhouse fireplace ideas offer endless inspiration for creating a warm, inviting, and rustic living space. By incorporating reclaimed materials, vintage-inspired elements, and cozy textiles, you can design a farmhouse fireplace that serves as a captivating focal point and a cozy gathering place for your family and friends. Embrace the creative potential of these ideas, and let your imagination guide you in crafting a truly special and personalized farmhouse fireplace experience.