Beige and white tones have remained top-of-the-line in facade design for centuries. This is a classic that is notable for its attractiveness, sophistication. Shades are successfully combined with each other and with the environment. They are practical and versatile. A modern beige house with a white trim symbolizes reliability and family comfort. Colors do not crush, have a neutral effect on mood, have a positive effect on the visual increase, lightening of the building.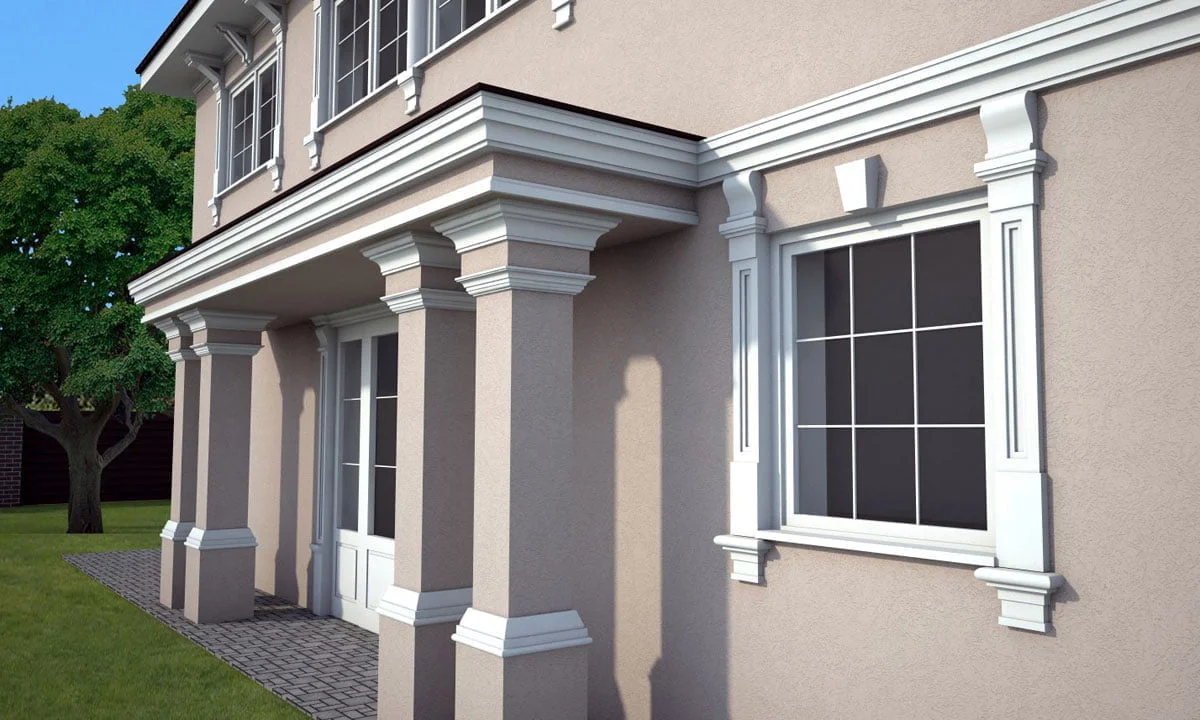 It is important to apply shades both for relatively modest, small country houses, and practically for palaces, villas on several floors. But in order to achieve the desired effect, a house in beige with white decor must be decorated according to certain rules.
Beige house with white trim and dark roof – reinforced concrete rule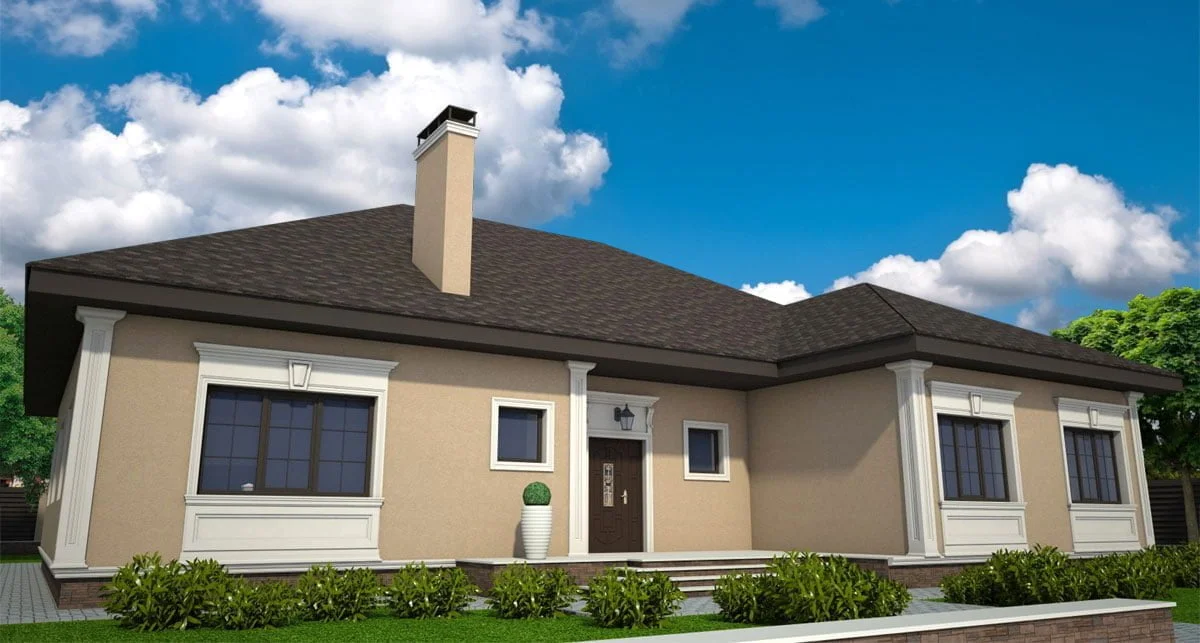 A modern beige home with a white finish definitely calls for a roof accent. It needs to be highlighted with a dark color. This technique allows you to make the light facade expressive, finished. It will not blend in with a light background.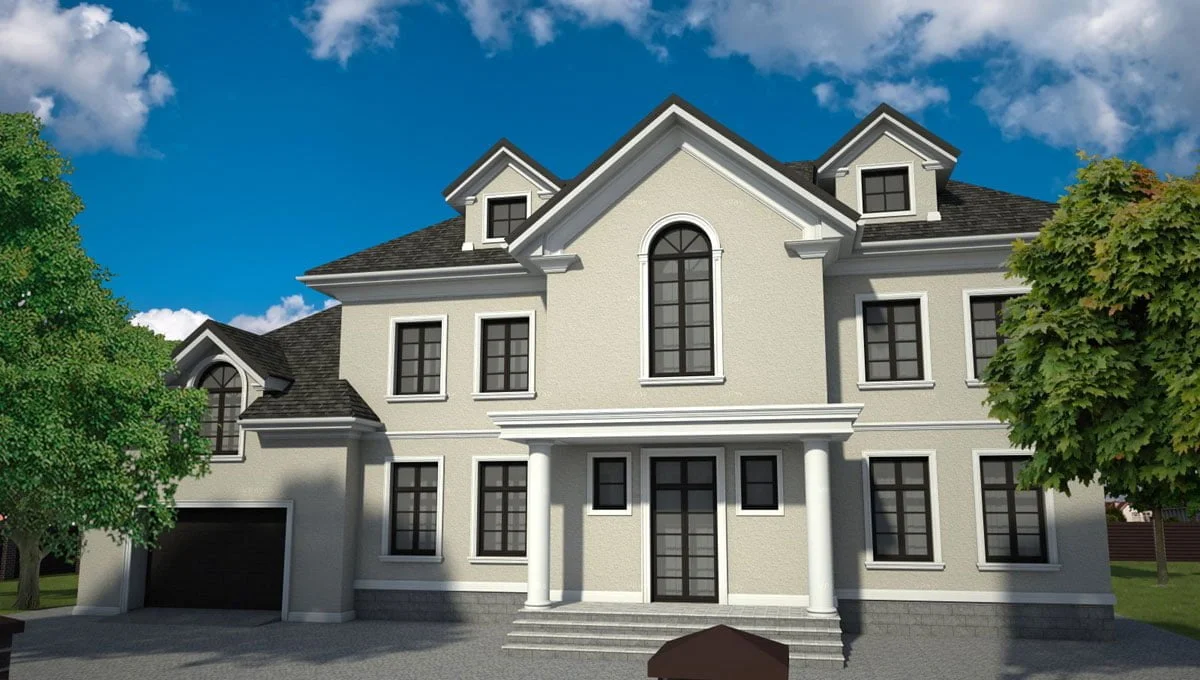 The house becomes spectacular, dynamic. The roof can be made in natural brown, gray, burgundy, graphite shades.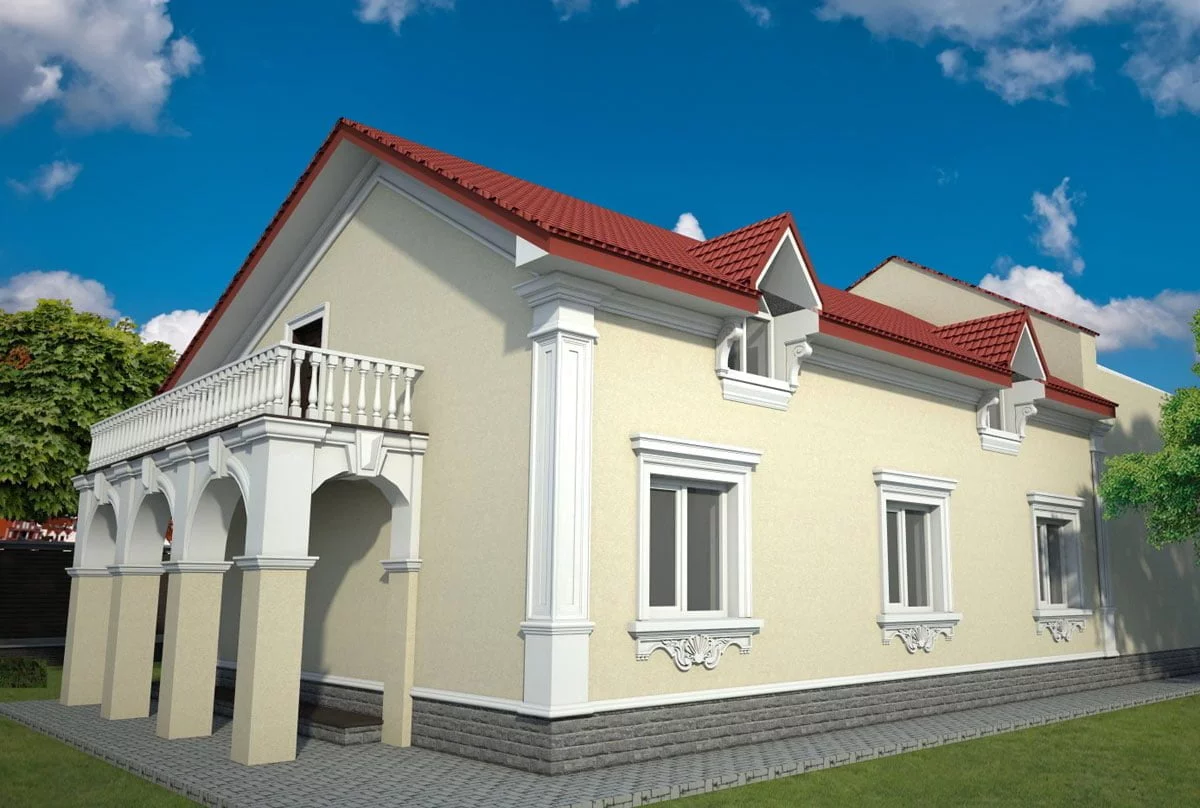 The exception is buildings in which the roof itself remains invisible when viewed from the front or from the side. In this case, you can limit yourself to a white or expressive contrasting cornice.
Dark accents in a beige house with white trim as a dynamic element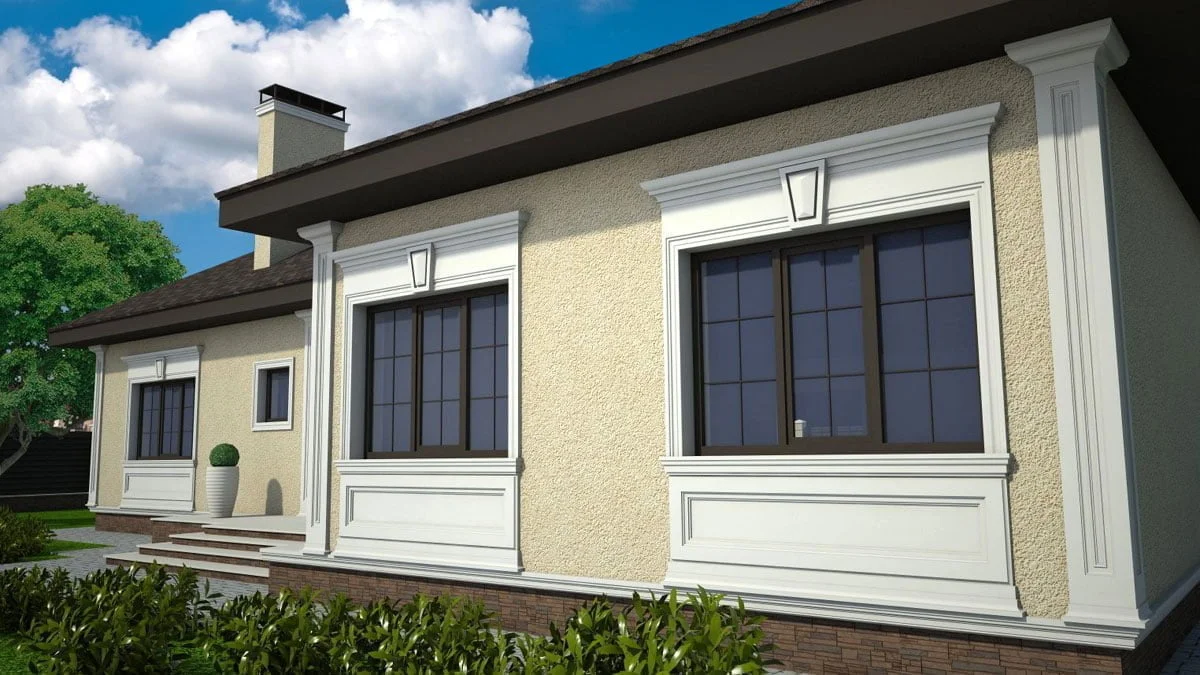 To give the building even more dynamism, it is worth adding a few elements to match the tone of the roof. These can be window frames, an entrance door, a plinth, steps, a porch.
Expressive windows and doors in a natural wood color or graphite tone will add an aristocratic shade to a beige house with a white finish. As a rule, those who seek to emphasize the rigor of architecture use the technique.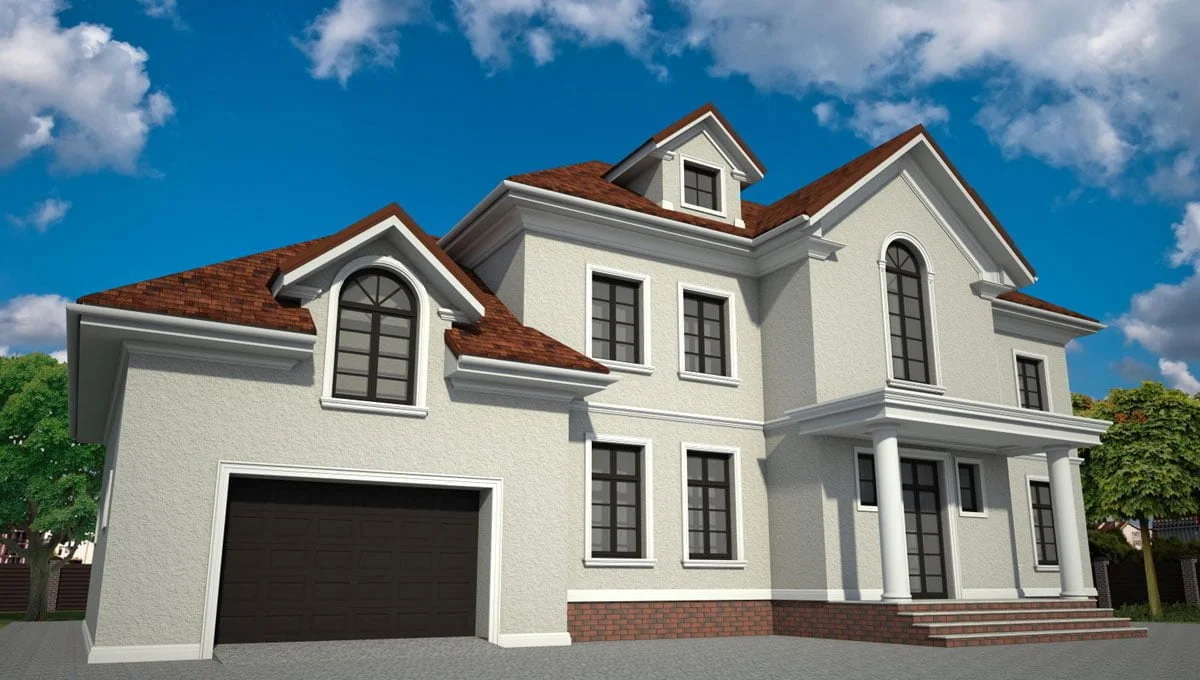 You don't have to focus on all of these elements. At least one of them can be distinguished. It will be enough to paint the lower part of the house in a dark tone.
The widespread use of delicate light tones is the choice of those who prefer elegance, sophistication to the smallest detail.
Classic style as the basis of a beige house with white trim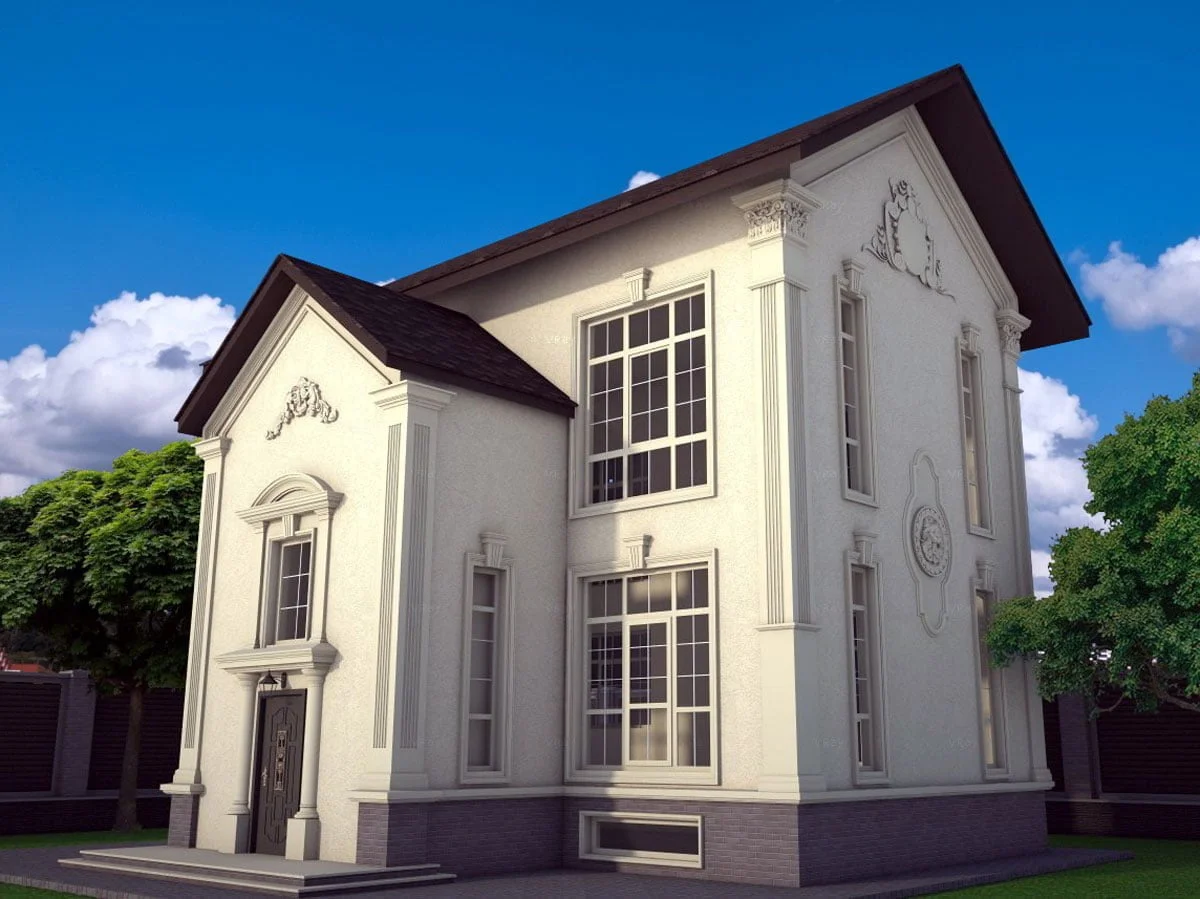 The combination of white and beige is considered a classic solution, so the most suitable styles would be artsy classics or more restrained modern. Moreover, in the first case, special attention is paid to the luxurious decor. In this case, it is performed in white.
When choosing a modern, more modern style, practicality, conciseness, and severity of lines come to the fore. But in this case, a small amount of white decor remains relevant for framing windows, pediments, rustic materials, arches and other architectural structures.
A stylish beige house with a white trim is a fashionable, attractive solution for connoisseurs of conservatism and beauty. The colors are neutral, therefore they do not cause irritation, emphasize home coziness, comfort, warmth of suburban housing. These are natural shades that look expressive and aesthetically pleasing against a live background.