Rose Uniacke has become synonymous with serene, elegant spaces that blend simplicity with luxury. Her bedroom designs, renowned for their calming ambiance and meticulous attention to detail, offer a masterclass in harmonious living. In this article, we delve into the key aspects of Rose Uniacke's signature bedroom designs, highlighting their unique features and providing inspiration for your own restful retreat.
Exquisite Simplicity in Rose Uniacke Bedroom Design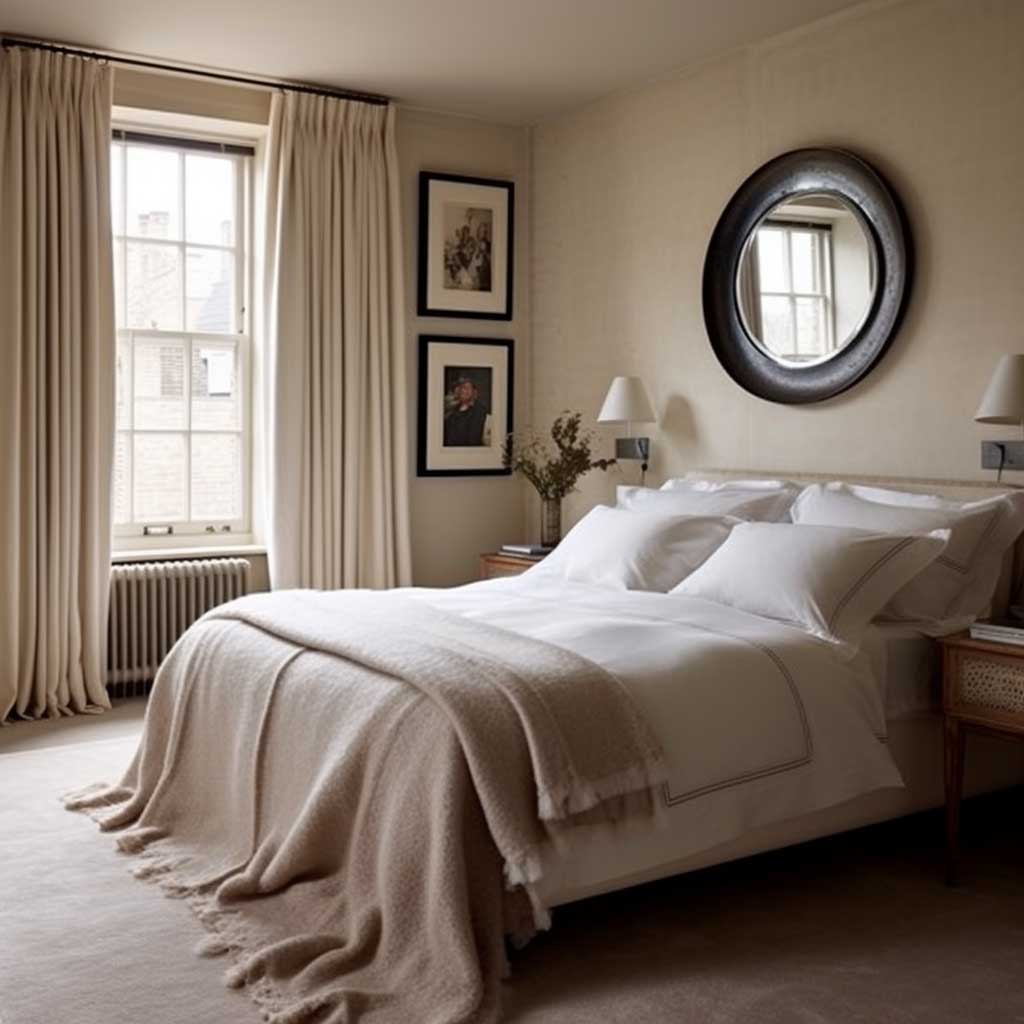 The image features a Rose Uniacke bedroom design characterized by its exquisite simplicity. Known for her ability to create serene, elegant spaces, Uniacke's minimalist approach shines through in this image.
The room's neutral color scheme is soothing and inviting. Off-white walls and plush cream carpeting create a seamless, harmonious backdrop that draws attention to the minimal, yet well-curated, furnishings.
The centerpiece of the room is a simple yet stylish bed, dressed in high-quality linen and surrounded by a selection of antique and modern furniture pieces. Each piece is chosen for its form and functionality, embodying Uniacke's less-is-more philosophy.
Natural light floods the room through large, bare windows, enhancing the space's airy, spacious feel. The light's interplay with the soft textures and surfaces creates a dynamic and visually engaging environment.
The minimal use of accessories and decor items underlines Uniacke's focus on quality and space over quantity. A single piece of wall art and a bedside lamp are the only adornments, adding just enough visual interest without overwhelming the serene ambiance.
This Rose Uniacke bedroom design encapsulates the designer's passion for simplicity, balance, and the exquisite use of light and space. It's a testament to her ability to create spaces that are both understated and luxuriously comfortable.
Timeless Elegance in Rose Uniacke Bedroom
The image presents a timeless Rose Uniacke bedroom design that combines classical elements with modern sensibilities. It encapsulates Uniacke's unique approach to creating spaces that feel both contemporary and steeped in history.
The antique bed stands as a statement piece, its dark wood frame and carved details exuding a sense of history and character. It's dressed in crisp, white linens that provide a stark contrast to the wood, further emphasizing its beautiful craftsmanship.
A chaise longue at the foot of the bed adds a touch of luxury and elegance. Upholstered in a rich, velvet fabric, it serves as a perfect spot for reading or relaxation, while adding a sophisticated touch to the room.
Elegantly draped curtains frame the large windows, softening the natural light that illuminates the room. The drapery's subtle texture and color align with the room's overall neutral palette, contributing to the harmonious design.
The room's minimal accessories—a bedside table, a lamp, and a few carefully chosen pieces of art—showcase Uniacke's belief in quality over quantity. Each piece complements the room's elegant aesthetic without detracting from its calm, soothing atmosphere.
This image of a Rose Uniacke bedroom design illustrates the designer's knack for blending old and new, creating spaces that feel timeless yet fresh. It showcases her love for antiques, her meticulous attention to detail, and her understanding of how to create balance and harmony within a space.
Photo Title 3: Chic Monochrome in Rose Uniacke Bedroom
The dominant monochrome color scheme runs throughout the room, with various shades of gray adding depth and interest to the design. From the light gray walls to the charcoal-hued bedding and upholstered armchair, the palette creates a serene and visually cohesive space.
The minimalist furniture selection complements the monochrome palette perfectly. A simple, modern bed, a sleek bedside table, and an understated armchair speak to Uniacke's commitment to functionality and clean lines.
Despite the minimalistic approach, the room doesn't lack comfort. Plush textures are evident in the bedding, the armchair's upholstery, and the soft rug underfoot. These elements add a sense of warmth and luxury to the space, demonstrating that minimalism and comfort can coexist beautifully.
Lighting plays a crucial role in this design, with a contemporary table lamp providing a warm glow and large windows allowing ample natural light. This lighting balance enhances the room's ambiance, making it feel more inviting.
This image of a Rose Uniacke bedroom design showcases the designer's ability to create spaces that are modern and chic, yet comfortable and welcoming. It represents her knack for using monochrome palettes, minimalist furniture, and thoughtful lighting to craft spaces that are both functional and aesthetically pleasing.
Luxurious Simplicity in Rose Uniacke Bedroom
The image depicts a luxurious Rose Uniacke bedroom design that beautifully embodies the designer's signature style of simple elegance. The design combines minimalism with luxury to create a restful and sophisticated retreat.
The canopy bed is the room's focal point, its simple lines and delicate fabric drapery creating a sense of elegance and drama. Dressed in muted tones and plush fabrics, it invites relaxation and exudes luxury.
The room's muted color scheme, comprised of soft greys and whites, enhances its serene and calming atmosphere. This tonal backdrop allows the furniture and architectural elements, like the bed and the large windows, to take center stage.
A mix of antique and modern furniture, including a sleek console table and an intricately carved chair, reflects Uniacke's ability to blend different styles and periods seamlessly. Each piece contributes to the room's luxurious feel without compromising its simplicity.
Subtle decor elements—a framed piece of art, a table lamp, a few carefully chosen books—adorn the space, adding personality and warmth. Each item is thoughtfully curated, underlining Uniacke's commitment to quality over quantity.
Overall, this Rose Uniacke bedroom design exemplifies the designer's approach to creating spaces that are luxuriously simple and elegantly understated. It showcases her ability to curate furniture and decor that reflect her clients' tastes, while maintaining a sense of tranquility and harmony in the design.
Conclusion:
Rose Uniacke's bedroom designs are a testament to her exceptional design prowess, seamlessly blending the timeless and the modern, the minimal and the luxurious, the functional and the beautiful. These designs are more than just spaces for rest — they are sanctuaries of peace and sophistication. Whether you're drawn to the exquisite simplicity, the chic monochrome, or the luxurious minimalism, each design holds valuable insights for creating a serene and stylish bedroom of your own.