Combining the minimalist elegance of Japanese aesthetics with the cozy functionality of Scandinavian design, Japandi is a trend that's taking the design world by storm. This hybrid style is especially effective in small spaces, such as bedrooms, where the need for functionality is as crucial as the desire for a serene and soothing atmosphere. In this article, we delve into various Japandi small bedroom design ideas, ranging from calming oases to Zen retreats, helping you find the inspiration to create your ideal sleeping space.
Calming Oasis in Japandi Small Bedroom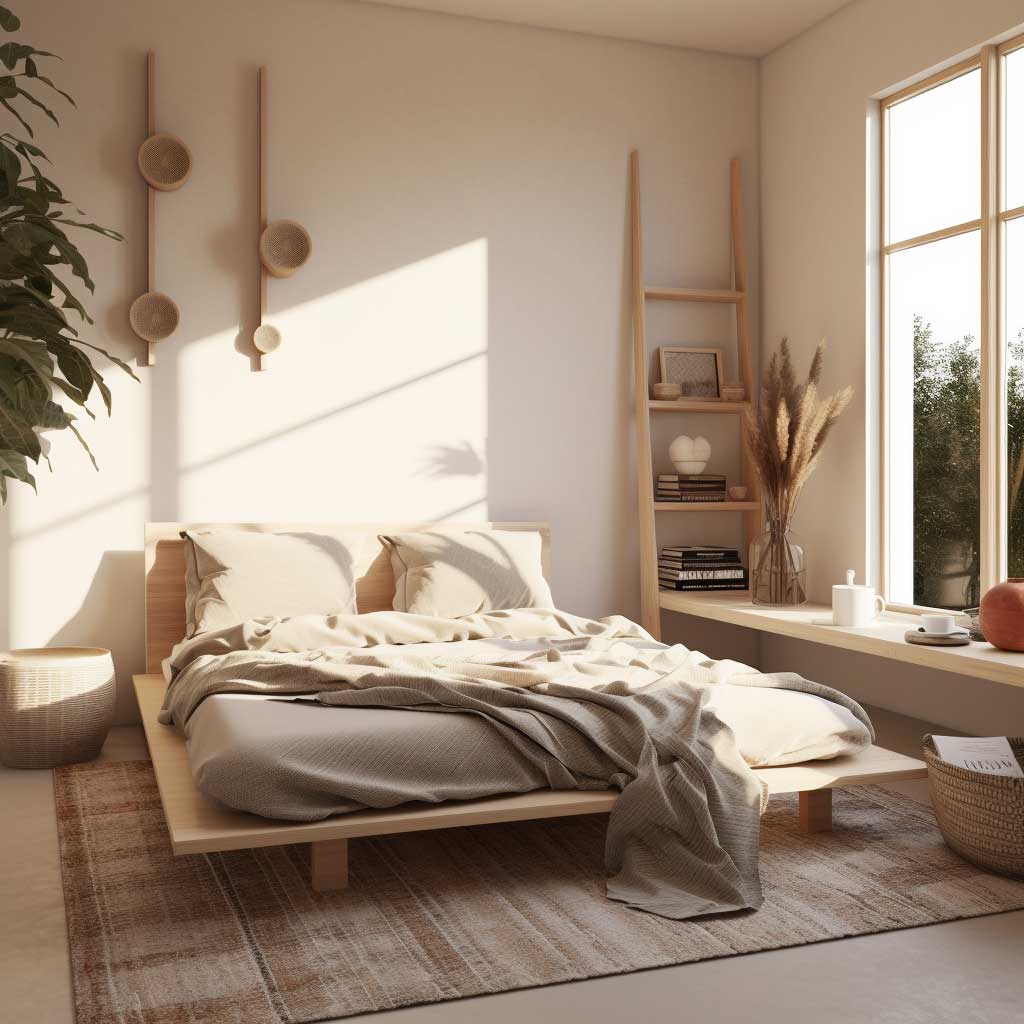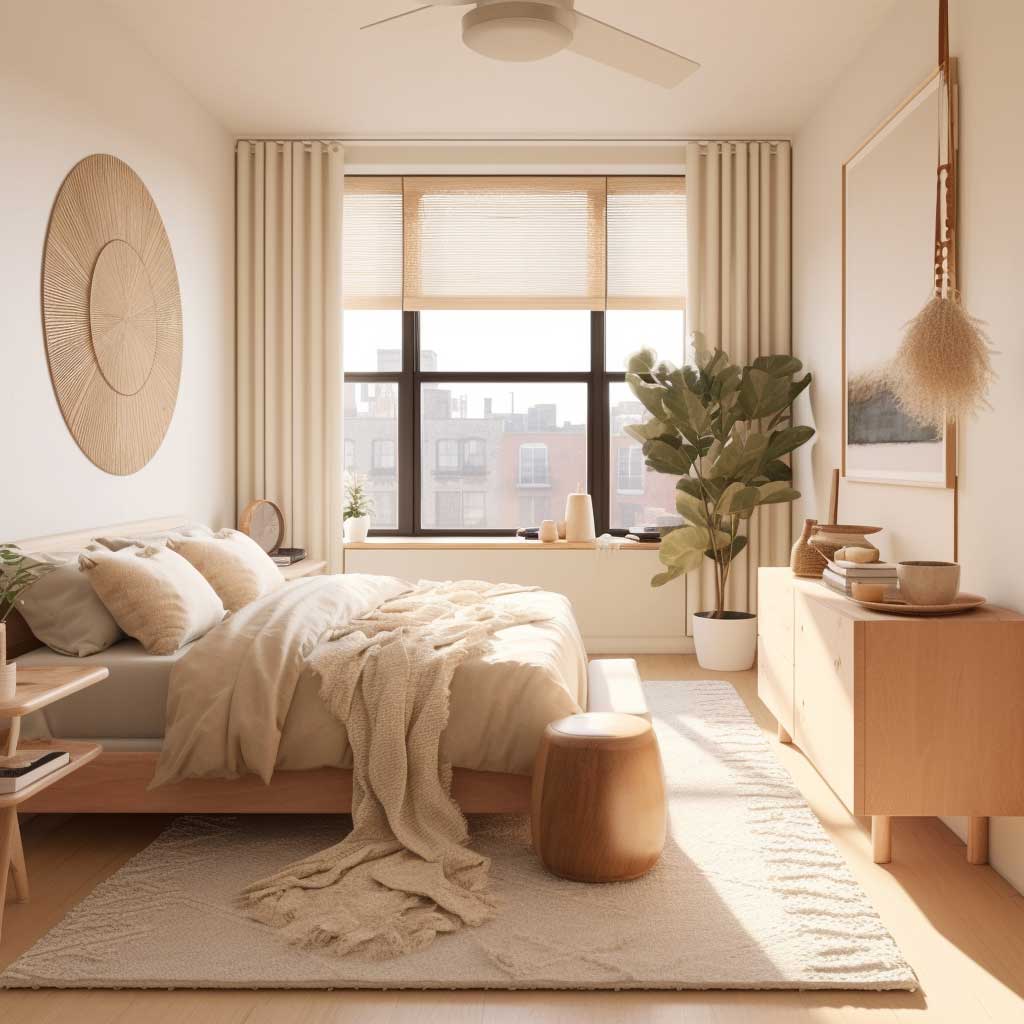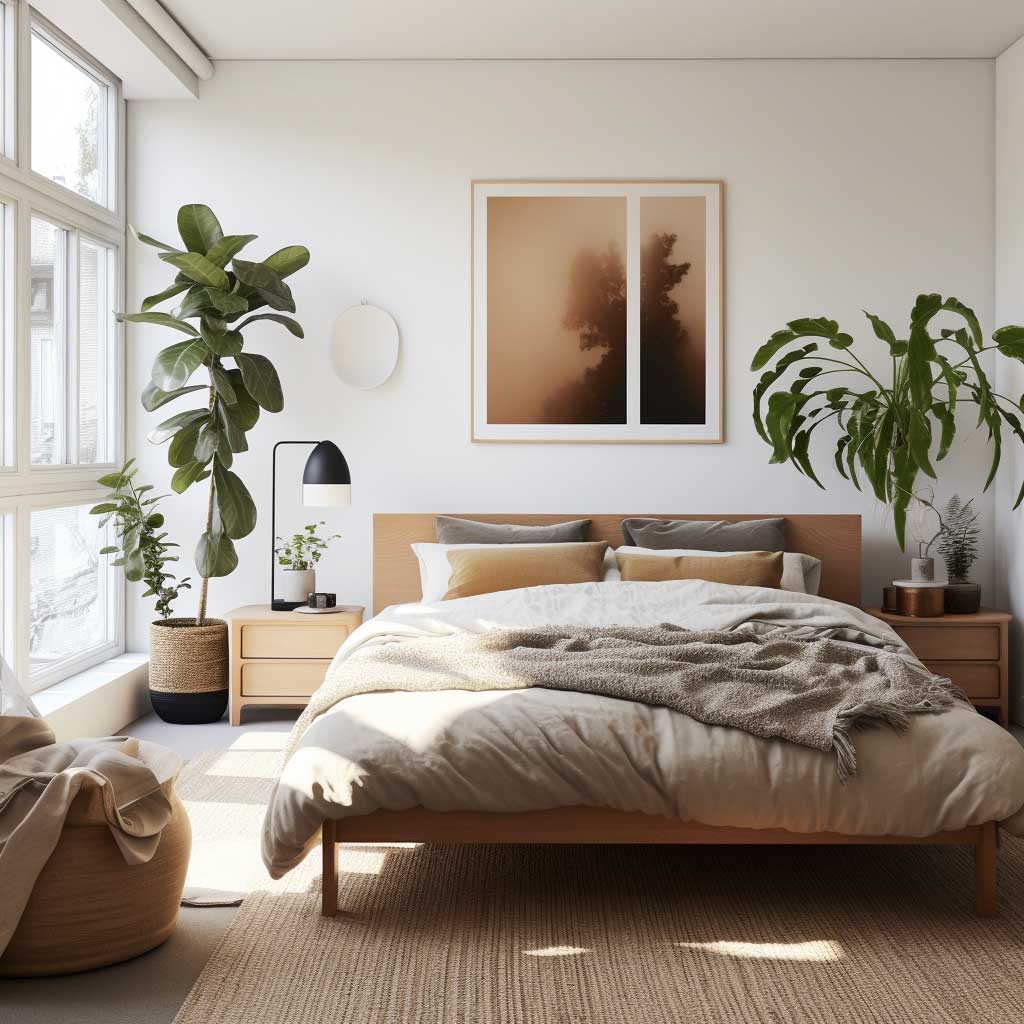 The image captures the serene ambiance of a Japandi-styled small bedroom. This design philosophy, which fuses Japanese simplicity with Scandinavian functionality, results in a calming, clutter-free oasis that's perfect for rest and relaxation.
The bedroom's color palette is predominantly neutral, following the minimalist ethos of both Japanese and Scandinavian designs. The white walls and ceiling create a bright, airy feeling, making the small bedroom appear larger than it actually is. The neutral-toned bedding and furniture add to this sense of spaciousness while providing a soothing visual backdrop.
The furniture selection is minimal and functional, with clean lines that emphasize simplicity. A low platform bed, a hallmark of Japanese design, takes center stage. Paired with a small, sleek side table and a modest dresser, the room stays uncluttered yet practical.
The decor is equally restrained. A single piece of monochrome artwork adorns the wall, and a few books are carefully displayed on the dresser. These elements add a personal touch without overwhelming the space.
What brings the room to life is the subtle inclusion of greenery. A small potted plant on the side table and a hanging plant in the corner breathe life into the space, hinting at the Japanese love for nature.
Overall, the image beautifully showcases how a Japandi small bedroom can be a tranquil retreat, combining minimalist design elements, functional furniture, and a love for nature in a harmonious and aesthetically pleasing manner.
Warm Comfort in Japandi Small Bedroom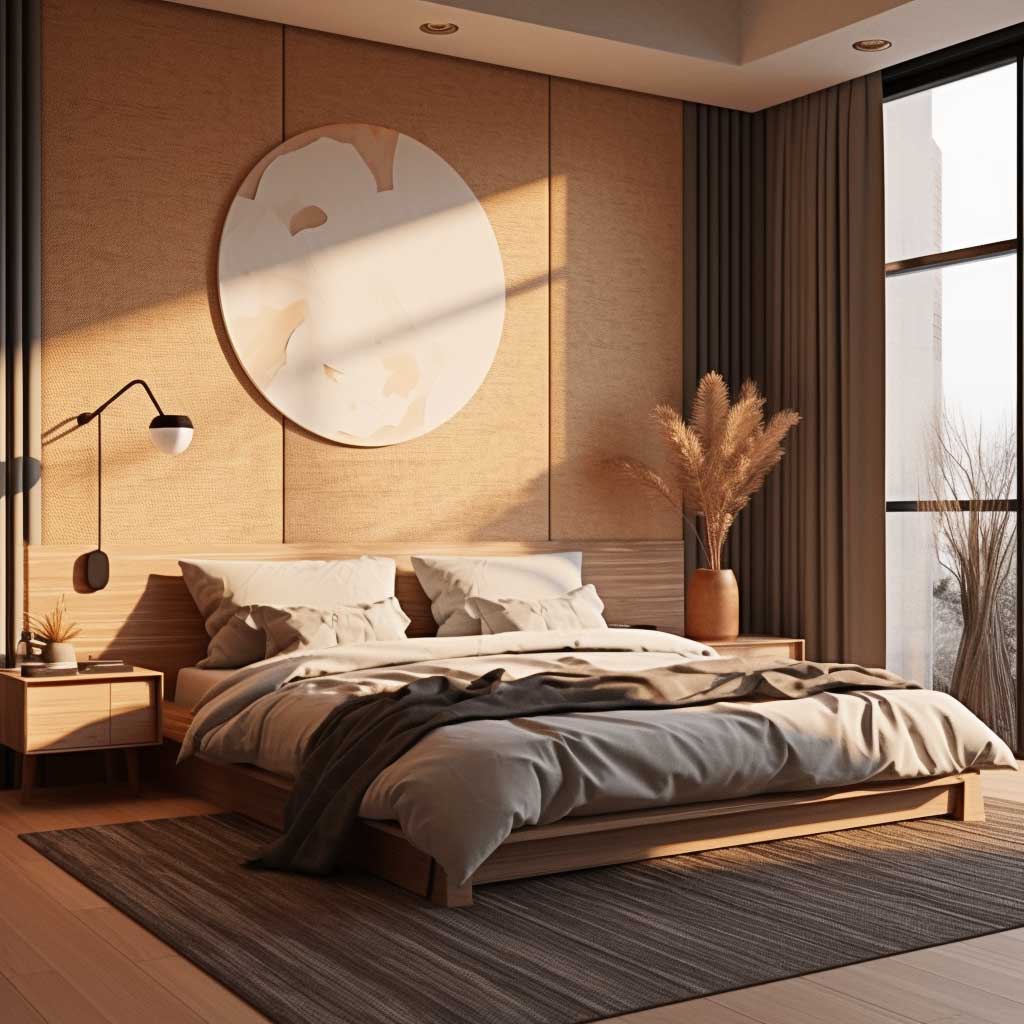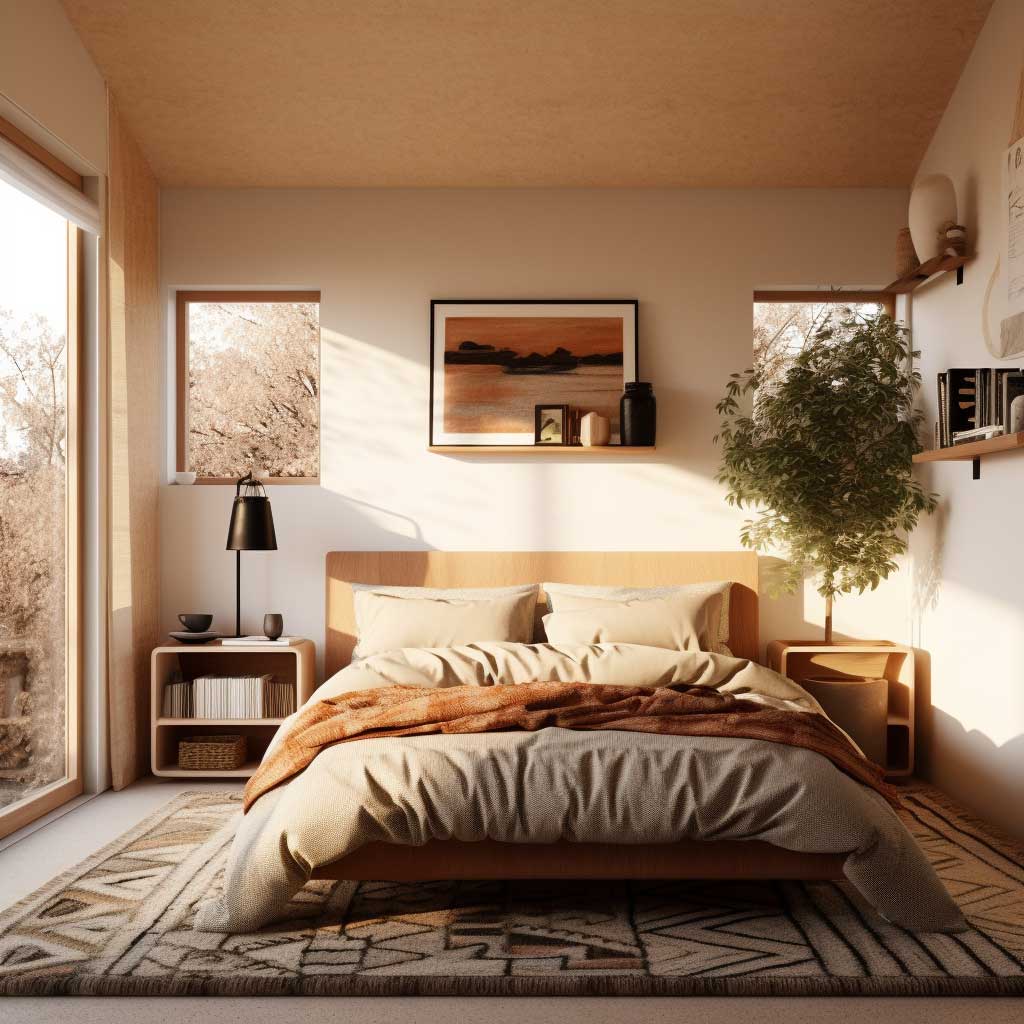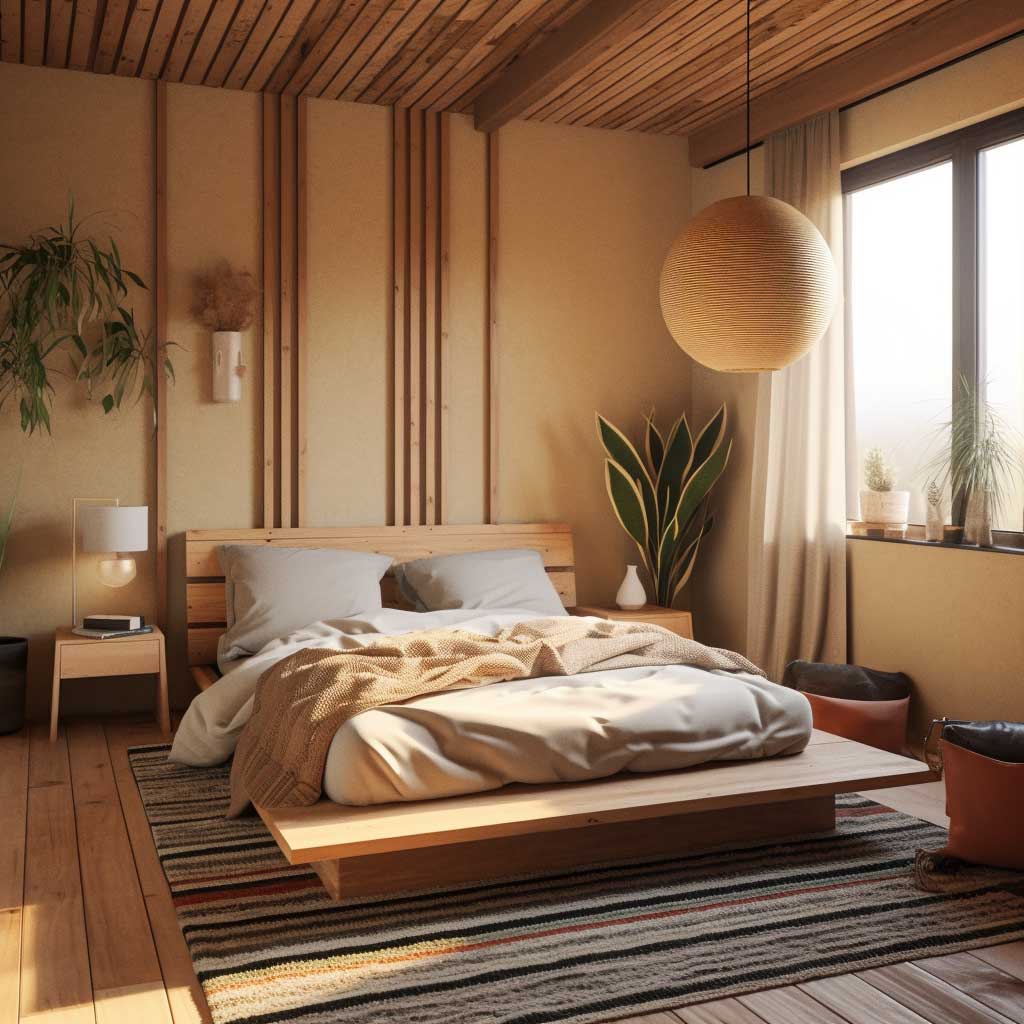 This image offers a glimpse into a warm and cozy Japandi small bedroom. The room seamlessly combines Japanese and Scandinavian design principles, resulting in a space that's not just functional, but also welcoming and comfortable.
The color palette leans towards warmer tones, with earthy browns, creams, and beiges dominating the space. The walls are painted in a light beige, offering a warm alternative to stark white, while the wooden floor and furniture introduce natural textures and depth.
The furniture pieces are simple yet functional, exemplifying the principles of both Japanese and Scandinavian design. The wooden bed frame and side table are minimalistic and sturdy, their natural grain adding to the room's cozy feel.
The bedding takes on a significant role in setting the room's ambiance. Plush, textured linens in earthy tones invite relaxation and comfort, and the layered pillows and blankets contribute to a sense of hygge, a Scandinavian concept synonymous with coziness.
Decorative elements are kept to a minimum. A single piece of abstract art, a ceramic vase, and a pile of books are thoughtfully arranged, adding a personal touch without causing visual clutter.
The image effectively captures how a Japandi small bedroom can embrace warmth and comfort. It's a perfect example of how thoughtful color choices, texture inclusion, and functional simplicity can turn a small space into a cozy sanctuary.
Compact Elegance in Japandi Small Bedroom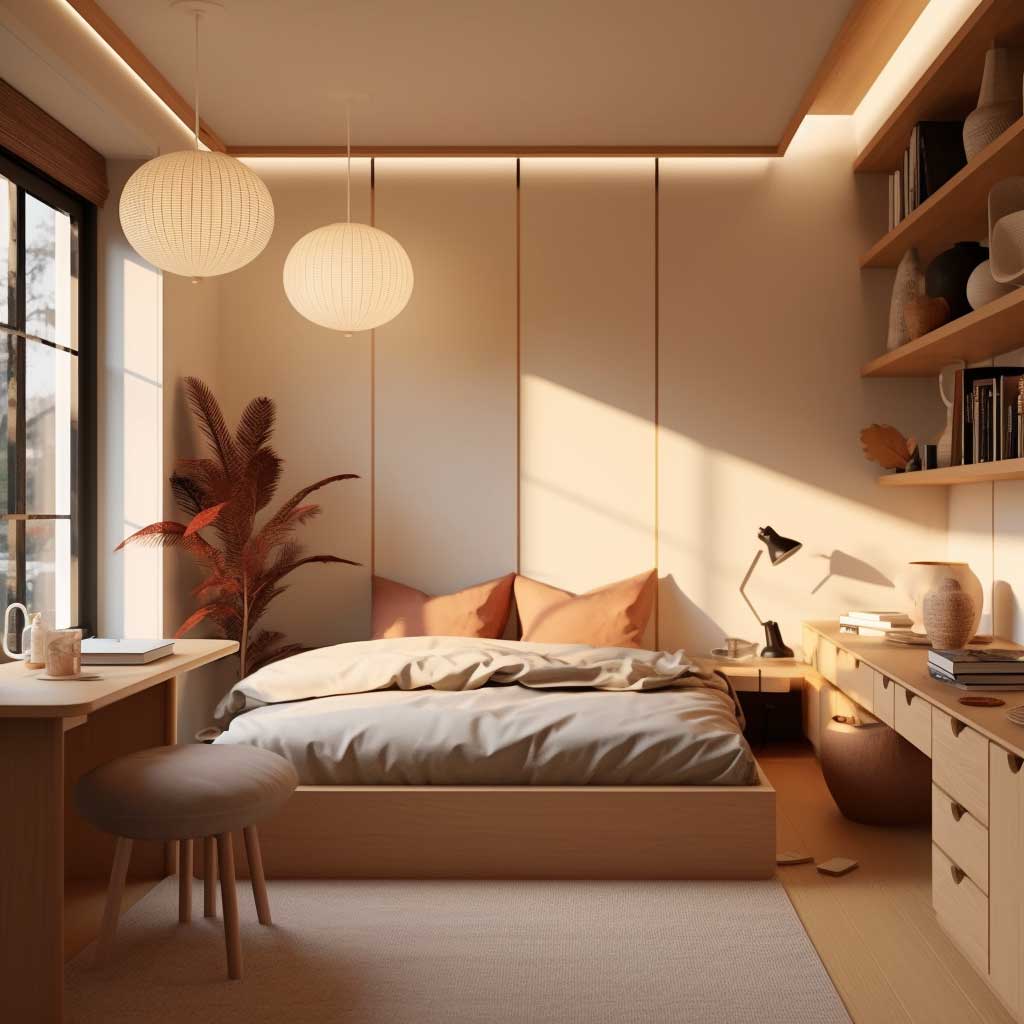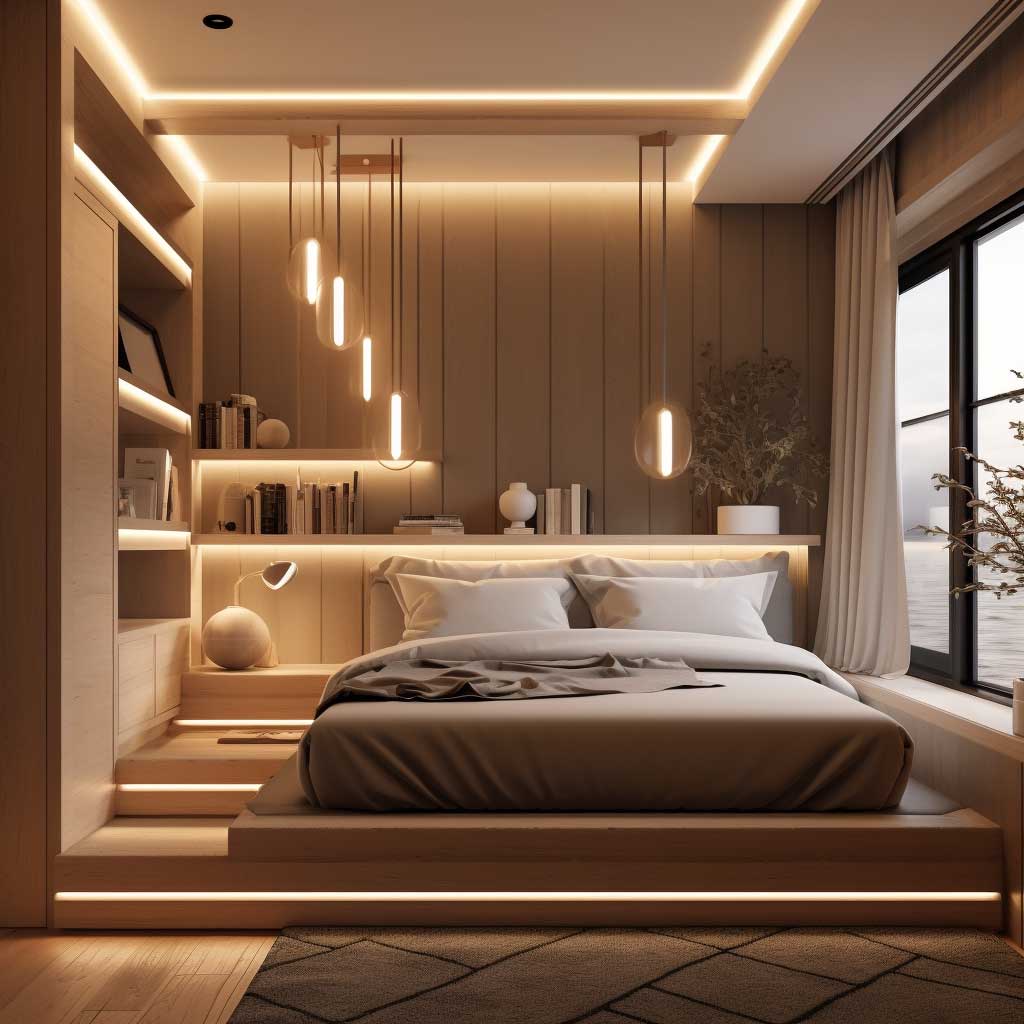 The image presents a compact Japandi small bedroom, expertly designed to maximize space without compromising on elegance or comfort. The room combines Japanese and Scandinavian design philosophies, showcasing how less can be more, even in a limited space.
The room's color palette is clean and bright, with white walls and ceiling to visually enlarge the space. The natural wood tones of the furniture bring warmth and contrast, creating an inviting atmosphere in the compact room.
Space-saving furniture is the hero of this design. A platform bed with integrated storage is both functional and in line with the minimalistic aesthetic of Japandi design. A sleek, floating shelf serves as a bedside table, maintaining the room's clean lines while offering a spot for essentials.
Clever lighting solutions further enhance the room. Wall-mounted reading lamps free up space on the shelf and provide focused light for nighttime reading. The ceiling light is simple and unobtrusive, contributing to the minimalistic aesthetic.
The decor is sparse but impactful. A single, framed piece of abstract art creates a focal point, and a small potted plant introduces a touch of nature, in keeping with the Japanese appreciation for the natural world.
In sum, the image is an excellent portrayal of how a Japandi small bedroom can be a study in compact elegance. It demonstrates the effectiveness of space-saving furniture, clever lighting, and minimalist decor in creating a functional, comfortable, and aesthetically pleasing space.
Zen Retreat in Japandi Small Bedroom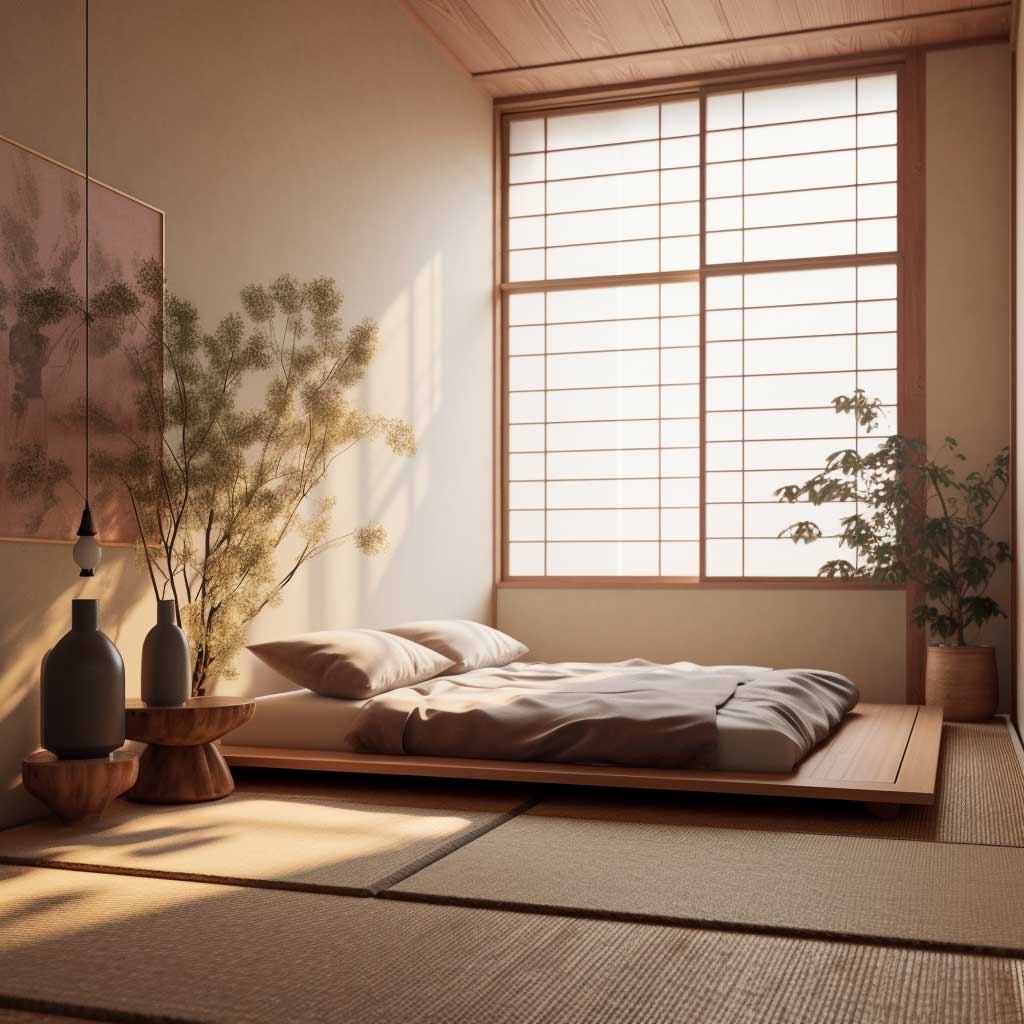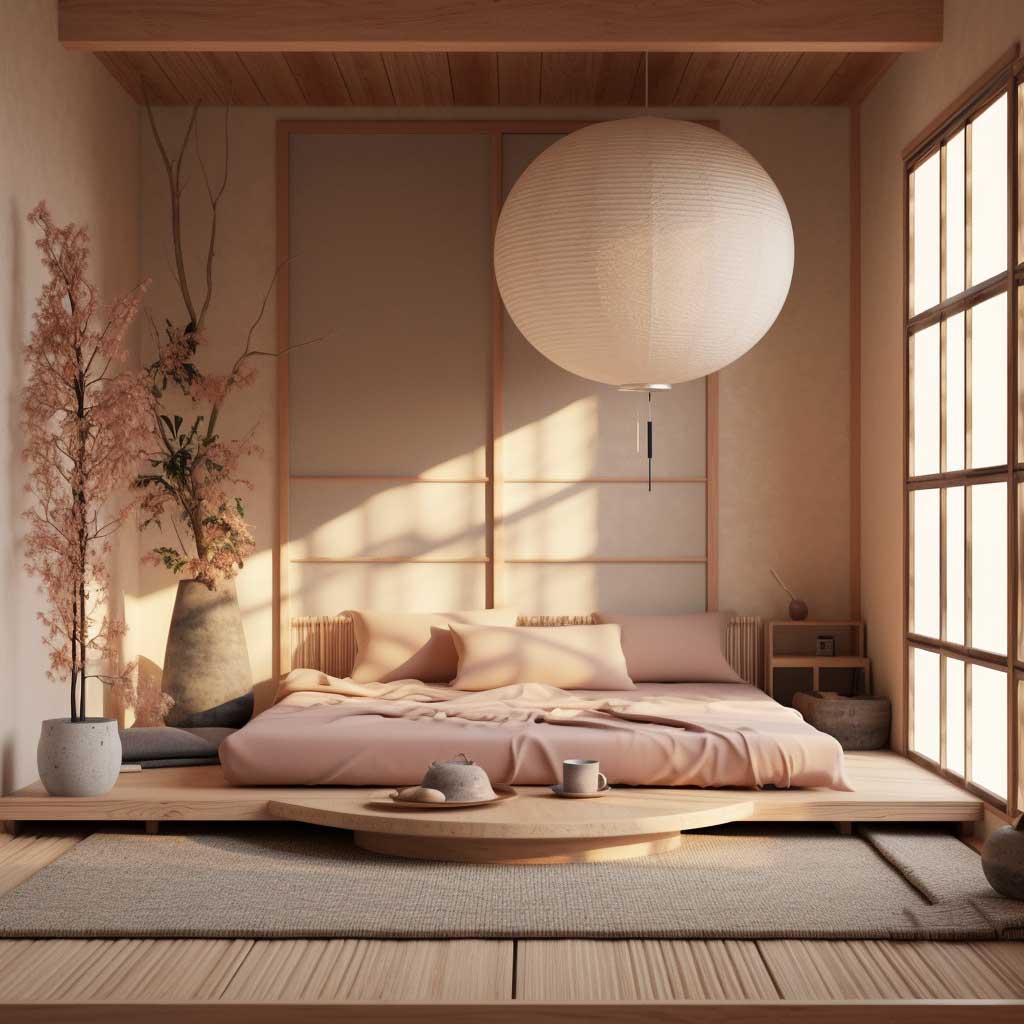 This image takes us into a Zen-inspired Japandi small bedroom. Drawing heavily on traditional Japanese elements, the room exudes peace and tranquility, making it a perfect retreat for relaxation and mindfulness.
The color scheme is serene and natural, with white and soft greens dominating the room. The white walls and ceiling create a sense of openness, while the soft green accents harmonize with the natural elements of the room.
Instead of a conventional bed, the room features a futon placed on a tatami mat. This traditional Japanese sleeping arrangement suits the small space perfectly, adhering to minimalist principles while providing a comfortable sleeping area.
The room also incorporates a peaceful corner for meditation. A cushion is neatly placed on the tatami mat, with a small, Zen-inspired rock garden adding to the ambiance of tranquility. A low wooden table nearby serves as an area for tea or reading.
Minimal decor maintains the tranquil and uncluttered atmosphere. A hanging scroll with Japanese calligraphy adorns the wall, embodying a sense of Zen simplicity and elegance.
All in all, the image beautifully depicts how a Japandi small bedroom can serve as a Zen retreat. It's an embodiment of tranquility, simplicity, and mindfulness, demonstrating that even a small space can serve as a peaceful sanctuary for relaxation and reflection.
Conclusion:
Japandi small bedroom designs demonstrate that a small space doesn't mean a compromise on style, comfort, or functionality. By marrying Japanese and Scandinavian design elements, you can transform your bedroom into a tranquil oasis, a cozy hideaway, or a compact sanctuary that maximizes space usage. Whether you're looking to create a Zen retreat or a minimalist haven, these design ideas provide a wealth of inspiration for your journey towards creating the perfect Japandi small bedroom.