Bring a touch of nostalgia to your modern kitchen with a retro-modern kitchen design. It is the perfect blend of old-fashioned charm and modern convenience styled for ultimate comfort. Whether you draw inspiration from vintage houses or prefer simple and sleek designs, there are plenty of old-fashioned kitchen ideas to suit everyone's taste. From vintage-inspired cabinets to reclaimed materials, a mix of antique elements and contemporary appliances will create an inviting hub in the home. Refresh your living space with nostalgic touches that make room for beautiful memories. Invest in a retro-modern kitchen design and bask in the beauty it brings to your home!
Steal Some Ideas from the Pioneers of Retro Modernism Kitchens
Retro modernism kitchens are a return to the sleek, classic design of mid-century kitchens from the 50s and 60s. This trend has become increasingly popular in recent years, as homeowners looking to create a unique kitchen style love the juxtaposition of retro design combined with modern amenities. If you want to steal some ideas from the pioneers of retro-modernism kitchens, then look no further! Whether you're looking for ideas for mid-century kitchen cabinets or kitchen color palettes that bring out those 1960s vibes, this article is here to give you plenty of inspiration. Take a step back in time and into your brand-new retro kitchen!
How do Incorporate Vintage Elements into Classic & Contemporary Kitchens?
Vintage elements can help bring back nostalgic memories of the 1960s and are an excellent way to add distinct style and character to both classic old homes and contemporary kitchens.
Adding a vintage touch or completing a minimalist or midcentury aesthetic with room divider curtains, fabric prints, non-traditional hues, and wood or chrome furniture pieces gives your kitchen retro vibes.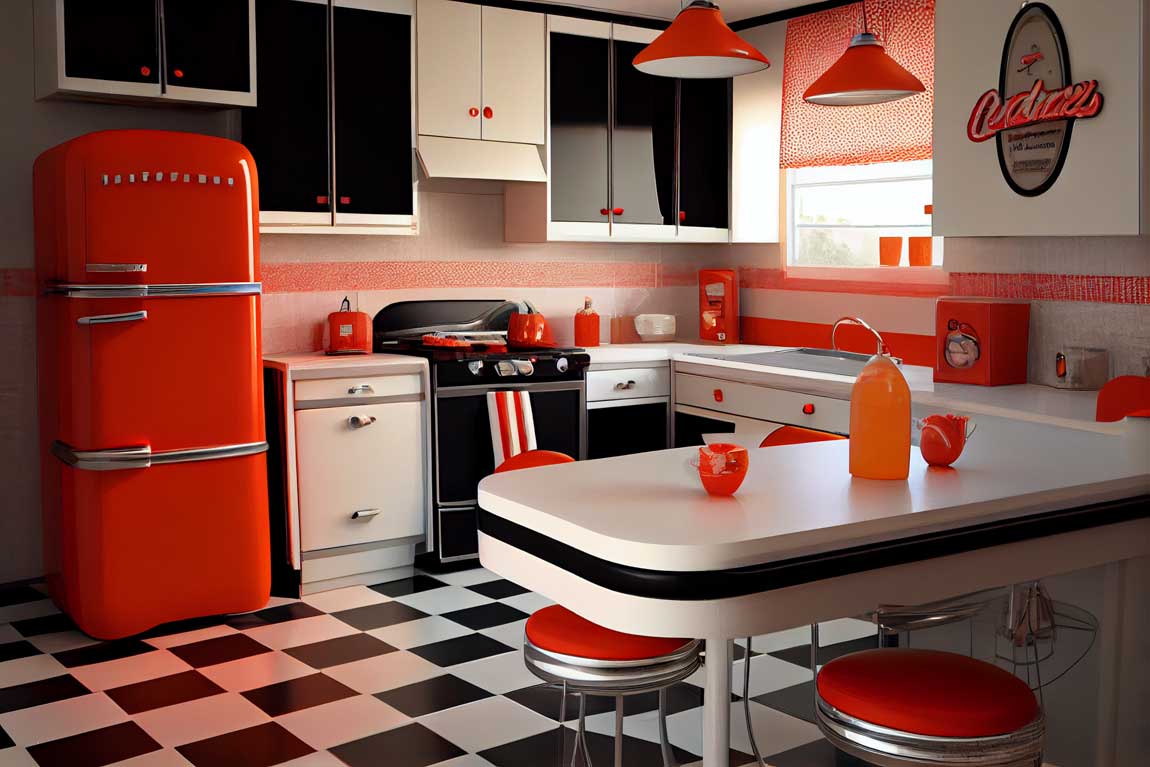 While Scandinavian design has become popular in recent times with modern designer kitchens featuring color-blocked islands, white walls, and soft greys. Adding some interesting features – like tainted surfaces on the coffee tables and wooden beams can make a space feel quite different from your average lunchtime cafe.
How to Select Luxurious Features for Your Vintage-Inspired Kitchen?
The retro-modern kitchen is an architectural trend not just limited to art and design. It is much more than that. You can easily bring this style into your home by choosing fine features like wooden cabinets, sofas, or higher-end appliances.
It's important to pay attention to the small details to achieve this sleek retro-modern look in a kitchen. You need cleverly placed sconces, stainless fixtures, bar stools or dining chairs, and charming wooden details too. This also includes using expensive tiles made with terrazzo or quality marble flooring.
Which Color Options Will Make Your Retro Modern Kitchen Pop & Shine?
At some point, your well-worn appliances seem destined for the junk pile, until a costume designer sparkles up the dull shade with a pop of bold color.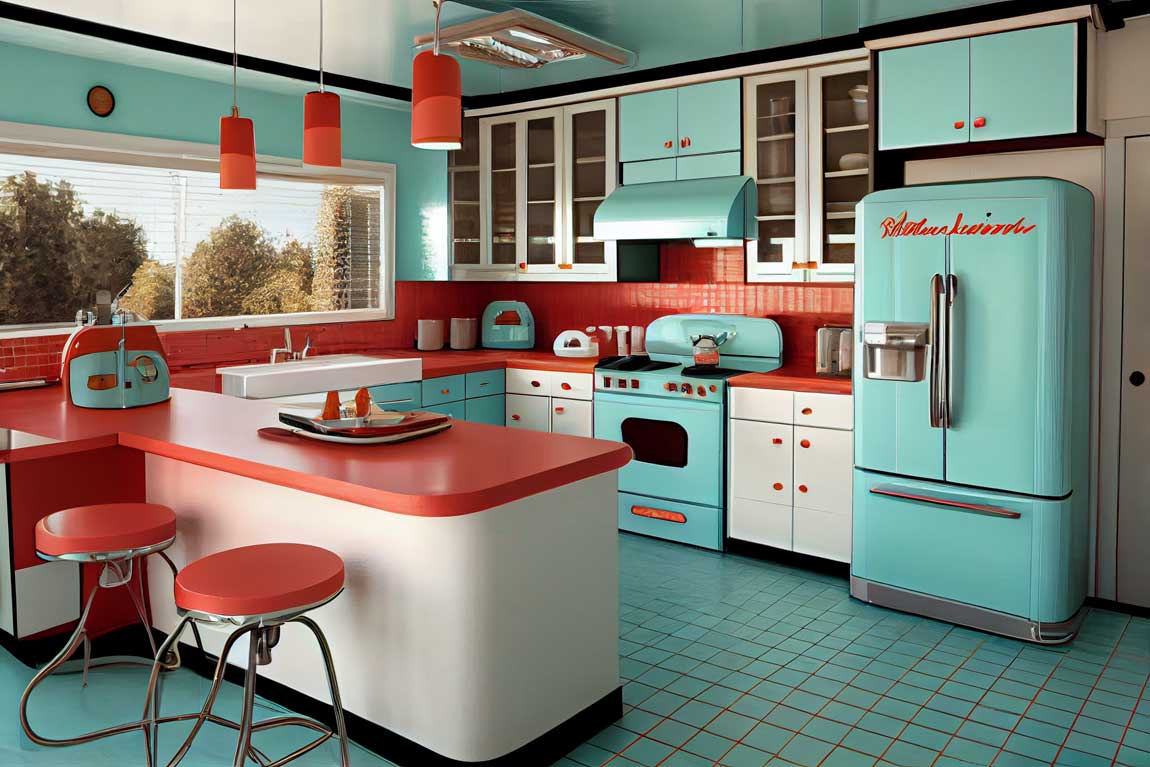 With just a few well-placed decorating touch-ups that make everything in this linear space feel fresh and modern, you can sort of get the best of both worlds – the shabby chic style that's perfectly retro and remains modern.
When it comes to picking colors for your kitchen, hues are a key question to consider — used in practical places like cabinets and hardware as well as vibrant touches such as wall decals or deep wall paint.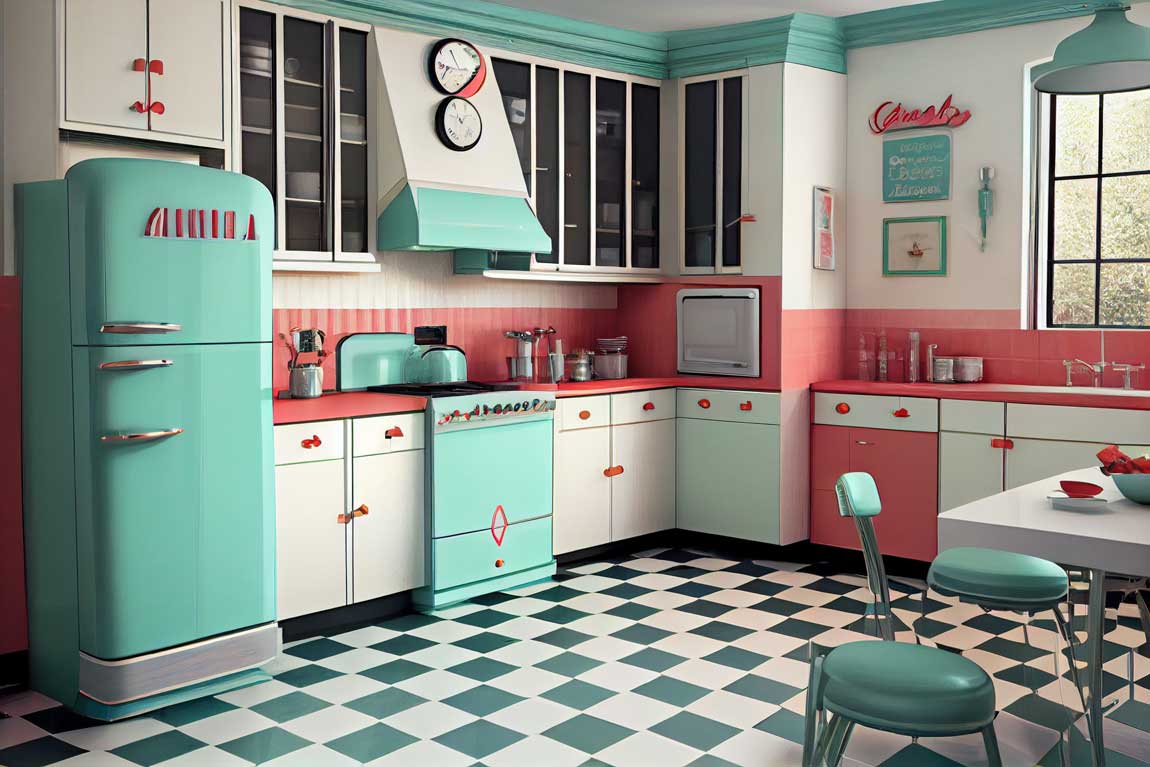 What Are the Best Furniture & Fixtures for a Retro Modern Look?
Retro Modern provides the look that you might have seen in the 50s and 60s Rockabilly. There are many ways to furnish a retro-modern room with furniture. Here we made a list of some of the best fixtures and furniture design ideas for this theme.
The latest designs included in a retro-modern look are the ones that satiate your nostalgia most. With the influence of modernist designers – could not be more receptive than this design trend to your mixed palette. Some focus on taking inspiration from mid-century pieces while others pay homage to 1950s prototypes, but rather retrofit them as well.
The Retro Modern outlook is fronted with paints, decorations, fabrics, and textiles which range from simple patterning with lively colors followed by mod flower patterns or iconic shapes such as globe lights, bow ties, and hearts. The Retro Modern style can blend present styles with a nostalgic feel. It allows people to still be seen as being contemporary while also feeling old-fashioned in a way. It provides an easy crossover from the old school into the new world.
The Cost Benefits of Incorporating Vintage Designs in Your Kitchen
If you are thinking about remodeling your kitchen and incorporating vintage design elements like wood cabinetry, linen or stainless steel appliances, Natural Stone countertops, and stone backsplashes then consider the other major advantages you will be getting in return.
The increased historical appeal is worth its weight in gold when it comes to reselling your house down the line. Your home will be selling more because of it so that's a plus if you want to sell long-term. Not only does historic appeal also translate into less heating and cooling costs for the property as well making for a cost-effective remodel overall.