Have you noticed that the buildings in the village or in the forest made of natural materials. Holmberg Studios adhered to this idea when designing a villa on the colorful island of Gothenburg in Sweden. The rustic wooden house, simple in appearance, looks so eccentric that it is impossible to take one's eye from it. The lightweight design is flawlessly set amidst a relief landscape, creating a nook for a family nest.
FRAME BUILDING – CLASSICS OF COUNTRY OWNERSHIP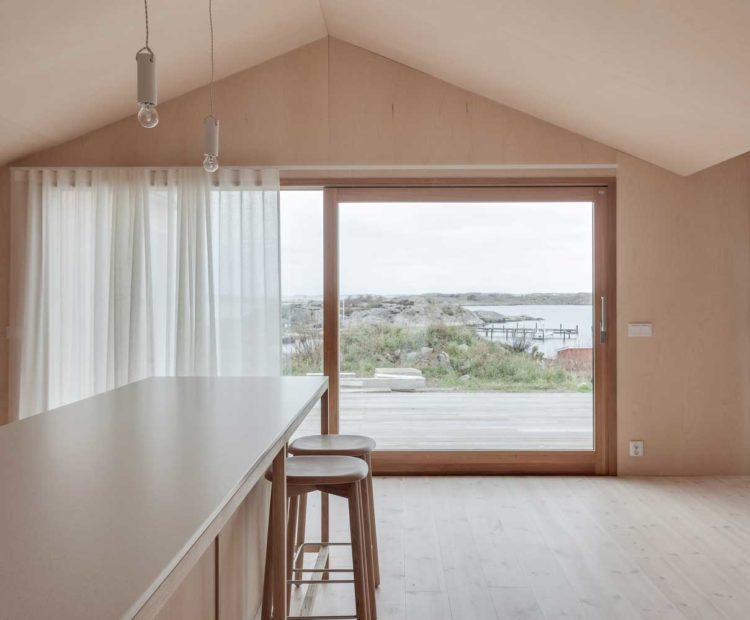 Inside and outside, the frame structure looks stylish and relaxed. In architecture, this choice is classic, because the bars allow you to build strong and durable structures. The main advantages of choosing a tree for construction include the following factors:
Design reliability;
Minimum construction period;
Low heat conductivity;
Environmental friendliness;
Great aesthetic appearance.
small modern wood house
Exterior cladding plays an important role, so the decoration of a rustic wooden house is made of untreated pine beams. Thus, the material has become a key factor in the formation of a rigid expression of the facade. The project does not have intricate flyovers, a multilevel structure. The construction is quite restrained, while the house itself seems to be divided into three separate buildings. Each part has a functional purpose, places separate areas for living.
modern log cabin plans
An untreated tree is perfect for the surrounding countryside, sheltered by rocks. The volume and shape of the house over time will always look harmonious, without changing its natural texture. Such a solution creates coziness, solitude from neighbors, opening up maximum space for reunion with nature.
COUNTRY HOUSE WHICH YOU WANT TO LIVE IN
Each time, looking at the projects of country residences, one is surprised at the aesthetics of their appearance. How subtly architects think out each square meter of the area so that residents can feel in a free environment. A villa in Sweden is an example of minimal complexity and maximum naturalness of housing. To make beautiful suburban wooden houses look even better, experts use modern decoration styles.
wood house modern design
In our case, there are no additional materials for cladding, painting the facade. All beauty is conveyed by the natural texture of wood, which for many years will look so presentable and sophisticated. It became appropriate to use panoramic windows and sliding glass doors. Lighting from outside helps to increase the space, fills the room with sunbeams that beat every corner of the room.
The division of the entire building into three separate parts is justified by the climate. Moving the house inland allowed to protect its weather, wind, rainfall. It was possible to make a single structure with a terrace, but here it would be inappropriate. Various difficulties and voluminous protrusions could not convey a secluded atmosphere. And simple steel lines create a balance with the landscape and living space.
AIR INTERIOR OF A COUNTRY HOUSE
Modern interior of a country wooden house proves the truth of the old adage "All new – is well forgotten old". This is how one can characterize the presented project. Outside, the villa seems a little strange, but inside its space is simply charming and airy. Light texture prevails on all 120 sq.m. housing.
modern wood house interior
Natural materials have also been chosen for surface finishes. The walls and ceiling of a rustic wooden house are lined with birch plywood in soft pastel colors. Maybe the future owners of the villa dreamed of luxurious furnishings, stylish finishes, expensive wallpaper or exotic decor. But, a fundamentally simple interior in the style of minimalism, was allotted for the natural texture, shapes and natural warmth of materials.
modern wooden house design plans
The exterior and interior of the house have a strong connection with the past. Our ancestors would live in such a home with pleasure, where only natural harmony reigns around. Artificial materials are more suitable for urban apartments, and only natural incarnations of space are better suited for a country house. Entering the living room, a delicate aroma of wood is immediately felt, touching the walls a slightly rough surface texture is felt.
modern wood home design
There are two conflicting opinions about wooden houses: "There is nothing easier than building a wooden house", and the second – "Building a wooden house is the most difficult thing that can be in construction".
FEELING EASY IN EVERY ROOM
Stepping on the floor of a rustic wooden house from beautiful parquet, you can feel yourself in the middle of the forest, where it is so nice to enjoy the fresh air. Elegant style is sustained in each room. You can move between rooms through a narrow corridor, which creates a feeling of shifting lines.
Bedrooms are equipped with large bed, bedside tables and a small sliding wardrobe. Most of the living space is reserved for the kitchen-dining room. The entire area of the kitchen remains free thanks to built-in household appliances and a compact arrangement of work surfaces. The secret of the project is that the wooden country house whose design we see is the art of playing with improvised materials.
A noteworthy area is the living room, equipped with a modern fireplace stove. Around it, all the walls are finished in the form of open wooden shelves, on which are located fresh flowers, books, and decor. Natural shades have become an exceptional color palette, where the earthly tone of wood and bark prevails. Bright shades are used to revitalize the interior. Designers decorated the living room with a blue sofa with multi-colored, variegated pillows.
LIGHT HOUSE AMONG ROCKS
Having looked at this pleasant country wooden house, we can conclude that a fairly simple structure can be aristocratic and sophisticated. Even in the absence of luxurious furniture, modern facade cladding, architects and designers manage to create the classic ease of living space.
modern glass house in woods
Panoramic windows with snow-white, translucent curtains allow you to contemplate the beauty of the sea, which is enough for a vacation in the countryside. It looks like a modern frame-built house, where all conditions for comfortable living and proximity to nature are created.