Close your eyes and imagine a place where comfort and style coexist in perfect harmony—a place where muted colors, clean lines, and natural materials come together to create an inviting, serene environment. No, you're not dreaming. You've just stumbled upon the magical world of Scandinavian bedroom design, a realm where the Danish concept of hygge (coziness) and the Swedish art of fika (coffee break) reign supreme. Join us as we explore the enchanting Scandinavian bedroom ideas that will inspire you to transform your sleep space into a Nordic retreat.
A Symphony of Simplicity – The Color Palette
The first step in creating a Scandinavian-inspired bedroom is to establish a calming color palette. True to its minimalist roots, this design style favors neutral hues, such as cool grays, soft whites, and soothing creams. These colors not only evoke the peacefulness of Nordic landscapes but also provide the perfect backdrop for layering natural textures and cozy accents.
So, bid farewell to the loud, flashy colors of yesteryear and embrace the Zen-like tranquility of a muted palette. Who knew that a world of grays could be so colorful?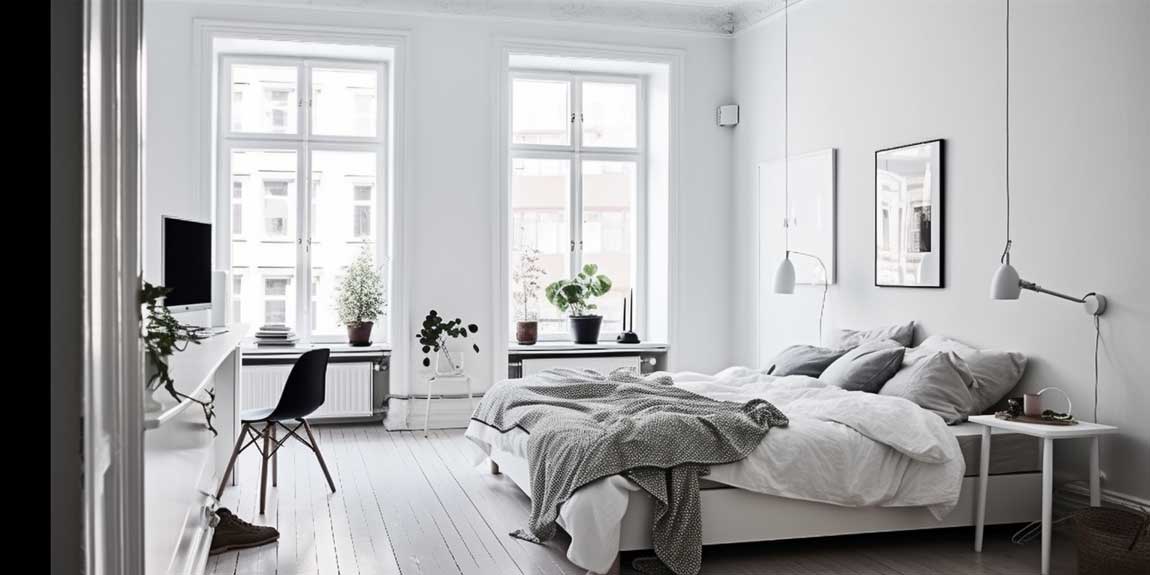 Stripped-Down Sophistication – Furniture Selection
When it comes to Scandinavian bedroom ideas, less is definitely more. So, it's time to channel your inner Marie Kondo and declutter your space. Opt for sleek, minimalist furniture pieces that boast clean lines and functional design. From elegant platform beds and chic wardrobes to understated nightstands and streamlined dressers, the beauty of Scandinavian furniture lies in its simplicity.
Remember, every item in your bedroom should serve a purpose, and there's no room for excess baggage (literally and figuratively) in this Nordic paradise.
The Art of Texture – Linens, Rugs, and Beyond
Now that your color palette is set and your furniture is in place, it's time to add some warmth and personality to your Scandinavian bedroom. The key to achieving this lies in the artful layering of textures. Soft, luxurious linens and plush blankets are a must, as they infuse the space with an inviting sense of comfort and relaxation. Choose natural fibers, such as cotton or linen, to complement the organic theme of your Nordic retreat.
Area rugs, particularly those made from sheepskin or wool, are another essential element in a Scandinavian-inspired bedroom. Not only do they provide a cozy underfoot experience, but they also add visual interest and dimension to the space. Remember, it's all about balance—striking the perfect harmony between sleek minimalism and comforting warmth.
Let There Be (Natural) Light – Window Dressings and Lighting
In the land of the midnight sun, natural light is a precious commodity. As such, Scandinavian design places a strong emphasis on maximizing daylight in the home. Opt for large windows and dress them with sheer, airy curtains that allow sunlight to filter through. Alternatively, consider using light-filtering roller shades for a more modern look.
When it comes to artificial lighting, look for fixtures that are as functional as they are stylish. Pendant lights, floor lamps, and wall sconces with clean lines and minimal ornamentation are the perfect choices for a Scandinavian bedroom. And don't forget the ever-popular fairy lights – their soft, twinkling glow adds a touch of whimsy and magic to any space.
The Finishing Touches – Accessories and Decor
A true Scandinavian-inspired bedroom wouldn't be complete without a few carefully chosen accessories to add character and charm. Look for artwork and decorative items that feature geometric patterns, abstract forms, or nature-inspired motifs. Potted plants are another essential element, as they bring a burst of life and color to the space, while also improving indoor air quality.
Last but not least, remember that your bedroom is a reflection of your personality, so don't be afraid to add personal touches that make you smile. After all, the true spirit of hygge lies in finding joy in the little things and creating a space where you feel truly at home.
A Scandinavian Bedroom – Your Nordic Sanctuary Awaits
In the end, the journey through the world of Scandinavian bedroom ideas has revealed a design philosophy that emphasizes simplicity, functionality, and the art of cozy living. With its muted color palette, sleek furniture, and carefully curated accessories, this style offers a fresh, modern take on traditional Nordic design principles. So, as you embark on your quest to create the perfect Scandinavian bedroom, remember to embrace the magic of hygge and let the serene beauty of Nordic design envelop you in a world of comfort, relaxation, and effortless style.