Imagine stepping into a luxurious, modern Swiss chalet interior design, where the warmth of natural materials meets contemporary elegance. This fusion of traditional alpine architecture and modern design elements creates an enchanting atmosphere perfect for a cozy mountain escape. The following article delves into the world of modern Swiss chalet interior design and offers 20 dreamy ideas to inspire your next mountain retreat. Let the charm of these rustic yet sophisticated interiors transport you to a serene, snow-capped paradise.
The Magic of Wood:
A key element of modern Swiss chalet interior design is the generous use of natural wood. From exposed ceiling beams and wooden flooring to handcrafted furniture and decorative accents, wood brings warmth, texture, and a sense of history to these stunning spaces. Choose reclaimed or locally sourced timber to create an eco-friendly and authentic mountain haven.
Floor-to-Ceiling Windows:
One of the defining features of modern Swiss chalet interior design is the incorporation of floor-to-ceiling windows. These large, expansive windows invite natural light to flood the interior, creating a bright and inviting atmosphere. They also provide breathtaking panoramic views of the surrounding alpine landscape, making you feel at one with nature.
Contemporary Alpine Chic:
Modern Swiss chalet interior design often combines traditional alpine elements with contemporary design trends. Think plush, sheepskin rugs, and cozy throw blankets paired with sleek, minimalist furniture and modern art pieces. This fusion of old and new creates a unique and captivating aesthetic, perfect for a luxurious mountain retreat.
Open-Concept Living:
In many modern Swiss chalet interior designs, you'll find open-concept living spaces, where the kitchen, dining, and living areas flow seamlessly together. This layout encourages a sense of togetherness and makes it easy to entertain guests while preparing meals or relaxing by the fire.
Fireplaces and Cozy Nooks:
A quintessential feature of modern Swiss chalet interior design is the inclusion of inviting fireplaces and cozy nooks. These spaces offer the perfect sanctuary for curling up with a good book or sipping a warm beverage after a long day on the slopes. Stone or wood fireplaces, paired with comfortable seating, create a warm and welcoming atmosphere that is essential for any mountain escape.
The Art of Layering Textures:
An essential aspect of modern Swiss chalet interior design is the artful layering of textures. By incorporating various materials such as wood, stone, fur, and fabrics, you can create a rich and inviting atmosphere. Combine soft, plush cushions with knitted throws and sheepskin rugs for a cozy and tactile experience. The juxtaposition of rough and smooth surfaces adds depth and visual interest, making your chalet feel like a luxurious sanctuary.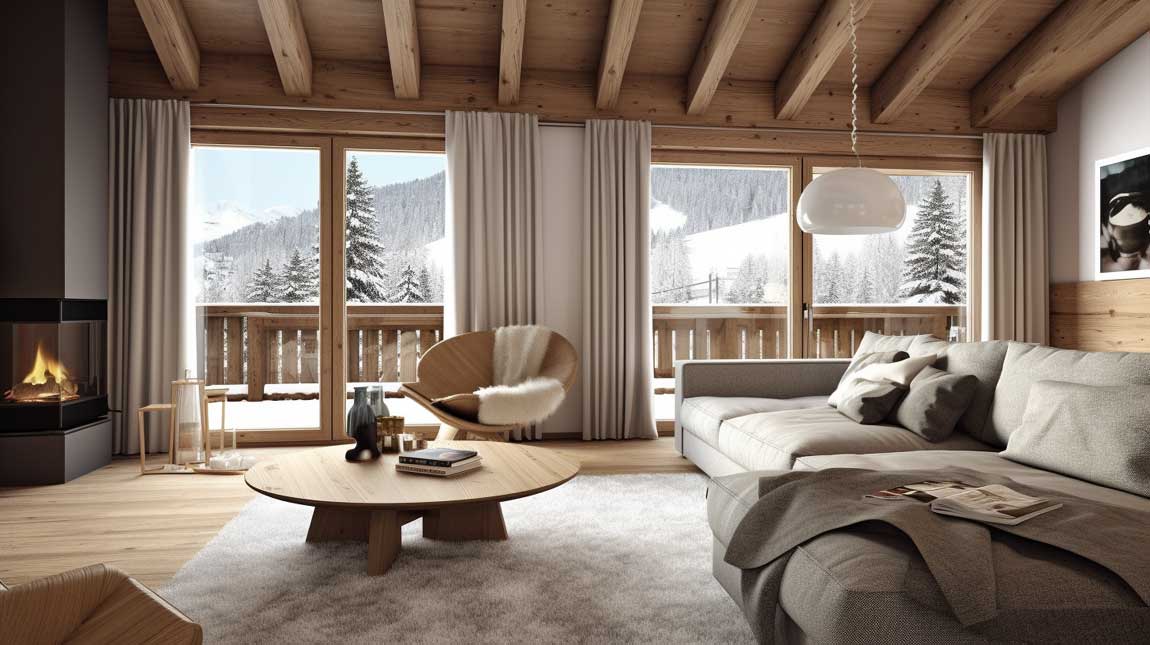 Statement Lighting:
In modern Swiss chalet interior design, statement lighting plays a significant role in setting the ambiance and enhancing the overall aesthetic. Choose eye-catching chandeliers, pendant lights, or floor lamps to make a bold statement and illuminate your space. Opt for fixtures made from natural materials like wood, metal, or glass to complement the chalet's rustic charm. Don't forget to incorporate dimmer switches for added control over the lighting and mood of your space.
Outdoor Living Spaces:
An important aspect of any mountain retreat is the connection to nature. In modern Swiss chalet interior design, outdoor living spaces are thoughtfully designed to maximize the enjoyment of the stunning alpine surroundings. Create inviting patios, terraces, or balconies with comfortable seating, outdoor fireplaces, and even hot tubs for ultimate relaxation. Use these spaces for alfresco dining, entertaining, or simply soaking in the breathtaking views.
Sustainable and Eco-Friendly Design:
Sustainability and eco-friendly design principles are becoming increasingly important in modern Swiss chalet interior design. Incorporate energy-efficient technologies, such as solar panels and smart home systems, to minimize your environmental footprint. Choose locally sourced, sustainable materials and opt for energy-efficient appliances to create a mountain retreat that is both luxurious and environmentally responsible.
Authentic Alpine Artwork:
To truly capture the essence of modern Swiss chalet interior design, consider incorporating authentic alpine artwork into your space. Display paintings or photographs of mountain landscapes, vintage ski posters, or traditional Swiss folk art to add character and a sense of place. You can also showcase local crafts, such as hand-carved wooden sculptures or woven textiles, to celebrate the region's rich cultural heritage.
Bold Color Accents:
While modern Swiss chalet interior design often features a neutral color palette, incorporating bold color accents can enliven the space and add visual interest. Choose vibrant colors inspired by the surrounding landscape, such as deep blues, rich greens, or warm reds, and incorporate them through accessories, artwork, or accent walls. This will add a touch of modernity and a dynamic energy to your chalet interiors.
Spa-Inspired Bathrooms:
A luxurious mountain retreat wouldn't be complete without a spa-inspired bathroom. Modern Swiss chalet interior design often includes indulgent features such as deep soaking tubs, rain showers, or steam rooms to create a serene, spa-like environment. Use natural materials like stone, wood, and glass to create a soothing, organic atmosphere perfect for relaxation and rejuvenation.
Architectural Details:
To truly elevate your modern Swiss chalet interior design, consider incorporating unique architectural details that reflect the chalet's alpine heritage. This might include custom woodwork, such as carved doors, window frames, or decorative moldings, as well as traditional Swiss motifs and patterns. These intricate details add a touch of authenticity and craftsmanship to your mountain retreat.
Custom Storage Solutions:
Incorporate custom storage solutions into your modern Swiss chalet interior design to ensure your space remains clutter-free and functional. Design built-in cabinetry, shelves, and closets to maximize storage while seamlessly blending with the overall aesthetic. This attention to detail will enhance the organization and flow of your chalet, making it a more enjoyable and relaxing space.
Embracing Nature's Beauty:
Lastly, when designing your modern Swiss chalet interior, don't forget to embrace the natural beauty of your surroundings. Allow the breathtaking alpine landscape to inspire your design choices, from the color palette and materials to the artwork and decorative elements. Incorporate large windows and glass doors that frame the stunning views, blurring the lines between indoors and outdoors. By integrating nature into your modern Swiss chalet interior design, you'll create a harmonious and tranquil retreat where you can truly escape from the hustle and bustle of everyday life.
Modern Swiss chalet interior design offers a harmonious blend of traditional and contemporary elements, resulting in truly dreamy spaces perfect for the ultimate mountain escape. With its emphasis on natural materials, expansive windows, and cozy spaces, these designs capture the essence of alpine living and create an enchanting environment where you can unwind and reconnect with nature. Whether you're building a new mountain retreat or looking to revamp an existing space, let these 20 modern Swiss chalet interior design ideas inspire you to create your very own alpine paradise.