Presented here is a two-story house with a gable roof located in the Italian municipality of Lyon in the highlands. Its design is typologically based on a traditional alpine house but has received a new reading thanks to innovative solutions of architects.
Alpine-style modern design: white and dark against greenery
To the traditions of the Alpine school of architecture, the building consists of a stone basement, a wooden upper floor, and a gable roof. But traditional foundations were revised in favor of a stylized simplified design and modern building materials.
Some constructive simplicity of the exterior of the house did not affect its structured beauty and clean lines. Geometric clear lines harmoniously fit into the natural mountain landscape without losing their individuality and plasticity.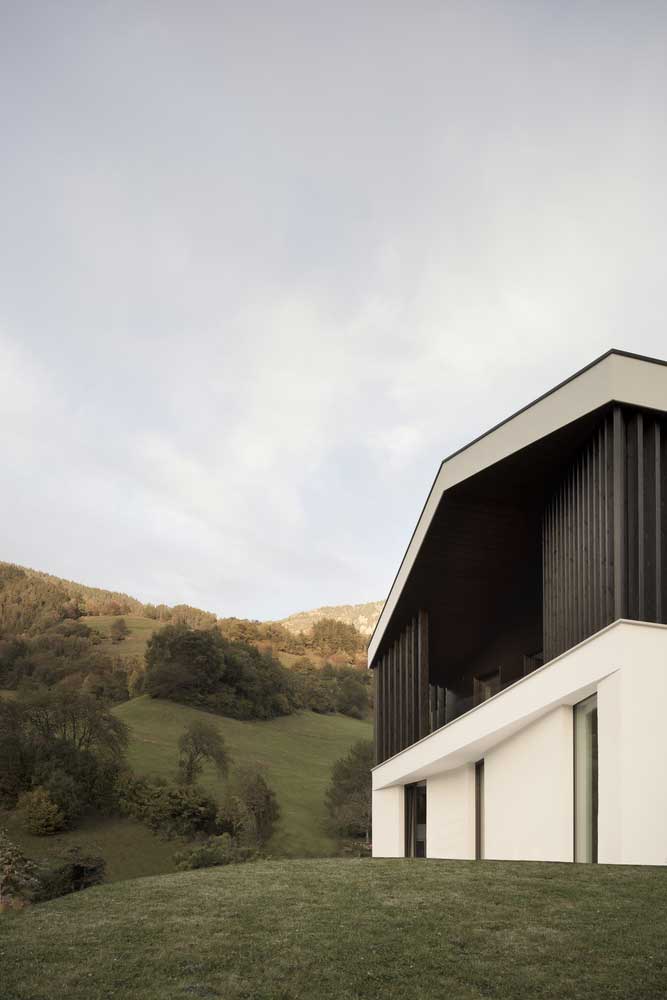 Doorways and terraces with their regular rectangular shapes repeat a single architectural line of geometric space. The external walls on the top floor are equipped with vertical wooden planks that protect from the weather and create a smooth transition from the interior to the natural environment.
When decorating the external walls of a two-story house with a gable roof, a win-win combination of light and dark was used: a white plastered facade on the first floor and dark-larch-lined walls on the upper floor. The choice of building materials and color scheme give a compact and uncomplicated form of elegance and breathtaking plasticity.
Cleanliness and simplicity of home interior solutions
The structural cleanliness inherent in the exterior of the house gently migrates to all interior spaces. A permanent connection with the pristine landscape is provided by panoramic windows and glass doors.
The unity of the exterior of the building and the interior is visible in many elements: a combination of light and dark shades, geometric rigor of structural solutions, and modern building materials.
Minimalism, which is not the main feature of alpine houses, has found its organic embodiment here. The geometry in the interior and a minimum of decor elements created bright, spacious, and comfortable rooms.
Wooden surfaces give the dark white interior a natural touch. The natural beauty of the tree softens this contrasting color palette of internal and external finishes, creating a feeling of harmonious unity with the vegetation of the nearby mountain slopes.
For houses located in mountainous areas, the equipment of safe and convenient access roads is important. The territory of the site and the entrance to the building should be planned in such a way that, along with the convenience and safety for the residents of the house, the natural vegetation and natural landscape are preserved as much as possible. A two-story house with a gable roof is an excellent example of combining all these requirements.