Exterior window trims are often overlooked yet powerful elements that can significantly influence your home's aesthetic appeal and architectural integrity. These small details can pack a big punch, transforming your home's façade, showcasing your personal style, and even enhancing its energy efficiency. In this article, we explore a variety of exterior window trim options, each with their unique charm and benefits, to inspire you in your quest to elevate your home's exterior design.
Classic Wood Exterior Window Trim Options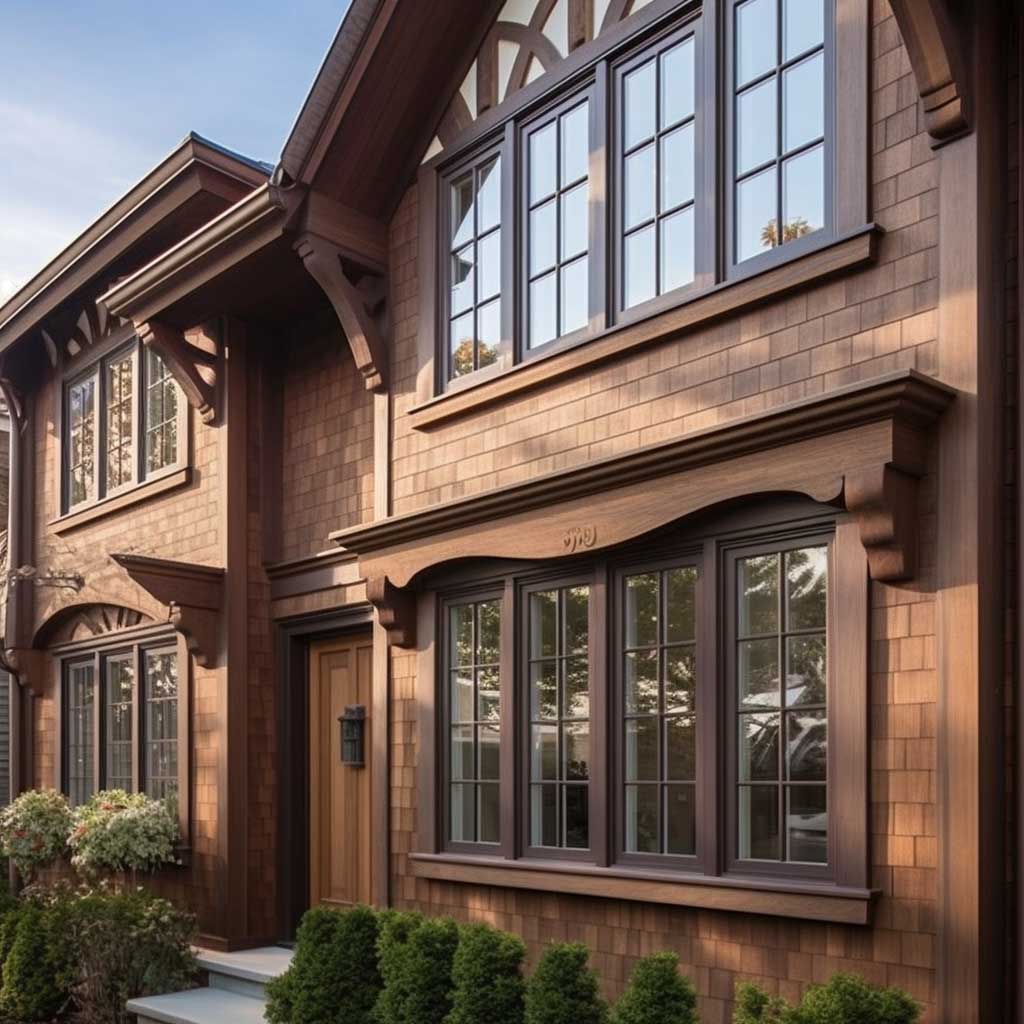 The photo presents a charming traditional home boasting a classic wooden exterior window trim. The trim, intricately carved and finished in a rich, warm stain, breathes life into the home's façade, enhancing its timeless elegance and architectural integrity.
At first glance, the window trim's aesthetic appeal is undeniable. It adds depth and dimension to the windows, transforming them from mere architectural features to focal points that captivate the eye. The wooden trim, with its warm undertones, contrasts beautifully against the cream-coloured exterior, creating a harmonious balance of colours that is both welcoming and visually pleasing.
The choice of wood for the window trim has a practical aspect too. Wood is a versatile material that can be easily crafted into any design, allowing for customization and personal expression. In this photo, the window trim sports a traditional design, with intricate carvings that pay homage to the home's architectural history.
It's worth noting that the exterior window trim does more than just enhance the home's aesthetics; it also serves a functional purpose. It protects the window's structure from external elements, thus helping prolong its lifespan.
But, selecting a wooden window trim requires consideration of certain factors. Wood, while beautiful and versatile, requires regular maintenance to keep it in good condition. It needs to be periodically stained or painted to preserve its aesthetic appeal and protect it from the elements.
In conclusion, this photo highlights the aesthetic and functional benefits of choosing wooden exterior window trim options. It showcases how wood, with its versatility and natural beauty, can enhance a home's architectural charm, making it a popular choice for homeowners seeking a classic, timeless look.
Modern Simplicity in Exterior Window Trim Options
The photo captures a sleek, modern home featuring minimalistic exterior window trims. The trims, painted in a crisp white, perfectly complement the home's clean lines and understated elegance, embodying the principle of "less is more" that is central to modern design.
The exterior window trim, despite its simplicity, significantly enhances the home's architectural appeal. The trim's crisp lines create a striking contrast against the dark grey exterior, highlighting the windows and bringing balance to the overall design. The white trim also helps to reflect light, brightening the façade and adding a sense of airiness to the structure.
Notably, the choice of a simple, minimalist window trim aligns with the home's modern architectural style. The lack of ornate details allows the architecture itself – the geometric forms, clean lines, and contrast of colours – to take centre stage.
Functionality, too, is integral to the design of this exterior window trim. The trim seals the gaps between the window frame and the exterior wall, helping to enhance the home's energy efficiency by reducing drafts and heat loss.
The choice of material for this modern window trim is likely a low-maintenance option such as vinyl or aluminium, aligning with the practical considerations of modern design. These materials, while not as traditional as wood, offer durability and require less upkeep, making them a suitable choice for homeowners seeking a balance of form and function.
In conclusion, this photo exemplifies the modern approach to exterior window trim options. By opting for a simple, minimalistic trim, the home achieves a sleek and contemporary aesthetic, proving that sometimes, simplicity can be the most powerful design statement.
Vibrant Colour Pop Exterior Window Trim Options
The photo depicts a contemporary home that breaks away from the norm with its vibrant blue exterior window trims. The bold use of colour brings a fun, playful element to the home's façade, demonstrating that window trims can be more than just functional features; they can also be a canvas for personal expression.
The bright blue window trims immediately catch the eye, creating a strong visual impact. They serve as a bold contrast to the home's neutral exterior, which in turn makes the windows pop and adds depth to the overall design. It's a daring, yet successful, design choice that showcases the homeowner's unique style and personality.
Interestingly, the use of a vibrant colour for the window trim also complements the home's contemporary architectural style. Contemporary design is often characterised by its embrace of bold colours and unique details, and this home, with its blue window trims, certainly fits the bill.
Functionality is not compromised for the sake of aesthetics in this design. Just like any window trim, these colourful trims help seal the window frames, protecting them from the elements and contributing to the home's overall energy efficiency.
Material-wise, a durable and weather-resistant option like vinyl or aluminium would be an ideal choice for such colourful trims. These materials can hold up well to bright, vibrant paint, ensuring that the colour stays true over time, even when exposed to sunlight and varying weather conditions.
In conclusion, this photo highlights the creative possibilities of exterior window trim options. By choosing a vibrant colour for the window trims, the home becomes a statement of individuality, proving that exterior design can be a fun and creative process.
Timeless Charm of Brick Exterior Window Trim Options
The photo shows a rustic home featuring exterior window trims made of brick, a design choice that exudes a sense of timeless charm and durability. The natural red brick trim pairs beautifully with the home's cream exterior, creating a rich and inviting palette.
One of the key attractions of this brick window trim is its ability to blend seamlessly with the home's overall architectural style. Its colour and texture resonate with the rustic design, bringing a sense of harmony and cohesion to the façade. The brick trim, with its rugged texture and earthy tones, adds a layer of depth and interest to the exterior design.
Aside from aesthetics, brick as a material for window trim has numerous practical benefits. Brick is highly durable and weather-resistant, capable of withstanding extreme weather conditions. It also requires minimal maintenance, making it a cost-effective long-term option for homeowners.
Functionality is inherent in this design too. The brick window trim provides excellent insulation, enhancing the home's energy efficiency by preventing drafts and heat loss. It also protects the window frame from external elements, helping to prolong the window's lifespan.
The choice of brick for the window trim also pays a nod to the traditional construction methods, grounding the home in a sense of history and permanence. It's a design decision that not only enhances the home's aesthetics but also its value.
In conclusion, this photo illustrates the enduring appeal of brick exterior window trim options. It showcases how brick, with its natural beauty, durability, and practical benefits, can bring a touch of timeless charm to any home.
Conclusion:
As we've seen, exterior window trim options are far more than a finishing touch for your windows. They can serve as a bold statement of your personal style, harmonize with your home's architectural design, and provide practical benefits like improved insulation and protection from the elements. Whether you're drawn to the classic elegance of wooden trims, the sleek simplicity of modern designs, the lively vibrancy of colour pops, or the timeless charm of brick trims, the right choice can significantly enhance your home's curb appeal. So don't underestimate the power of these small details – let them shine and let your home stand out!