LED panel designs have revolutionized how we illuminate our spaces, with small bedrooms reaping the most from this evolution. The strategic use of LED panels in small bedrooms not only optimizes the lighting but also creates the illusion of a more spacious and inviting room. This piece explores how to transform your small bedroom into an enchanting oasis with innovative LED panel designs.
LED Panel Backlighting for Small Bedroom Wall Art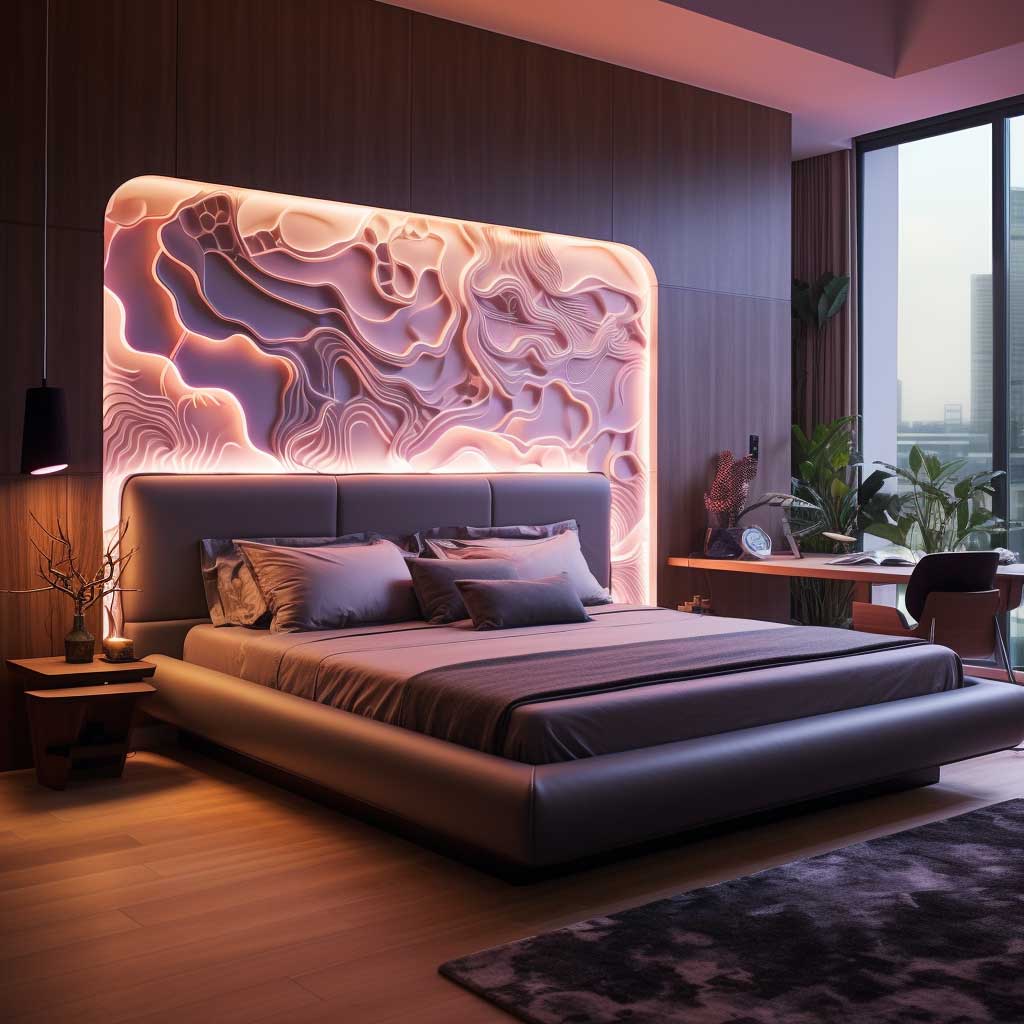 LED panels can do more than simply illuminate a room – they can also be used to highlight features and create focal points, adding depth and interest to small bedrooms. The photo illustrates a creative use of LED panel design as backlighting for a piece of wall art.
Backlighting, particularly when used to highlight art, creates a striking visual impact. The LED panel casts a soft glow around the artwork, drawing attention to it and giving it a floating appearance. In a small bedroom, creating such a focal point can add a sense of depth, making the room feel larger than it is.
LED panels used for backlighting are typically hidden from direct view, as seen in the photo. This allows the light to blend smoothly with the wall, enhancing the glow effect and ensuring that the artwork remains the center of attention.
Additionally, LED panel backlighting offers the benefit of customizable color temperatures. You can opt for warm, cool, or even colored light depending on the mood you want to set. This flexibility makes LED panels an excellent choice for personalizing your small bedroom.
In sum, using LED panels for backlighting wall art is a unique way to incorporate lighting into your small bedroom design. It creates a captivating visual effect, highlights your personal style, and adds a sense of depth to the room.
LED Panel Bedside Lighting in a Small Bedroom
Finding the right bedside lighting for a small bedroom can be challenging. Traditional lamps can take up valuable space and may not provide the right type of light for various activities. The photo showcases a creative solution to this challenge: an LED panel incorporated into the bed's headboard.
This LED panel design serves as an efficient and stylish alternative to conventional bedside lamps. The integrated LED panel provides direct light right where it's needed, whether for reading, using a laptop, or simply relaxing. And because the panel is built into the headboard, it takes up no extra space, preserving the minimalist aesthetic of a small bedroom.
The LED panel in the photo emits a warm light, creating a cozy and calming atmosphere. Like other LED panels, the light's intensity can be adjusted to suit different needs and moods. Some LED panels even offer color-changing features, adding an extra layer of customization to your bedroom lighting.
Furthermore, incorporating LED panel lighting into furniture, as seen here, is a growing trend in interior design. It adds a modern, high-tech touch to the room without compromising on functionality or comfort.
In conclusion, integrating an LED panel into your bed's headboard offers a clever solution to bedside lighting in small bedrooms. It's a functional, space-saving, and stylish choice that can enhance the overall design of your room.
Dramatic Ceiling LED Panel Design in a Small Bedroom
Lighting is a key element of interior design, particularly in small spaces where the right illumination can make the room feel larger and more welcoming. As shown in the photo, using an LED panel in the ceiling can add depth and dimension to a small bedroom, creating a dramatic effect that also serves a functional purpose.
A ceiling LED panel design as illustrated here can provide diffused, uniform light, reducing harsh shadows and stark contrast. This type of lighting gives a soft, warm glow to the room, making it feel cozy and comfortable – an essential characteristic for any bedroom.
In addition to the quality of light, LED panel designs also add a modern and minimalist aesthetic. The panel showcased in the photo is sleek and unobtrusive, blending seamlessly into the ceiling. This integration not only enhances the overall visual appeal of the room but also saves space, a critical factor in small bedrooms.
In terms of energy efficiency, LED panels are superior to traditional lighting options. They consume less energy and have a longer lifespan, making them a cost-effective solution for long-term use. In a small bedroom, where every element matters, choosing energy-efficient features like LED panels contributes to a sustainable and efficient design.
In conclusion, an LED panel design integrated into the ceiling is a smart choice for small bedrooms. It offers superior lighting quality, a sleek aesthetic, and energy efficiency, making the most out of the limited space.
Conclusion
LED panel designs are a versatile and innovative lighting solution, especially for small bedrooms. Whether integrated into the ceiling, used to backlight wall art, or built into furniture, LED panels provide high-quality light, add depth and interest to the room, and help create a cozy, inviting atmosphere. Embrace the transformative power of LED panel designs in your small bedroom and watch it light up in style.