Some architectural elements are endowed with an amazing property to surprise. Speaking windows imply a creative solution. They are stylish, and unusual in shape. The protruding windows are called bay windows. There are rectangular, multifaceted, or rounded.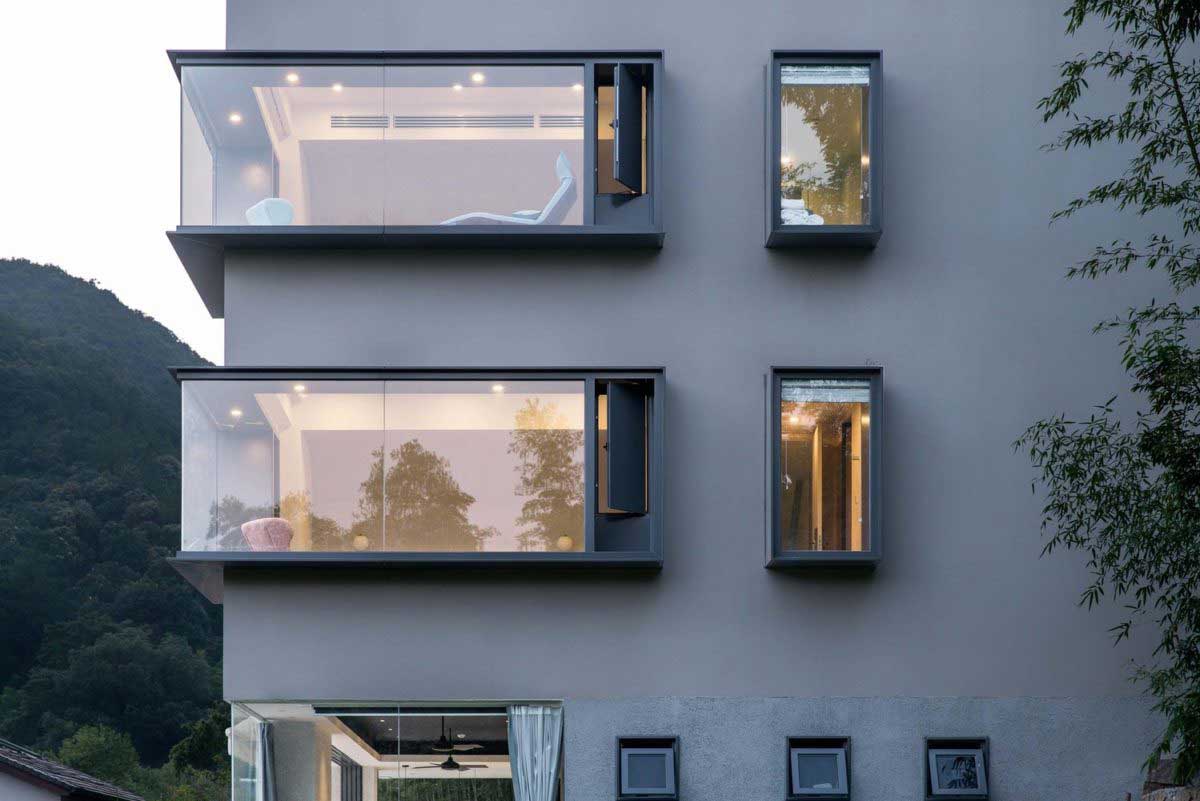 Protruding windows adorn the facade. Such windows distinguish it among boring gray high-rise buildings, attracting a look, causing admiration.
CLOSER TO NATURE
Take a look at the project presented on the site. Architects tried to maintain a balance between man and nature. To get to the house, you will need to go through a bamboo grove. Plants lined up, creating a fantastic tunnel. Having got out of it, a person falls on the lawn on which the house is located. At first glance, the structure is ordinary. However, its main feature is protruding windows. Non-standard, original.
WHEN EYES AND SOULS ARE JOYFUL
From the windows open landscapes of incredible beauty. In every corner of the house – the opportunity to enjoy the beautiful landscape. At the bottom of the building is a terrace. She is comfortable, cozy. It's nice to sit on the sofa with a cup of fragrant tea, looking at the mountain range. This is its own philosophy, characteristic of Chinese perception. And it doesn't matter what time of day or weather. The terrace provides protection, comfortable coziness, supports a romantic mood.
Rooms are located on the second and third floors of different sizes. The area is concise and well-equipped. There is comfortable furniture, designed in soothing colors. No decorative elements will be superfluous. Everything is very neat, clear, but for a full life, nothing more is needed.
Going to the window, it seems that you are on board a spaceship. A gorgeous view opens before my eyes. Easy to breathe, there is a feeling of freedom and lightness.
FEATURES OF Protruding Windows
Protruding windows emphasize the aesthetics of the building. They also successfully fulfill their main mission.
Advantages of the protruding windows:
Universality. Such windows are suitable for different types of structures.
Protruding windows are in demand for a country house. Can be used for a residential complex in the city. Relevant for commercial buildings. Moreover, regardless of style.
Functionality. The protruding windows increase the natural light in the rooms. Openings on a flat wall do not give such an effect. The space is visually increased, filled with a special atmosphere.
Durability. Windows made of high-quality materials will last a long time. Do not require special care.
The biggest minus of the protruding windows is the complexity of installation. Reliable thermal and sound insulation are required.
Choose the "right" curtains for the protruding windows. Ideally, it is better to do without them. But, if you want to hide from the outside world, you don't need too tight curtains. You should not choose saturated dark colors. Make sure that the fabric and pattern fit into the interior.