Bold design decisions in home decoration often involve a departure from the usual, traditional forms and the creation of a space of an extraordinary configuration. In this case, the curved ceiling design finds application. It is a complex structure of an original shape with bends, smooth transitions, and curved lines.
Such a solution helps not only to add exclusivity to the space, but also to zone it, create a special, colorful and atmospheric setting. Most often, the curved shape is trimmed with wood, achieving comfort, lightness and environmental friendliness of the room, close interaction with nature.
Arcuate curved ceiling design
This is a kind of alternative to the traditional attic. Only in this case, the structure does not repeat the shape of a gable roof, but is adapted to a rounded frame and seems to envelop the space.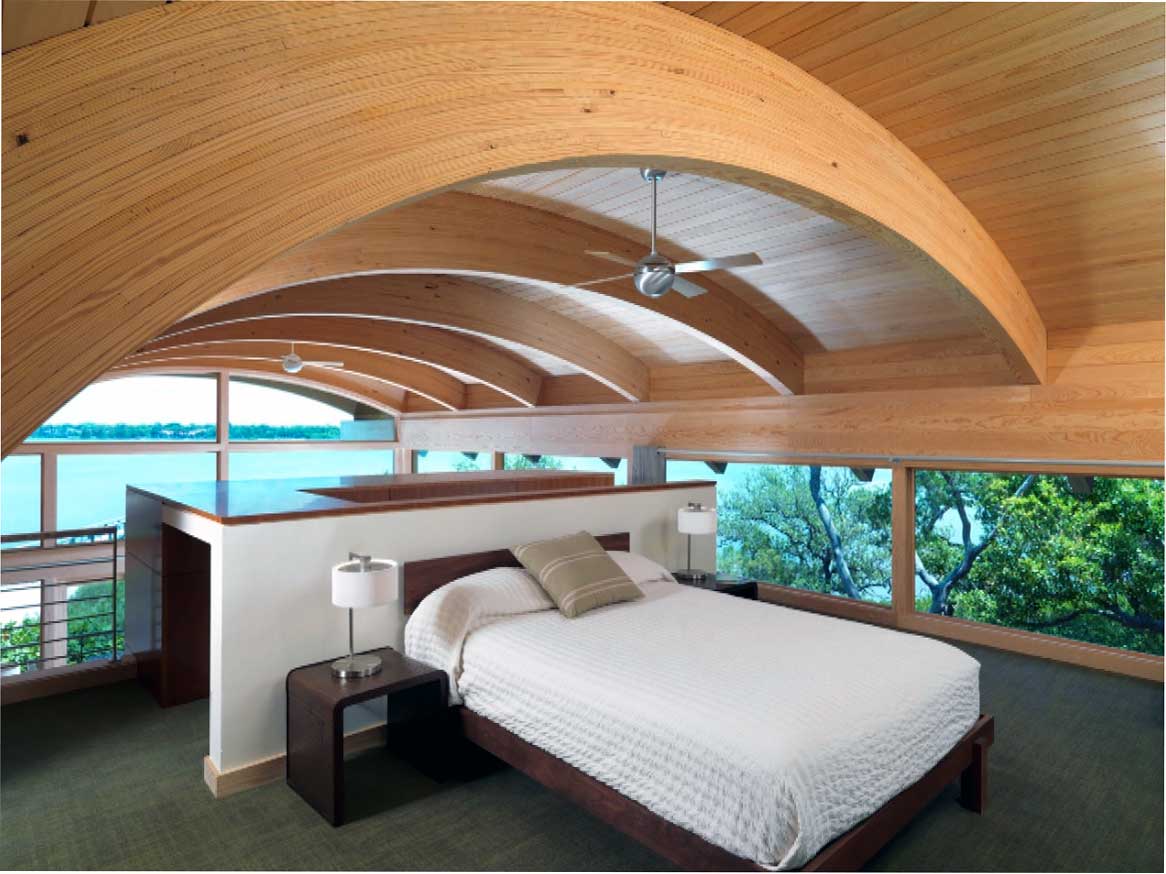 In terms of spaciousness, this curved ceiling design provides more openness than the conventional gable structure, but with a more complex configuration. For implementation, you will need rounded beams and a special technology for laying the roof, wood sheathing of surfaces from the inside.
High curved ceiling design
An open space with a high curved ceiling looks majestic and original. A height of several meters allows you to realize an unusual shape without sacrificing spaciousness and comfort.
Smooth lines soften the roughness of structures, add sophistication and sophistication to the interior. Due to the surface finishing with wooden lamellas, they look presentable and expensive. The large amount of light entering through the panoramic façade successfully emphasizes and accentuates the flowing lines.
Undulating curved ceiling design
Due to this unusual design, the space received an original configuration. The height differences on the ceiling and its smooth transitions from horizontal to almost vertical planes helped to functionally delimit the living space.
The special design of the ceiling provides seclusion and privacy of the recreation areas, as if enveloping them. Along with this, due to the same curved design, the openness of certain zones is achieved. They are filled with light and air. In this case, the undulating shape helped to achieve not only a special atmosphere in the bedrooms, but also increased the functionality of these rooms.
The original curved ceiling design is an extraordinary and unusual solution. It is worth using such a structure in the house for those who are ready to experiment and strive to turn housing into a conceptual object of a unique shape and configuration.