In the realm of interior design, loft living spaces have become synonymous with chic, urban aesthetics. Originally designed for artists seeking large, open spaces, lofts have evolved into stylish, multi-functional residences popular among urban dwellers. With their high ceilings, exposed brickwork, and large windows, they provide a unique canvas for interior design. To help you make the most of such space, we've curated five loft living room ideas that perfectly balance comfort, functionality, and style.
Industrial Style Loft Living Room
One of the most popular loft living room ideas is to embrace the industrial aesthetic inherent to these spaces. This look is characterized by architectural elements like exposed brick walls, high ceilings, raw materials, and large windows, all seen in the photo.
The exposed brick walls, painted white, serve as a stunning backdrop that adds texture and a sense of history to the room. They contrast beautifully with the sleek modern furniture, creating a perfect blend of old and new.
High ceilings are a signature feature of lofts, lending a sense of grandeur and spaciousness. In this living room, they're accentuated with hanging pendant lights that add warmth and intimacy to the space.
The metal accents – from the coffee table's steel frame to the iron window frames – contribute to the industrial aesthetic. They infuse the room with an edgy, contemporary vibe.
The large windows not only flood the space with natural light but also provide stunning city views, connecting the indoors with the urban landscape outside.
The furniture choices in this room – a plush sectional, sleek coffee table, and minimalist shelves – are simple yet chic, complementing the industrial aesthetic without overpowering it.
Overall, this industrial-style loft living room idea embraces the space's inherent features while adding comfort and modern touches, making it an ideal choice for those seeking a chic urban aesthetic.
Bohemian Loft Living Room
If industrial isn't your style, consider turning to another popular loft living room idea: the bohemian aesthetic. This style is characterized by a mix of eclectic furnishings, vibrant colors, and an abundance of natural elements, as displayed in this photo.
In this loft living room, eclectic furnishings create a lively, personal ambiance. The vintage leather sofa, tribal-print armchair, and colorful poufs provide a mix of textures and patterns that feels cozy and lived-in.
Vibrant rugs add layers of color and texture to the room. They tie together the various colors in the room, creating a cohesive design amidst the eclectic mix.
Plants play a significant role in bohemian interiors, and in this loft living room, they're used generously. They bring life to the room, enhance air quality, and establish a connection with nature.
Despite the variety of colors, textures, and items, this loft living room feels balanced and harmonious. This is achieved by ensuring that no single element overwhelms the space and that colors and patterns complement each other.
The large windows in this loft provide ample light, which not only brightens the room but also helps the plants thrive, contributing to the bohemian vibe.
In conclusion, the bohemian loft living room idea is perfect for those who enjoy an eclectic, colorful, and nature-infused aesthetic. It allows for personal expression and creates a vibrant, lived-in atmosphere.
Minimalist Loft Living Room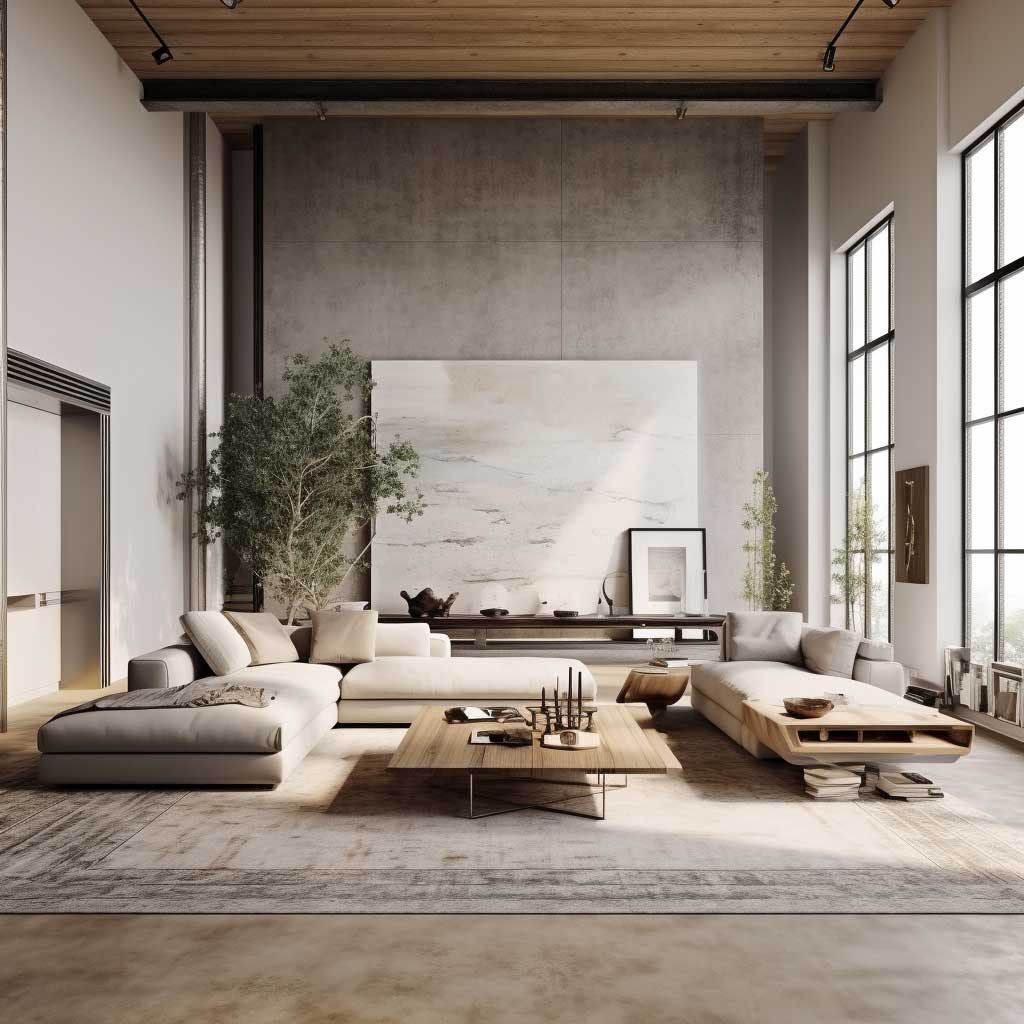 For those who prefer simplicity and order, the minimalist approach is a great loft living room idea. This style, characterized by sleek, modern furniture, a neutral color palette, and clean lines, creates an understated yet stylish look.
In the featured image, we see a living room that embodies minimalism's "less is more" philosophy. The sleek, modern sofa, coffee table, and floor lamp have simple forms and lines, contributing to a sense of calm and order.
The neutral color palette, consisting of whites, grays, and blacks, enhances the minimalist aesthetic. It creates a serene and spacious atmosphere, with each piece of furniture standing out.
The room's design allows the architectural features of the loft – like the high ceilings and large windows – to take center stage. The space feels open and airy, enhanced by the generous influx of natural light.
Despite its simplicity, the room is not devoid of warmth. Soft textures from the rug and throw pillows, along with well-chosen decor items, add comfort and personality.
This minimalist loft living room idea is all about balance. It expertly combines functionality and style, creating a space that is both practical and aesthetically pleasing.
In summary, if you appreciate simplicity, cleanliness, and order, the minimalist loft living room idea could be an ideal choice. It offers a serene and spacious environment that celebrates the loft's architectural features while maintaining comfort and style.
Conclusion: Loft living room ideas are as diverse as they are stylish. From industrial and bohemian to minimalist, there's a loft design idea for every aesthetic preference. Remember, the key is to find a balance between function, comfort, and style, and to create a space that reflects your personality. By doing so, you'll create a loft living room that's not only chic and urban but also a place you love to call home.