In the diverse world of flooring, vinyl stands out as a versatile and practical option. Offering a wide range of styles, durability, and affordability, vinyl flooring options have become increasingly popular in contemporary homes. Whether you're a fan of the classic wood look, drawn to the elegance of stone, or in love with abstract designs, vinyl flooring offers something for everyone. This article will explore seven diverse vinyl flooring options that can bring style and practicality to your modern home.
Luxury Vinyl Planks for a Sophisticated Home Aesthetic
Luxury Vinyl Plank (LVP) flooring is a top choice for homeowners who desire the classic look of hardwood without the associated cost or maintenance. It is designed to closely mimic the texture and color variations of natural wood, resulting in a rich and authentic aesthetic.
Durability is a standout feature of LVP. It is engineered to resist scratches, dents, and stains, making it an ideal choice for high-traffic areas or homes with pets and children. Its strong wear layer ensures longevity and maintains the flooring's pristine look over time.
Installation of LVP is relatively straightforward, often allowing for a floating installation over existing flooring. This feature makes it a popular choice among DIY enthusiasts and those seeking a quick home makeover.
From an environmental perspective, many LVP products are made from recyclable materials. Moreover, advances in manufacturing processes have reduced harmful emissions, making this a greener option than in the past.
Cleaning and maintaining LVP is a breeze. Regular sweeping and damp mopping will keep the flooring looking its best, making this a low-maintenance option that busy homeowners will appreciate.
In terms of cost, LVP offers excellent value for money. The high-end look coupled with its durability and ease of maintenance makes it a cost-effective choice for many homes.
Finally, LVP's comfort underfoot and noise reduction properties contribute to its appeal. These features make it an excellent choice for rooms where you spend significant time standing, such as the kitchen or laundry room.
Vinyl Sheet Flooring – A Seamless Vinyl Flooring Option
Vinyl sheet flooring provides a seamless and water-resistant flooring option, making it a great choice for rooms susceptible to spills or moisture, such as kitchens, bathrooms, and laundry rooms.
The diversity of design options in vinyl sheet flooring is vast. From natural-looking wood and stone patterns to geometric and abstract designs, there is a vinyl sheet flooring to suit every aesthetic preference.
Another benefit of vinyl sheet flooring is its cushioned underlayer. This underlayer not only provides added comfort underfoot but also helps reduce noise, contributing to a quieter and more peaceful home environment.
In terms of durability, vinyl sheet flooring stands up well to heavy foot traffic and is resistant to stains and scratches. This resilience makes it a practical choice for busy households.
One of the notable features of vinyl sheet flooring is its easy installation. Unlike tiled or plank flooring, it comes in large, flexible sheets that can be rolled out and installed swiftly.
Vinyl sheet flooring is also a champion when it comes to cleaning and maintenance. Its seamless nature means there are no grooves or seams where dirt can accumulate. A simple sweep and mop are usually all it takes to keep it looking new.
Though it's a budget-friendly option, vinyl sheet flooring does not compromise on style or quality. Its affordability, coupled with its stylish options and durability, makes it a value-for-money flooring choice.
Peel-and-Stick Vinyl Tiles for an Easy DIY Vinyl Flooring Option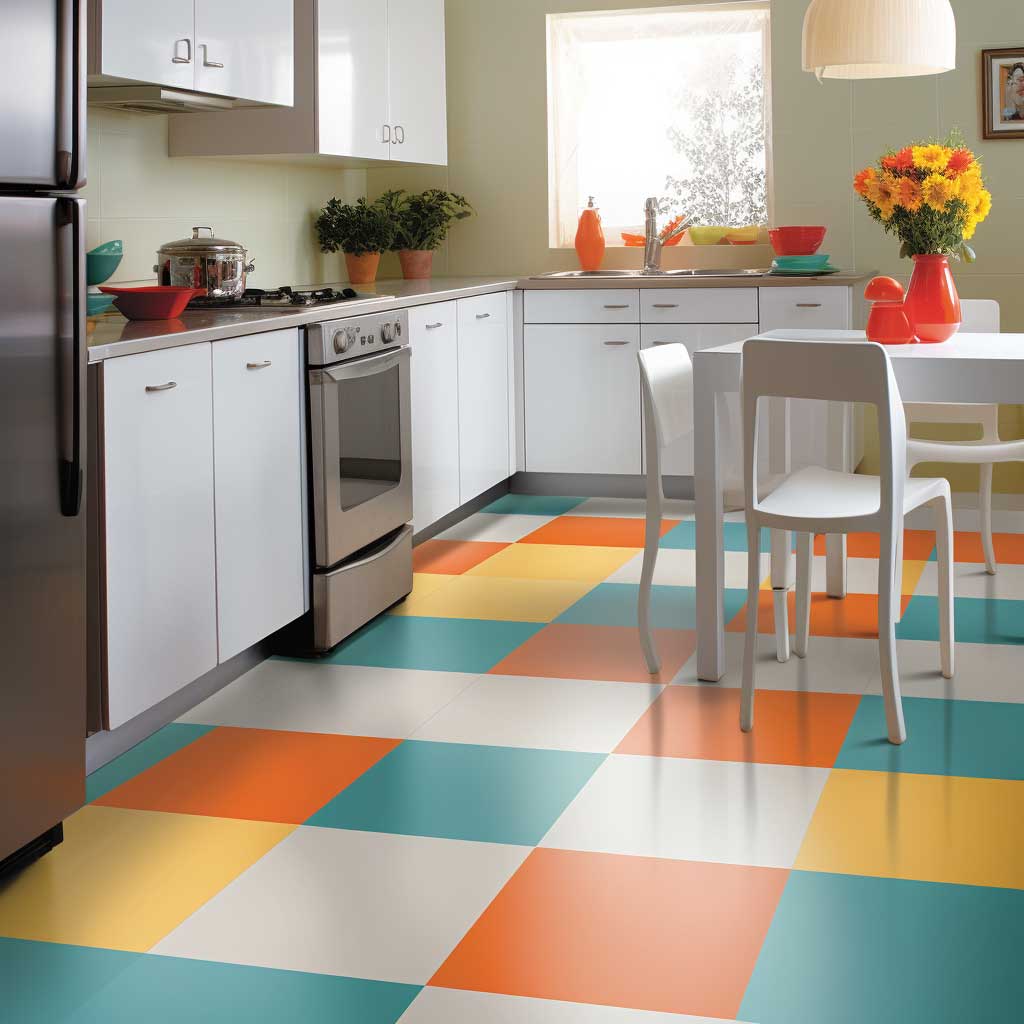 Peel-and-stick vinyl tiles offer a fast and easy DIY vinyl flooring option, perfect for homeowners who love a hands-on approach to home improvement. With their self-adhesive backing, these tiles can be easily installed without professional help.
A major advantage of peel-and-stick vinyl tiles is the endless design possibilities. They come in a multitude of colors, patterns, and textures, allowing homeowners to mix and match tiles to create a truly personalized floor.
The convenience and ease of installation are major draws of peel-and-stick vinyl tiles. The ability to quickly change the look of a room makes them particularly appealing to those who enjoy regular home updates.
These tiles are not only easy to install but also to replace. If a tile gets damaged, you can simply remove it and stick on a new one. This feature adds to the longevity and practicality of peel-and-stick vinyl tiles.
From a cost perspective, peel-and-stick vinyl tiles are one of the most affordable flooring options on the market. This affordability makes them an excellent choice for budget-conscious homeowners, or those looking to refresh their space without a major financial commitment.
Despite their affordability, peel-and-stick vinyl tiles do not skimp on durability. They are designed to withstand wear and tear, and many options come with a wear layer for added protection.
Lastly, cleaning and maintenance of peel-and-stick vinyl tiles are straightforward. A regular sweep and mop will keep the tiles looking fresh and clean, making this an easy-care option for any home.
Conclusion
When considering vinyl flooring options for your contemporary home, it's clear that there are a multitude of choices to suit any design preference, practical requirement, and budget. From the luxurious appeal of Vinyl Plank Flooring to the seamless style of Vinyl Sheet Flooring, and the DIY-friendly Peel-and-Stick Vinyl Tiles, each option offers its unique blend of benefits. As a result, vinyl flooring continues to be a favorite choice for homeowners seeking a balance of style, durability, and cost-effectiveness in their flooring decision.