From family meals to festive gatherings, the dining room often serves as the heart of the home. As such, the way you choose to dress its windows can significantly influence the overall mood and style of the space. Innovative dining room window treatments not only enhance privacy and control natural light but also serve as a defining element of your decor. In this article, we will guide you through ten different dining room window treatments that cater to an array of design aesthetics.
Plantation Shutters for a Classic Dining Room Look
Plantation shutters are a classic choice for dining room window treatments. They offer an elegant, timeless look that fits perfectly with traditional, coastal, or country-style interiors.
These shutters are made with wide louvers, providing excellent control over light and privacy. You can easily adjust the slats to let in the desired amount of light or completely close them for privacy during intimate dinner parties.
Durability is another appealing aspect of plantation shutters. They are often made of sturdy materials like wood or vinyl, ensuring they stand up to regular use and maintain their appearance over time.
Moreover, plantation shutters are relatively easy to clean. Dust and debris can be quickly wiped away, keeping the window treatments looking their best.
In terms of aesthetics, plantation shutters lend a structured, symmetrical look to your dining room windows. This symmetry can help balance other design elements in the room, creating a harmonious interior.
From a thermal perspective, plantation shutters also offer insulating properties. They can help keep your dining room cooler in the summer and warmer in the winter, contributing to the overall comfort of the space.
Lastly, while plantation shutters might be on the higher end of the price spectrum, their durability, style, and functionality often justify the investment.
Dramatic Drapery for an Opulent Dining Room Experience
Dramatic drapery is an excellent choice for dining room window treatments if you're aiming for an opulent and sophisticated aesthetic. These floor-to-ceiling curtains can add a sense of grandeur to any dining room, making every meal feel like a special occasion.
The variety of fabrics, patterns, and colors available for drapes allows for immense customization. Whether you prefer rich, brocade curtains for a traditional setting or lighter, airy drapes for a more modern appeal, there's a style to suit every taste.
Drapery also provides excellent control over light and privacy. Heavy drapes can block out unwanted light and offer complete privacy, while sheer curtains can filter light beautifully, creating a soft, diffused glow in your dining room.
From an acoustic standpoint, heavy drapery can also dampen noise, contributing to a quieter and more peaceful dining experience.
The visual impact of dramatic drapery can be significant. It can be used to introduce colors, patterns, or textures that complement or contrast with the existing decor, creating a focal point in the room.
Installation of drapery might require professional help, especially for high or wide windows. However, the transformative effect it brings to a dining room's aesthetics often makes it worth the extra effort.
When it comes to cleaning and maintenance, most drapes are machine-washable or can be cleaned professionally, ensuring they continue to add elegance to your dining room for years to come.
Roman Shades for a Contemporary Dining Room Feel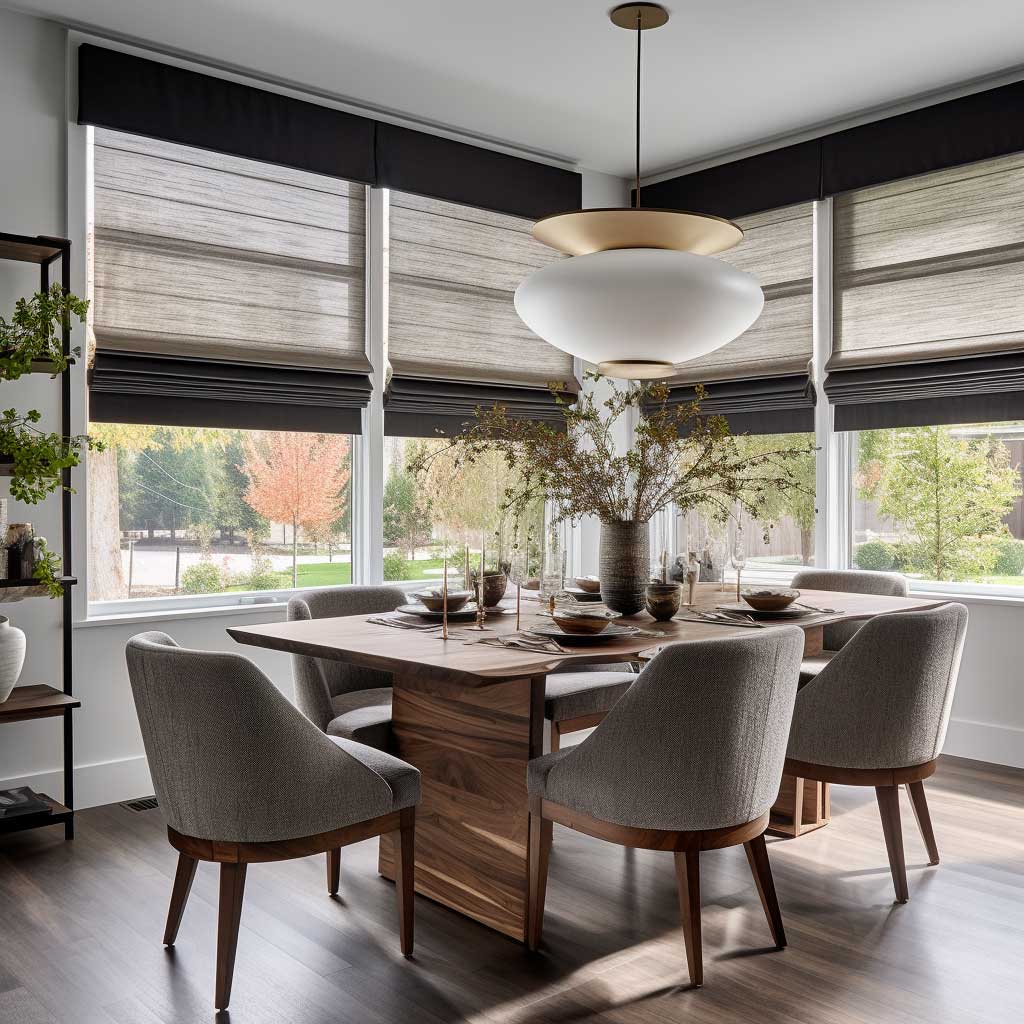 For those seeking a sleek and contemporary look, Roman shades make for excellent dining room window treatments. These shades offer a clean-lined, structured appearance that pairs well with modern or minimalist interiors.
One of the primary benefits of Roman shades is their adaptability. They come in a plethora of colors, patterns, and materials, making it easy to find a design that fits your specific aesthetic.
Roman shades are particularly effective at controlling light. When lowered, they provide full privacy and block out light effectively. When raised, they fold neatly into horizontal pleats, allowing ample light into the dining room.
In terms of insulation, Roman shades, especially those with thermal linings, can help regulate indoor temperatures. This feature can enhance the comfort of your dining room in both hot and cold seasons.
The simplicity of Roman shades also lends itself to easy operation. Most come with a cord or chain mechanism, while others offer cordless or motorized options for added convenience.
When it comes to cleaning, most Roman shades can be spot-cleaned or vacuumed with a brush attachment. This ease of maintenance makes them a practical choice for busy households.
While Roman shades can be on the pricier side, depending on the material and customization options chosen, their blend of functionality and aesthetic appeal often makes them a worthwhile investment.
Conclusion
Choosing the right dining room window treatments can significantly enhance the aesthetic appeal, comfort, and functionality of your space. Whether you opt for the timeless elegance of plantation shutters, the opulent grandeur of dramatic drapery, or the sleek modernity of Roman shades, each option offers a unique way to express your personal style. By considering factors such as light control, privacy, ease of maintenance, and overall design, you can find the perfect window treatments to transform your dining room into an inviting and stylish haven.