The living room is not just a space for relaxation and entertainment. It is also a showcase of your personal style, and the window treatments you choose play a significant role in setting the room's overall aesthetic. When chosen wisely, window treatments can inject freshness, add visual interest, and heighten the comfort level of your living room. In this article, we present seven fresh window treatment ideas for living rooms that can help you revitalize your space, whether you prefer a classic, modern, or eclectic design approach.
Layered Curtains for a Luxurious Living Room Look
Layered curtains are one of the trending window treatment ideas for living rooms looking to exude a sense of luxury and depth. Combining two curtain types – typically a lighter, sheer curtain beneath a heavier, opaque one – allows you to control light levels and privacy more effectively.
These layered window treatments also introduce a textural element to your living room. The contrast between the sheer and solid fabrics can create a pleasing aesthetic balance that draws the eye and enhances the overall design of the room.
If you're considering layered curtains, keep in mind the color and pattern choices. Coordinating or contrasting colors can create different effects, and the inclusion of patterns can add a visual point of interest.
The fullness of layered curtains can make a room feel more luxurious. By choosing curtains that are wide and long enough to drape gracefully, you can enhance this effect.
Ease of cleaning is another aspect to consider. Sheer curtains may require gentle handling or professional cleaning, while many solid curtains can be machine washed.
Lastly, don't forget about the curtain rods. Choosing hardware that complements your curtains and fits in with your living room's decor can enhance the overall look of the layered curtains.
Natural Woven Shades for a Cozy and Earthy Living Room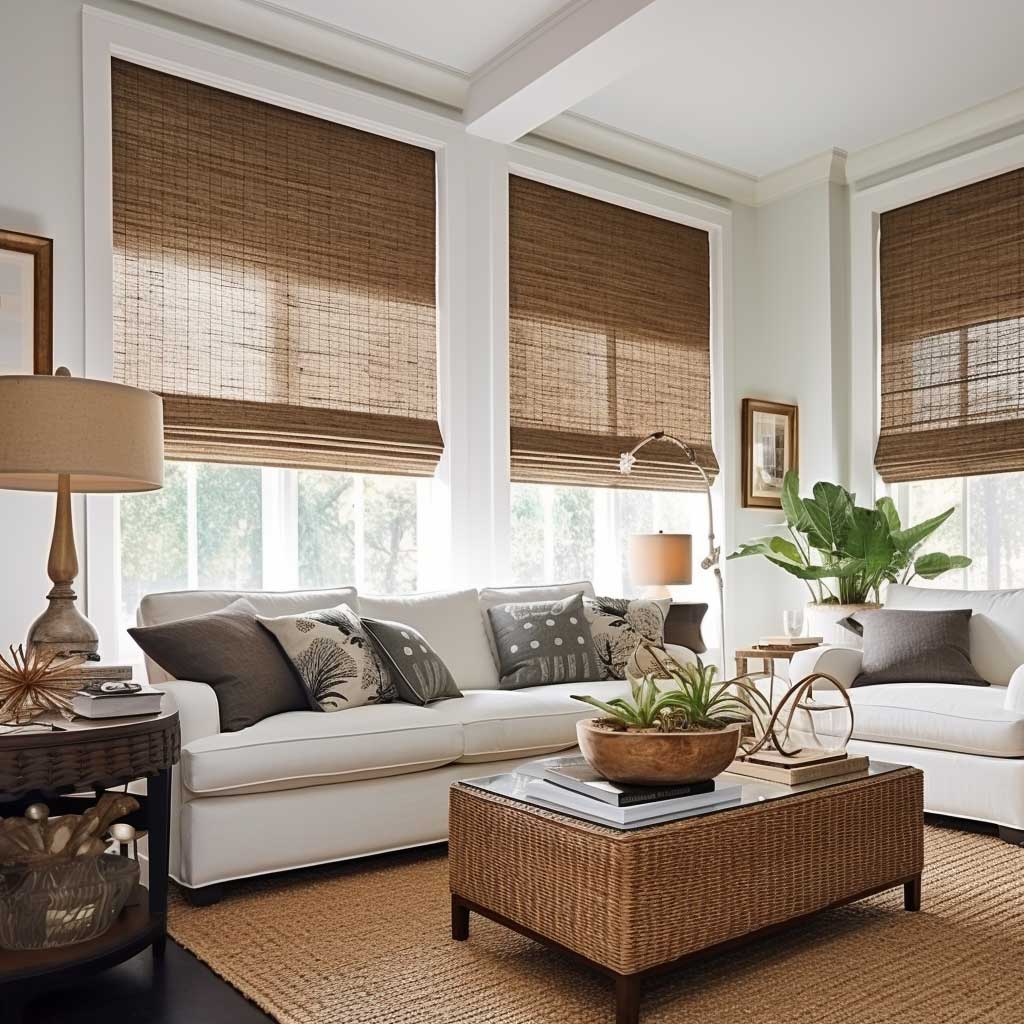 Natural woven shades have become a popular window treatment idea for living rooms, particularly for homeowners looking to create a cozy, earthy feel. Made from natural materials like bamboo, jute, or reeds, these shades add texture and organic charm to a space.
One of the key advantages of natural woven shades is their light-filtering properties. While they provide privacy, they also allow a soft, warm light to permeate, creating a welcoming and cozy atmosphere.
These shades come in a variety of weaves and finishes, each imparting a unique look. You can choose a tighter weave for more privacy or a looser one for a more casual and airy feel.
From an environmental perspective, natural woven shades are an eco-friendly choice, especially if sourced from sustainable materials. They add an element of nature to your living room, enhancing its calming and relaxing ambiance.
Despite their natural appeal, these shades are not averse to a bit of glamor. They can be paired with drapery panels or a decorative valance for added sophistication.
When it comes to maintenance, most natural woven shades can be easily dusted or vacuumed using a brush attachment. It's worth noting, however, that they may not be the best option for damp or humid climates, as they could warp or mildew.
Natural woven shades can complement a variety of decor styles. In a modern living room, they can soften the lines of contemporary furniture and balance the sleekness of modern fixtures. In a rustic or farmhouse-style room, they enhance the natural, cozy feel.
Roman Shades for a Sleek and Classic Living Room
Roman shades have remained a favorite window treatment idea for living rooms due to their timeless appeal and functional design. They're known for their clean lines, easy operation, and ability to fit within the window frame, providing a streamlined and neat look.
One of the most appealing aspects of Roman shades is their versatility. They're available in a plethora of materials, colors, and patterns, allowing you to customize the look to match your living room's style.
Light filtering or blackout linings are options to consider based on your privacy and light control needs. A light filtering lining allows soft light to enter while maintaining privacy, whereas a blackout lining completely blocks light, making it suitable for rooms that require total darkness, like home theatres.
With Roman shades, you have the option of mounting them inside or outside the window frame. Inside mount offers a clean, tailored look, while outside mount can make your windows appear larger and helps to block out more light.
When it comes to cleaning and maintenance, most Roman shades can be spot cleaned or vacuumed with a brush attachment. However, some fabric shades might require professional cleaning.
Despite their classic appearance, Roman shades can fit into various design styles, from traditional to modern. With the right material and color, they can be a standout feature in your living room.
Conclusion
Window treatments play a crucial role in shaping the overall ambiance and aesthetic of your living room. Whether you opt for the layered luxury of curtains, the earthy appeal of natural woven shades, or the sleek elegance of Roman shades, the right window treatment ideas for your living room can transform the space, making it feel more welcoming and comfortable. Consider the design of your room, the level of light control and privacy you require, and your personal aesthetic preferences when choosing the perfect window treatments. With thoughtful consideration, your living room windows can become a stunning focal point of your space.