A basement often presents additional functional space that homeowners can utilize, and turning it into a laundry room is one of the most effective ways to make use of this area. This article offers basement laundry room ideas that can transform your basement into a practical and stylish laundry area without breaking the bank.
Spacious Basement Laundry Room with Ample Storage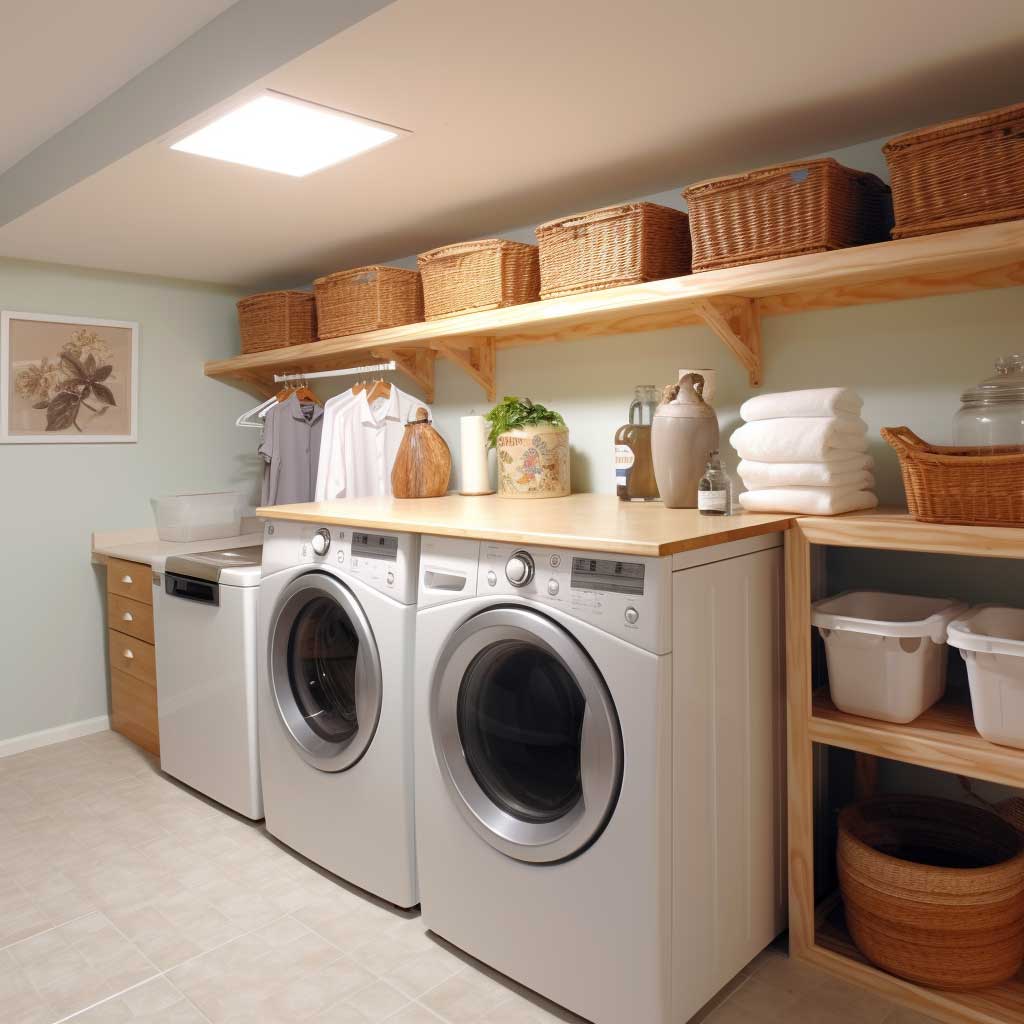 The photograph showcases a spacious basement laundry room with ample storage. The room's design is practical, featuring plenty of cabinets and shelving units for storing laundry essentials, as well as a wide countertop for folding clothes.
Making the most out of the available space in your basement is key when designing your laundry room. Here, the use of wall-mounted cabinets and shelves ensures that floor space is not compromised, making the room look bigger and less cluttered.
Storage should also be functional. Consider what items you will need to store in your laundry room and design your storage solutions around these. For instance, you might need tall cabinets for brooms and mops, while smaller items like detergents and fabric softeners can go in smaller cabinets or on shelves.
The countertop space is another valuable addition to any laundry room. It provides an area for you to sort and fold your laundry, making your chores easier and more efficient.
If you're on a tight budget, don't worry. There are plenty of budget-friendly storage solutions available. You can even repurpose old cabinets or shelves, or build your own from inexpensive materials.
Finally, don't forget to make your laundry room visually appealing. Paint your cabinets and walls in colors that make you feel good, and add some decorative items to make the space feel more inviting.
Efficient Basement Laundry Room with Built-In Ironing Station
The photo displays an efficient basement laundry room idea where a built-in ironing station has been integrated beside the washer and dryer. This feature not only saves space but also increases the room's functionality.
In this photo, the ironing station is a pull-out drawer that can be easily stowed away when not in use. This design makes ironing clothes more convenient, as you don't have to set up and put away an ironing board each time you need to use it.
Installing a built-in ironing station might require some work, but the convenience it offers is well worth it. If you're handy with tools, you can even do it yourself to save on costs.
However, a built-in ironing station is not the only option. If you don't have the budget or space for it, a wall-mounted ironing board is a good alternative. It can be folded up against the wall when not in use, saving precious floor space.
Regardless of the type of ironing station you choose, ensure it's positioned conveniently. Ideally, it should be near the washer and dryer for a seamless flow of your laundry process.
Adding an ironing station to your basement laundry room is just one of the ways to make the space more efficient. Consider other features that could improve your laundry routine, such as a drying rack, a utility sink, or even a small desk for sewing or mending clothes.
Basement Laundry Room with Dedicated Drying Area
The image displays a basement laundry room featuring a dedicated drying area. This is an essential feature for any laundry room, as it offers a convenient space to hang and dry clothes.
A drying area doesn't need to be expensive or complex. In this photo, a simple hanging rod and a retractable clothesline serve the purpose well. These solutions are inexpensive and easy to install, making them perfect for a budget-friendly basement laundry room.
A hanging rod can be installed anywhere there is available wall space. Just make sure it's sturdy enough to hold the weight of wet clothes. A retractable clothesline, on the other hand, can be extended and retracted as needed, making it a flexible solution for small spaces.
Remember to install your drying area in a well-ventilated part of your basement to promote quick drying and prevent moisture build-up. If your basement lacks natural ventilation, consider adding a dehumidifier to help control moisture levels.
Designing a dedicated drying area in your basement laundry room can make your laundry routine more convenient and efficient. Even if you have a dryer, having an area for air drying delicate items is beneficial.
Conclusion: With thoughtful design and smart choices, you can create a functional and stylish laundry room in your basement without spending a fortune. Whether you're adding ample storage, a built-in ironing station, or a dedicated drying area, these basement laundry room ideas can help transform your basement into a space that makes doing laundry less of a chore.