Garages have always been versatile spaces, often going beyond their primary role of housing vehicles. Today, the functionality of garages has been elevated further through garage plans with loft, an innovative solution for optimizing space. This article provides you with five expert tips to design garage plans with loft, transforming them into multifunctional spaces that meet your unique needs.
Creating Extra Storage in Garage Plans with Loft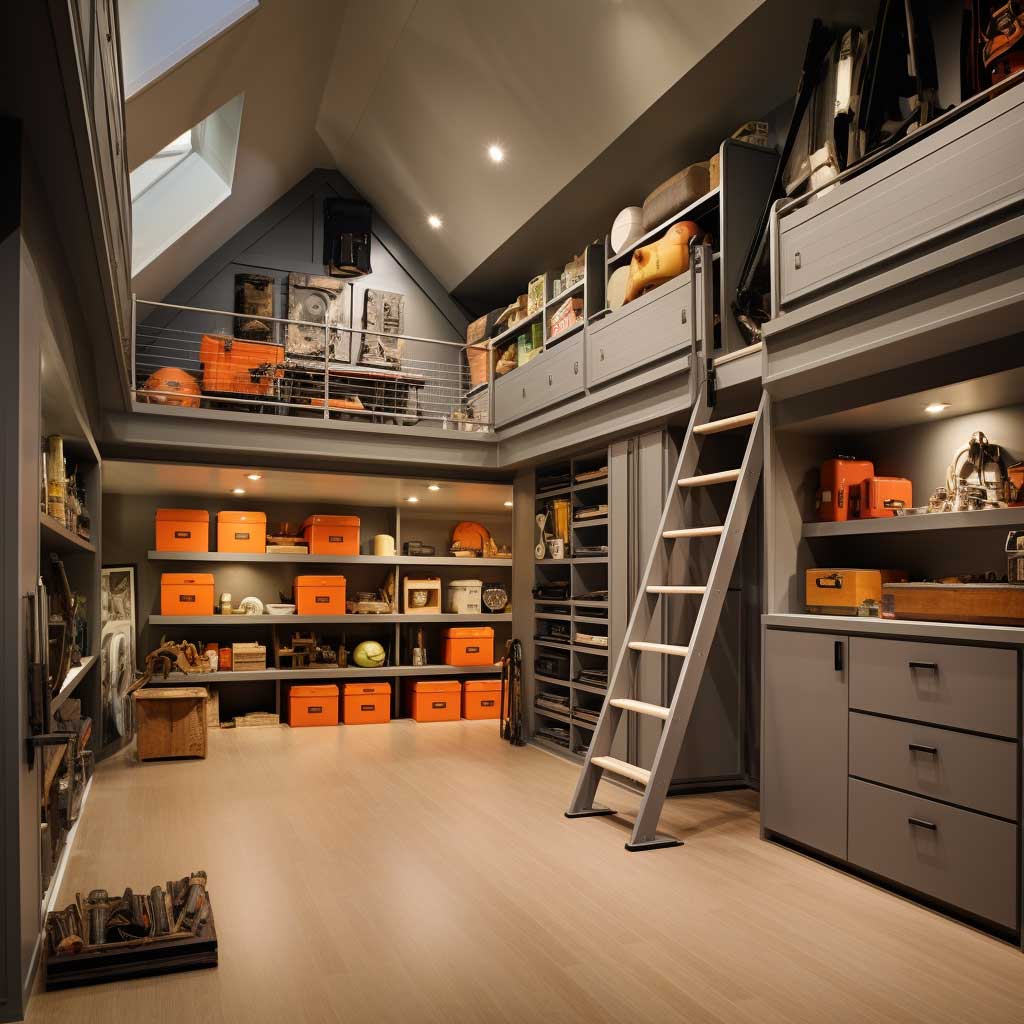 One of the most significant advantages of garage plans with loft is the additional storage space they offer. A well-designed loft can efficiently solve your storage issues without encroaching on your garage's ground-level space.
The photo showcases a loft designed explicitly for storage, featuring built-in shelves, drawers, and ample floor space for larger items. The careful planning and thoughtful design here demonstrate how to maximize space and improve organization.
When designing for storage, it's essential to consider what items will be stored. Seasonal items, tools, or rarely used equipment are ideal for loft storage. The design and arrangement should then be tailored to accommodate these items safely and conveniently.
For instance, installing sturdy shelves and cabinets can keep your items organized and protected. Also, consider adding labels to help you quickly locate your items when needed.
Ease of access is another crucial aspect of storage lofts. A stable and secure staircase or ladder is a must, and if possible, adding a pulley system can make moving heavier items a breeze.
Furthermore, ensure your garage loft storage is well-lit. Installing good lighting fixtures will make accessing and organizing your items much easier.
Lastly, keeping the loft tidy and well-organized is crucial for optimizing storage. Regularly decluttering and arranging items can help maintain the functionality of your storage loft.
Converting Garage Plans with Loft into a Home Office
The flexibility of garage plans with loft allows for multiple uses beyond storage. One increasingly popular option is converting the loft into a home office, as displayed in the photo.
When designing a home office in a garage loft, comfort and functionality should be prioritized. Invest in a good desk, ergonomic chair, and adequate lighting to create a conducive working environment.
Noise insulation is another crucial consideration, especially for a garage loft. Installing sound-absorbing materials can provide you with a quiet and undisturbed workspace.
Another essential factor to consider when designing a home office is storage. Bookshelves, filing cabinets, and organizers will help keep your workspace neat and your work materials within reach.
Since garage lofts typically lack natural light, consider installing ample artificial lighting. An ideal setup should include overhead lights, task lights for your desk, and possibly accent lights for ambiance.
For the aesthetic aspect, adding personal touches to your home office can make it more enjoyable. This could be through artwork, color schemes, or decorative items that reflect your personal style.
Lastly, ensure your home office loft has a reliable internet connection. You might need to extend your home's Wi-Fi range or invest in a stronger router to maintain a steady connection.
Transforming Garage Plans with Loft into a Cozy Guest Suite
Another creative way to utilize garage plans with loft is by transforming them into a guest suite. As the photo shows, a loft can provide a private and comfortable space for your guests without interfering with the main house's layout.
To start, ensure the garage loft has all the basic amenities a guest would need – a comfortable bed, a place to store their belongings, and good lighting.
For a more comfortable stay, consider adding a small en-suite bathroom if space allows. This will provide your guests with added privacy and convenience during their visit.
Another aspect to consider when designing a guest suite is temperature control. Lofts can often become too hot or cold due to their location, so installing a heating/cooling system is a good idea.
In terms of aesthetics, aim to create a welcoming and cozy environment. Use warm colors, soft furnishings, and personal touches like artwork or decorative items.
Don't forget to consider safety measures. Install secure railings and non-slip stair treads to prevent accidents, and ensure there are fire alarms and emergency exits.
Lastly, a well-designed guest suite should offer some level of privacy. Adding curtains or blinds to windows and ensuring the loft is well-insulated can provide your guests with a peaceful, private retreat.
Conclusion: Garage plans with loft offer an exciting opportunity to maximize space and functionality in your home. Whether you need extra storage, a quiet home office, or a comfortable guest suite, a well-designed garage loft can cater to these needs. With careful planning and creative design, your garage loft can become one of the most versatile spaces in your home.