Basements offer a plethora of opportunities for creating additional functional spaces in our homes. One of the most popular and practical utilizations is transforming it into a comfortable and stylish living space. With some creativity and thoughtful planning, basement bedroom ideas can range from minimalist design to luxurious suites. This article will provide you with 15 creative ideas to help you design a unique and comfortable basement bedroom.
Transforming Spaces with Multifunctional Basement Bedroom Ideas
Basements often come with an expansive space, which provides a great opportunity to incorporate multiple functionalities. The image displays a bedroom with an integrated work area and seating zone, a perfect example of multifunctional basement bedroom ideas.
A key feature of this design is the clever zoning. Different areas within the room are subtly separated, not by walls, but by the arrangement of furniture and choice of lighting. This allows for an open and airy feel while maintaining the distinction between the bedroom, workspace, and lounge area.
In multifunctional basement bedroom designs, the smart use of furniture is crucial. Here, a desk doubles as a nightstand, and a plush sofa serves as both a cozy reading nook and additional sleeping space when needed.
Lighting plays a pivotal role in enhancing the ambiance of a basement bedroom. The designer has used a combination of overhead, task, and ambient lighting to create a warm and inviting atmosphere that compensates for the lack of natural light in basements.
While designing a multifunctional space, it's also essential to consider the aesthetic aspect. The room uses a harmonious color palette, blending neutrals with pops of colors through accessories and artwork, resulting in a cohesive look.
In terms of practicality, this basement bedroom design provides an ideal solution for those seeking a quiet workspace or an extra lounge area without compromising the primary function – a comfortable sleeping space.
If you're looking to maximize the use of your basement, this multifunctional design provides plenty of inspiration. It showcases how, with some creative planning and design, a basement can serve many purposes while still offering a stylish and comfortable retreat.
Embracing Minimalism with Chic Basement Bedroom Ideas
The minimalist design philosophy embraces the idea of "less is more," and this can be a perfect approach for basement bedroom ideas, as shown in the photograph. This design highlights the essentials, focusing on functionality while maintaining an aesthetic appeal.
The first thing that captures attention is the clean lines that dominate the room. From the sleek bed frame to the simple side table, the furniture choices are all about simplicity and functionality, a key trait of minimalist design.
However, a minimalist design doesn't mean the space has to feel cold or impersonal. The use of warm, neutral colors gives this basement bedroom a cozy and inviting feel, while textural elements, such as a plush rug and soft bedding, add a touch of comfort.
Another notable feature of this design is the ample storage space. The bed features integrated drawers, offering a practical solution for decluttering the room, reinforcing the minimalist approach.
Lighting is another critical aspect to consider when designing a minimalist basement bedroom. With limited access to natural light, the choice of warm, ambient lighting helps maintain a welcoming and comfortable environment.
Additionally, the use of mirrors, as shown in the photo, can enhance the sense of space in a basement bedroom. Positioned correctly, a mirror can reflect light around the room, making it feel larger and brighter.
If you're drawn towards simplicity and order, this minimalist basement bedroom idea provides a perfect blueprint. It demonstrates how, with clever design choices, you can create a tranquil and stylish retreat in your basement.
Luxury Meets Comfort in Extravagant Basement Bedroom Ideas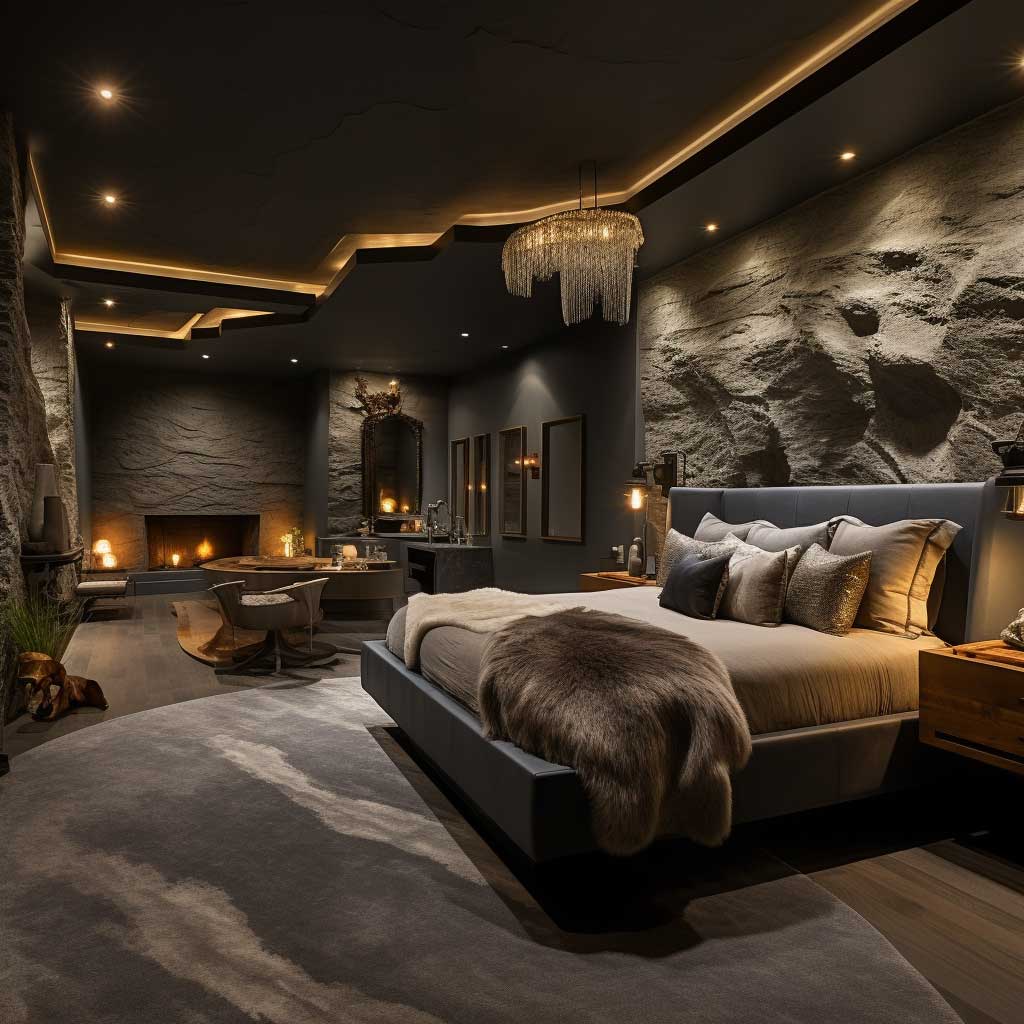 Transforming a basement into a luxurious retreat might seem ambitious, but with the right design approach, it's entirely achievable. The photo displays one such example where luxury meets comfort in basement bedroom ideas.
At the center of the room is a lavish bed, with plush bedding and an ornate headboard, setting the tone for the luxury design. The choice of rich, dark colors and premium materials further elevates the overall aesthetic.
Lighting is also used to enhance the luxurious feel. A pair of sophisticated pendant lights hangs on either side of the bed, providing both illumination and a decorative element to the room.
Despite the luxurious touches, comfort isn't compromised. The plush carpet, the soft lighting, and the generous use of cushions ensure a cozy and inviting atmosphere, crucial for any bedroom design.
Storage is cleverly incorporated into the design with built-in wardrobes that blend seamlessly into the room's decor. This not only provides ample storage space but also contributes to the uncluttered and polished look.
The use of artwork and accessories in this basement bedroom idea is also worth noting. They add personality to the room and serve as a focal point, drawing attention and breaking up the dark color palette.
Indeed, designing a luxury basement bedroom requires a considerable investment in terms of time and resources. But as this example shows, the result can be a stunning, hotel-like retreat right in your own home.
In conclusion, the opportunities for creating a stylish and comfortable bedroom in your basement are limitless. Whether you prefer a multifunctional design, a minimalist approach, or wish to create a luxurious retreat, these basement bedroom ideas can serve as an inspiration. The key is to understand your needs and preferences and translate them into your design.