The Japanese living room design, with its emphasis on simplicity, natural elements, and functionality, embodies a calming and tranquil aura. It's a style that harmoniously blends tradition and modernity, making your home feel peaceful, tidy, and utterly sophisticated. The charm of Japanese design lies in its ability to strike a balance, promoting relaxation and contemplation. This article will guide you through creating your own serene Japanese living room, with three vivid design concepts to inspire your journey.
Harmonious Fusion of Nature and Japanese Living Room Design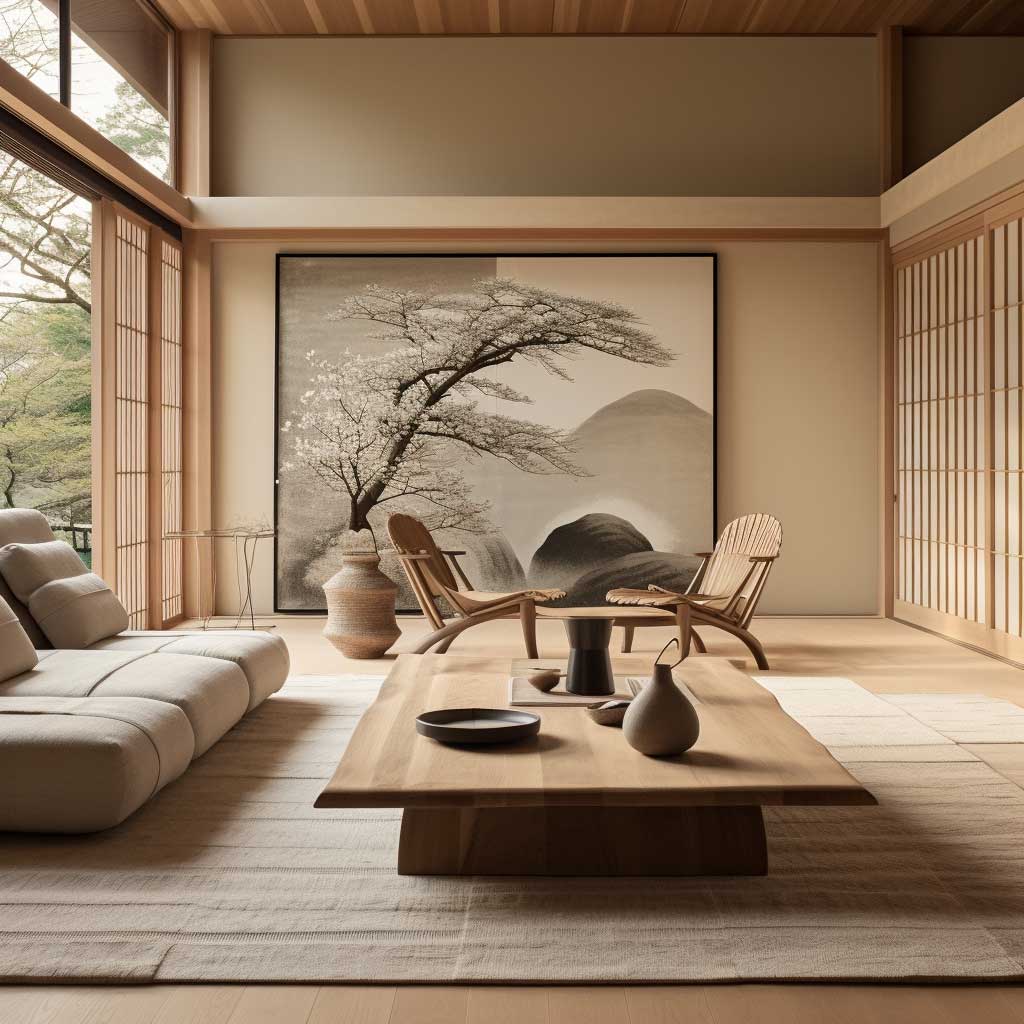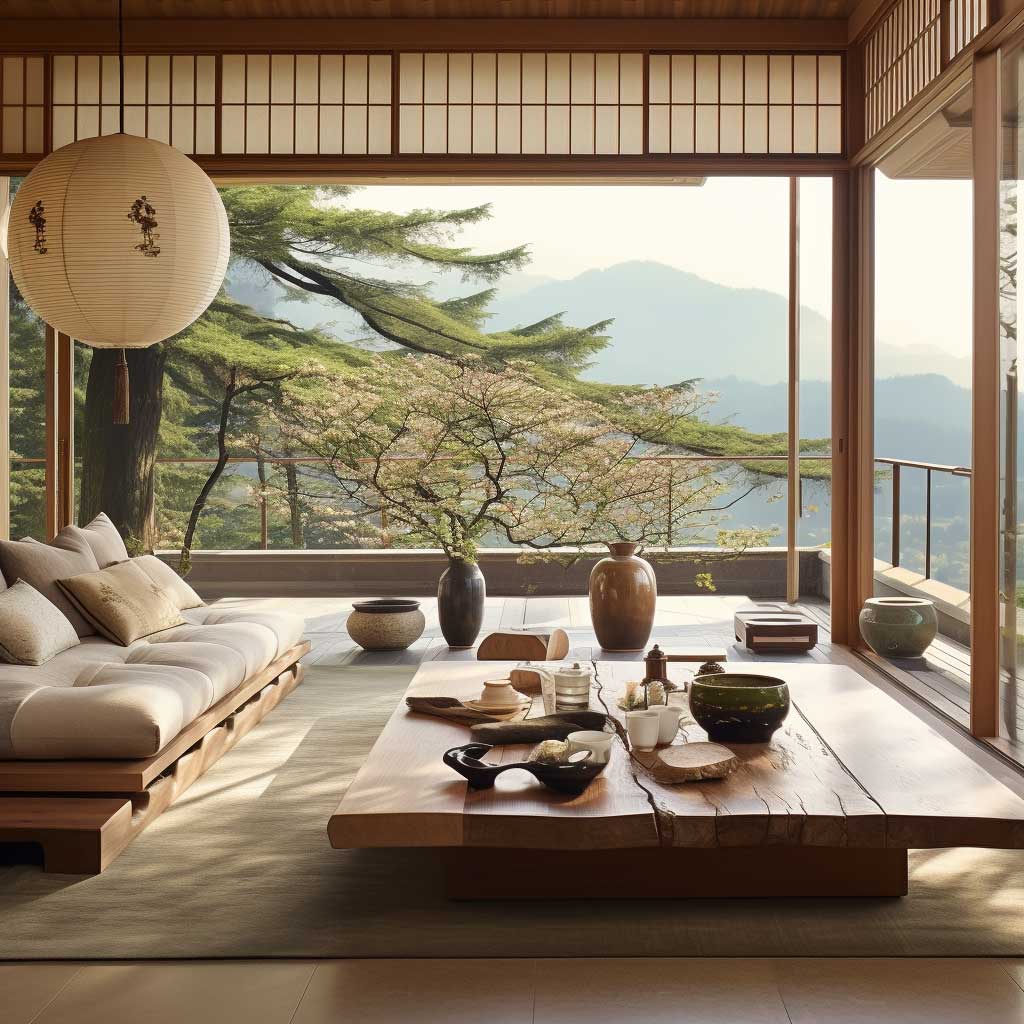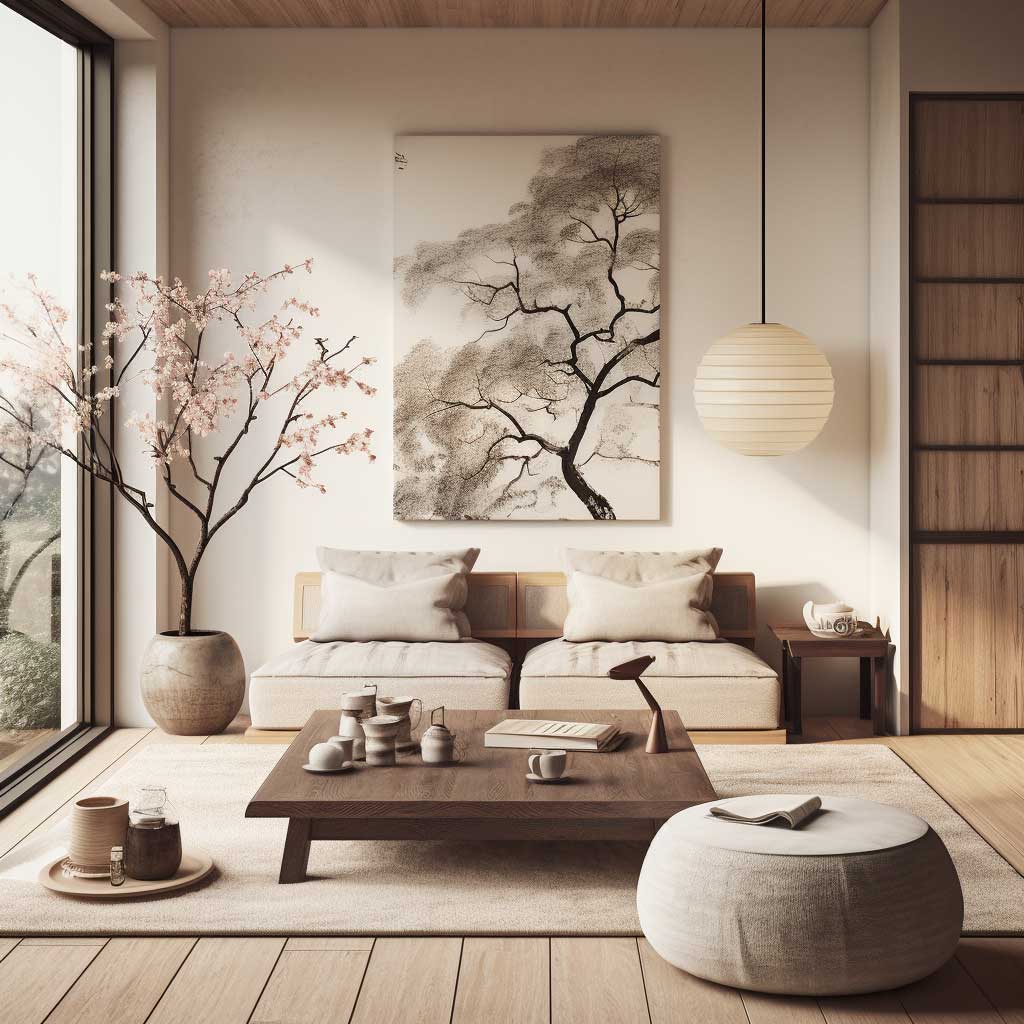 The essence of Japanese interior design lies in the balance between man-made structures and nature. As seen in this image, the harmonious fusion of nature within the living room brings about a unique tranquility and warmth. The natural elements within the space not only represent the cultural connection to nature but also imbue the area with a calming serenity that's characteristic of Japanese design.
To achieve this harmony, start with the core materials. Integrate natural elements like bamboo, wood, and stone into your room design. These materials can be used in various forms, from flooring and wall panels to furniture and accessories. Incorporating such elements is a nod to the Japanese tradition of borrowing natural elements to enhance the aesthetic appeal and comforting vibe of the living space.
Furniture plays a crucial role in this design. Opt for low-profile, minimalist pieces with clean lines. Traditional Japanese designs often include a low table in the center of the room with floor cushions or zaisu chairs (chairs with no legs) for seating. Keep the space uncrowded to maintain the emphasis on simplicity and function, enhancing the sense of tranquility.
Light is another crucial element. Large windows that allow daylight to stream into the room are a feature of Japanese design, connecting the indoors with the outdoors. This natural illumination creates an open, airy atmosphere. In place of heavy curtains, use shoji screens, which are traditional Japanese sliding doors made of translucent paper over a wooden frame. These will help maintain privacy while still allowing light to filter through.
Greenery also plays a significant role in Japanese interior design. Consider integrating indoor plants such as bonsai trees, bamboo, or even cherry blossom branches to bring a touch of nature indoors. These elements can be displayed in beautiful ceramic pots or vases, adding to the aesthetic appeal of the room.
One thing to remember when integrating nature into your living room design is balance. This harmonious balance between the built environment and natural elements is key to achieving a genuine Japanese aesthetic. Aim to create a space where both can coexist without overpowering each other, resulting in a peaceful, relaxing retreat within your home.
Lastly, consider incorporating the principle of "Ma," or negative space, into your living room. This concept of emptiness, space, pause, or the gap is considered just as important as the object or matter itself in traditional Japanese aesthetics. In your living room, this could translate to leaving certain areas open and uncluttered, allowing the room and the objects within it to breathe.
Minimalist Approach to Japanese Living Room Design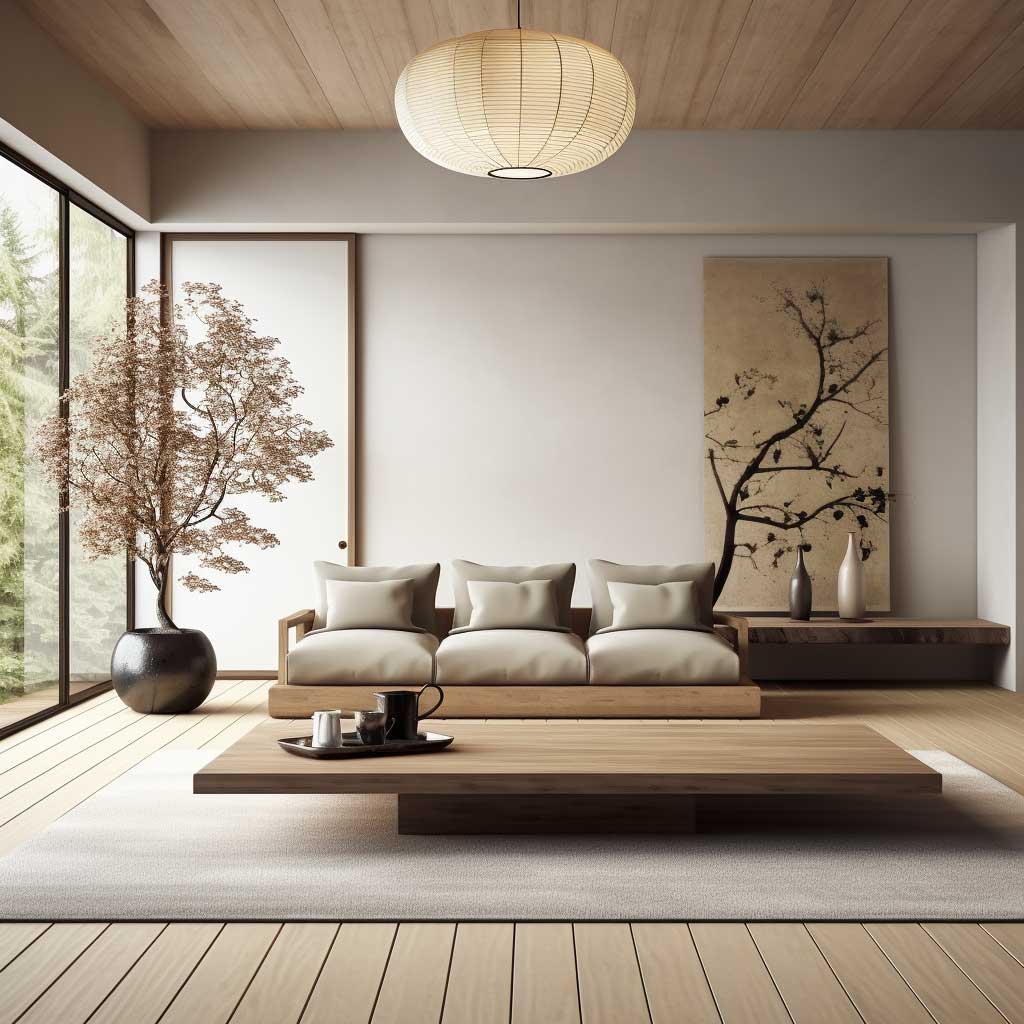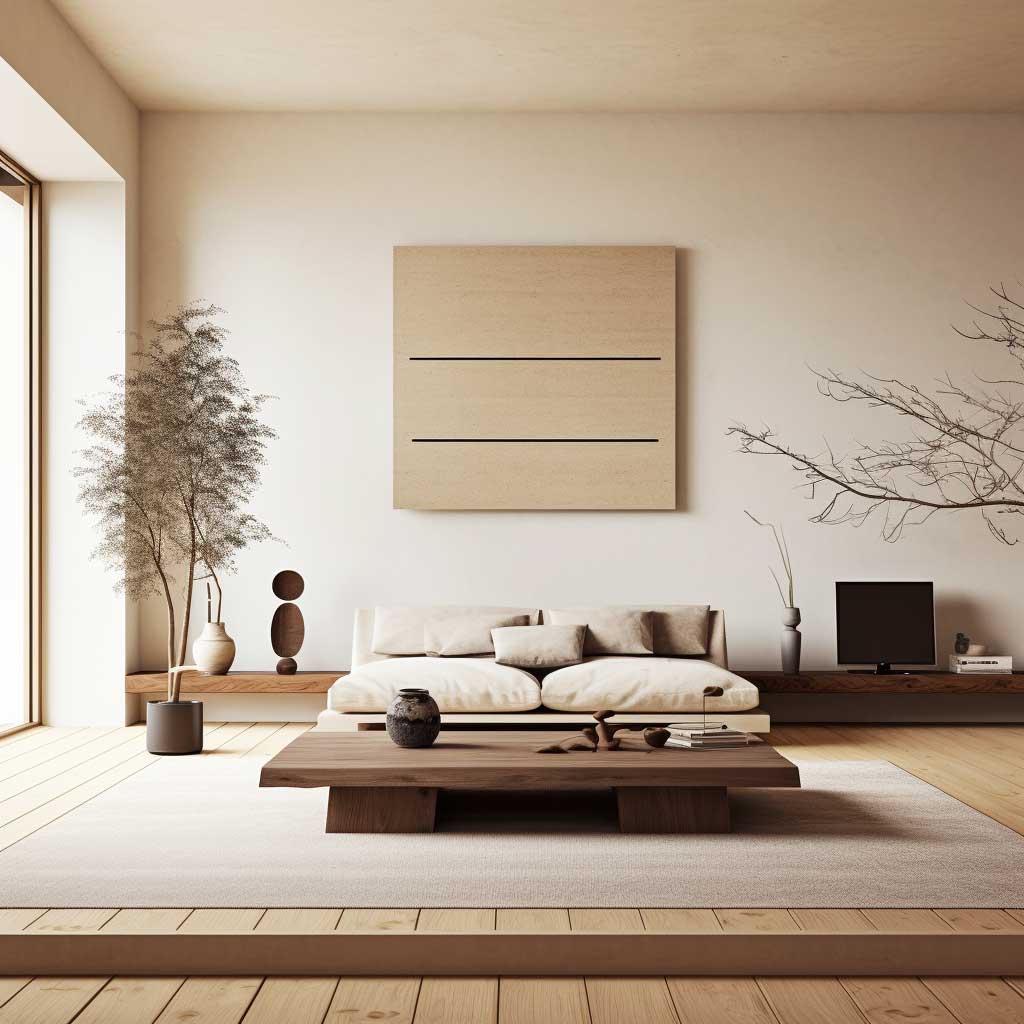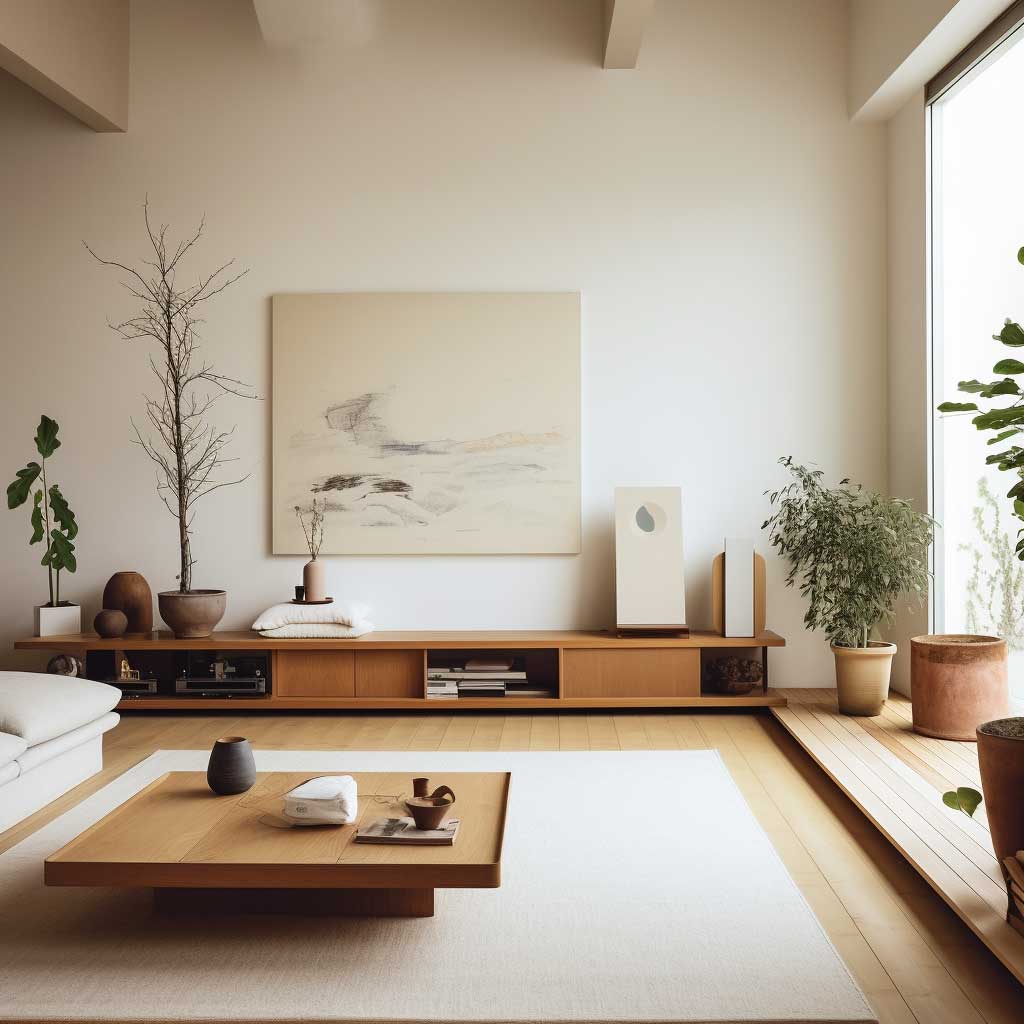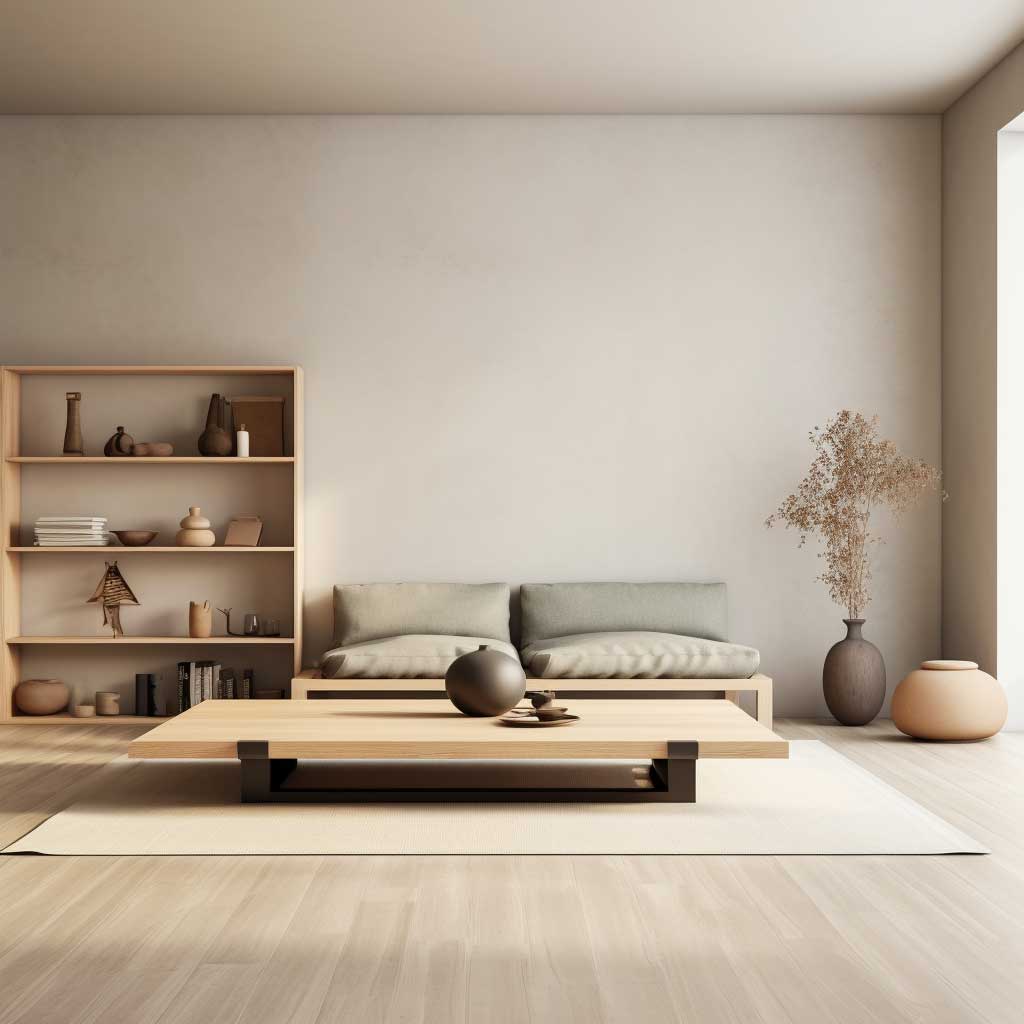 The minimalist approach to Japanese living room design, as shown in this image, is a testament to the Japanese principle of "less is more." In a culture that values simplicity and purpose, every object in a room should serve a function and contribute to the overall aesthetic.
Begin your minimalist journey by choosing a neutral color palette. Muted tones, such as whites, beiges, and light grays, work perfectly to create a sense of calm and tranquility. These colors also allow the natural elements in the room, like wood and plants, to stand out and become focal points.
The furniture chosen for a minimalist Japanese living room should embody simplicity and functionality. Low, clean-lined furniture, devoid of unnecessary embellishments, can help maintain the minimalist aesthetic. Remember, in a minimalist space, each piece of furniture should serve a clear purpose.
Storage is essential in maintaining a minimalist Japanese living room. Clutter is a big no-no in this aesthetic. Choose furniture with built-in storage or add functional storage pieces that blend seamlessly with the rest of the room. This way, you can keep your space tidy, free of clutter, and maintain the simplicity of the design.
Another crucial element in minimalist Japanese design is the use of natural light. Allow as much natural light into the space as possible. This not only illuminates the room but also creates a sense of openness. Pair this with the use of shoji screens instead of heavy curtains for a truly Japanese minimalist appeal.
To further accentuate the minimalist theme, keep accessories and decorations to a minimum. Instead of adding multiple decorative pieces, choose one or two statement pieces that reflect the Japanese aesthetic. A single scroll painting or calligraphy, an ikebana (Japanese flower arrangement), or a strategically placed bonsai can effectively convey the minimalist aesthetic.
Finally, remember to incorporate the concept of Ma. Leaving certain areas of the room empty allows for breathing space and contributes to the minimalist aesthetic. In Japanese design, the beauty lies in the spaces between objects, which are as important as the objects themselves. This concept, paired with the minimalist approach, can transform your living room into a serene, tranquil space that's unmistakably Japanese.
Conclusion
Embracing a Japanese living room design is not just about transforming your space; it's also about adopting a philosophy that values harmony, simplicity, and respect for nature. Whether you prefer a design that brings nature indoors or a minimalist approach that emphasizes simplicity, there is a Japanese living room design for you. Remember, the essence of this aesthetic lies in balance – between nature and man-made, between objects and space, and between tradition and modernity.