Immerse yourself in the tranquility and elegance of a modern Japanese style living room. With its emphasis on minimalism, natural materials, and a harmonious balance of elements, this style can transform your living space into a serene oasis. This guide provides insights into the essential components of a Japanese style living room and offers practical tips for designing your own.
Zen Harmony in a Modern Japanese Style Living Room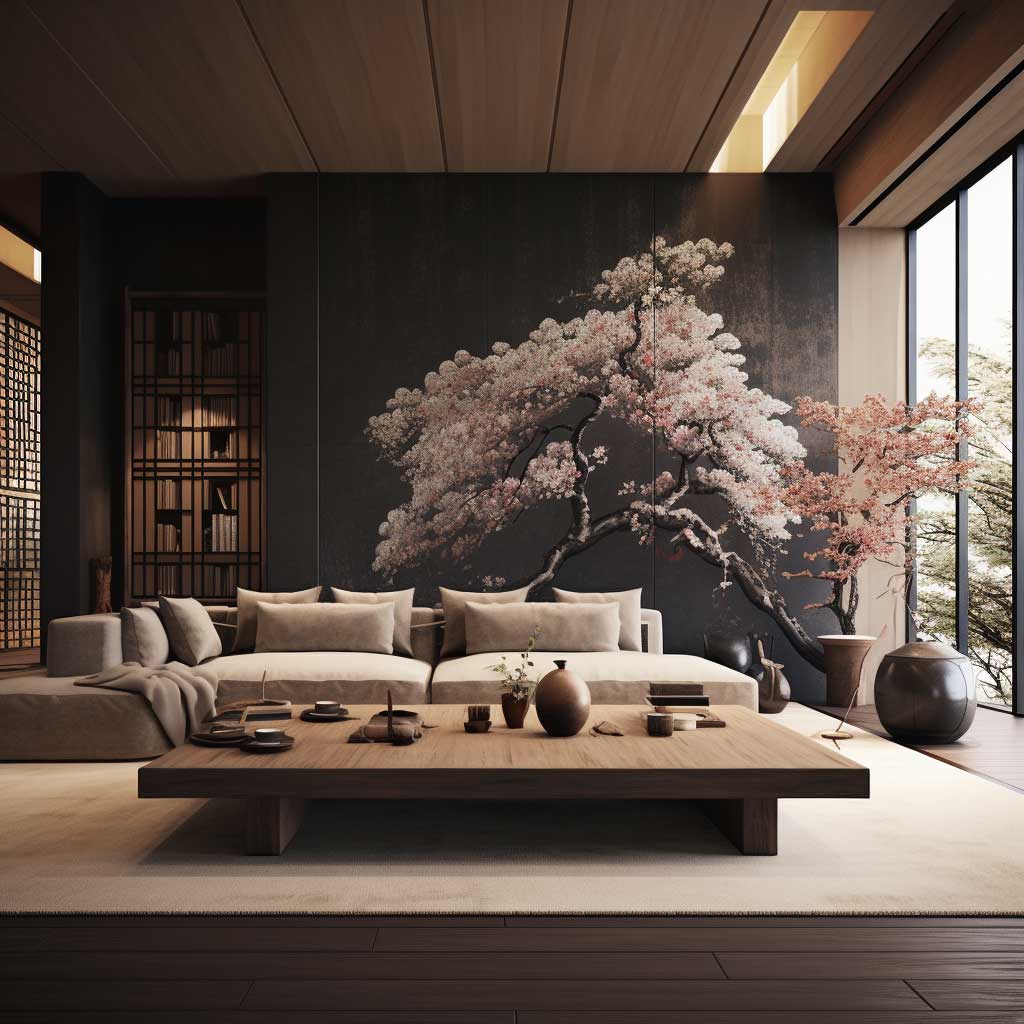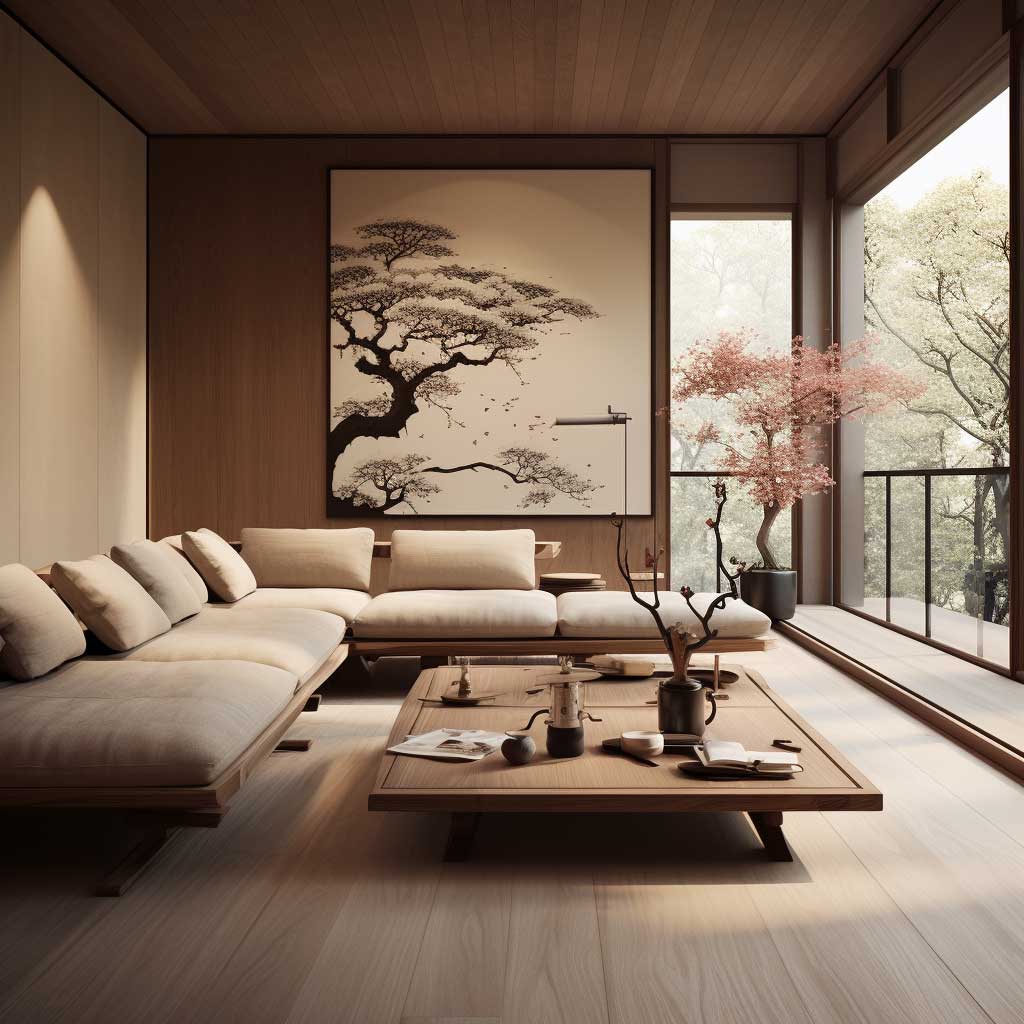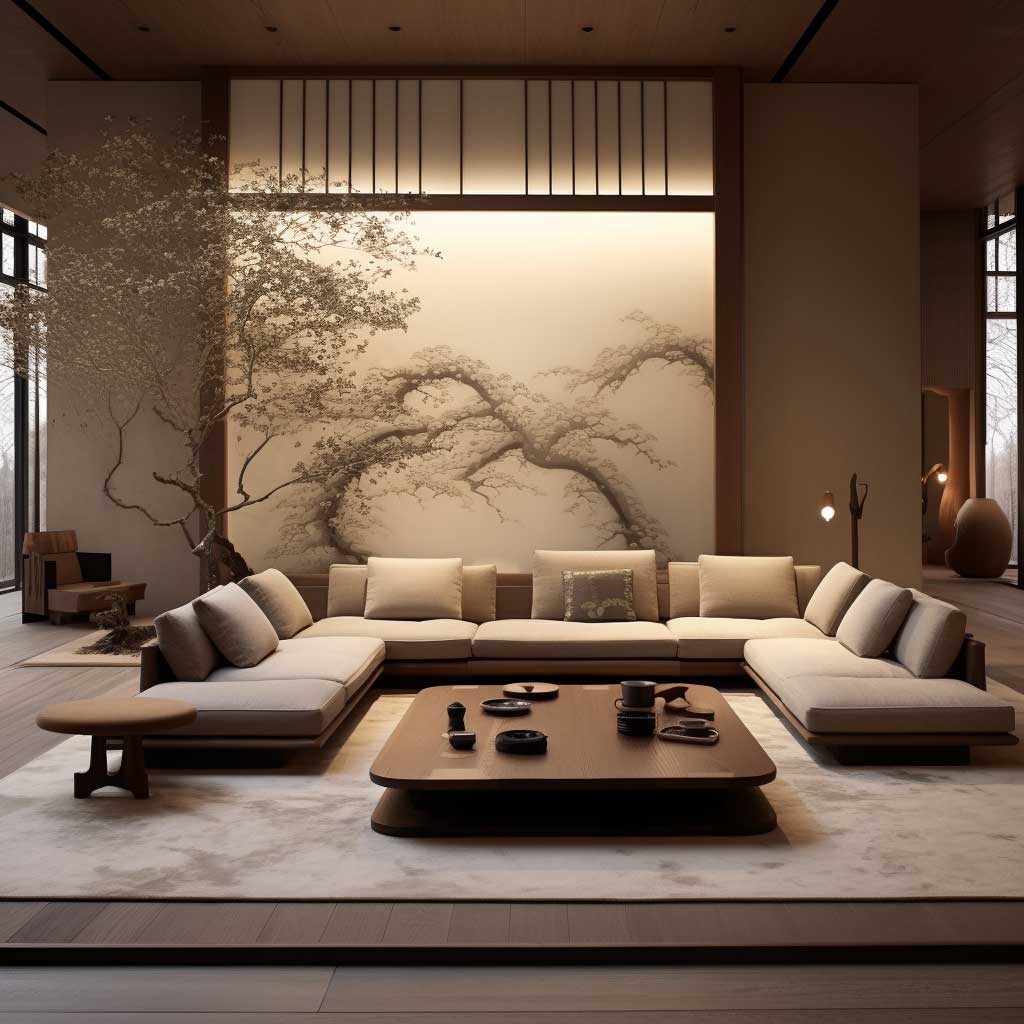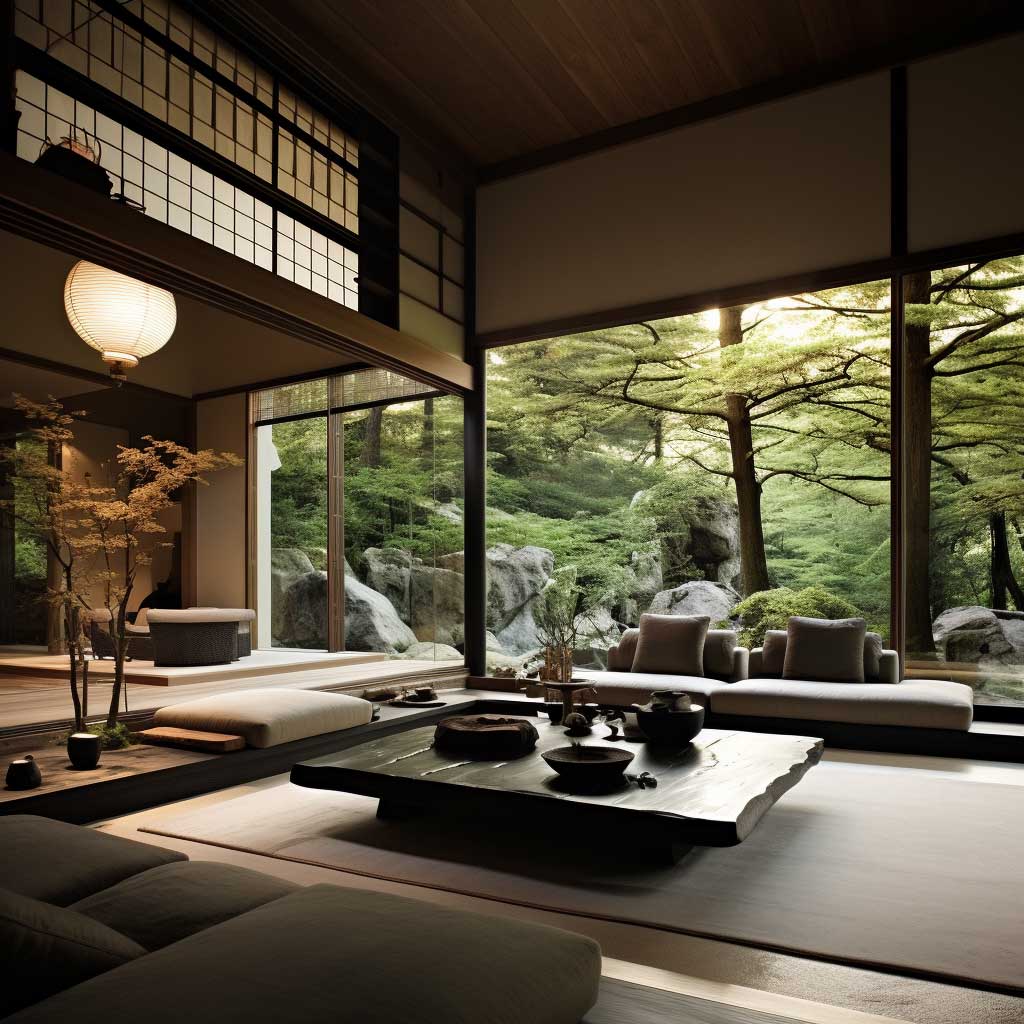 This living room is a harmonious blend of contemporary design principles and traditional Japanese aesthetics. It captures the Zen philosophy of minimalism and tranquility, where every object has a purpose, and clutter is non-existent.
The room showcases a subdued color palette dominated by shades of white, beige, and grey. This neutral backdrop amplifies the prominence of natural materials such as wood and bamboo, reminiscent of classic Japanese interiors. The dark wooden floor contrasts subtly with a lighter wood coffee table, a key piece anchoring the room.
Soft, low couches without armrests line the room, complemented by simple, clean-lined furniture pieces. The absence of excessive ornamentation highlights the beauty of simplicity and functionality, central to Japanese style.
Tatami mats, a staple in Japanese homes, are strategically placed, inviting a sense of calm and relaxation. A minimalist yet inviting setting, this living room beautifully exemplifies modern Japanese design's harmony and serenity.
Sliding shoji doors add to the authenticity of the space, allowing light to filter in gently, creating a warm, inviting glow. The room opens to a Zen garden outside, inviting nature in and blurring the line between indoors and outdoors.
Lastly, a single piece of Japanese calligraphy art hangs on the wall, its simplistic design tying in with the overall minimalistic aesthetics of the room. It encapsulates the philosophy of modern Japanese living – simple, uncluttered, and in tune with nature.
Light and Airy Modern Japanese Style Living Room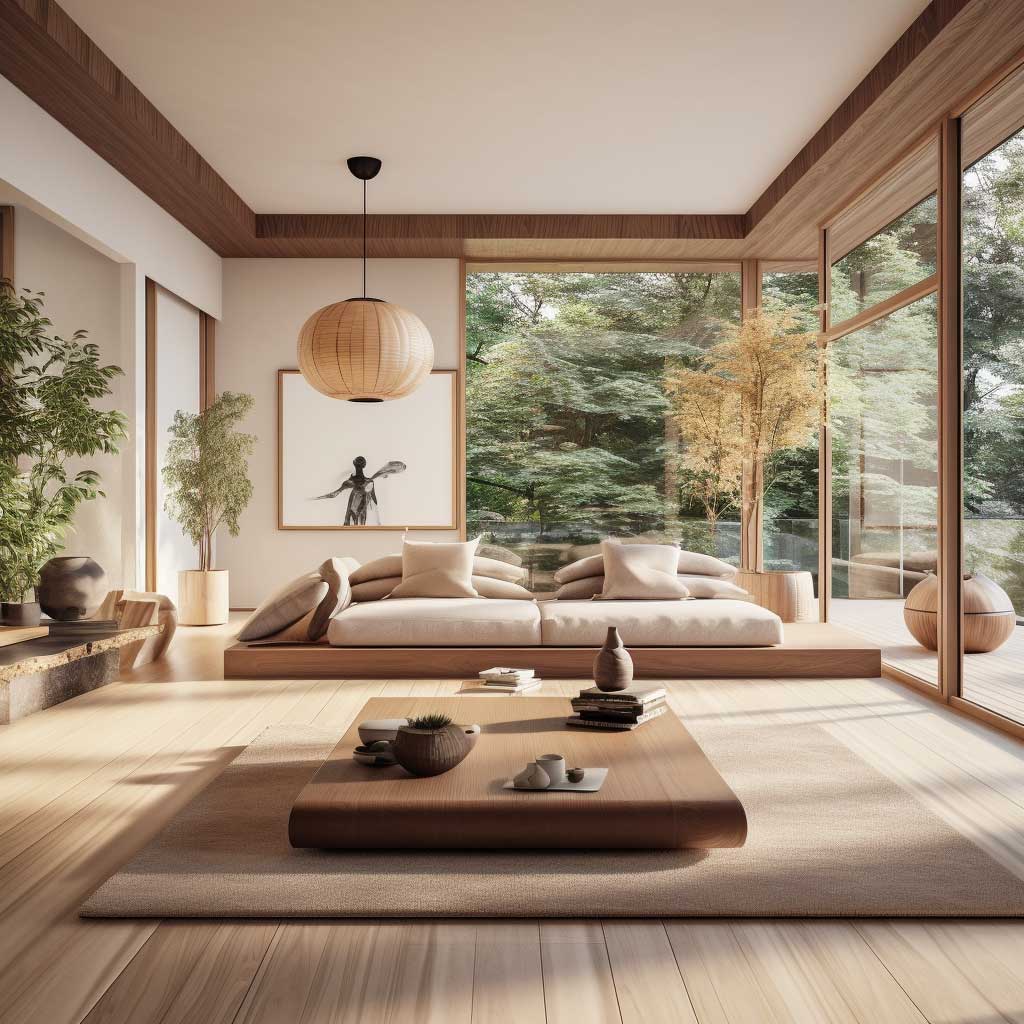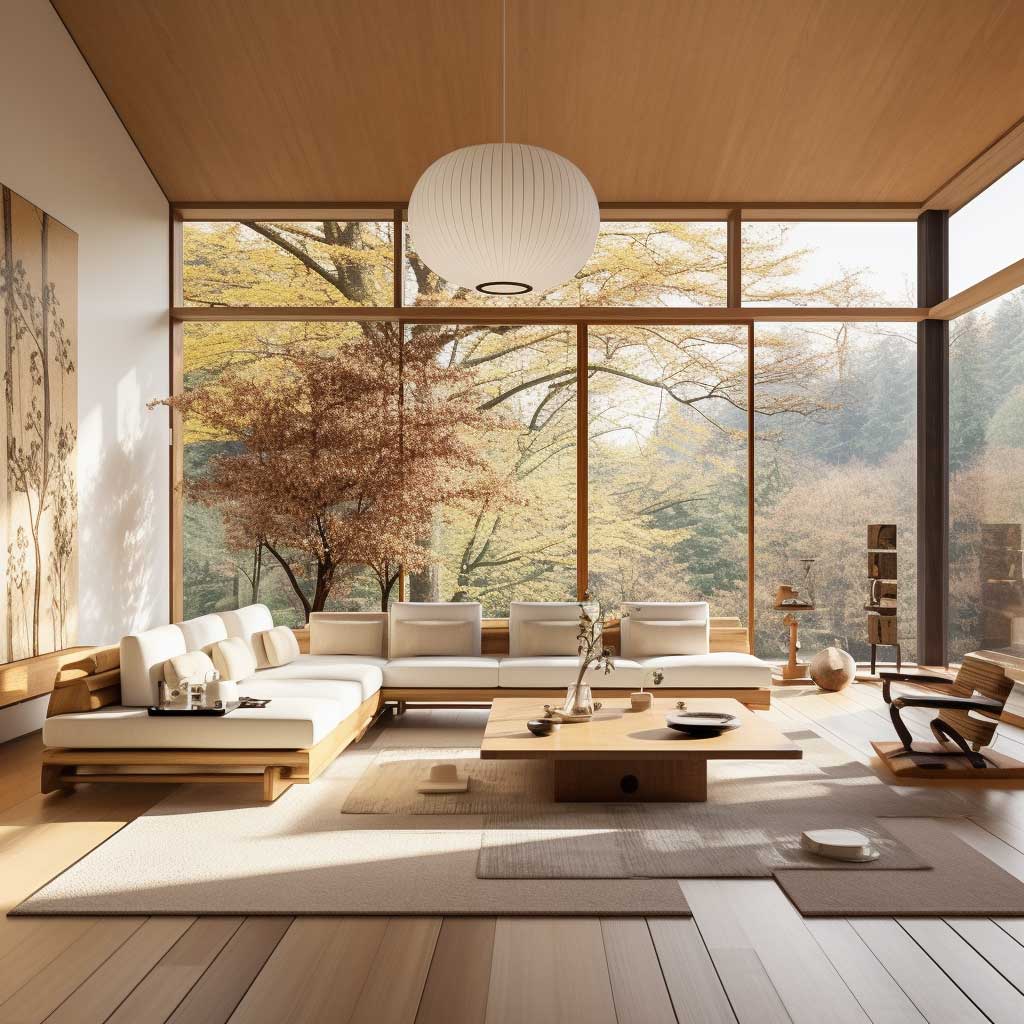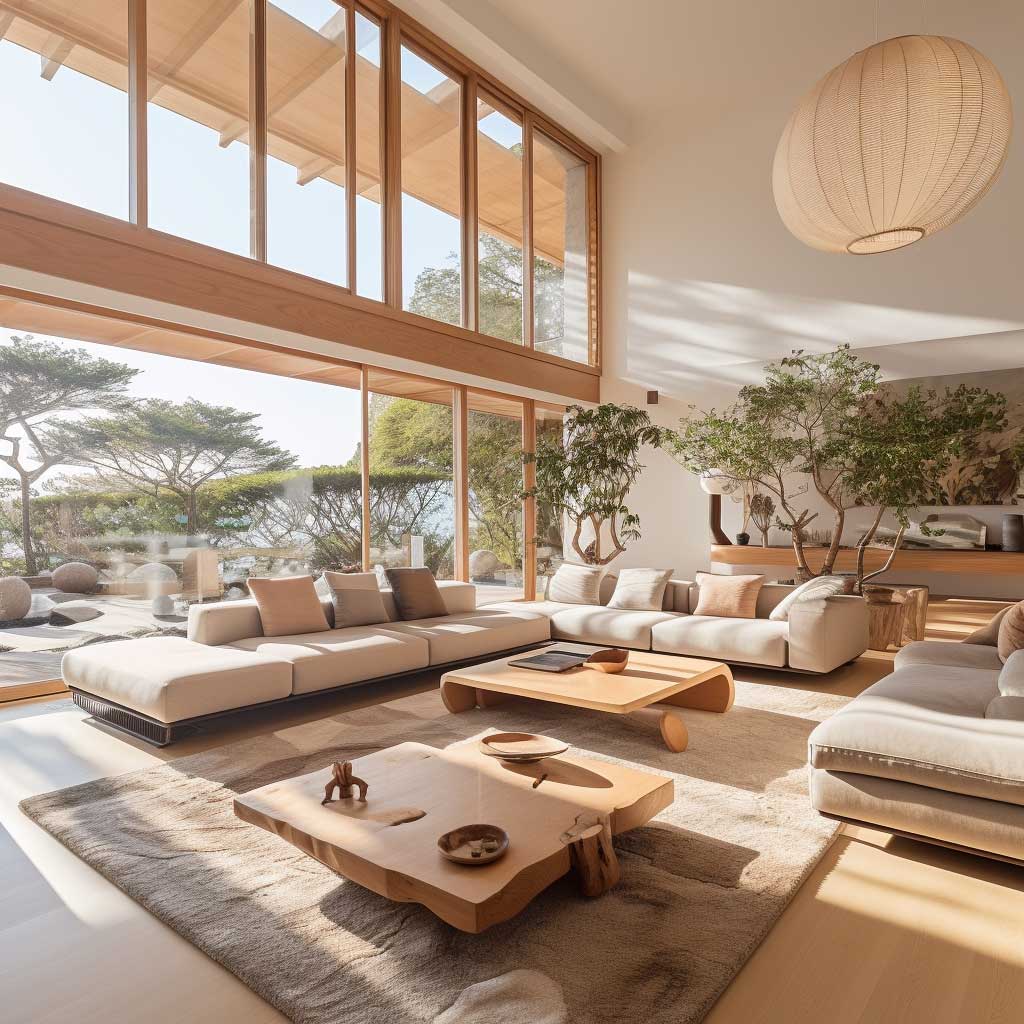 In this photo, the living room exudes a light, airy feel, reflecting a sense of openness and freedom that modern Japanese style interiors often embody. The room is awash with natural light pouring in from large, floor-to-ceiling windows, highlighting the room's openness and connection to the outdoors.
The color palette leans towards the cooler spectrum with shades of blue and white, contrasted with the warmth of the natural wooden elements. These colors give the room a calm, serene ambience, akin to the peacefulness of a clear sky or a quiet lake.
Low-level, sleek furniture populates the room, their streamlined design signifying the minimalist approach of modern Japanese style. Each piece is carefully chosen for its functionality and simplicity, avoiding any unnecessary clutter.
A highlight of the room is a contemporary hearth built into the floor, a nod to the traditional Japanese 'Irori.' It adds a unique element to the space while providing a cozy focal point for gatherings.
The room features a large, open space at the center, reflecting the Japanese concept of 'Ma' or negative space. This open area encourages movement and flexibility, allowing the room's layout to change according to needs and occasions.
Tying everything together is a stylish, abstract painting adorning the wall. Its cool tones perfectly match the room's color scheme, while its modern design aligns with the contemporary aesthetic of the room. This is a space that truly breathes the principles of modern Japanese style living.
Balance and Contrast in a Modern Japanese Style Living Room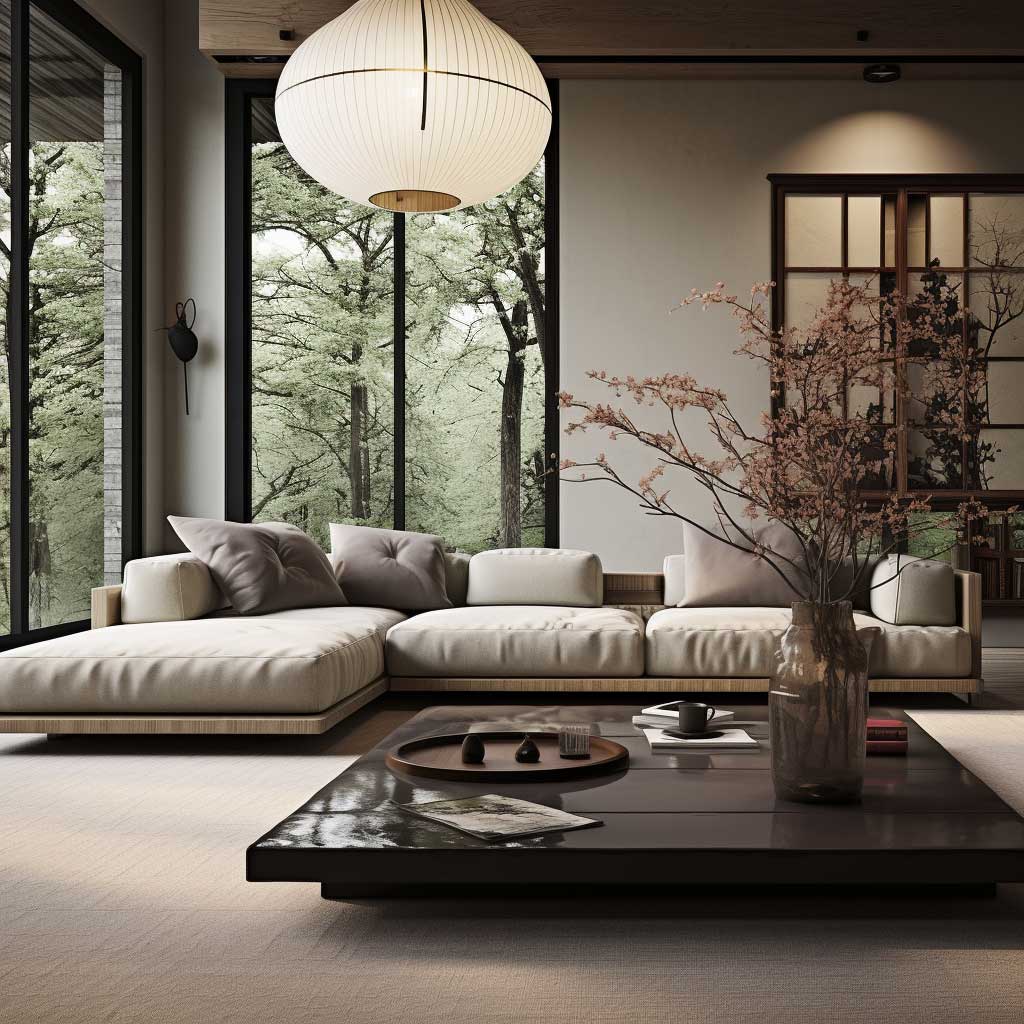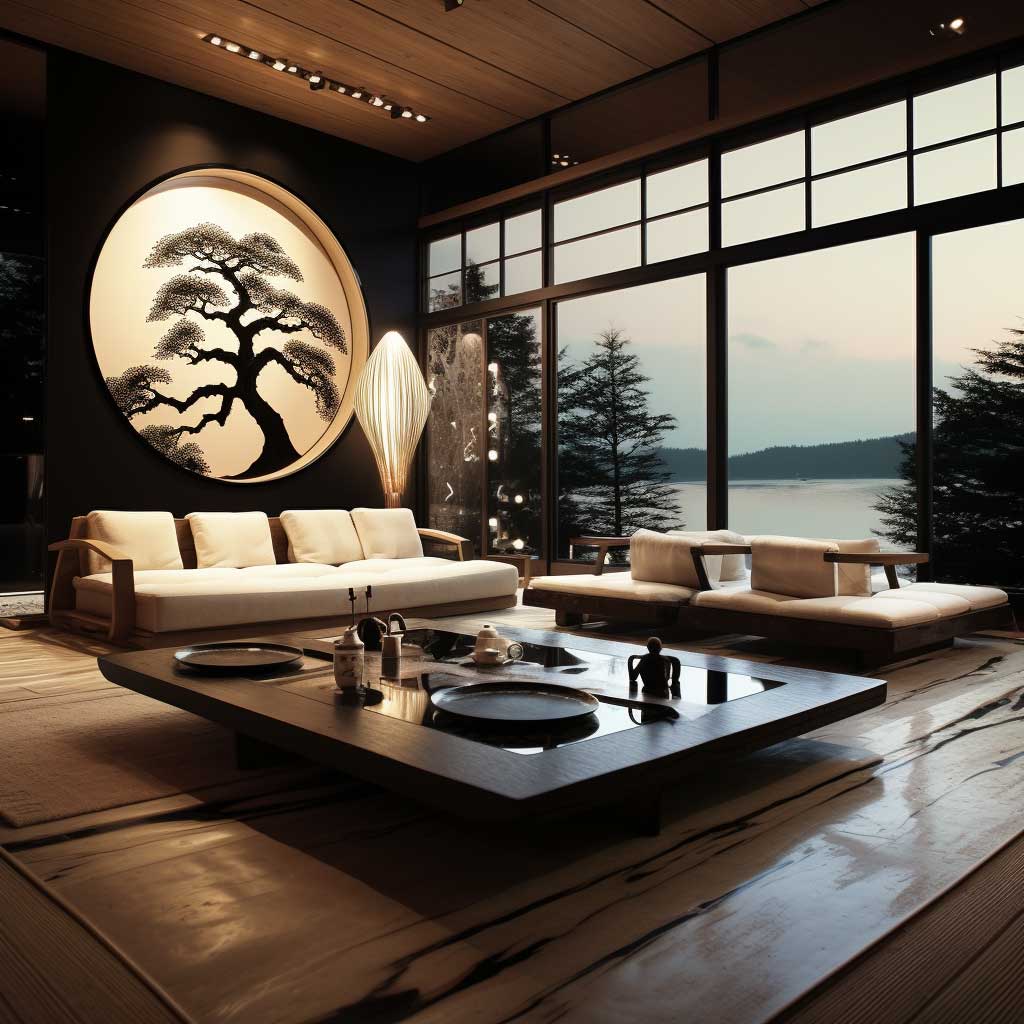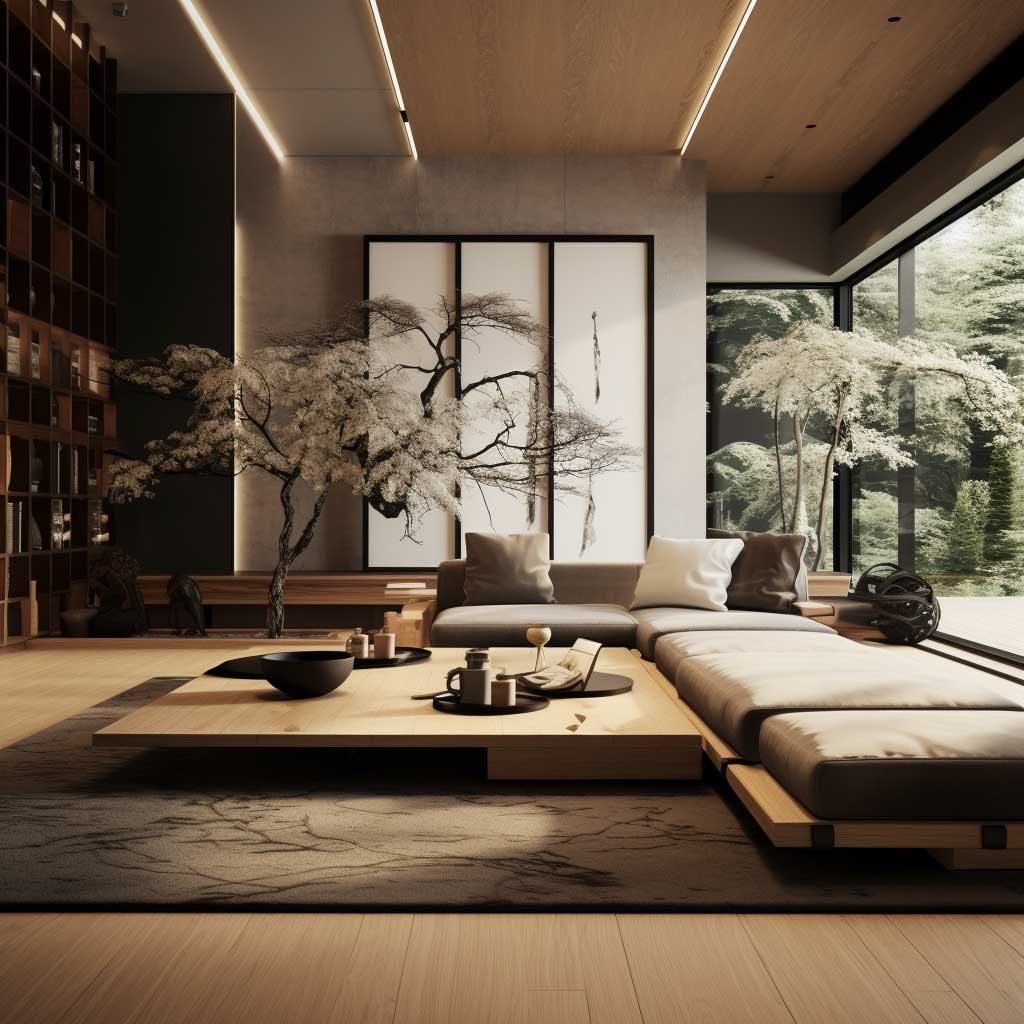 This modern Japanese style living room is a masterclass in the art of balance and contrast. It successfully merges contrasting elements – dark and light, modern and traditional, hard and soft – to create a room that is cohesive, inviting, and visually stunning.
The dominant monochrome palette is a bold departure from typical Japanese design, yet it works harmoniously to highlight the room's structure and design features. The darker tones add depth and intensity, while the lighter shades bring a sense of calm and openness.
An angular, modernist couch contrasts beautifully with the softness of a traditional Japanese futon placed strategically across. The juxtaposition of these elements adds interest and a contemporary twist to the space.
The room features a striking black fireplace that stands out against the white walls. It gives the space a modern edge, while its clean lines and simple design nod towards Japanese aesthetics.
The room's simplicity is further accentuated by the minimalistic yet artistic lighting fixtures. The hanging pendants have a sculptural quality to them, their stark black design offering a stark contrast to the room's light backdrop.
A highlight in this room is a large, intricately designed Japanese screen featuring monochrome art. The screen, a classic element in Japanese interiors, adds a dramatic flair to the room while functioning as a unique room divider.
The room also ingeniously includes a variety of textures – from the sleek wood floors to the plush rug and soft cushions – offering tactile contrast that adds richness and depth to the space. This room perfectly illustrates how balance and contrast can work in unison to create a captivating, modern Japanese style living room.
Conclusion Creating a modern Japanese style living room is more than just an interior design choice. It's a step towards embracing a lifestyle that values simplicity, harmony, and a deep connection with nature. With the tips and elements we've explored, you're now equipped to transform your living room into a tranquil space that truly embodies the spirit of modern Japanese style.