One of the modern trends in private housing construction is the integration of the construction project into the natural environment. Even with urbanism, the building should not violate the harmony of nature around it – this is what most people who want to move out of town are chasing. The house, ideally fitted into the plot, was presented by the architectural bureau MISA Architects. Even though the object is made of monolithic reinforced concrete, it did not violate the harmony of green spaces, but neatly joined them and became an oasis of human habitation.
Consider the techniques through which architects were able to achieve the integration of the house with a living environment.
The monolithic house inscribed in the plot does not look like a stone block – it is a bright dwelling that is enlightened by sunlight. Panoramic glazing in the social zone is made so that the house can be seen through. It seems that the residential area is just a well-maintained part of the local natural environment.
Architects have provided a lot of glass in other living spaces – if you want to achieve privacy, the windows can be closed using blinds. Lightness and openness allowed to remove the visual border between the living space and the environment.
The building became part of the landscape due to grass planted on the roof. One gets the impression that the house is a continuation of the existing green environment. Not only that, the terrain is a little hilly – architects drew a parallel between this feature of the landscape and the roof structure, also making it with smooth heights like hills. This technique made it possible to make the interior space more dynamic. It turned out to be a unique shape with different ceiling heights and second light.
Another amazing element of integration into nature was the artificial waterfall. Water flows directly from the roof of the house into the pool. The building seems to be the creation of nature itself.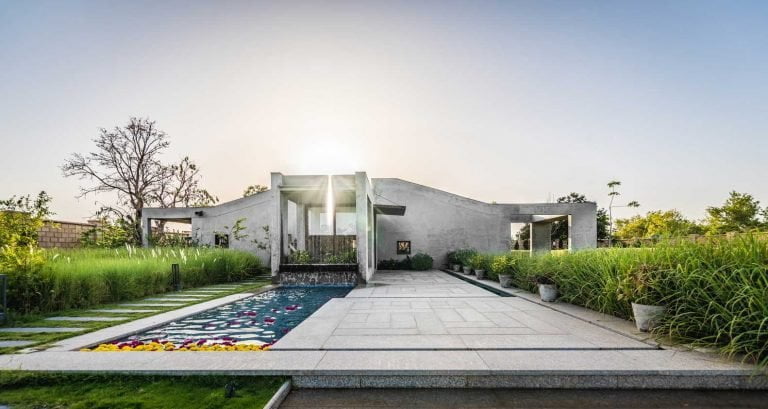 Natural materials in decoration, wooden frames in panoramic windows, and competent landscaping, including trees planted near the house, helped to add proximity to nature. The house inscribed on the site did not become a contrasting, industrial spot on the green expanses with hills, but only introduced an element of civilization here, showing that humans and wildlife can exist side by side.
The house was built in an open area so that it fits into the environment, it was made low and stretched over the site. In the exterior, as in most local wildlife, there is nothing superfluous – it is minimalistic, straightforward, and neat, made in natural colors.
To build a house inscribed in the plot, it is worth exploring the environment and adapting the housing as harmoniously as possible for it. There is no need to make strict boundaries between housing and the environment – the smoother this transition, the more harmonious the building will fit into the surrounding landscape.