A beautiful ultra-modern cottage on a Californian slope with panoramic views of the Sonoma Valley rises as a symbol of success, luxury and prosperity. The minimalist glass construction blends in effectively with the natural environment and opens up a new format for owners to contact the landscape. Incredibly tightly integrated into nature, a modern house on slope gives a feeling of freedom, comfort in the midst of dense vegetation.
The location of the cottage gave the residents amazing views. And in order to be able to feel them to your fingertips, to fully enjoy the panorama, the view part of the building is completely made of glass. A terrace with a dining area was also made here. Breakfast at sky level will be unforgettable, and in the evening, a chilling sunset opens up from here.
Modern house on a slope with ecology inside and outside
The architecture of the family cottage has an emphasis on sustainability. Surfaces made of natural wood seem to add the interior to the environment with an abundance of plants. The furniture is also made in accordance with the trend of being close to nature.
But at the same time, a modern house on a slope did not get lost and did not dissolve in the landscape, but is an expressive, self-sufficient object thanks to the contrasting metal cladding of external structures. Seen from the side, it became the centerpiece of the landscape.
The concept of open spaces in a modern house on a slope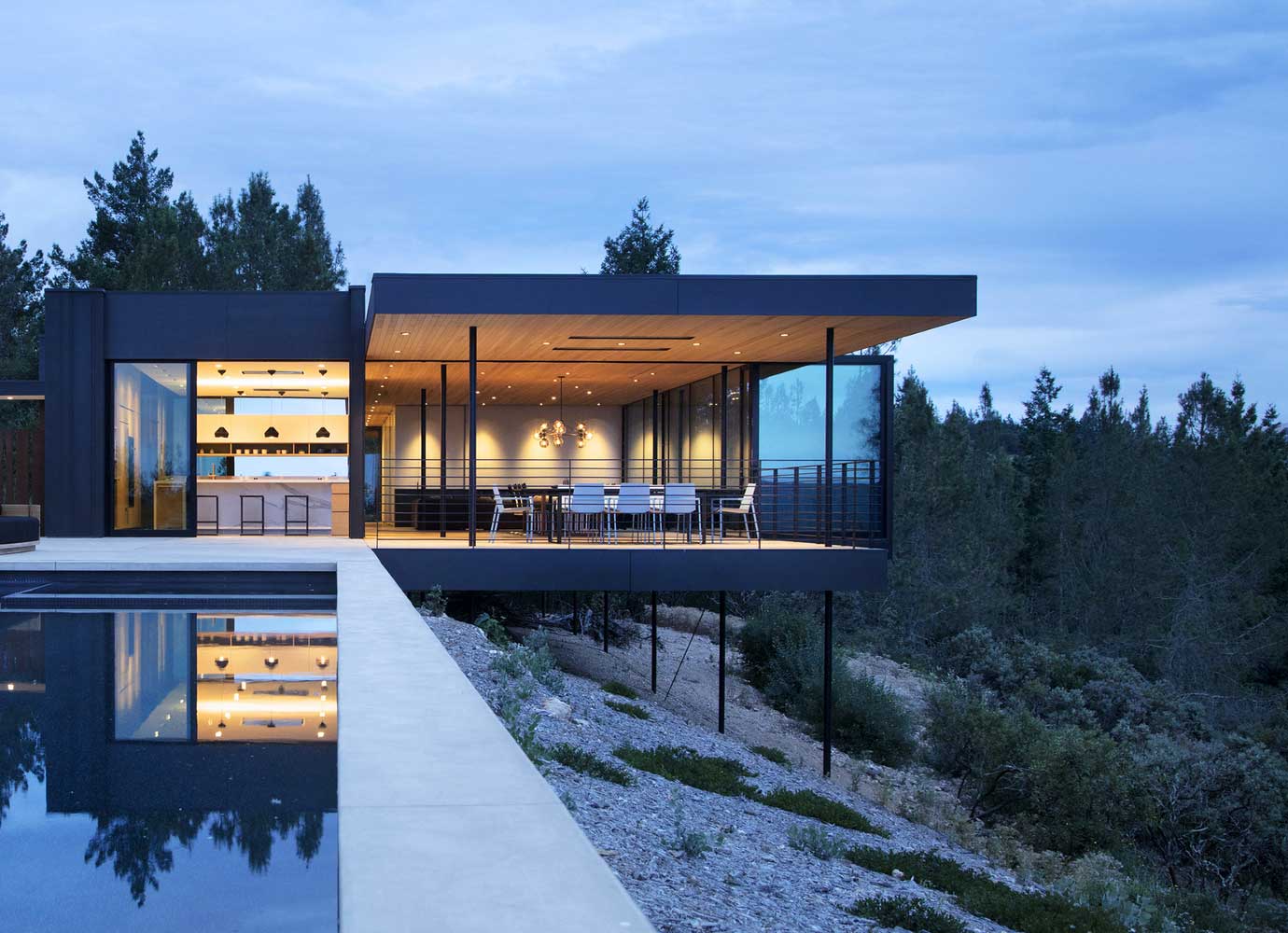 The cottage is devoid of traditional walls, partitions. This is an open space under a floating roof. A feeling of lightness and close relationship with the landscape is created. At the same time, the design provides a high-quality shelter from the scorching sun, creating comfortable living conditions.
Interior spaces are also devoid of traditional delineation. We get open volumes that smoothly merge into each other. Ergonomics remain top notch.
Private areas, bedrooms also did not become too local. From here open the same beautiful, majestic views of the forest, mountains, valley, as well as from the kitchen-living room. The external structures of the rooms are completely glass, which guarantees even more interaction with the outside world. The color scheme of the interior is neutral, so as not to draw attention to yourself and not to distract from the breathtaking panorama.
A spacious, open modern house on slope embodies lightness, giving you the opportunity to touch nature simply from the living room or kitchen. A continuation of the open spaces has become a terrace, which is even more closely connected with the landscape around. The house is saturated with an atmosphere of naturalness, naturalness.