Architectural bureau AZO. Sequeira Arquitectos Associados has presented a spectacular monolithic private house on a plot with a slope. Due to modern construction technology from reinforced concrete, the object is securely fixed on an inclined surface even with its unique, open architecture.
The dwelling received a free layout and panoramic view facades without compromising the strength of the structures. From here, panoramic views of the Sameiro in Braga (Portugal) open up. But the impressive panoramas weren't the only feature of the house.
house on sloped lot / landscape integration
The architects literally built a monolithic private house on a plot with a slope into the hill. It seems that the cottage and the landscape around it are a single whole. The hill itself is not the most successful and convenient place for building a cottage. But the architects were able to derive maximum benefit from the features of the relief, turning the lack of terrain into dignity. The house seems to grow out of the slope. To achieve such an effect on a flat surface would not work.
Monolithic private house is located in the middle of a plot with a slope. This made it possible to harmoniously infuse it into the environment. It remains relatively invisible, but at the same time it is located high enough to offer picturesque panoramic landscapes from here. For maximum visual effect, panoramic glazing was made in the house; outdoor terraces were installed on the same side.
house in a hillside / maximum contact with nature
Thanks to the monolithic structure, it was possible to make panoramic glazing in the house almost along the entire perimeter. From one side there are views into the distance, and from the other – to the blooming hill with trees at the top rising right outside the windows. This is a quiet, private area, as close as possible to wildlife. The greenery starts right at the windowsill and goes up.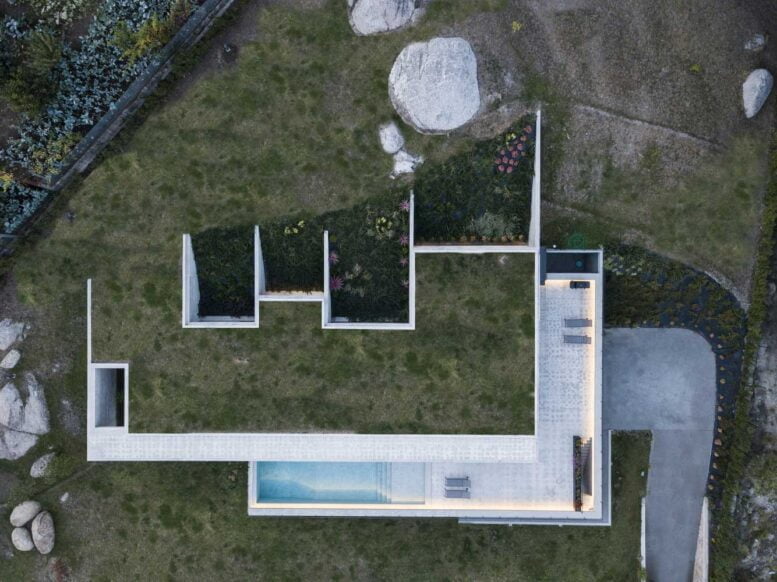 The house is hidden in a hill; instead of the traditional roof, there is a natural green roof. At the top of the plot, the cottage is almost invisible, since its entire roof is a continuation of the hill. The color palette of the house has been selected to blend in with nature. Reinforced concrete structure is similar to natural stone, rock. It is complemented by natural wood, metal, glass.
contemporary hillside homes / confidentiality of private spaces
The front façade of the house remains open, while the rear façade is literally hidden from view in artificially created niches. From here, views of the flower beds planted on the slope open, but the panoramic windows themselves remain hidden from view. This makes it possible for residents to experience maximum solitude and harmony with nature.
Thus, a monolithic private house on a plot with a slope is specially integrated into the natural environment. It is as close as possible to living nature, but at the same time the tendencies of modern architecture are clearly traced in it – lightness, openness, freedom.