What can more naturally and organically fit into the natural landscape than a one-story wooden house? Of course, an architectural ensemble of two such buildings! It was this statement that guided the creators of a country cottage on a high plateau in the Upper Palatinate, which is located in the central part of Bavaria, Germany.
Wooden exterior and design features of a one-story wooden house
The construction of the building itself is borrowed from traditional gable local buildings, which are also characterized by the widespread use of wood for exterior and interior decoration. But the novelty of this project lies in the implementation of a completely wooden design for the exterior and interior of the house. The windows on the street side are shielded with lamellas of the wooden facade, while the window openings facing the courtyard have panoramic windows.
The construction complex consists of two buildings of simple geometric shapes with gable peaked roofs. From afar, a one-story wooden house looks like an identical, standing side-by-side building, completely devoid of windows. Between themselves, these twin rooms are combined by a transition from wooden lamellas, identical to the raw larch finishing materials that are used for upholstering the facade. This creates a single continuous interior space and a cozy patio.
Wooden unity of the interior and exterior of a one-story house
Structuring the wooden living space consists in dividing the functional purpose of both parts of the house: in one wing there is a living room, kitchen, dining room, reception, and relaxation area, and in the other – bedrooms and bathrooms.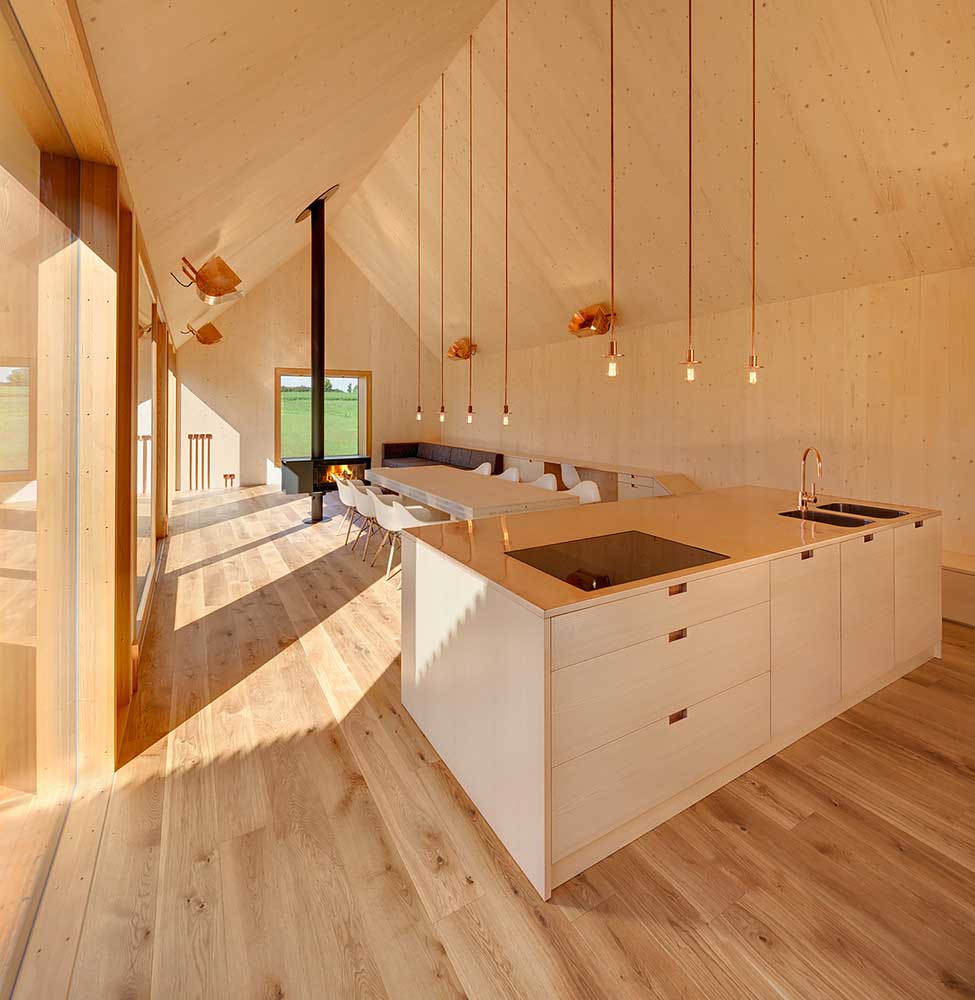 Interior decoration continues the overall design line. Oak floors, ceilings and walls, wooden furniture, and interior details bring a special atmosphere to all rooms. Unsurpassed aroma, warm natural shades, and velvety wood texture make your stay in the house as comfortable and pleasant as possible. A wood-burning rotary stove, located in the center of the common room, is not only a stylish design element but also will warm the inhabitants of the house on cold evenings.
The wooden interior is complemented by copper fittings such as lights, switches, knobs, and faucets. Custom-made sockets and lamps were designed to connect stylistically the interior of the house.
Wooden surfaces, along with their environmental friendliness, naturalness, warmth, natural beauty, require a special approach and processing. Firstly, the wood is impregnated with special solutions from the adverse effects of the external environment, pests and decay. Secondly, to protect against fire, the tree must be treated with fire-resistant compounds. Thirdly, for the same purposes of fire protection, the equipment of the home's electrical networks must be carried out in compliance with the approved norms and rules.
Following such simple rules and tips will make staying in a one-story wooden house safe and comfortable at home.
| | |
| --- | --- |
| Architects | KÜHNLEIN Architektur |