A limited budget is not yet a reason to abandon trendy ideas in the construction of suburban housing. Architectural bureau Duarte Fournies Arquitectos presented a small wooden one-story house with an interesting roof shape, corresponding to fashionable trends in housing construction for little money.
The object was built of wood using frame technology, which made it possible to implement all the conceived ideas.
View panoramas of landscapes
Facades from the north and south are made with floor-to-ceiling panoramic glazing. Views of volcanoes, mountains, and picturesque natural landscapes open from here. Such glazing provides openness to living spaces, visual expansion, and integration with the environment. There are small terraces in front of the panorama that can be attached to the dwelling by pushing back the glass wall.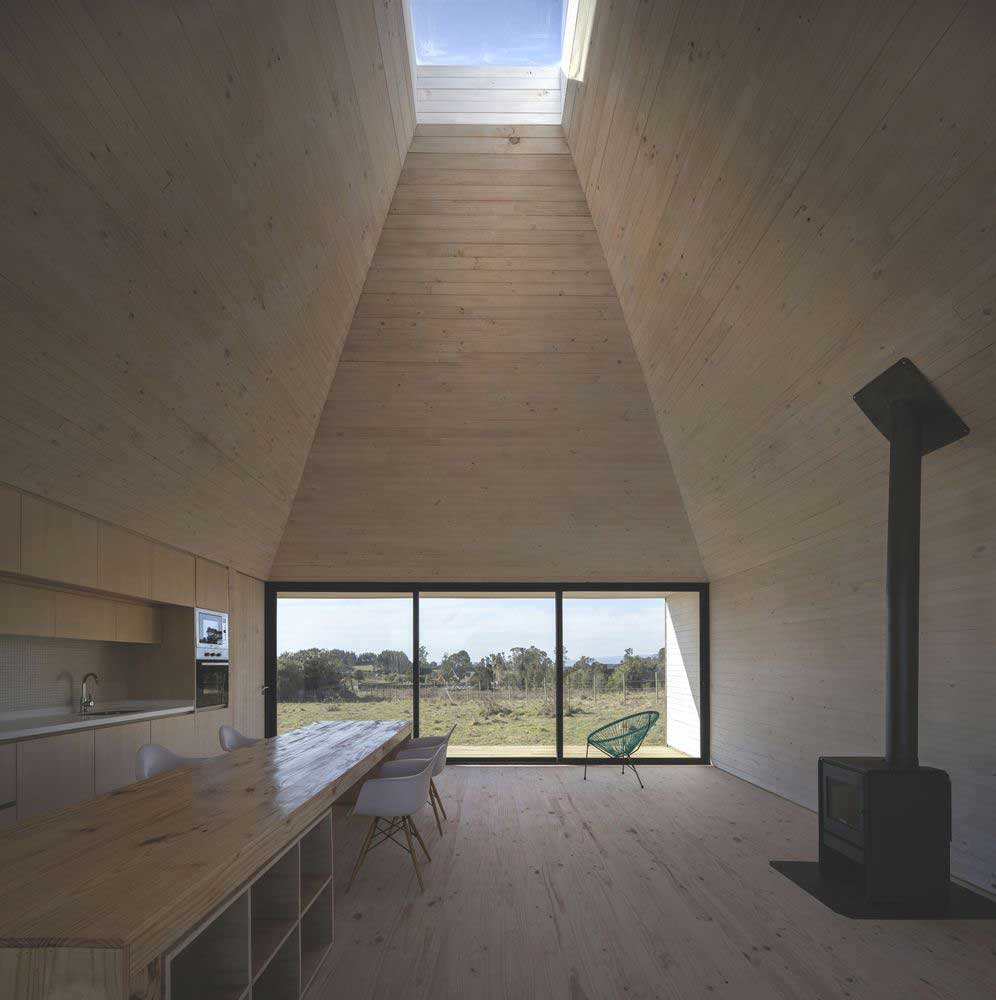 On the sides, a small wooden one-story house with an interesting roof shape has opaque facades. This made it possible to hide the housing from views from neighboring sites, to increase the privacy of the premises.
Quality natural daylight
The main architectural feature of the public living space was the shape of the ceiling and the presence of a glass hatch at the very top. In the middle of the room, you seem to be standing in the open air.
Instead of the traditional ridge, an opening was made on the roof and glazed. This does not look like a roof window, as it is located at the very top, and not at an angle, but strictly horizontal. Due to this design, a view opens directly to the sky from here. In turn, this interesting roof shape provides additional daylight.
Ergonomic layout
An area of 90 square meters is enough for a comfortable family living, and receiving guests. This is available through intelligent configuration. In a small wooden one-story house, the architects proposed to create a single room that would unite all public spaces. It is visually divided into functional areas. The bedroom is confidential. It is separated from the rest of the living space by a kitchen and a bathroom.
For a moderate budget, we managed to build a small wooden one-story house with an interesting roof shape and panoramic view glazing. The property is characterized by a sufficient level of privacy. At the same time, it is open, light, comfortable and has an exclusive solution in the context of architecture – a glass hatch in the roof.