In modern interior design, wood has become one of the main materials for surface decoration. Along with plank flooring, laminate flooring design ideas include a stylish, modern wood finish ceiling. It instills a sense of stability, security, and comfort.
This is a varied finish, but in any form, it looks solid and reliable. The surface is finished with lamellas, boards, laminate, slats, slabs, gratings erected, beams are mounted, and coffered structures are created.
Wood finish ceiling as a modern trend
If earlier the ceiling made of wood was more associated with a modest country house made of lining, now it is a trendy solution used in houses with designer interiors.
A wooden ceiling is environmentally friendly, comfortable, and safe. It allows you to integrate the interior into the natural environment. Housing and nature seem to merge into a single whole for a comfortable human life. To emphasize this, wood surfaces are not limited to the walls of the house, but they have continued in awnings on terraces and summer recreation areas.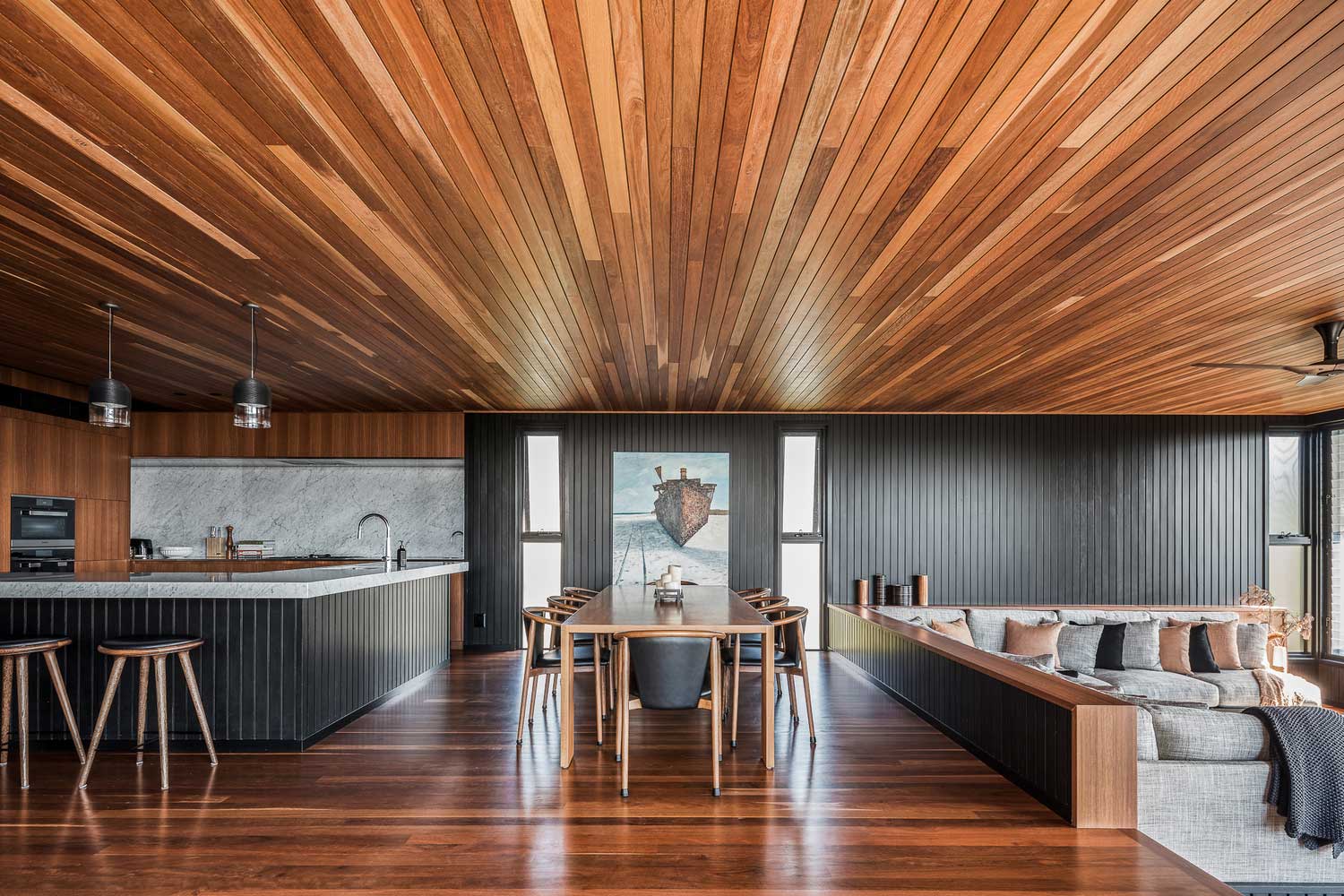 The wood finish ceiling looks fashionable. This design is combined with ultra-fashionable high-tech, loft, Barnhouse, minimalism, and eco-direction. This is a fairly versatile solution for home decoration.
Wooden ceiling – a symbol of genuine reliability through the ages
Natural material in the interior, and not its imitation, means strength, quality, and comfort for residents. The wood trim of the ceiling dictates the style and atmosphere of the space. When finishing with slats, smooth boards, and laminate, you can emphasize the expensive, environmentally friendly modern environment.
Decorative aged boards and beams allow you to genuinely recreate a reliable space stylized as traditional century-old housing. No wonder such a ceiling is required in barn houses, and bungalows. It symbolizes ease, practicality, and simplicity, enriching the home with a unique romantic atmosphere.
The wood finish is characterized by high performance. It increases the sound and heat insulation of the space. Due to the breathable structure, there is always fresh air with normal humidity in the room. Wood has an effect on a pleasant microclimate with minimal use of climatic technology.
In general, a wood finish ceiling is far from just an aesthetic whim of modern fashion, but a practical and convenient solution.