Architectural bureau A4estudio presented a project of a localized private house in the suburbs of Mendoza (Argentina). A one-story hi-tech cottage is implemented as a building with a patio.
Outer cladding of a private house is made of monotonous wooden panels. They give it futurism, protect it from the influence of external factors, provide privacy and a pleasant microclimate.
FEATURES OF A MODERN HOUSE WITH WOODEN EXTERIOR
Designers and architects managed to use traditional decoration material so that it turned a residential building into a futuristic object. However, they achieved the following:
external wood cladding
PRIVACY AS A MAIN FEATURE OF A HOUSE
To achieve confidentiality of living space, glazing in the house is made mainly from the courtyard. Panoramic windows that offer mountain views deserve special attention. But from the side of the road, the house looks like a bunker, and from there it is impossible to see what is happening inside it.
COMFORT AND SAFETY
Exterior cladding of a private house is a protection against adverse weather conditions. The tree also performs the function of additional sound insulation and helps maintain a pleasant microclimate in the house.
STYLISH APPEARANCE
The main feature of the exterior cladding of the presented house is an ultramodern, minimalistic design. Dark monotonous color and light contrast zone give the building an even more spectacular and fashionable appearance. These tones contrast and expressively look surrounded by wildlife, while harmoniously combining with the natural colors of Argentinean landscapes.
wood cladding house
ENVIRONMENTALITY AND ACCURACY
Despite the fact that the house looks like a futuristic object, it is in harmony with nature, since its external cladding is made of natural wood. Due to this, with its severity and, it would seem, severity, the building looks cozy, comfortable and safe. To emphasize its environmental friendliness, a small area with living trees is arranged in the courtyard, and the blind area around the house, in front of the windows, on the terrace is covered with rock fragments.
outdoor wood cladding
Interior is also made of environmentally friendly materials. This environment looks presentable, expensive and fashionable. The interior is based on minimalism and hi-tech. In combination with naturalness and environmental friendliness, high technologies are used here.
wood effect exterior cladding
HOW TO MAKE A WOODEN EXTERNAL FACING OF A HOUSE ULTRA-MODERN
On the example of a project from A4estudio bureau, we see how you can use wood in the outer lining of a private house so that the housing is in line with the trends, it is fashionable and does not resemble a traditional summer house or hut.
wood cladding house exterior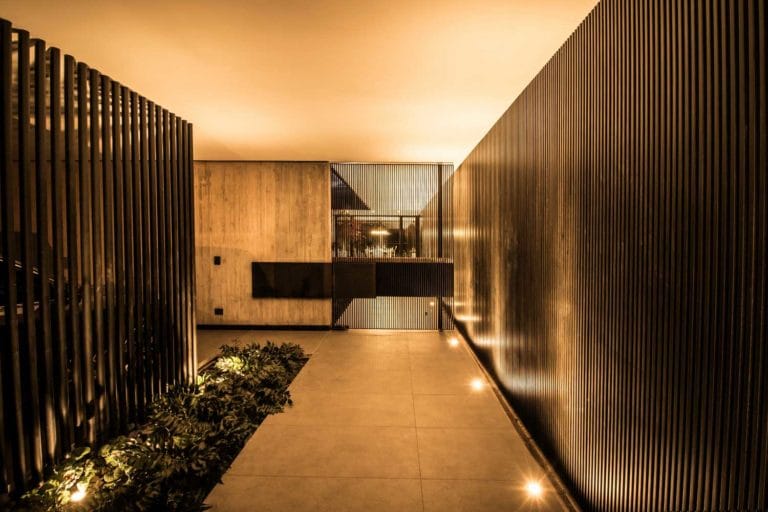 Main rules that should be followed while:
minimalistic strict design;
contrasting monotonous colors;
emphasis on environmental friendliness;
rectilinear forms of the house.
These techniques have helped to make the object not only spectacular, but also practical. It looks expensive and modern. Due to the correct, carefully thought-out landscape design, the building fits into the natural environment.