Basements are often the most underutilized spaces in a home, serving as storage for items we seldom use. However, with a bit of creativity and vision, your basement can transform into a cozy retreat that embodies rustic charm and warmth. Rustic design is about embracing the organic, the weathered, and the relaxed. By incorporating these elements into your basement, you can create a space that is not just inviting, but also filled with character. In this article, we present 10 rustic basement ideas that will inspire you to turn your basement into the perfect escape from the outside world.
Rustic Basement Idea with Reclaimed Wood Accents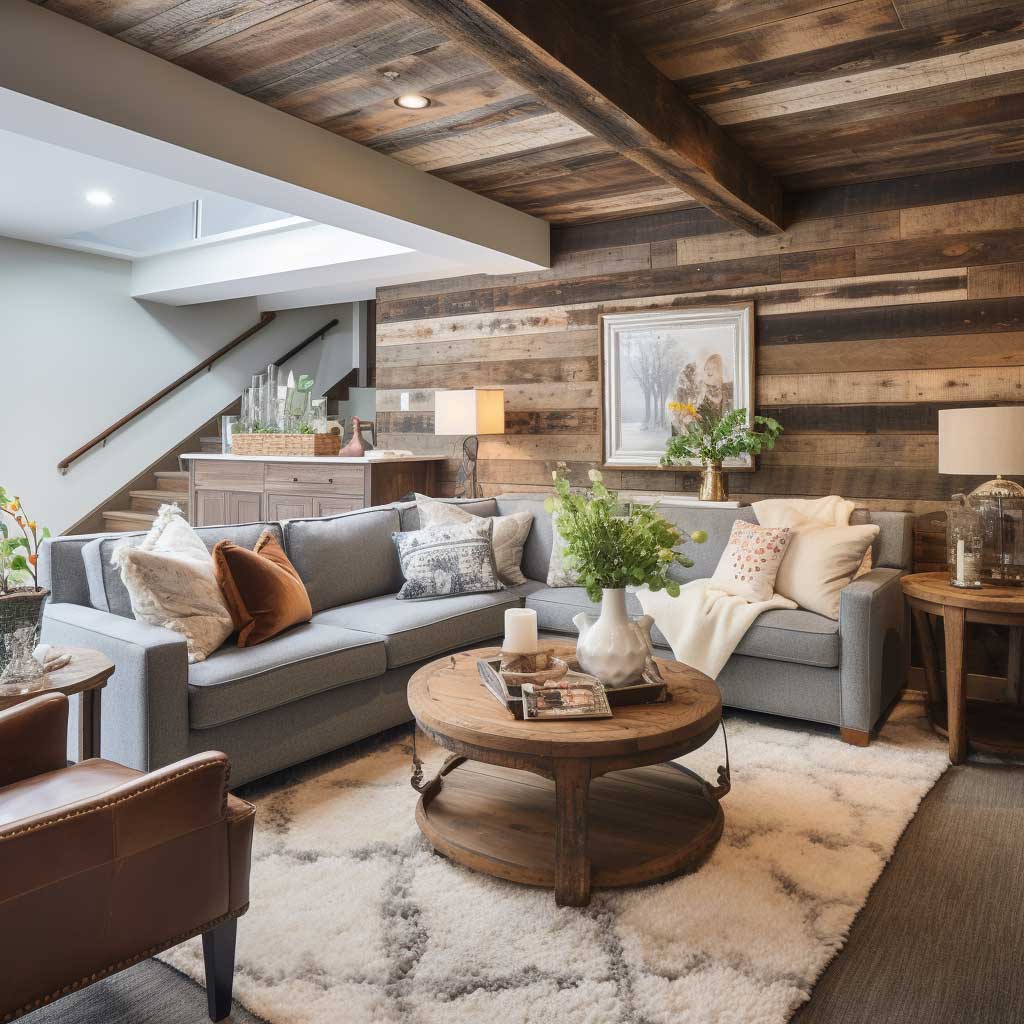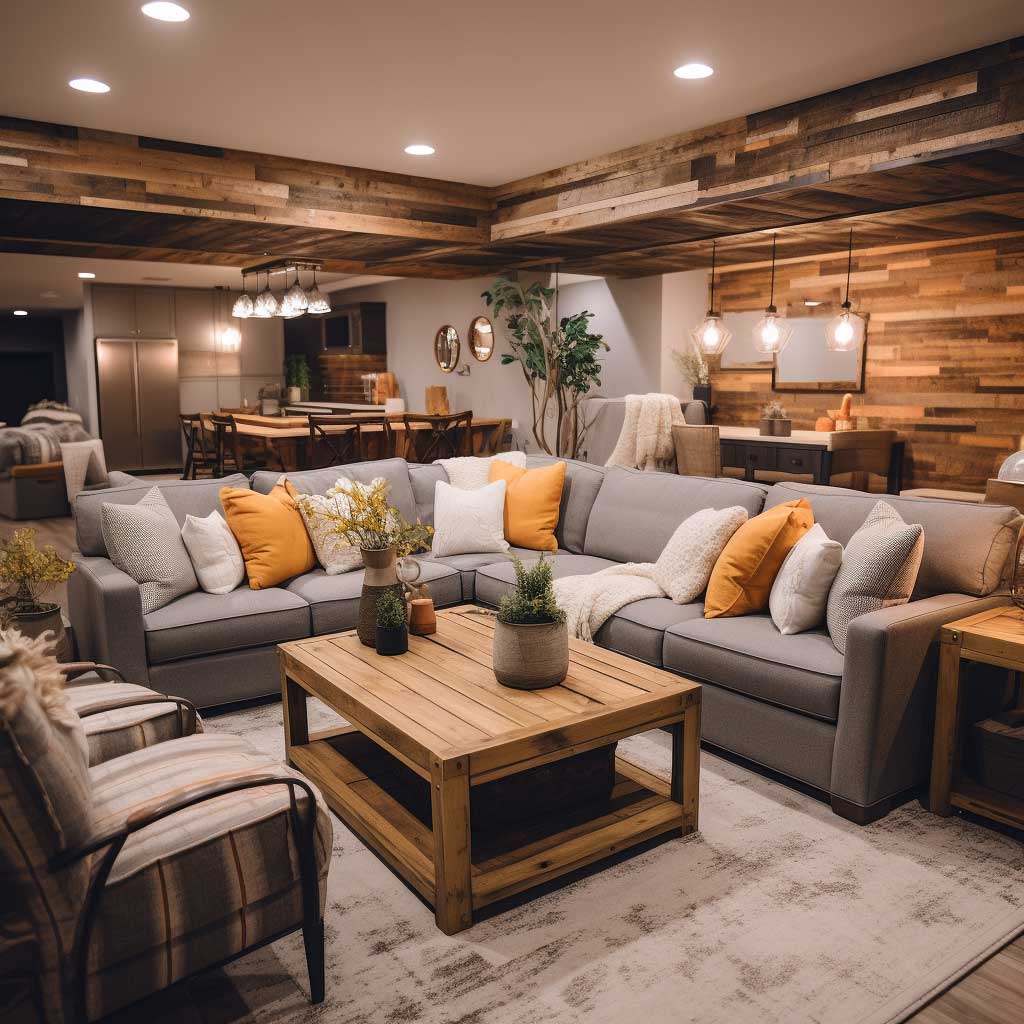 The first photo portrays a quintessential element of rustic design: the use of reclaimed wood. As shown in the image, incorporating reclaimed wood as an accent wall and ceiling beams can dramatically transform your basement into a rustic haven.
Reclaimed wood carries an undeniable charm and history. The weathered look of the wood, with its knots, nail holes, and color variations, adds a sense of warmth and authenticity to the space. In the photo, the wood's natural tones create a cozy atmosphere, complimented by the rustic furniture and decor.
Moreover, reclaimed wood is a sustainable choice. By repurposing old wood, you not only create a unique aesthetic but also contribute to preserving our forests. It's a design decision you can feel good about.
The photo also highlights the importance of lighting in a rustic basement. Warm, diffused lighting enhances the cozy feel, creating the perfect setting for relaxation. Consider a mix of ceiling lights, wall sconces, and table lamps to achieve a layered lighting effect.
In conclusion, using reclaimed wood for your rustic basement design can provide a remarkable transformation, creating a cozy, inviting space with a touch of history and sustainability.
Rustic Basement Idea Featuring a Stone Fireplace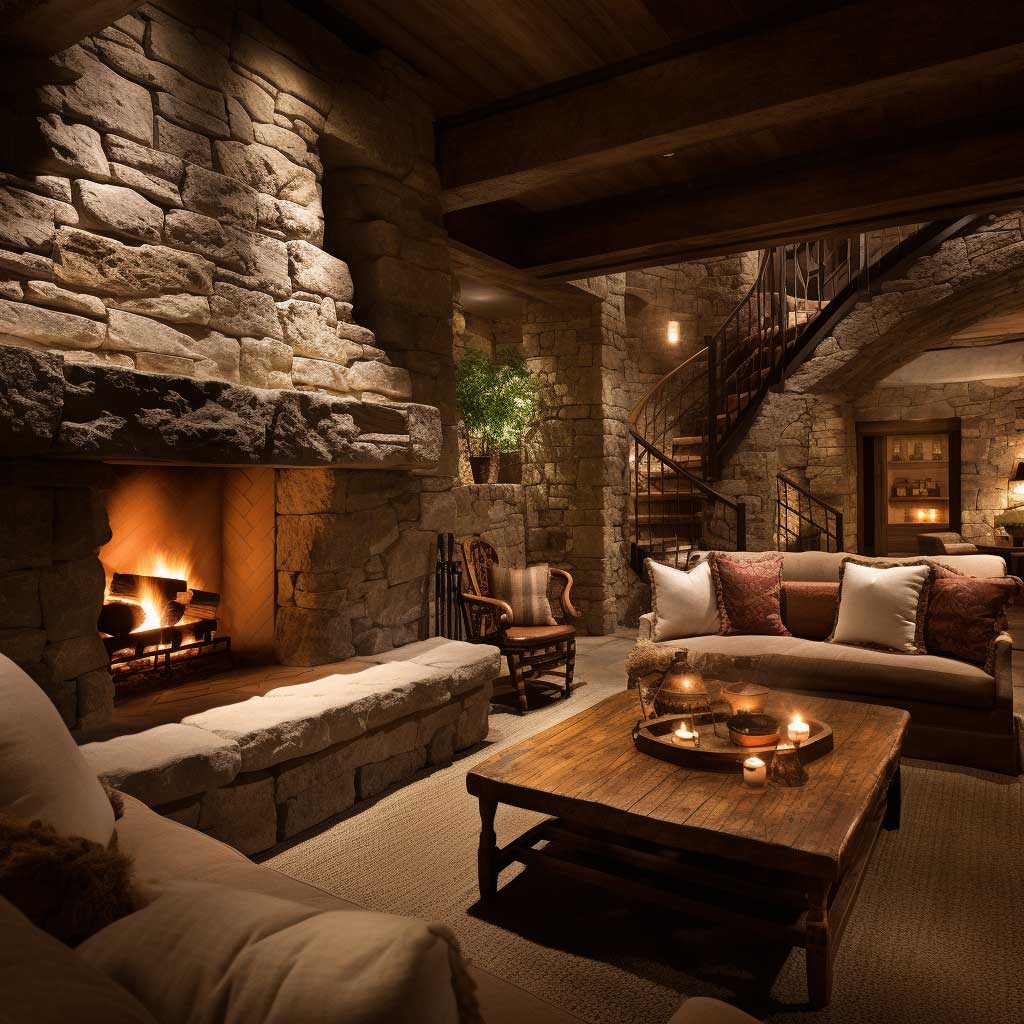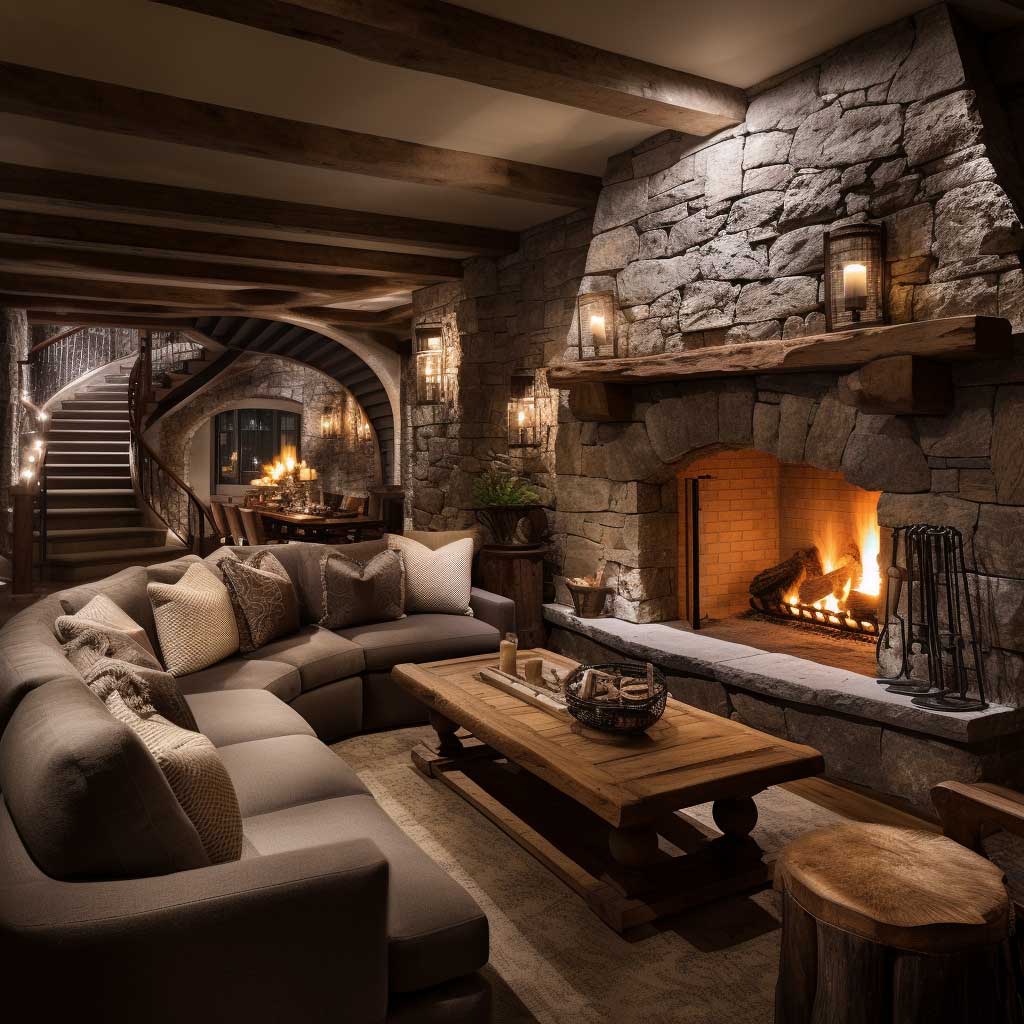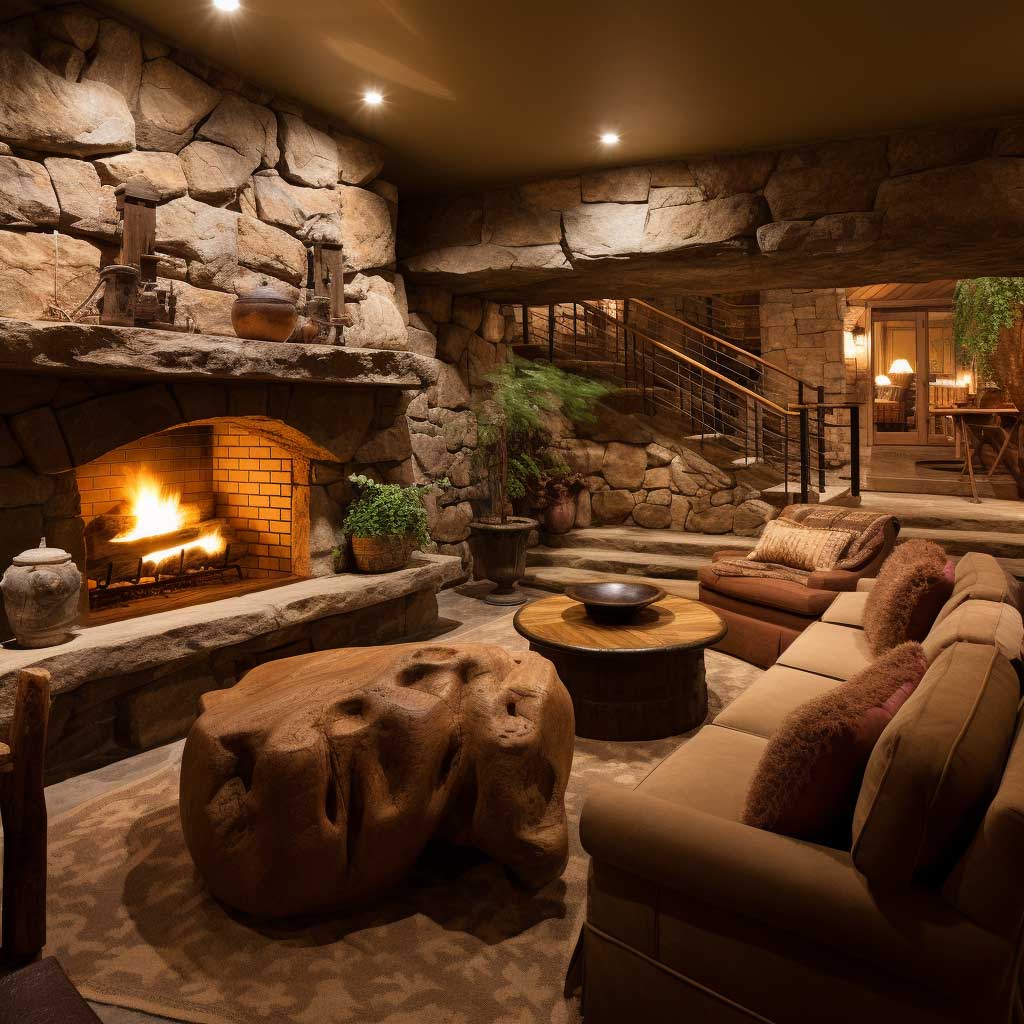 The second photo introduces another rustic basement idea: a stone fireplace. Fireplaces, especially those built with natural materials like stone, have a way of instantly adding a rustic element to any space. In a basement, they can serve as a warm and welcoming centerpiece.
The fireplace in the photo is built from rough-hewn stone, its rugged texture embodying the essence of rustic design. The irregularity of the stones, their varied colors, and the visible grouting all contribute to a natural, organic feel that brings the outdoors inside.
Arranging seating around the fireplace, as depicted in the photo, fosters a sense of community and warmth. It's the perfect setting for family gatherings, game nights, or simply curling up with a good book.
The photo also demonstrates the use of rustic decor items – a vintage rug, leather furniture, and decorative antlers. These elements further emphasize the rustic theme and complement the stone fireplace perfectly.
In conclusion, featuring a stone fireplace in your basement can greatly enhance its rustic charm. It serves as a warm, inviting centerpiece that not only adds character but also promotes togetherness.
Rustic Basement Idea with a Bar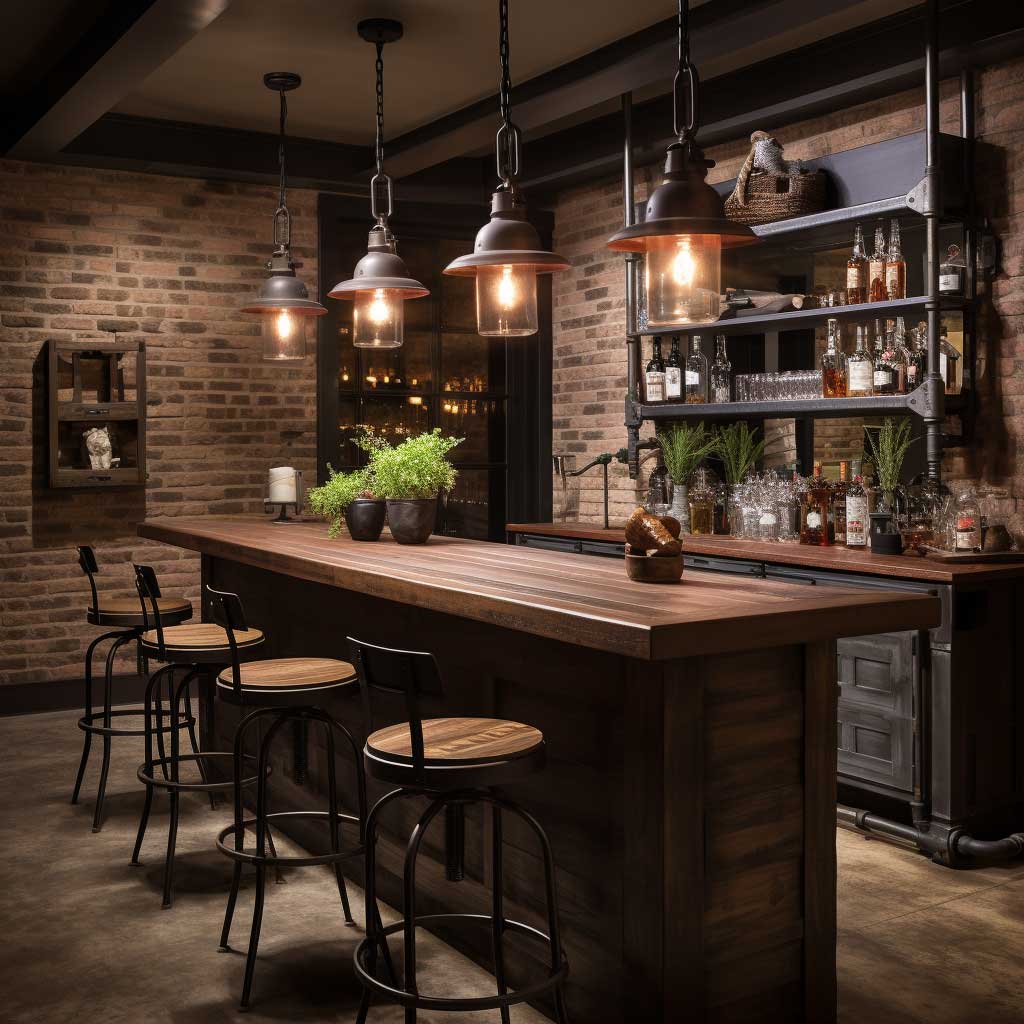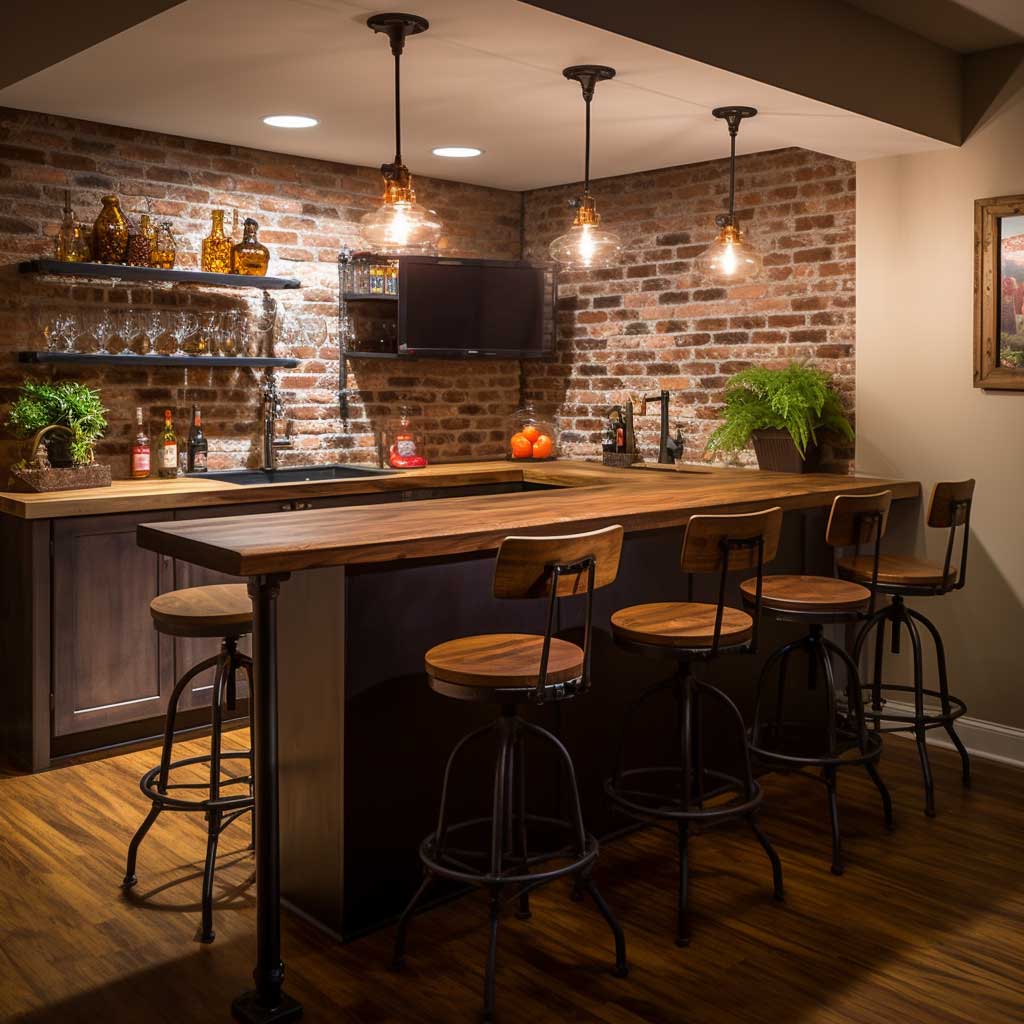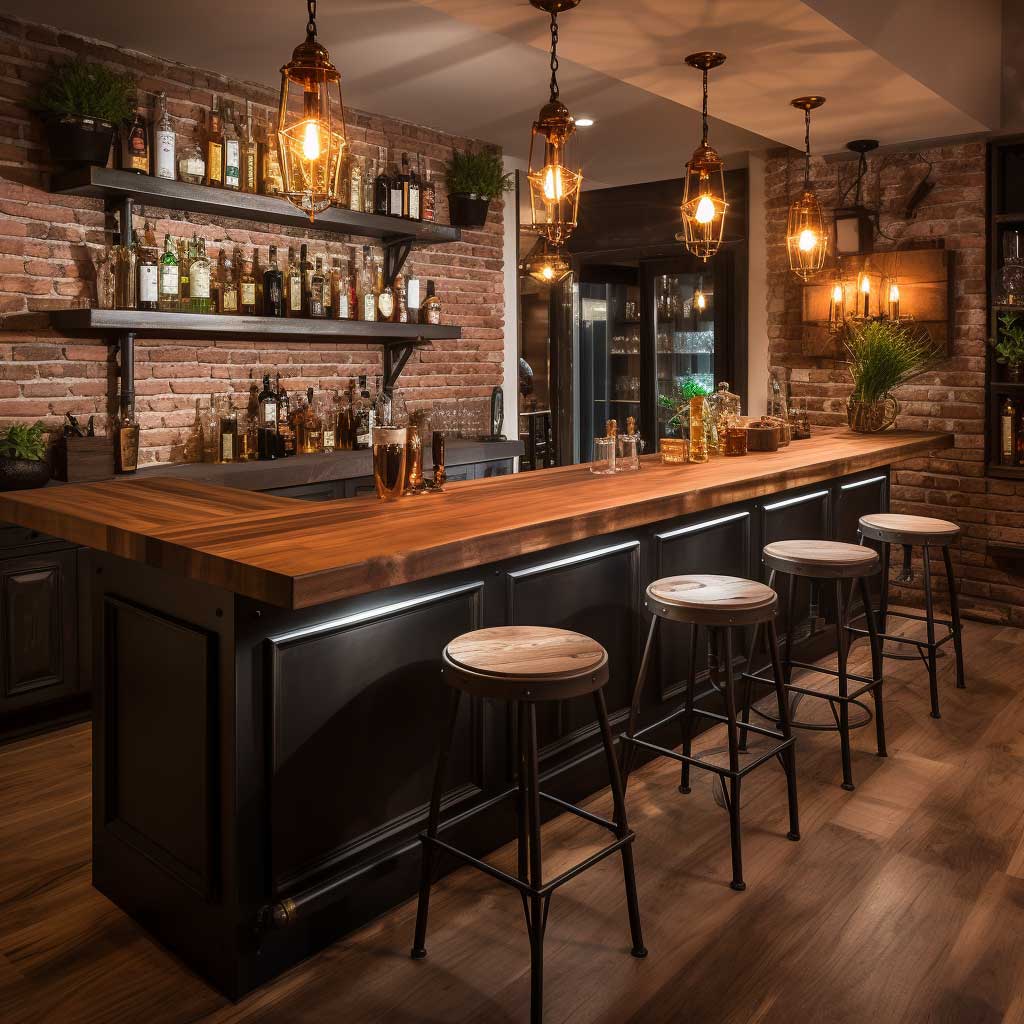 The third photo showcases a fun and functional rustic basement idea: a basement bar. A bar can serve as a great entertainment area, perfect for hosting parties or enjoying a quiet evening at home.
The rustic basement bar in the photo is a blend of various textures. The wood countertop and exposed brick backsplash contribute to the rustic aesthetics. The metal bar stools add an industrial touch, which often complements rustic interiors.
Lighting plays a crucial role in setting the mood of a bar. In the photo, warm pendant lights hang above the bar, casting a soft, inviting glow. These lights accentuate the textures of the wood and brick, further enhancing the rustic feel.
When designing a basement bar, storage is a key consideration. The photo shows open shelves which display the barware and alcohol, adding to the overall design while serving a practical purpose.
In conclusion, adding a bar to your basement can increase its functionality and entertainment value. By using materials like wood and brick and implementing warm lighting, you can create a rustic basement bar that is sure to impress.
Conclusion
Rustic basement design is all about creating a warm, welcoming space that serves as a retreat from the modern world. Whether you choose to incorporate reclaimed wood accents, install a stone fireplace, or build a cozy bar, the rustic elements you choose will infuse your basement with character and charm. Let these 10 rustic basement ideas inspire you to transform your underutilized basement into the cozy, rustic haven you've always dreamed of.