The modern building world offers various concepts and technologies for the construction of economical and stylish housing. New types of structures take little time for construction, while guaranteeing a full level of comfort. Designed prefabricated wooden houses every day become popular among clients of architectural bureaus, because they have a lot of advantages.
prefab wooden house – distinctive characteristics of prefabricated wooden houses
First of all, this type of housing can be characterized by several criteria:
Speed;
Quality assurance.
Natural finishing materials provide a favorable atmosphere, high protection against negative influences, a unique exterior and interior. An example of a prefabricated house is the Assemble House project, which visually resembles a standard standard building. As in all typical projects, this wooden house has some peculiarities.
The assembly of wooden beams from pine is carried out in separate modules, which allows you to create longitudinal and transverse blocks. Internal and external spaces are separated by partitions and beams. The overall integrity of the housing and the combination of its components provides the opportunity to practically divide the zones depending on the available resources and the needs of residents.
The whole structure of the prefabricated wooden house and its filling are made of natural material. For the exterior, a wooden siding treated with a waterproofing coating was selected; for the interior, a pine board and a plywood panel for furniture were used. The color palette of the texture of coatings has several variations – black, smoky, light brown.
The composition of a wooden house will look attractive at any time. A little modernity to the presented project gives panoramic glazing, revealing the vastness of the lake and the steppes. The combination of wood and glass becomes a stylish format for decorating housing, especially for rural recreation.
Collapsible structures are relevant for people who are constantly in active moving. If you can't stay long in one place, then the prefabricated house can be easily loaded into the van and set off for new adventures.
prefabricated wooden homes – multifunctional design possibilities of prefabricated wooden houses
Employees of the architectural bureau PAR Arquitectos managed to build a functional housing of a small area of 138 sq.m. On the territory there are sleeping rooms, a living room, a kitchen, a dining room, a bathroom and a spacious terrace-barbecue. Due to the prefabricated design, the resources are effectively located on the given sites, creating a comfortable room.
Smooth transitions between rooms are on open paths without roofing. There are also longitudinal openings in the living room and kitchen, serving as a light source and an extension of the central space. Each format of such housing is filled with freshness, openness, infinity.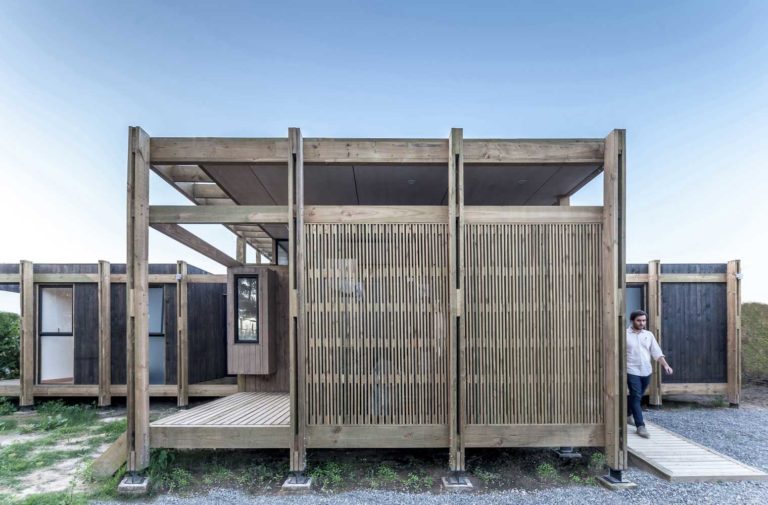 For freedom-loving people, prefabricated wooden houses become the main choice of personal housing. Different variations of structures, materials, layouts represent great opportunities in organizing a spacious and reliable home.
| | |
| --- | --- |
| Architects | PAR Arquitectos |
| Photo | Diego Elgueta |