Modern designs of wooden stairs are practical and laconic without carved patterns, massive railings, and balusters. At the same time, it is important to achieve the aesthetics and beauty of this element of the interior, since the steps in the house are considered not only a functional part of the space but also an important component of aesthetics.
Another mandatory criterion is strength and reliability. How do we manage to combine all this into fashionable designs, let's look at examples?
Modern designs of wooden stairs with a metal frame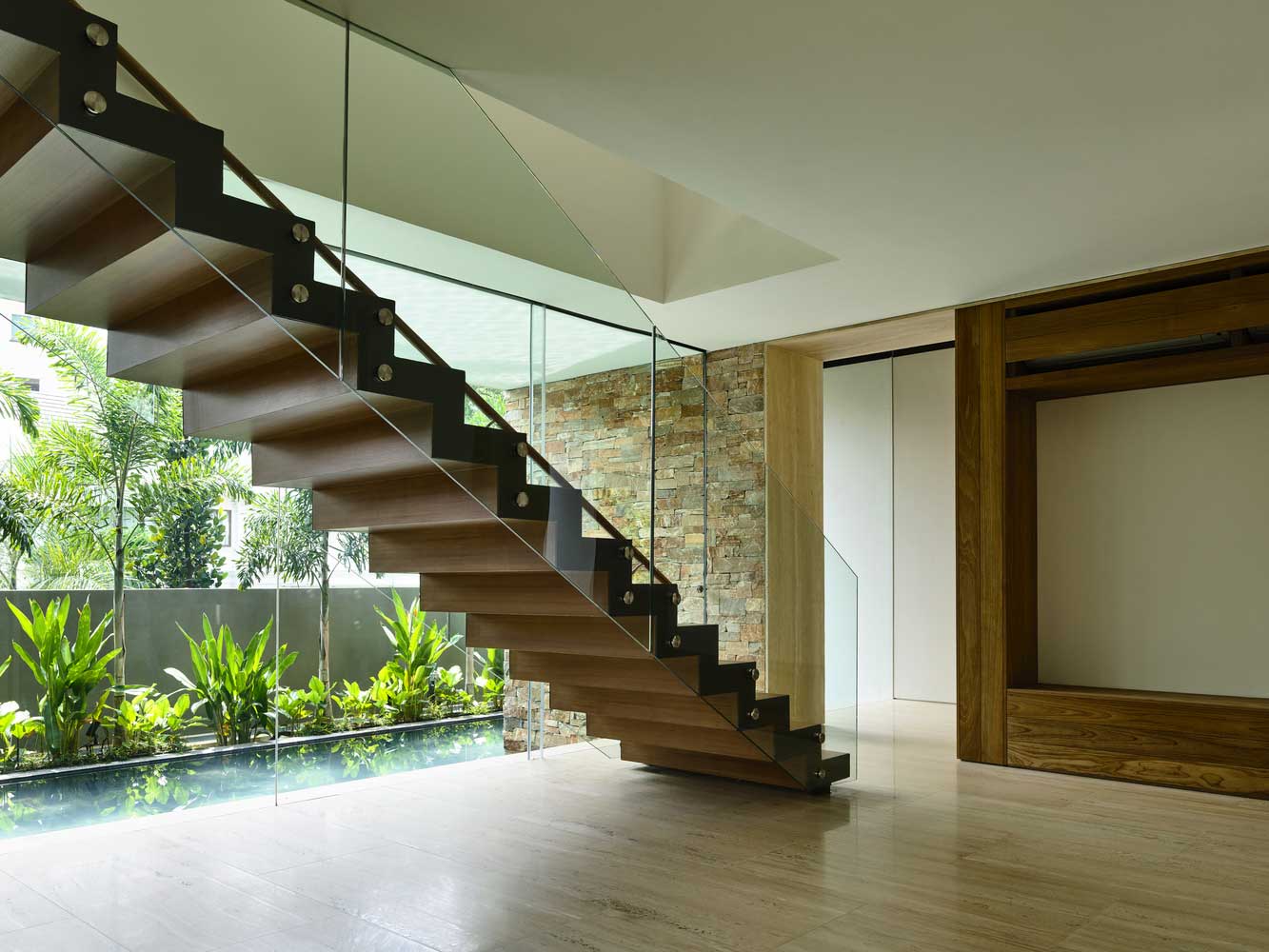 If a solid wooden structure is massive, then replacing it with metal, can significantly reduce the size. Thanks to this technique, modern staircases with wooden steps have a neat, compact design.
Having got rid of the risers, it was possible to further lighten the structure. So that the railings are not massive and do not draw attention to themselves, they are also made of metal profiles or glass.
As a result, we get a strict, laconic form that hardly affects the aesthetics of the interior. At the same time, it harmoniously blends into the atmosphere due to the manufacture of the same materials that were used for surface finishing in furniture.
The neatness of modern wooden staircase designs
The main decoration of such a staircase is its steps. The texture of wood adds coziness and home warmth to the interior. The staircase remains a decoration in the house. Only in contrast to outdated tendencies, when it was made almost an object of art, now it is enough to take care of the singularity and originality of the form itself. Beauty must be grounded in practicality, comfort, and safety.
The original design of the handrails, if any, is also thought out in terms of practicality. First and foremost, they must be safe, durable, and comfortable. And the decor and decoration do not matter here. Therefore, in the conditions of modern trends, they simply refuse it.
Thus, modern designs of wooden stairs are a lack of decor and laconic aesthetics. It focuses on practicality, reliability, functionality. Concentrate on ensuring that the steps perform well the direct task assigned to them, and not just decorate the interior.