When building a summer house on a compact site, you often resort to non-standard ideas to realize full-fledged housing and achieve its maximum rationality. Architectural bureau Kvalbein Korsøen Arkitektur has presented a narrow two-story house with modern wood trim, ideal for a problematic suburban area. With an area of 100 square meters, the dwelling has two floors, it is in line with architectural trends, environmentally friendly, and functional.
Let's look at three tricks that helped achieve this:
Maximum benefit from every square meter
This narrow two-story house has become comfortable for a family of 3 people. A practical layout thought out not only horizontally, but also vertically, provides for openness and rational integration of space.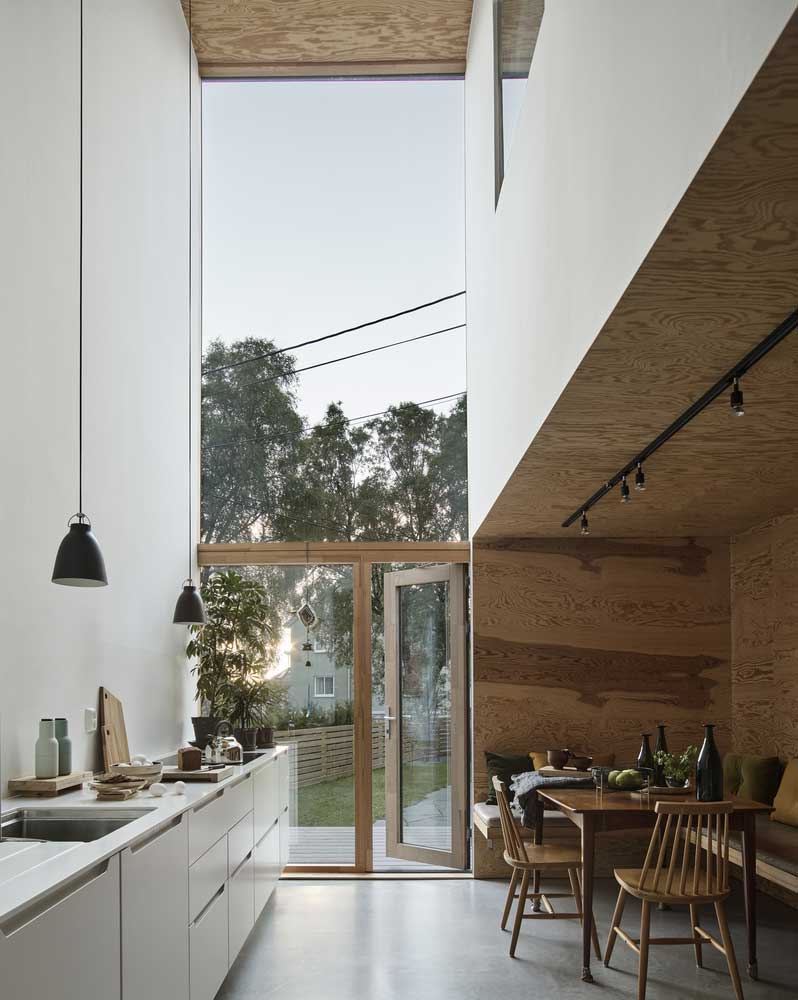 Immediately at the entrance, there is no traditional hallway, they did not even spend living space for it – it was allotted visually. Getting inside front of you immediately opens a kitchen-living room with areas for cooking, eating, resting, and working. The bathroom is upstairs, although there is a small guest toilet downstairs.
Visual expansion of space
High ceilings and panoramic windows compensated for the visual lack of living space here. Although the views did not work out here, a cozy courtyard was arranged in front of the panorama. Floor glazing in a narrow two-story house is mainly needed to increase the space.
Thanks to him, the impression of constraint and tightness is not created. High-quality natural lighting, light finishes, furniture, the absence of partitions, and bulky furniture help to enhance the effect.
Wood and design trends in architecture
The narrow two-story house is finished with wood inside and outside. The façade was covered with horizontal cladding with spruce siding, and decorative elements made of oak and MDF panels. The interior is made of solid pine. But so that the house did not resemble a small traditional hut, but was a real modern cottage, it was built in strict rectangular modern shapes, without a gable roof and ordinary windows. In the interior, pine finishes are closely intertwined with reinforced concrete elements, glass, and metal – this also adds novelty to the dwelling.
If the size of your site or financial capabilities do not allow you to build a spacious cottage, a narrow two-story house with modern wood trim like the one considered will be the best solution for a summer residence or even permanent housing. It is comfortable, self-sufficient, eco-friendly and has fashionable architectural techniques. This allows such housing to compete with expensive mansions.