A one-story house with a gable roof is a classic of private housing construction. But the architects of the FGMF Arquitetos bureau showed how to implement this rather banal housing option in a new manner.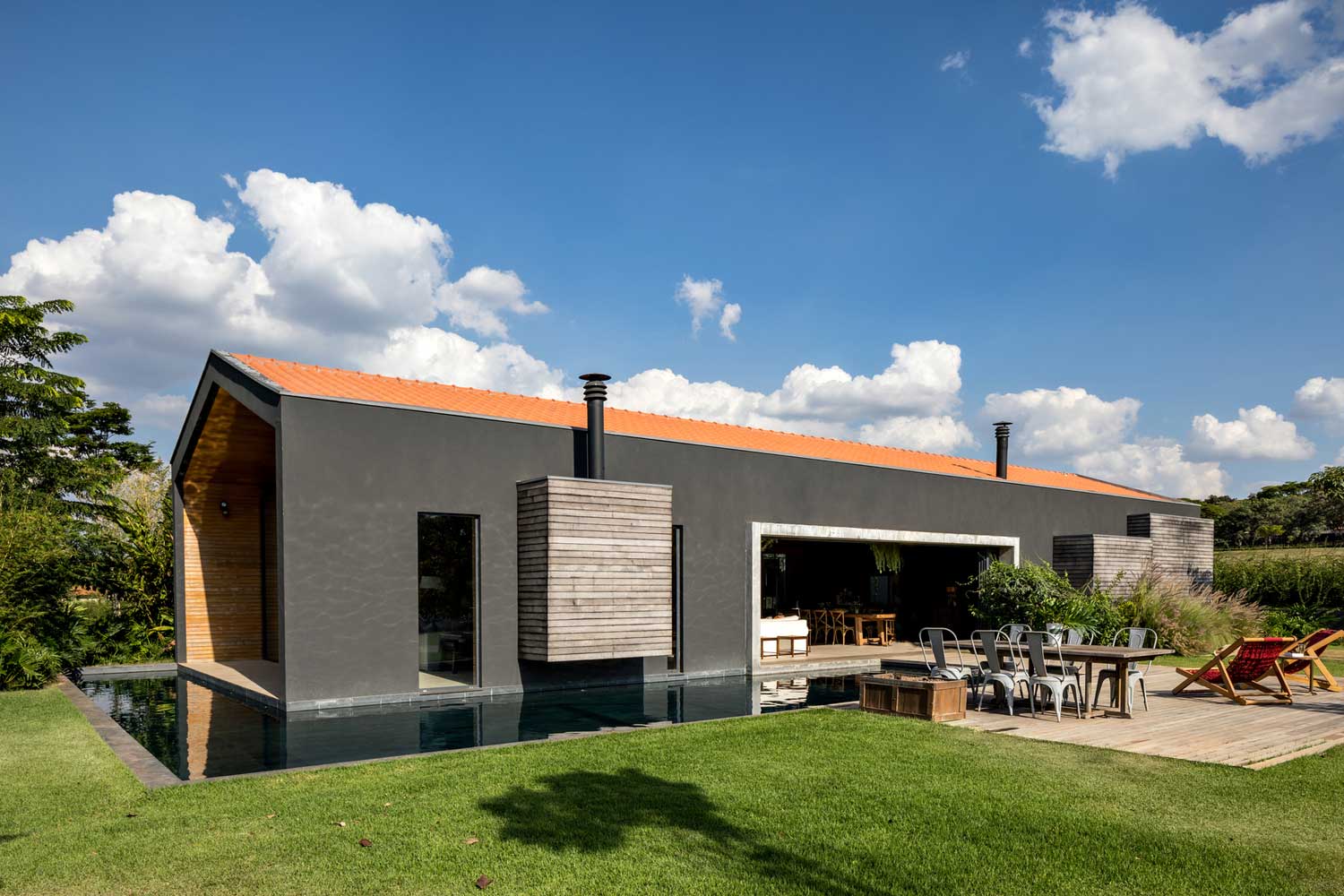 The project is fully consistent with the ultra-trendy minimalist high-tech style while remaining the same ordinary traditional house.
The minimalistic gable roof of a one-story house
The building is simple in its elementary character and resembles a house from a children's drawing. The roof in it is not made as a separate structure but as an extension of the walls.
Slightly noticeable cornices are provided in the roof, and its frame visually forms a single base of the structure with the walls. At the same time, it was overlaid with tiles on top, preserving the tradition and taking care of good performance.
A modern play with space in a one-story gable roof house
The layout of the mansion does not correspond to the traditional ideas about a country house. The kitchen here is connected to the living room as a separate functional area.
The home service areas are located at the rear of the building. And the main room has wide sliding glass doors, through which it is combined with the adjoining terrace.
Inside, all social spaces are concentrated in one room, and furniture and light were used to differentiate. The dining area adjoins the sitting area in the living room and is separated from it by a conditional passage leading to a wide entrance glass door.
The bedrooms are located in a separate wing to enhance comfort and privacy. There is a passage through a corridor leading from the social part of the mansion.
Atypical openness for a traditional one-story house with a gable roof
In houses with a classic configuration, they are used to seeing ordinary windows, possibly with shutters. The architects rejected this idea and made opening panoramic windows in the cottage.
From the end of the house, from the side of the living room, stained glass windows occupy the entire part of the facade. This made it possible to integrate the interior space with the landscape.
The glazing is recessed for a couple of meters into the structure of the house for a smooth transition between indoor and outdoor. Due to this, a covered terrace was formed in front of the windows – it is attached to the living room and at the same time directly adjacent to the pool in the yard.
Such techniques made it possible to implement the project of a one-story house with a gable roof in accordance with current trends in architecture. The most familiar housing option looks like a new generation mansion, in line with trends not only visually, but also functionally.