Thanks to modern corner windows, you can easily create a unique look for your interior and exterior, breaking all design traditions. The transparent corner of the house, you see, is a bright sight. Breaking the traditional look of your home will inspire you every minute. Take a closer look at this architectural technique – corner windows will undoubtedly add uniqueness to your home.
🔻
🔻
🔻
🔻
Corner glass window 👉 Insolation through one window at once from two sides
In pursuit of trends, architects do not cease to come up with more and more spectacular, practical, and functional elements. One of them was the corner windows in a private house. You can realize the idea of monolithic buildings made of reinforced concrete when the load on the supporting frame is distributed in such a way that you can do without supports at the corners of the structure. A view of the overhanging structure is created.
Spectacular corner glazing was proposed by the architectural bureau, Dick Clark + Associates. The ultramodern hi-tech mansion in Austin (USA) received corner windows in several rooms at once – both public and private. This affected the comfort, attractiveness, and practicality of housing. To find such spaces you should consider consulting with austin property managers to guide you to your dream house. Let's consider this in more detail.
Corner panoramic windows in a private house are a godsend for those who appreciate natural lighting. Glazing in this format transmits much more daylight than traditional window openings. Even located on the non-sunny side, the room will be qualitatively illuminated by the sun's rays throughout the day.
The advantage is that due to the angular shape of the window, the glazing area not only increases, but it immediately goes on two sides. Therefore, at least one of them will most likely fall directly under sunlight.
Frameless corner windows 👉 Spectacular interior due to corner panoramic windows
Corner glazing is a new and fashionable solution that saves space from visual boundaries. A room with such a window seems to be as open and spacious as possible. If the glazing is made panoramic – the effect is enhanced at times.
The presented project in this style has a panoramic window in the dining area – it seems that you are in an open, simply glazed area surrounded by a landscaped area. In this case, the integration of living space with external space is maximum. The angular panorama allows you to engage the landscape in the arrangement of the interior, to make it part of the living space. Warm, comfortable rooms are practically not visually separated from the natural surroundings outside the windows.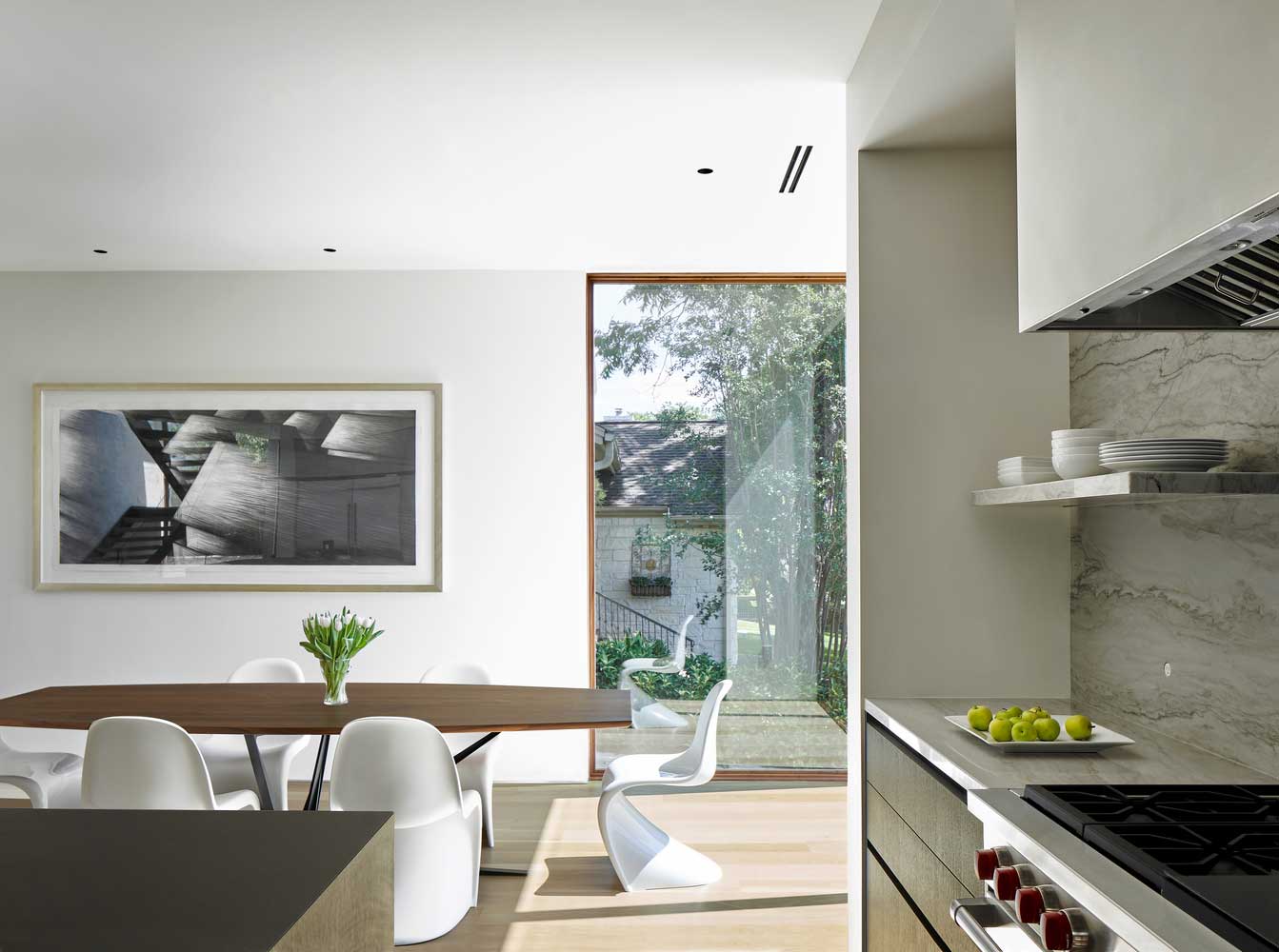 Modern corner windows 👉 Compliance with current trends
Corner windows in a private house are straightforward and concise but at the same time unusual designs. They make the building more modern. Simple, elegant forms add to the object of openness – a trend in the construction of a new generation.
In a project by Dick Clark + Associates, corner windows in a private home have become important aesthetic and functional elements. They save space from borders, make it lighter and more comfortable, and add the environment to the interior design. Designs look simple and concise, but it seems that they violate the laws of physics. When designing, architects achieved maximum species characteristics and optimal privacy of residential premises.