The nature of Bowen Island National Park in Canada is the perfect place to enjoy the silence, the majesty of the environment, the picturesque scenery as part of a family vacation. A modern flat-roofed home on an island in the region is a haven from the hustle and bustle.
The architects managed to design the cottage so that it did not violate the harmony existing here, but became an addition to the landscape.
Integrating a modern flat roof house into nature
The cottage has everything you need for a comfortable life. It is spacious and located at a point with panoramic views of the bay. But at the same time, the house has a deep connection with the natural environment and has a minimal impact on it.
This is partly due to flat shapes, laconicism, lightness of designs. They do not pull the emphasis on themselves, but remain barely noticeable in the background. The introduction into the environment is also due to the naturalness of the materials.
The configuration of the house has become another tool of familiarizing with nature – its lower part is built into the slope and becomes invisible at a certain angle.
Features of the forms of a modern house with a flat roof
It was important here to preserve the intimacy and intactness of the environment, to exclude the dominance of buildings in the natural landscape. When building a spacious cottage, this is quite difficult to achieve.
To exclude the impact on nature, the architects excluded massive structures. All parts of the building are compact flat elements made of wood, glass, metal, concrete.
The palette matches the natural environment, due to which the house does not stand out from the landscape, but literally drowns in it. It was possible to give lightness due to the large glazing area.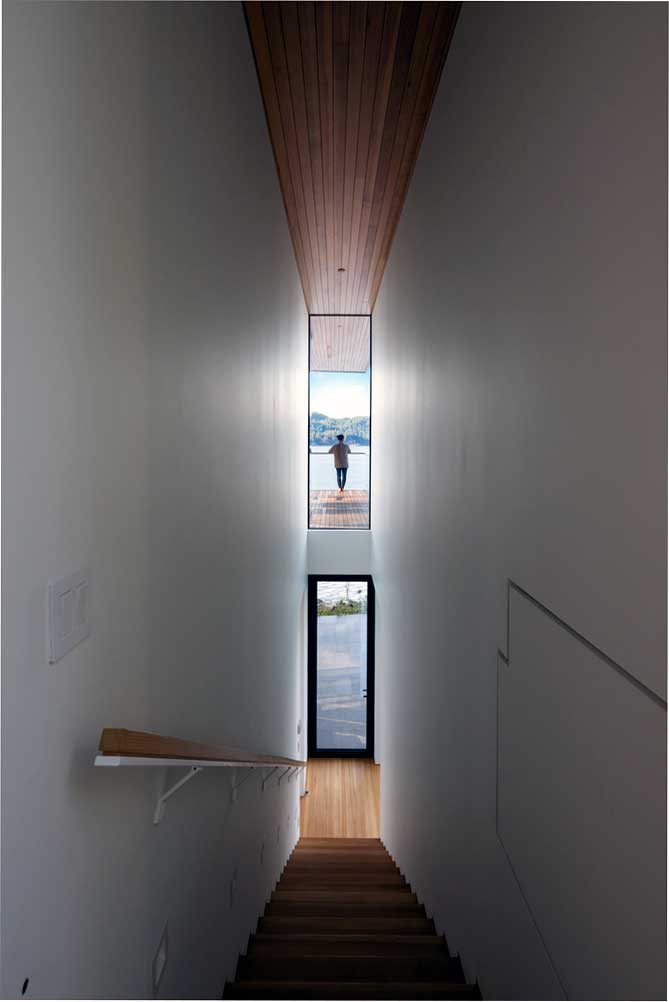 The privacy of a modern flat roof house
One of the main wishes of the owners was the privacy and secrecy of the cottage. The client wanted to get housing without any contact with civilization. This was achieved due to its location on a slope from the northern part of the island, surrounded by an evergreen forest.
In such an environment, a modern house with a flat roof looks like a secluded and safe place for family life, divorced from civilization. Here you can spend vacations and vacations, relax on weekends and on holidays, enjoying the scenery in the direction of Howe Bay.