The most extraordinary design ideas for outdoor stairs in the exteriors of houses and on sites is a balance of original design and ergonomics. Structures become almost the main elements of decor and landscaping of the local area. In addition to comfort and ergonomics, they are distinguished by an extraordinary appearance, effectively adapting to the design of the landscape and the facade of the house.
Let's consider several examples of the successful implementation of creative outdoor stairs on the plots and directly on the facades of cottages.
Cool Outdoor Concrete Staircase Design Ideas
The concrete steps seem to float above the green lawn. Thus, the person emphasizes minimal interference with the environment. For greater comfort and ergonomics, the concrete steps are characterized by wide steps and low heights. It is convenient to use such a ladder even for children and the elderly.
The next design option for an outdoor concrete staircase is even more creative, since outwardly it does not even look like ordinary steps. The chaotically arranged elements stylishly emphasize the modern design of the house. They are designed with minimal impact on the landscape – the shape is adapted to the site.
Stylish Wood Exterior Staircase Design Ideas
It seems that this is not even a staircase at all, but just a part of the facade design – the designer integrated the structure into the exterior of the building painfully harmoniously. For ergonomics and compactness, the staircase is designed around a small house, not inside it.
There was no need to use the free space of a compact area on the slope for it. At the same time, it allows you to conveniently move between the floors of the building and does not clutter up the space inside small, cozy rooms.
Metal Outdoor Staircase Design
It is possible to emphasize the manufacturability of the structure and the modernity of the object with the help of metal. But if the house is surrounded by nature, it should be used in the design of an outdoor staircase in a sufficiently metered manner.
In this case, it makes sense to combine the metal frame with wooden steps. This is a technique for the harmonious combination of engineering solutions with nature.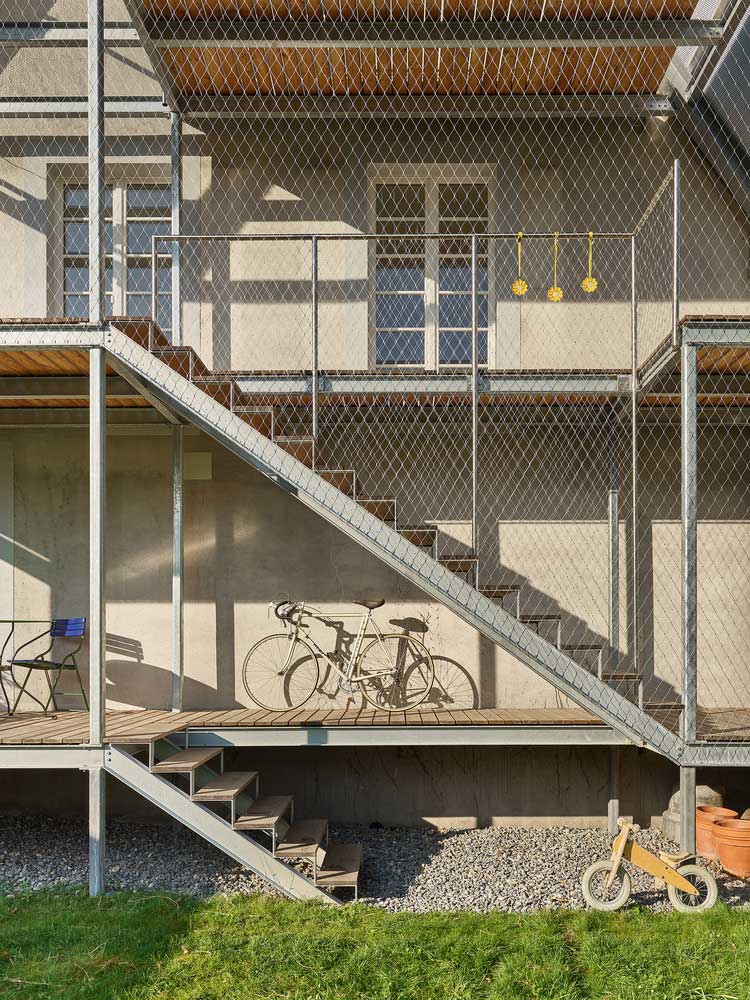 As you can see, the most original ideas for the design of an outdoor staircase do not imply expressiveness and emphasis on the structure, but its successful integration into the landscape. The color palette, the style of the steps corresponds to the environment. The influence of a person on the landscape is minimal, but at the same time he receives a comfortable, safe and practical structure for entering the house.