The essence of modern farmhouse decor lies in its ability to combine comfort and simplicity with a sprinkle of elegance. One of the key elements of this style that has gained popularity over the years is the modern farmhouse window treatments. They embody a distinctive charm, helping to create a warm, welcoming atmosphere while serving practical purposes like controlling light and ensuring privacy. In this comprehensive guide, we'll explore ten essential modern farmhouse window treatments that can transform your abode into a cozy and inviting haven.
The Rustic Charm of Barn Wood Shutters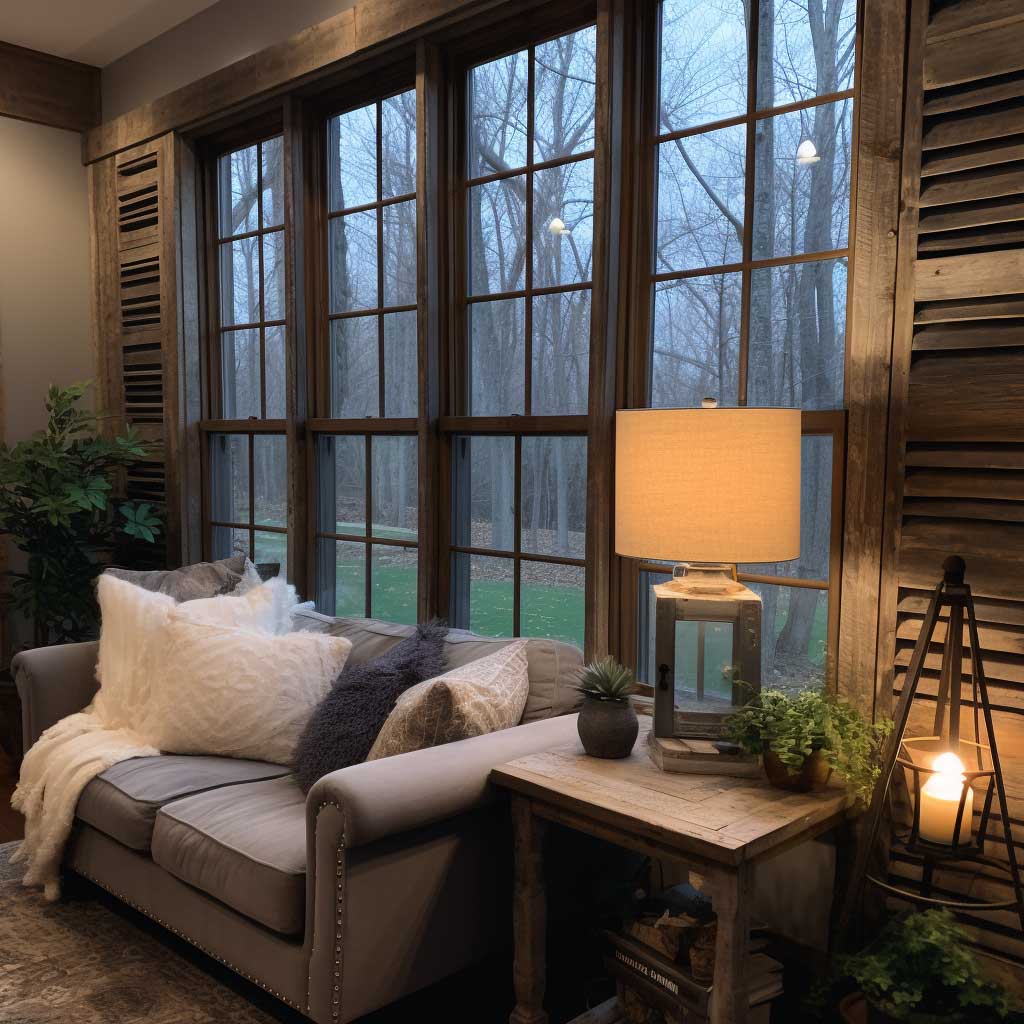 Among the various modern farmhouse window treatments, the barn wood shutters stand out for their distinct rustic appeal. These shutters, made from weathered, reclaimed wood, echo the farmhouse style's ethos of simplicity and authenticity. Their rugged texture and earthy hues bring in an element of nature, infusing the space with warmth and character.
Every piece of reclaimed wood carries its own story, making the barn wood shutters not just a window treatment, but a conversation starter. The imperfections of the wood, like its knots and grooves, give the shutters their unique character, adding depth and interest to the overall decor.
But the charm of barn wood shutters extends beyond their aesthetic appeal. These shutters offer a functional advantage too. They provide excellent control over light and privacy. You can adjust the slats to let in the desired amount of sunlight or close them for privacy.
Moreover, barn wood shutters are a sustainable choice for modern farmhouse window treatments. By reusing old wood, they contribute to reducing deforestation and waste. They are a testament to the possibility of creating beauty out of the old and discarded.
Whether it's a sunny living room or a cozy bedroom, barn wood shutters can enhance the space with their rustic appeal and functional benefits. They exemplify the modern farmhouse style's love for natural, organic elements, creating a connection between the indoors and the outdoors.
Installing barn wood shutters as your modern farmhouse window treatments can be a rewarding experience. Every time you glance at the window, you'll be reminded of the beauty of nature and the charm of rustic simplicity. And with each ray of sunlight that filters through the wooden slats, your home will be bathed in a warm, inviting glow, the very essence of the modern farmhouse style.
Sheer Elegance of White Linen Curtains
White linen curtains, the quintessential modern farmhouse window treatments, are like the breath of fresh air that sweeps through your home. They echo the farmhouse style's love for natural materials and neutral colors while adding a touch of elegance and softness to the interiors.
Made from flax fibers, linen is a sturdy and eco-friendly material with a distinctive texture. The natural weave of the linen fabric creates a semi-transparent curtain that gently filters the sunlight, bathing your room in a soft, warm glow. This makes the white linen curtains not just a decorative element, but also a subtle mood enhancer.
The beauty of white linen curtains lies in their simplicity. They don't overpower the room's decor but blend in harmoniously, creating a calm and serene environment. Whether it's a room filled with rustic furniture or a minimalist modern space, white linen curtains can complement any setting.
One of the great advantages of white linen curtains as modern farmhouse window treatments is their versatility. You can drape them, tie them back, or even layer them with other window treatments like wooden blinds or sheer curtains for a more layered and textured look. This flexibility allows you to experiment with different styles and moods, making the white linen curtains a truly versatile window treatment option.
But what makes white linen curtains a real asset for your home is their durability and ease of maintenance. Linen is known for its longevity. It becomes softer and more beautiful with every wash, making it a practical choice for window treatments.
The sheer elegance and simplicity of white linen curtains can elevate the aesthetics of your home, making it feel airy, light, and incredibly cozy. They represent a perfect balance of form and function, of elegance and practicality, the hallmarks of modern farmhouse style.
Whether it's the gentle rustling of the fabric in the breeze or the soothing glow of sunlight filtering through the sheer material, every interaction with white linen curtains is a sensory delight. As you look out through the veil of white linen, you'll feel a sense of peace and serenity enveloping you, turning your home into a personal sanctuary.
Aesthetic Layering with Bamboo Blinds and Curtains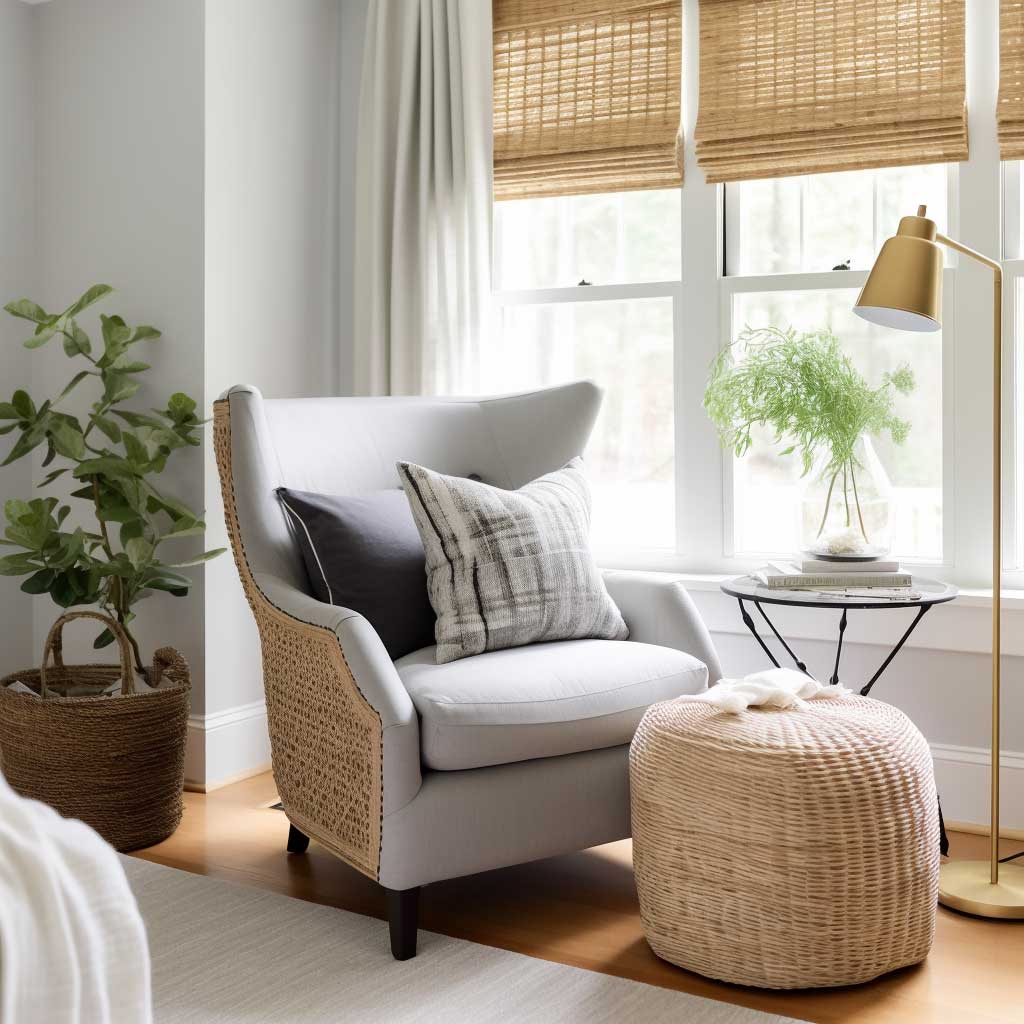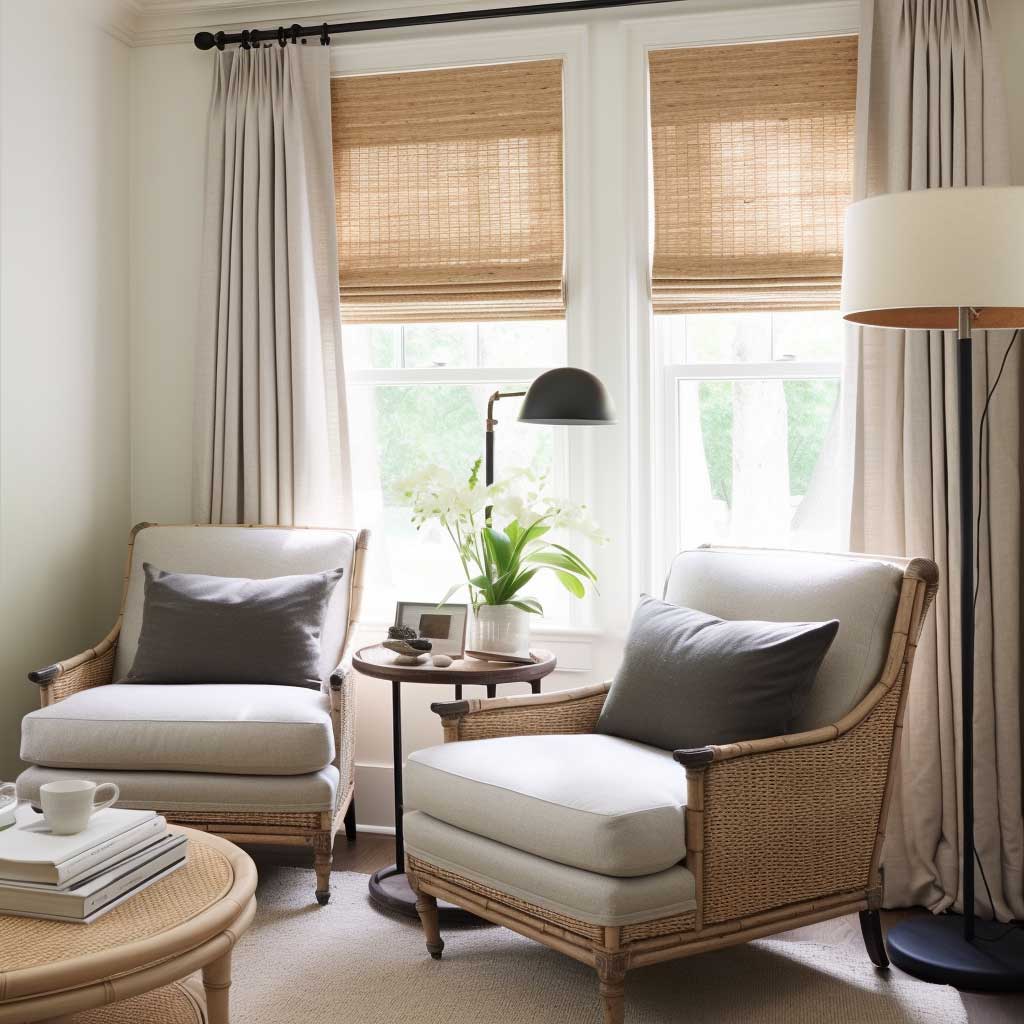 Layering is a classic design strategy, and when it comes to modern farmhouse window treatments, it opens up a world of possibilities. A popular and visually striking choice in this regard is the combination of bamboo blinds with fabric curtains.
Bamboo blinds serve as the base layer, offering a natural texture and warm tones that align with the farmhouse aesthetic. These blinds can filter the sunlight, casting beautiful, dancing shadows in the room, and providing privacy when needed. The organic texture of bamboo adds a rustic, earthy vibe to the space, strengthening its connection with nature.
Layered over these blinds are the fabric curtains. They serve both practical and aesthetic purposes. When drawn, they offer additional light control and privacy. From an aesthetic perspective, curtains can complement or contrast with the bamboo blinds, depending on the chosen fabric and color. Light, airy fabrics like cotton or linen in neutral shades often work best, enhancing the soft, cozy vibe of the modern farmhouse style.
The blend of these two elements creates an intriguing interplay of textures and shadows. The soft flow of the curtains coupled with the sturdy lines of the blinds gives a dynamic yet balanced look. This layering not only adds depth and interest to the windows but also enhances the overall ambiance of the room.
One of the joys of this approach to modern farmhouse window treatments is its flexibility. You can adjust the blinds and curtains to control light and privacy according to your needs. You can also play around with different fabric colors and patterns for the curtains to change the look and feel of the room.
Bamboo blinds and curtains are an excellent choice for rooms that serve multiple functions or for spaces where you want the ability to transition from a bright, open environment to a cozy, private retreat.
Beyond their functional benefits, layered window treatments like bamboo blinds and curtains contribute significantly to the overall decor of the space. They frame the windows beautifully, drawing attention to the outdoor views, and serve as a natural focal point in the room.
The combination of bamboo blinds and curtains for modern farmhouse window treatments is a celebration of natural materials, textures, and the subtle art of layering. It offers a window into the world of farmhouse aesthetics, a world where beauty is found in simplicity, where coziness is a way of life.
Conclusion
Modern farmhouse window treatments are more than just window coverings; they are essential design elements that contribute to the overall character and atmosphere of your home. Whether it's the rustic charm of barn wood shutters, the sheer elegance of white linen curtains, or the aesthetic layering of bamboo blinds and curtains, each option offers its unique blend of aesthetics and functionality. Choosing the right window treatments can transform your home into a cozy, inviting, and truly personal space, encapsulating the spirit of the modern farmhouse style.